An epic 71 minute Boys' Under-19 final concluded a memorable 2017 JC Lindsay Scottish Junior Open this afternoon at Edinburgh Sports Club.
An emotional Dominic Wren, below left, dropped to his knees at the end of his marathon win against defending BU19 champion Michael Andrews in today's final.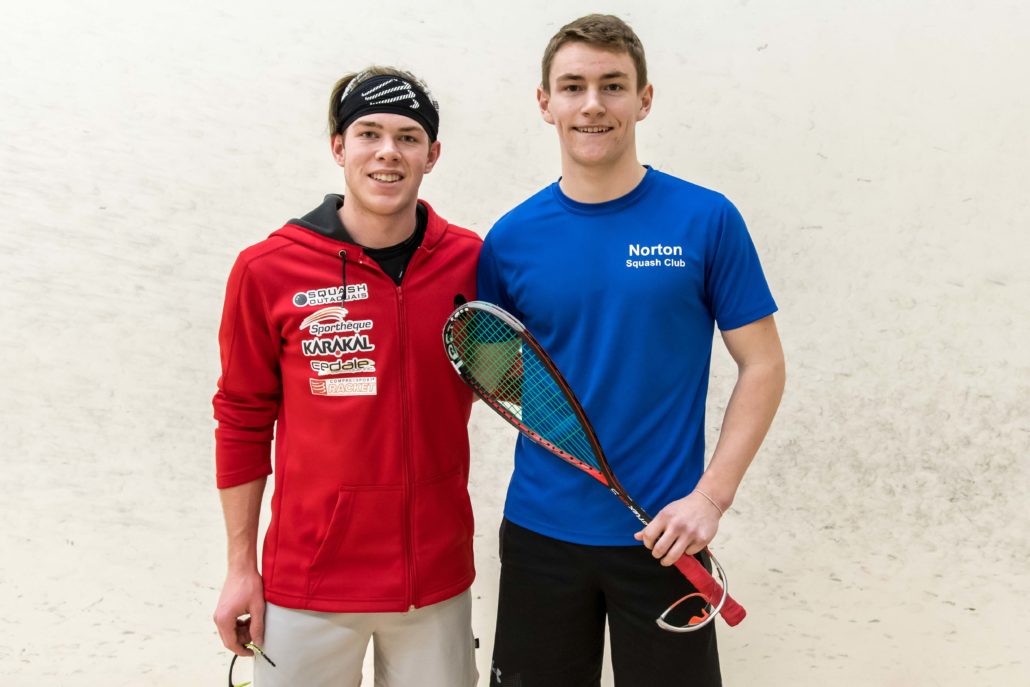 Canadian Wren took the title, staving off a great comeback from England's Andrews, eventually winning 11-8, 11-9, 7-11, 10-12, 12-10.
Home success came in the Boys' U17s event with the increasingly impressive Alasdair Prott from Inverness retaining his title without dropping a game throughout the tournament.
There was an eclectic mix of winners from across the globe this year with titles going to players representing eight countries, USA (two), Malaysia (two), Korea, Egypt, England, Singapore, Scotland and Canada.
In all, 208 competitors from 30 different countries took to the courts over three days at Edinburgh Sports Club and The Grange.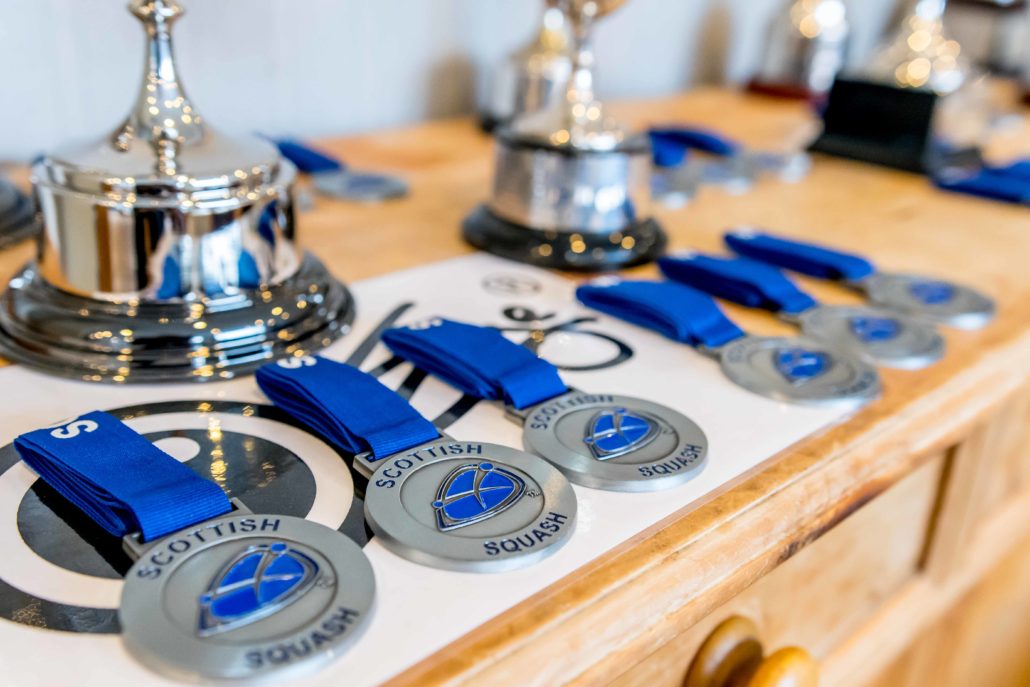 Edinburgh Sports Club's show court number five has seen many classic matches over the years and Dominic Wren's win over Michael Andrews will live long in the memory.
After the gripping encounter, Wren said: "I have had a stunner of a tournament, I've never played so well and this will go down as my best tournament and the final, one of my best ever matches.
"That last point was such a relief. Michael makes you work so hard, he's a great player a great sportsman. I would love to get back on court to play him again."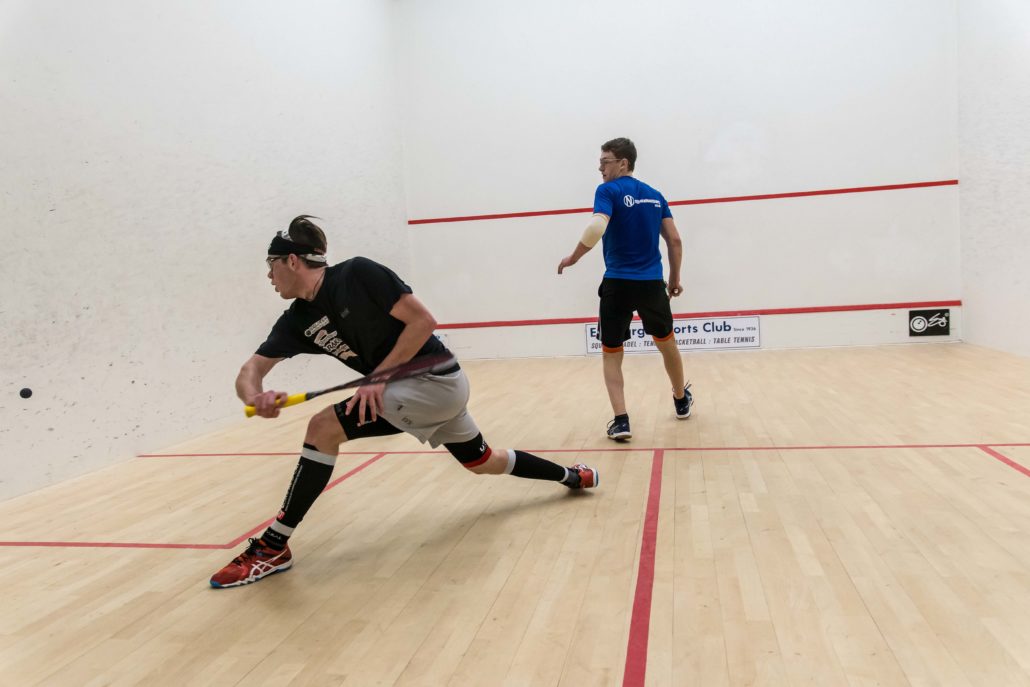 He added: "I have worked hard this year and it all came together this week. My brother and dad are over and their support really helped me get over the line."
Scotland's Chris Murphy finished third in the U19s event, defeating South Africa's Glenn Yates in Saturday's 3rd/4th play-off having put in an impressive performance against Wren in the semi-finals, losing in three tight games, 11-7 11-8 11-6.
The Girls' Under-19 final saw two players from Singapore face off against each other having both taken care of the top two seeds on route to the final.
It was Sneha Sivakumar, below right, who won in four games, beating Wai Yhann Au Yeong for the third time this month having prevailed at both the Kuala Lumpur and Singapore Open.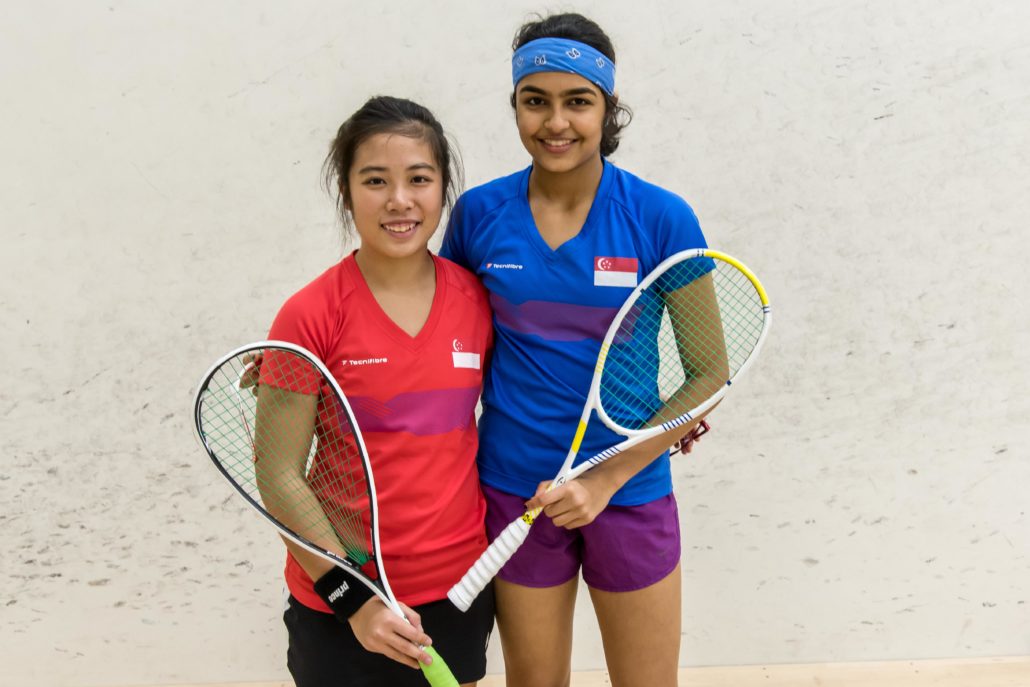 After her 11-5, 7-11, 11-7, 11-2 win, Sneha said. "I am so happy to have won in Scotland.
"It's the first time I have played outside of Asia so it took me a bit of time to get used to the temperature on court and to understand how to play on these courts.
"Everything came together in the final match and I felt really good, especially in the last game. I was able to get the ball deep and control the rallies."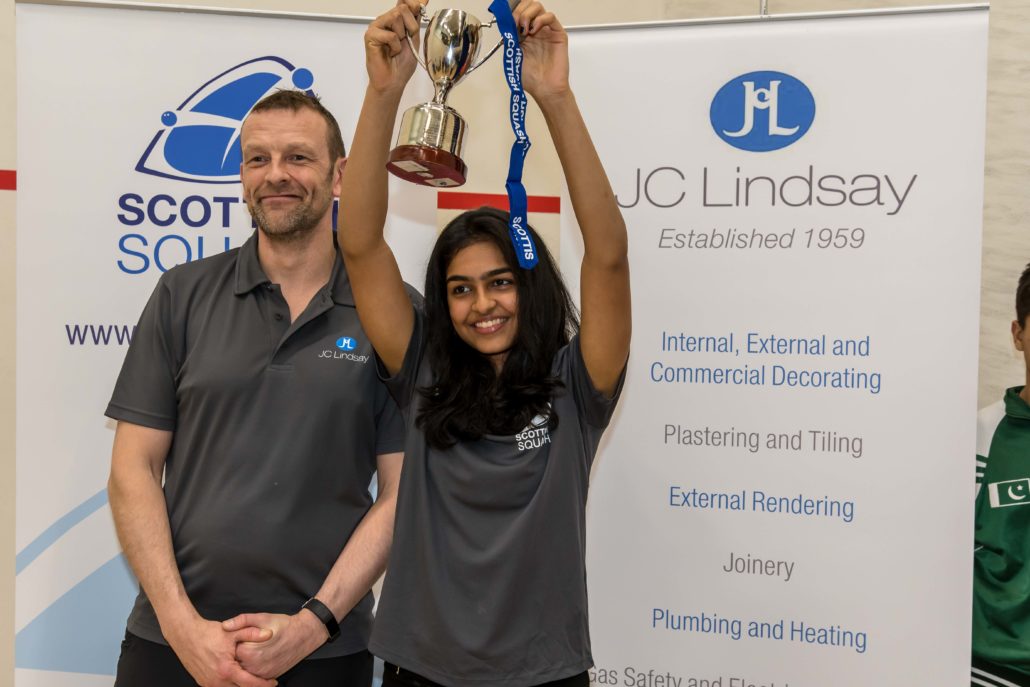 She added: "I came to Edinburgh early to experience the Christmas markets and it was amazing to see all the snow. It's a beautiful city and the venues were great as well."
Alasdair Prott defeated England's Adam Goad in the BU17 final, 11-4, 11-2, 11-4 to round off an impressive tournament.
He failed to drop a game in any of his matches, securing four wins at The Grange before seeing off Goad in style at Edinburgh Sports Club.
"I am really pleased," he said.
"Winning your home tournament feels great and being the only Scot in a final I was glad to get over the line.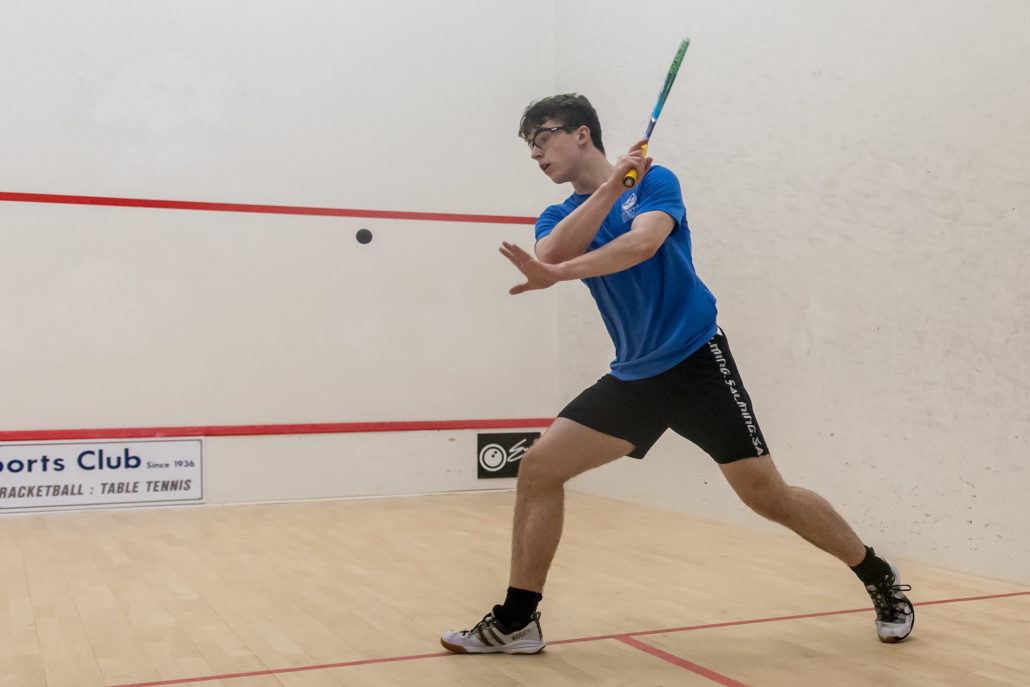 "I thought I executed my plans well throughout the tournament and my concentration was good allowing me to keep the opponent's score pretty low in most games."
England's Katie Malliff, below, claimed her second Scottish Junior Open title on Saturday in the Girls' Under-17 event.
The top seed defeated Hong Kong's Lee Sum Yuet 11-5 11-8 11-6 in the final to claim another title having won the Under-15s event last year.
She said: "It's my third time playing the Scottish Junior Open and I'm so happy to have won again.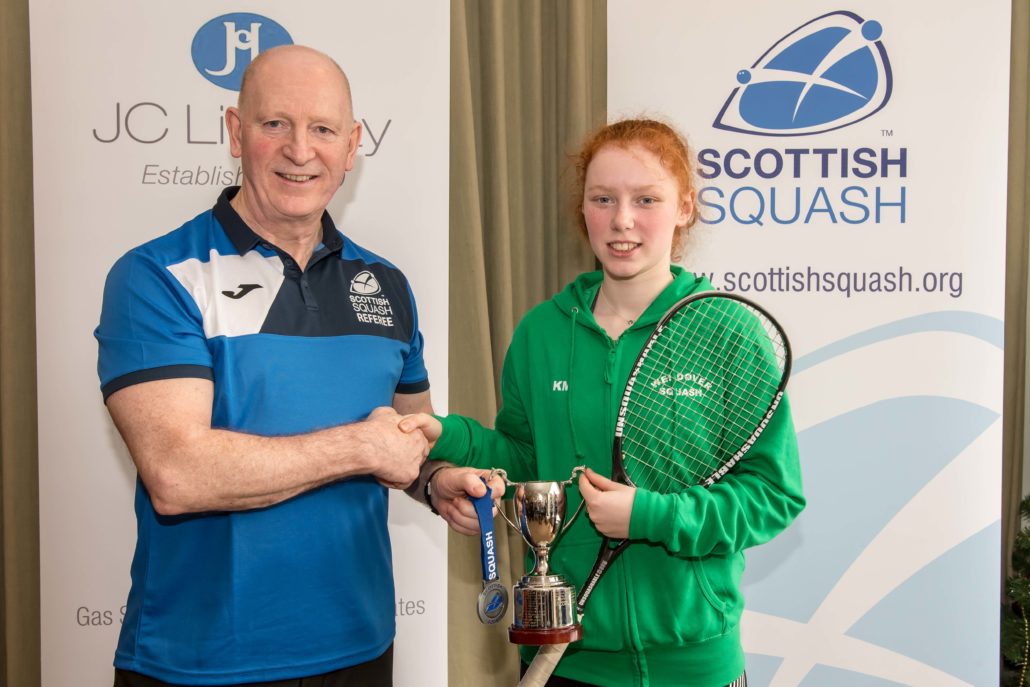 "I really enjoyed the final, it was a fun match against a very good player.
"I hadn't played her before so didn't know what to expect but once I had seen her strengths and weaknesses in the first game, it became slightly easier."
Ameeshenraj Chandaran from Malaysia was victorious in the Boys' Under-15 final defeating England's Muhammed Azhan, 16-14, 11-6, 11-5 with the USA's Lucie Stefanoni (1) seeing off the stern challenge of second seeded Croatian Franka Vidovic, 12-10, 11-5, 11-6 in the Girls' Under-15s final.
Korea's Ain Jun, below, came out on top in the Girls Under-13s final, defeating Northern Ireland's Sophie Thomas, 11-6, 11-3, 11-2.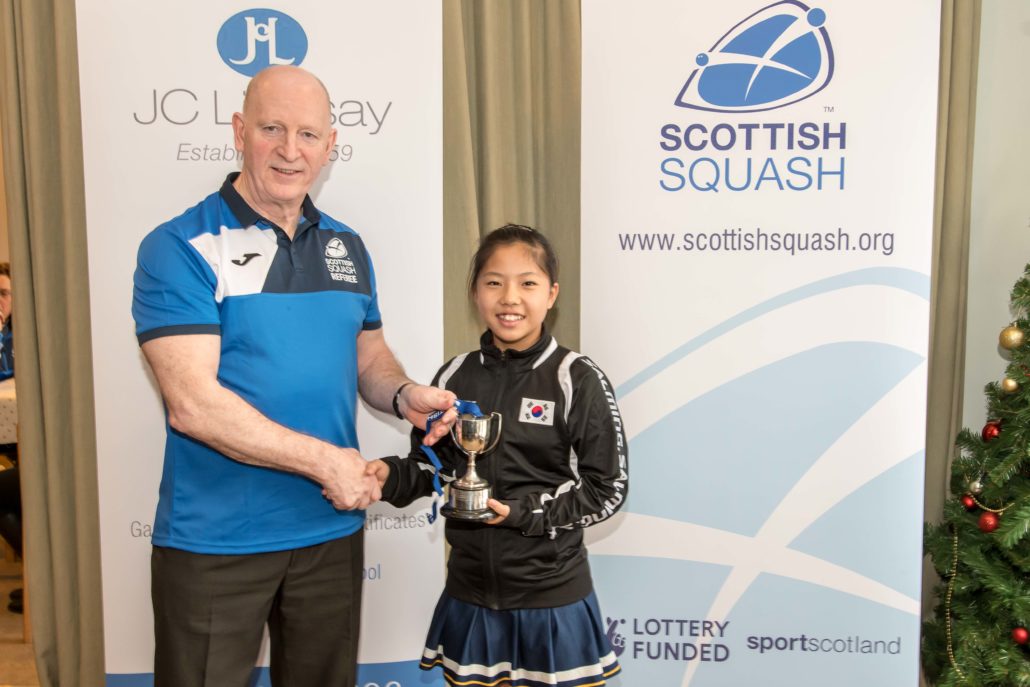 The Boys' Under-13s final was won by Egypt's Zeineldin Shams, seeded two, who defeated top seed Juan Jose Torres Lara from Columbia 11-6, 8-11, 11-5, 11-8 (both pictured below).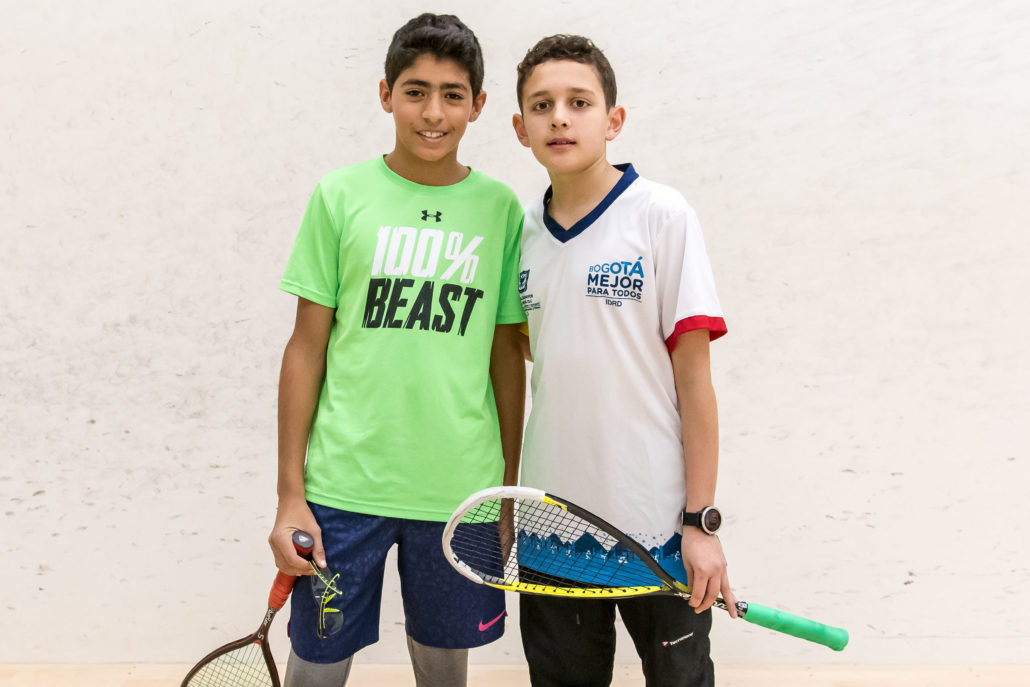 Nickhileswar Moganasundharam of Malaysia impressed during his Boys' Under-11s final success against Welsh youngster Archie Turnbull, winning 11-7, 11-6, 11-5.
In the first final of the day, USA's Eliza Schuster, below with the trophy, was too strong for Spain's Estela Martin Sanchez, claiming the Girls Under-11s title following her 11-3, 11-2, 11-7 win.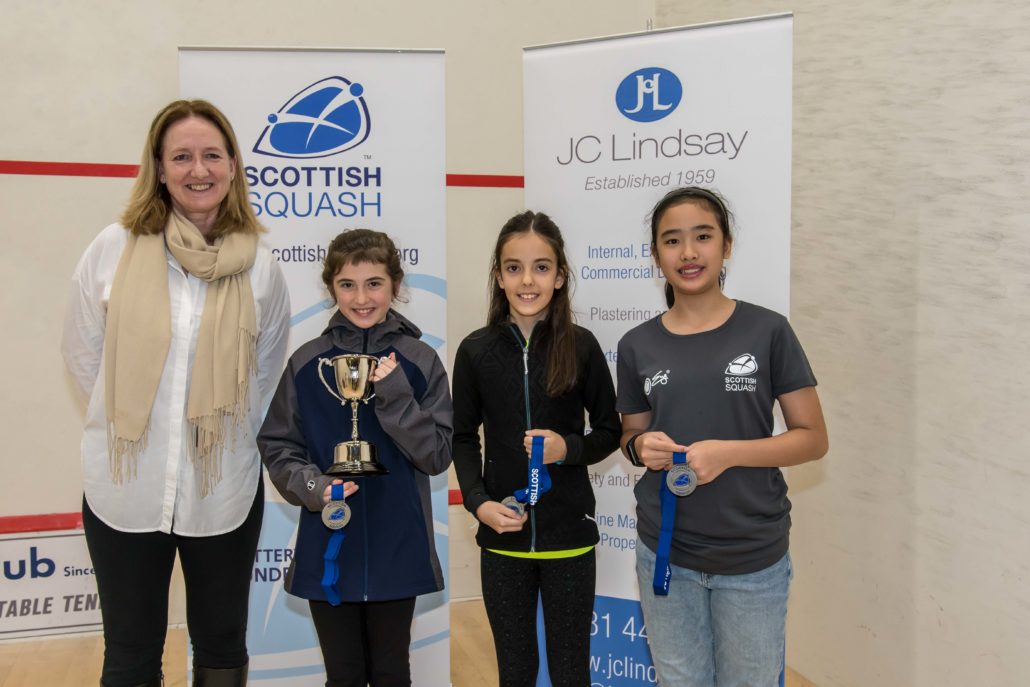 Full results from all matches can be found here.
A huge thanks to official event sponsor JC Lindsay and key partner iDare Sports, the official Eye Rackets distributor for the UK and Ireland.
https://www.scottishsquash.org/wp-content/uploads/2017/12/Main.jpg
3712
5568
Andy Weston
https://www.scottishsquash.org/wp-content/uploads/2017/10/Scottish_Squash_Logo_LANDSCAPE-300x90.jpg
Andy Weston
2017-12-30 22:37:38
2017-12-30 22:38:01
Epic finale concludes successful JC Lindsay Scottish Junior Open - round-up