Scotland's number one male squash player Greg Lobban was back in his home city of Inverness when news of the lockdown measures were announced on March 23.
Since then Greg has been in the family home with his mum and dad, their dog Barney and his fellow squash playing wife Donna.
We caught up with Greg to talk us through a typical day in lockdown.
MORNING
We tend to get up around 9am.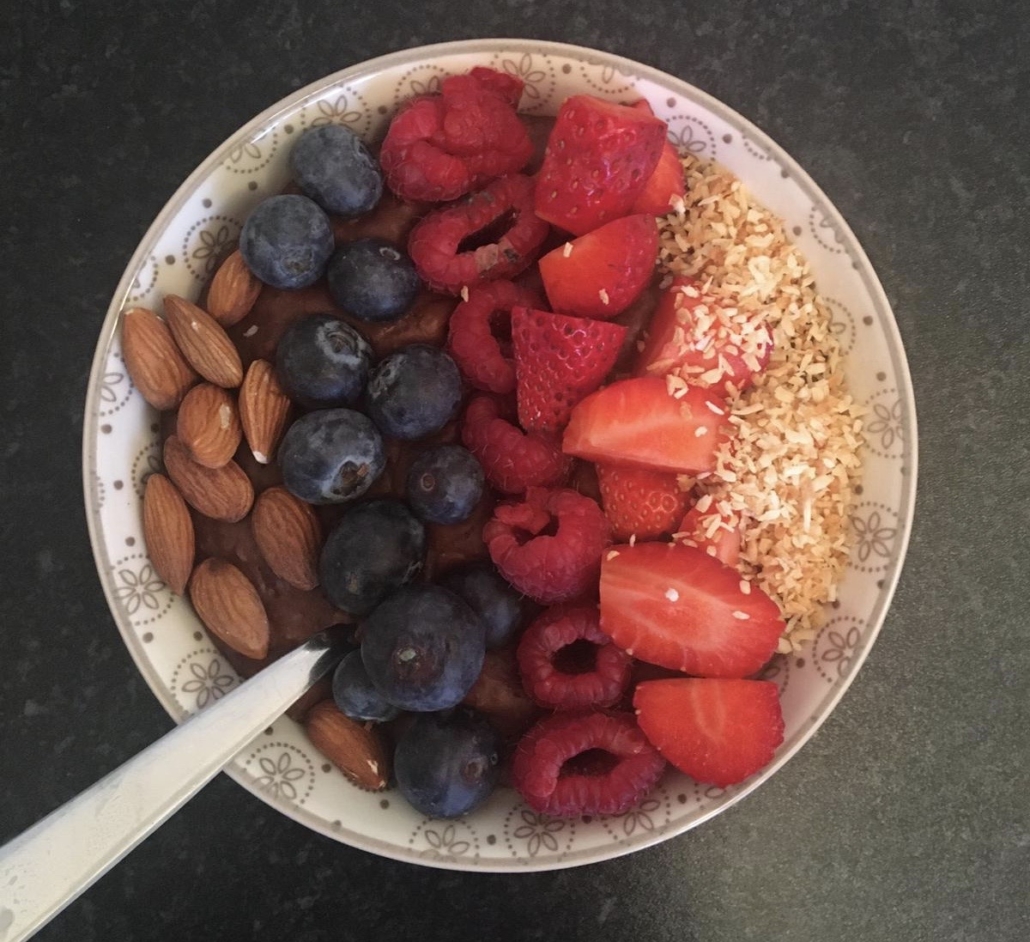 Normally back home we're up about 7 o'clock but we're not stressing about rising that bit later just now.
After waking up it's a pretty standard breakfast, porridge and some fresh fruit.
We might watch a bit of TV as well, maybe check the latest news until our breakfast settles.
Our first training session is around 11am.
We're trying to mix training up as much as possible but keep to a pretty consistent routine.
For Donna and I routine has been really important and always having something to look forward to during the day.
So the morning work-out could be a running session, circuit training, skipping or a stairs session.
There's a park about five minutes from the house which is quiet. We can use that as part of our one outside mode of exercise per day.
We also found a nice flat wall across the road that stays pretty true and we have a fun hit there – nothing too serious. It's good to keep your eye in.
I don't think we're getting back on a court anytime soon unfortunately.
So it's a good time to mentally refresh and take our mind off squash a bit.
We know when the competitive action does start up again it will go on for the foreseeable future.
We're keeping things fun when being active, doing things which make us happy and thinking outside the box.
By the time we have done some stretching our first training session is over. That takes us up to lunch.
LUNCHTIME
We've been enjoying meal times actually.
Donna has a big interest in cooking and baking. So we've been creating a few things that we don't normally have time to do during the season.
So at lunch it's different soups and salads or maybe making our own humus.
It can vary a lot and we're cooking from scratch which is more fun.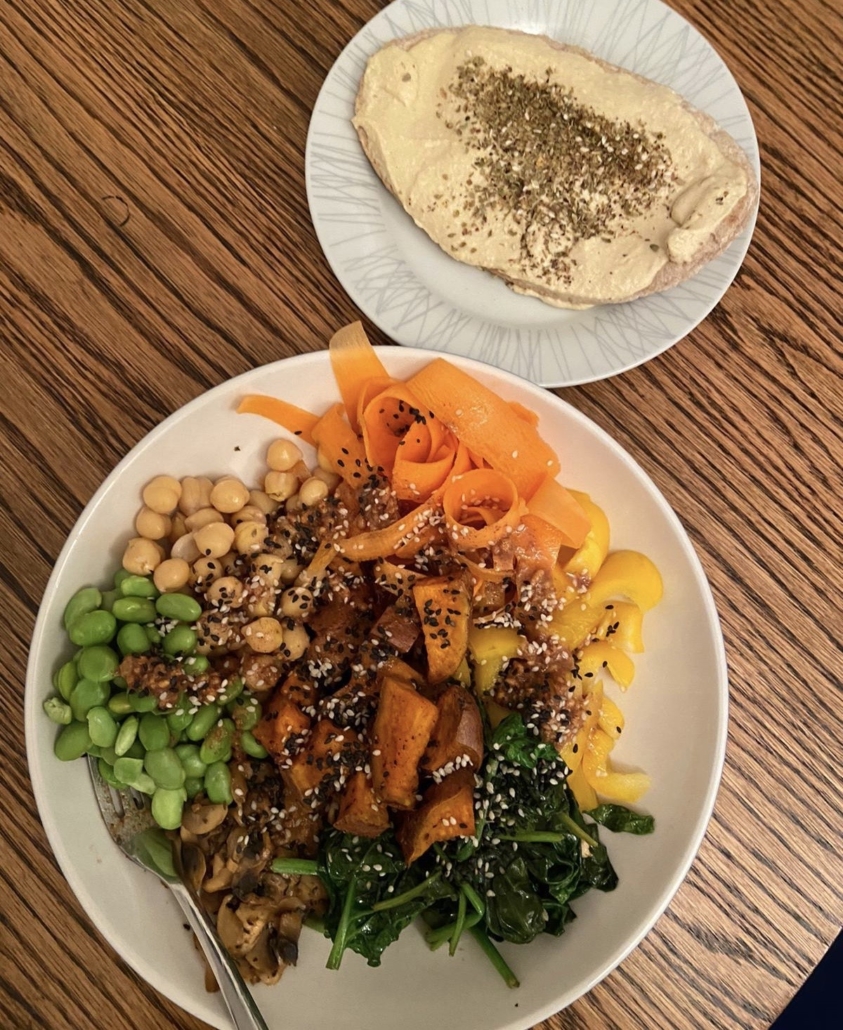 Donna has also made some chocolate brownies. It sounds unhealthy but they're actually really healthy and made with oats.
I'm definitely taking advantage of Donna cooking some tasty stuff!
I'm good at assisting her. I do the easy jobs and Donna puts it all together. Suits me down to the ground.
That takes us up to around 2pm when we try and make time to catch-up with people online.
Donna might by on Facetime, Skype or WhatsApp with family or friends back in Australia.
After that we'll begin our second training session of the day.
AFTERNOON
It might be a lighter session in the afternoon. Usually inside or, if the weather's nice, in the back garden.
The majority of our training regime gets sent across by our coaches who have been keeping us busy with some specific exercises.
I've also been using the Peloton home fitness App.
We do various different core exercises and one area I've been wanting to work on for a while is my range of motion and flexibility which doesn't come naturally to me.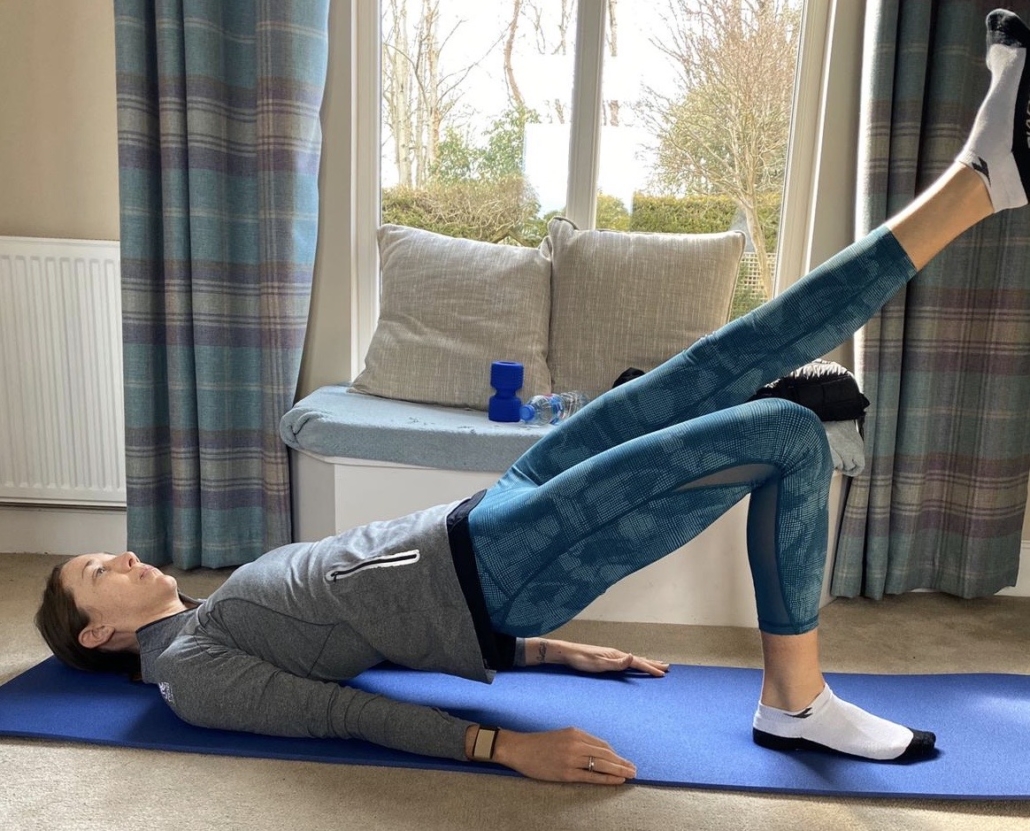 That takes us up to dinner time about 6pm and we're eating at the back of seven.
We don't feel like the days are particularly long when you break it up hour by hour. Keep it interesting and the days can go quickly.
DINNER TIME
For dinner, again we're cooking from scratch, trying some new recipes – anything from pasta dishes to stir fry.
We've been eating more plant based stuff as well and on the weekends we vary it with things like homemade burgers or pizza.
Mum and dad will join us for dinner around the kitchen table.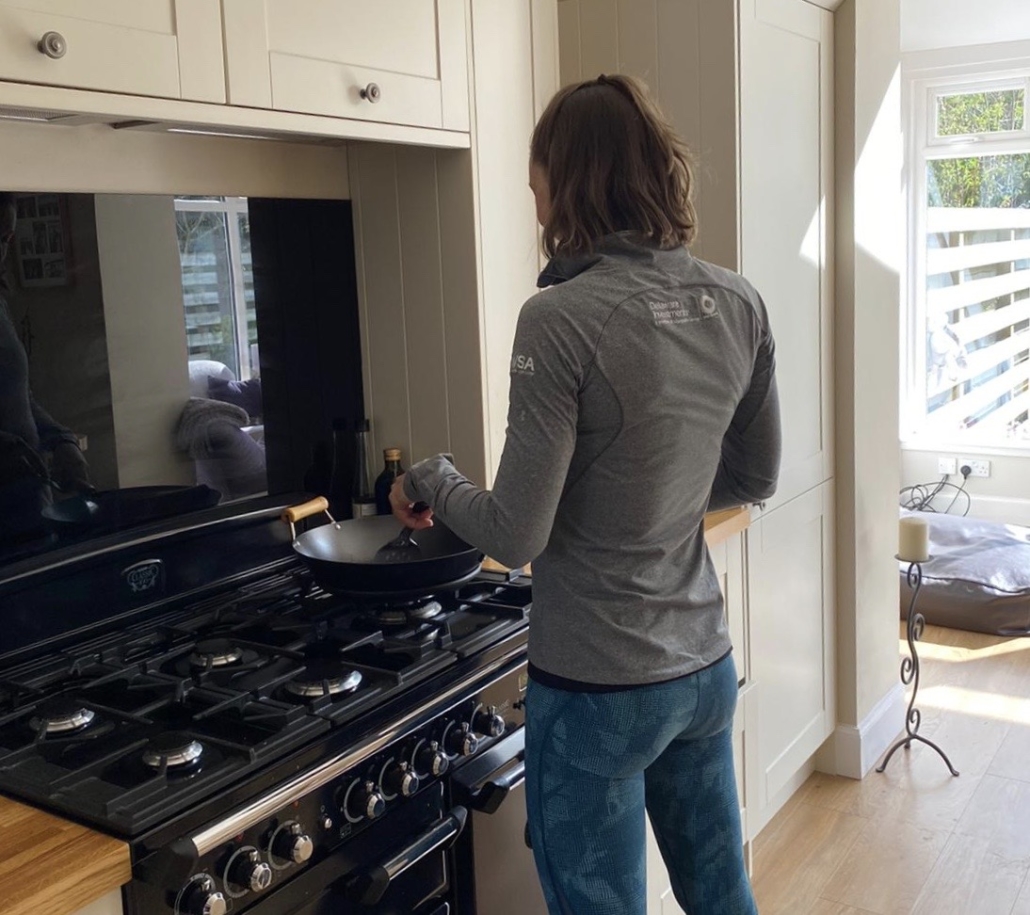 EVENING
After dinner we might play a few board games, like backgammon or just catch-up with my parents which has been nice.
We're not huge TV fans but over this time it's a nice way to switch off.
At the moment we've been watching Wentworth, an Aussie crime series, on Netflix.
We don't binge watch too much, try and keep it to one or two episodes a night.
I like watching the US version of The Office but Donna's not a fan. I'll switch that on when I can!
I also enjoy sporting documentaries, getting an insight into how individuals or teams go about things.
My favourites are All or Nothing: Man City and All or Nothing: All Blacks, on Amazon Prime.
Sunderland 'Til I Die and the Leeds United documentary are good as well.
Bedtime is a bit later. Normally it's around 10pm but at the moment it's after 11pm.
It's not an ideal time for anyone but we're taking it day-by-day. For me that's the easiest way to deal with it.
It can get quite daunting when you look too far into the future.
The best thing about lockdown is exploring different types of training and getting creative.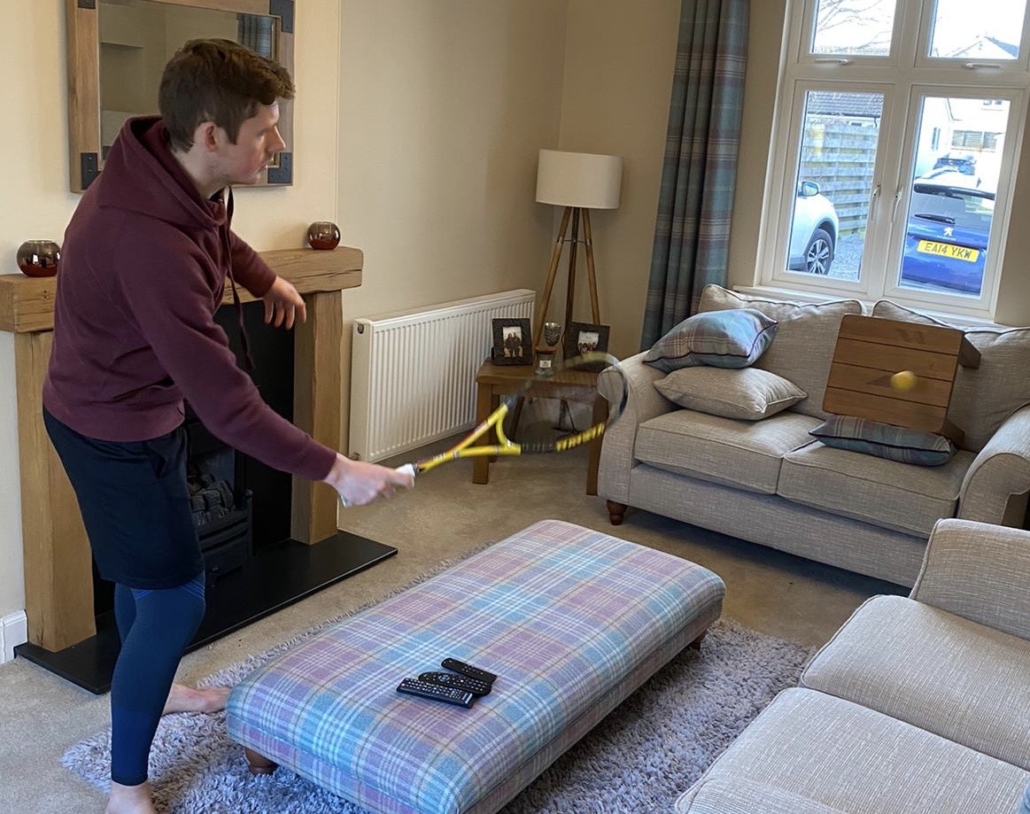 I've created a bit of a squash court in the living room – turned a wooden table upside down and put it on the couch.
I hit a sponge ball against that but never win the point. The ball just keeps coming back! You can get creative with pretty much anything in the house.
Barney the dog keeps everyone entertained throughout the day. He's a great distraction.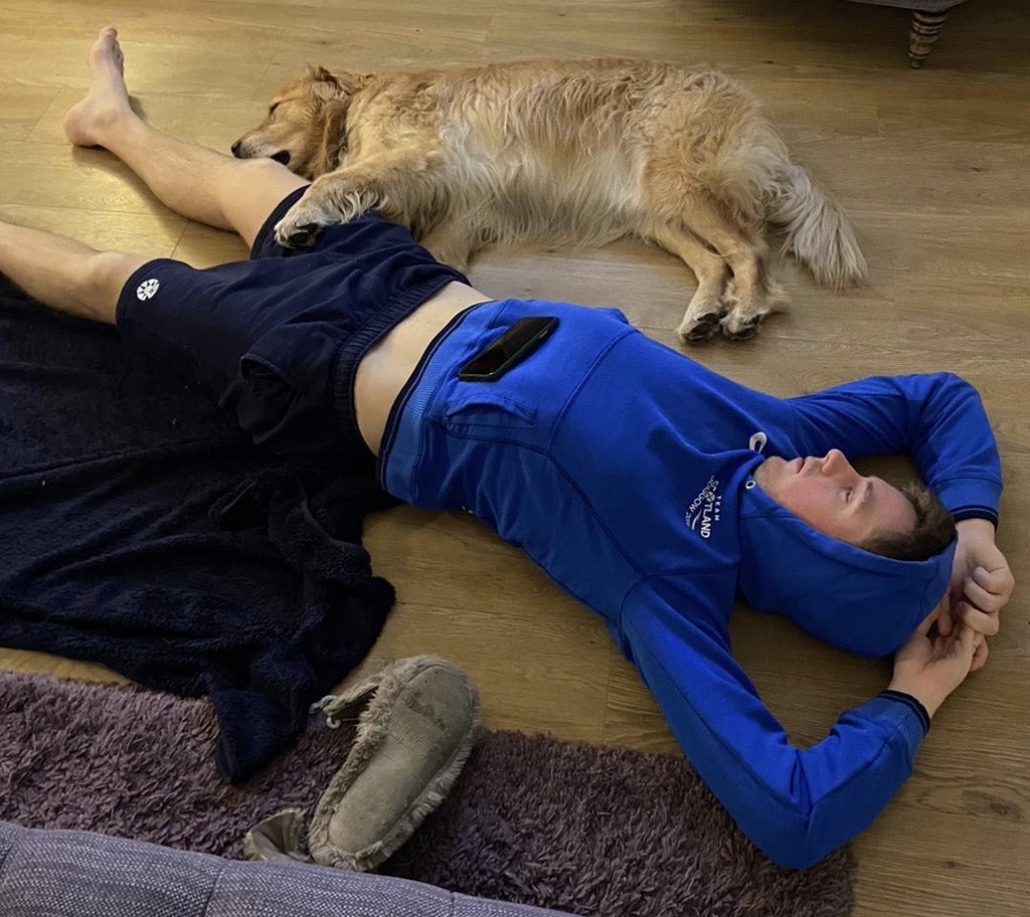 He seems very happy with all the attention and is crashing out at about 7pm!
I think people have enjoyed seeing some of our videos on social media as well.
That's a nice way to stay engaged just now so Donna and I will keep pushing them out.
It wasn't a conscious decision to be up here during lockdown but it's worked out pretty well and we are happy with the base we've got.
When the time is right we'll head back down to Sheffield.
View the Scottish Squash Lockdown toolkit, here.
https://www.scottishsquash.org/wp-content/uploads/2020/04/DSCF6951.jpg
1116
1600
Allan McKay
https://www.scottishsquash.org/wp-content/uploads/2017/10/Scottish_Squash_Logo_LANDSCAPE-300x90.jpg
Allan McKay
2020-04-16 15:28:56
2020-04-17 15:21:15
A day in the life of a squash couple – in lockdown