World Squash Day 2015 – UNICEF Charity Squash and Cycle Challenge
World Squash Day 7 Clubs, 7 Matches, 70 Miles Challenge – Saturday 10th October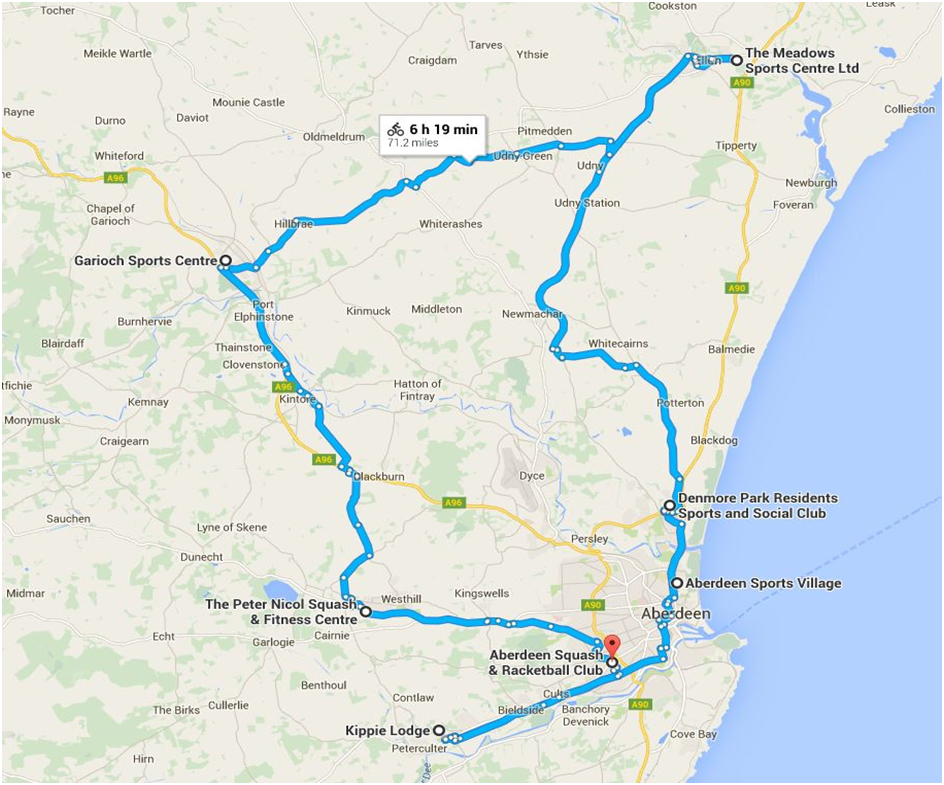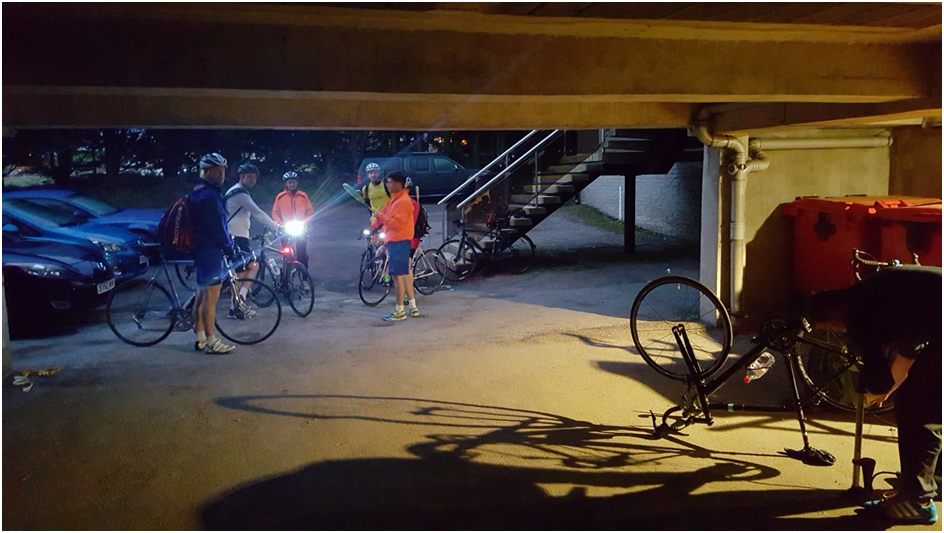 6.45am: a team of 9 bleary-eyed riders assembled at Aberdeen Squash & Racketball Club, adding the last few PSI to their tyres and giving their kit a last-minute check. By 7am we were on the road for the short first leg out to Kippie Lodge, a country club on Royal Deeside.
Waiting in the car park for us was Kippie 1st Team Captain Andy Prentice. First matches played, including a tough early morning battle between Andy and Scotland International Junior Nathan Sharp, and we found ourselves enjoying bacon rolls that Kippie had kindly cooked up for us.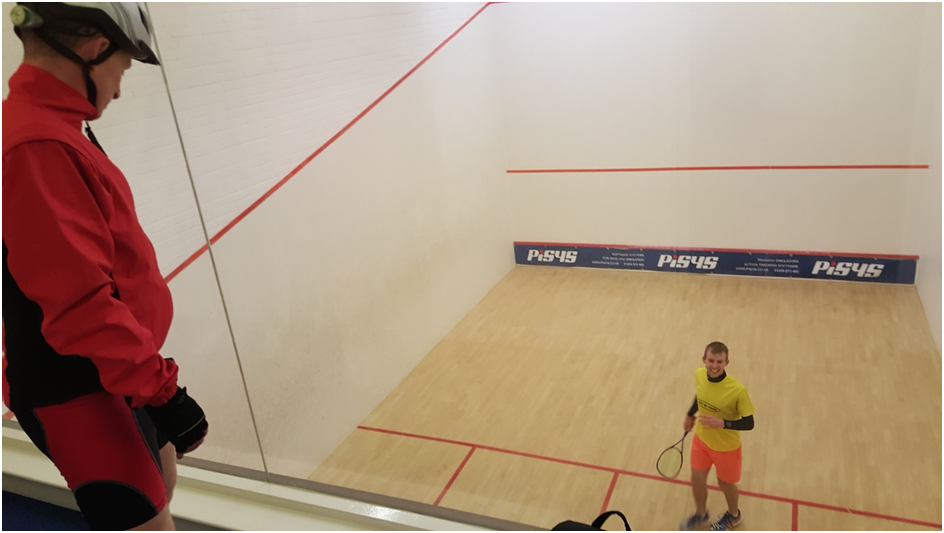 Pic: Kippie Lodge
After Kippie we headed back past Aberdeen SRC en route to Aberdeen Sports Village SRC, a relatively new club in Grampian who are enjoying a rapid growth of late. We were greeted by Grampian Squash President Mark Gauci along with a contingent of ASV SRC players, and even some casual non-affiliated players who decided to join in on the day!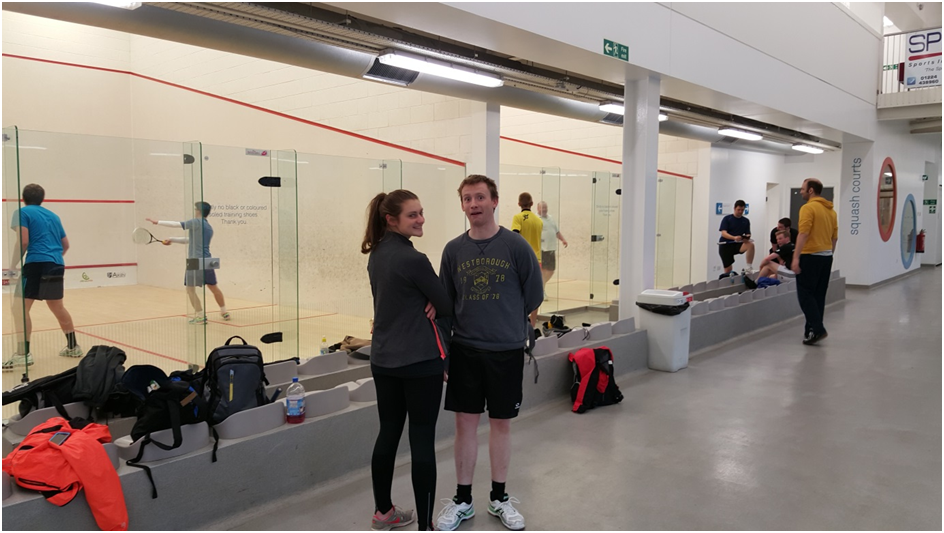 Pic: Aberdeen Sports Village SRC
A short hop to Denmore Park followed. After an absence on the Grampian Squash calendar of many years, Denmore Park now hosts a team playing under the Aberdeen Sports Village umbrella. Encouragingly there are talks of adding a second team to the fixture list.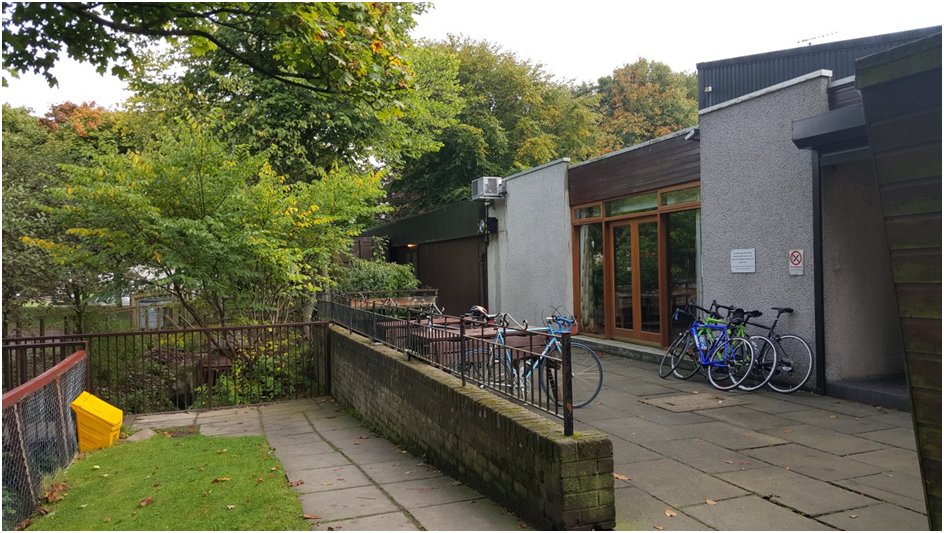 Pic: Denmore Park
The first of our long stints on the bike loomed as we headed out towards Ellon. The 'Squeloton' broke up as the slower riders had decided to get a head start on the route out. Calamity struck when we realised they had the only satnav in the group and none of the remainder had much local knowledge of the area! Step forward once again Nathan Sharp, who dragged the group on at an average 37kph for a good 6 or 7 miles and bought us enough time to get lost as we took our road bikes onto bridleways and had to stop a few times to google the route.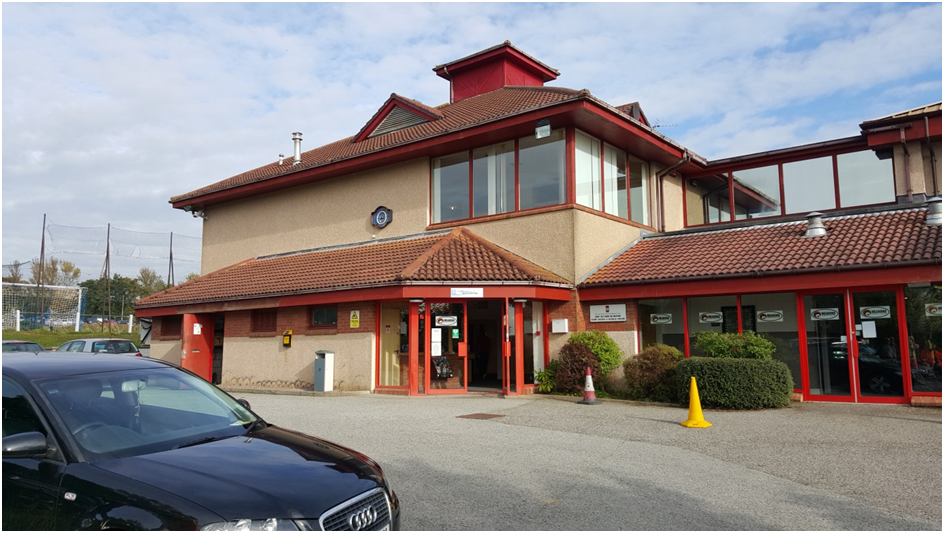 Pic: The Meadows Sports Centre (Ellon Squash Club)
3 matches in and a long stint on the bikes conquered, we were half way at 37.5 miles. We arrived at the Meadows Sports Centre, home of Ellon Squash Club. Ellon's Phil Thorpe had done a fantastic job of rounding up opponents, putting on a cracking spread of snacks and organising a whip round which added another £50 to our fundraising total. All of the cycling team observed that there is a relatively untapped market for growth in Ellon and as a team Grampian Squash could look to further support this.
Just outside Ellon we suffered our first casualty. Aberdeen University Students Captain Sam Price injured his calf and abandoned, taking a bus back home. Shortly afterwards, Nathan Sharp clipped Mike Hegarty's wheel and flew off his bike. Fortunately he rolled along a soft grass verge with no damage done. This leg of the journey between Ellon and Inverurie, proved very tough indeed. The group needed several stops for water and energy-gels and the picturesque Scottish scenery proved remarkably tough to traverse.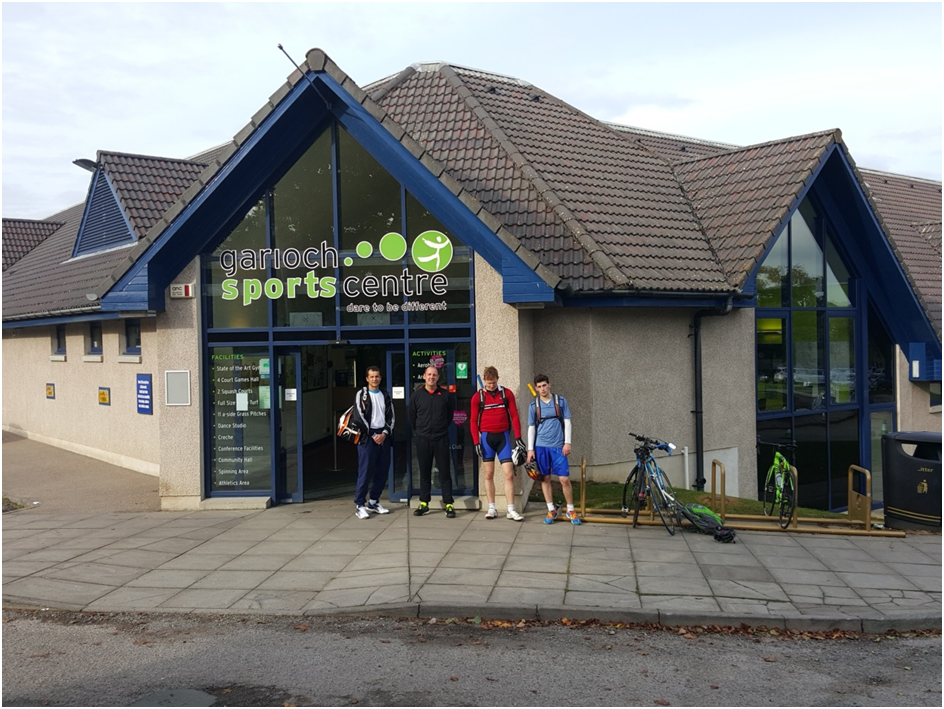 Pic: Garioch Sports Centre
Some very tired legs wheeled into Inverurie after around 55 miles. We were met with a great welcome at Garioch Sports Centre as well as a fully stocked chocolate vending machine which was attacked with gusto. Garioch Captain Steve Shinnie had rounded up some very tough players, including Robin Warnock who took great pleasure in repeatedly boasting those same very tired legs up to the front of the court. A whip-round by the Garioch team offered another £50 to the fund which was very gratefully received.
Onwards from Inverurie to Westhill. This was a tortuous route past the dreaded Castle Fraser. The route involved several km of steady-gradient climbing and was by far the toughest leg of the day. Hitting this late-on proved a killer and we barely made it to Westhill. Fatigue meant tempers were flaring and the group was relieved to make it to the next stop.
The Peter Nicol Centre in Westhill only opens between 10am and 2pm on a Saturday so they were unable to accommodate our requested 9am or 5pm arrival times. This actually proved to be a welcome relief as the team went for a refreshment in the Broadstraik Inn next door and took on some much needed carbohydrates.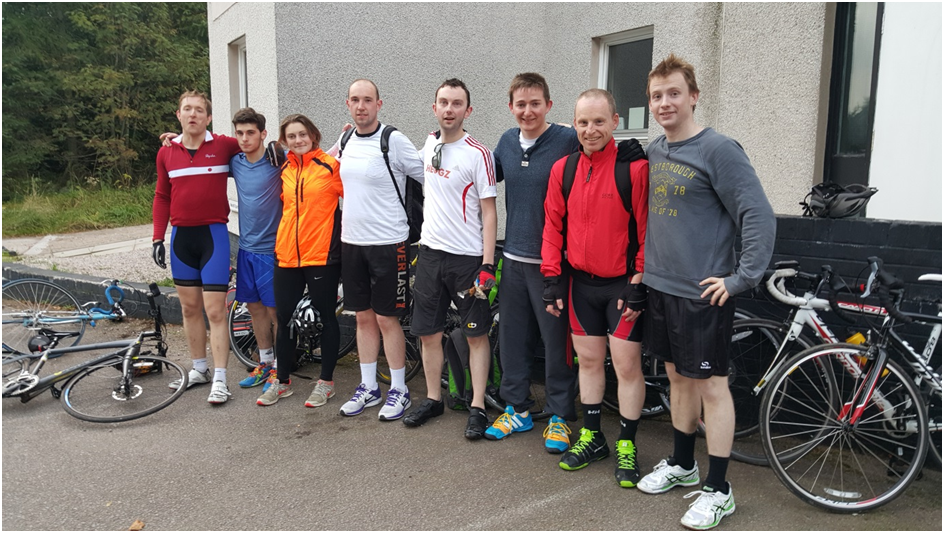 Pic: Peter Nicol Centre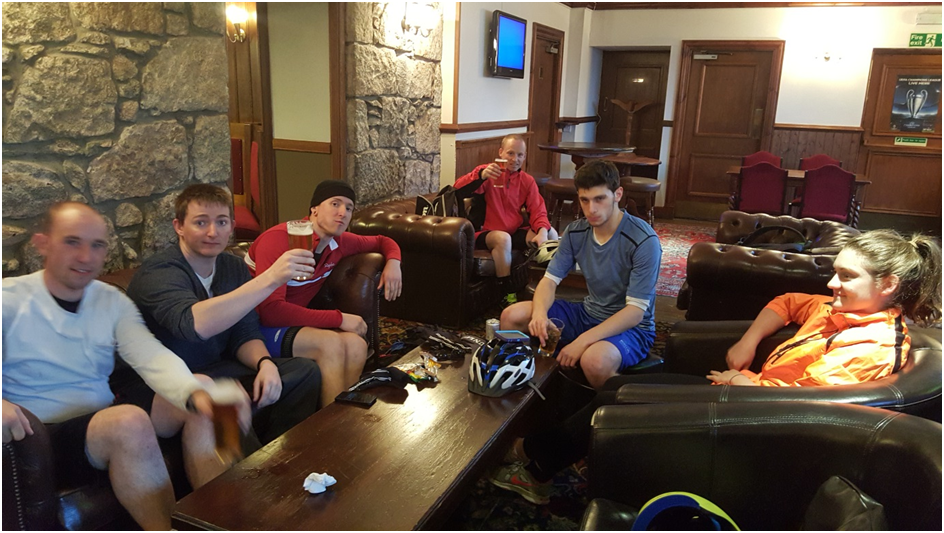 Pic: Broadstraik Inn
Beginning the final leg back to Aberdeen SRC at 6pm, we found the temperature had dropped sharply. Coupled with dwindling energy reserves, the group really started to feel the cold. Shortly afterwards, an impromptu race began as a pair of riders broke away from the 'Squeloton' – no doubt fuelled by visions of the warm ASRC bar which awaited them. Some of the more competitive riders declared 'game on' and worked as a unit to chase them down at high speed. Successfully reeling in this break, the 'Squeloton' reassembled at the ASRC bar where after a short rest the final match was played as a doubles competition. Following that was a very long shower and a gathering round a giant pot of piping hot Scotch Broth. According to Strava, accidentally the team covered 81 miles instead of the planned 70 and still completed the 7 planned matches. A phenomenal effort.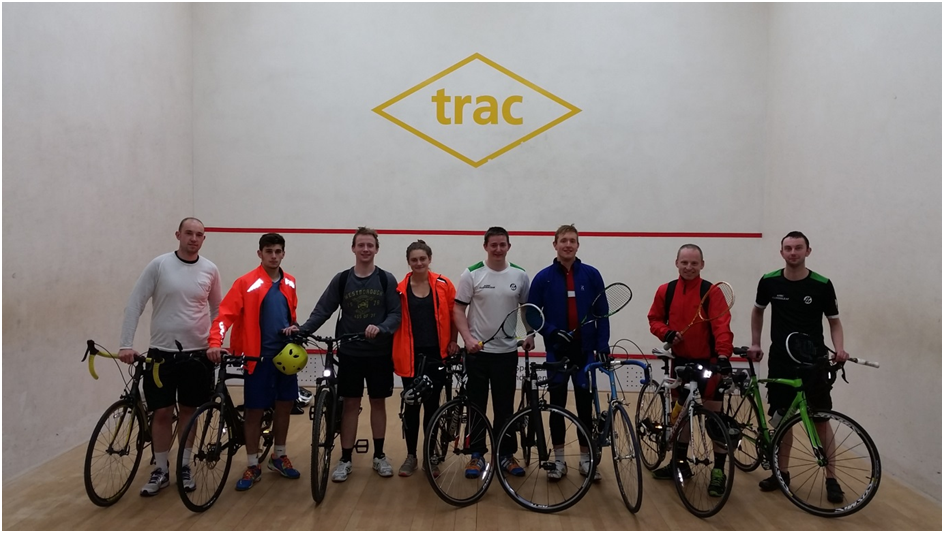 Pic: Aberdeen SRC
A successful day was followed by a successful World Squash Day raffle and we raised another few hundred pounds for the cause.
The final total is TBC but currently we raised well over £1000 for Unicef. Well done to all involved.
Mike Hegarty
Captain
Aberdeen SRC
P.S. I'd like to extend my sincere thanks to the following people as well as club management. Without their help and participation the event would not have been possible:
Participants
Nathan Sharp (ASRC)
Paul MacKenzie (ASRC)
Matt Lewis (ASRC)
Andy MacDonald (ASRC)
John Alexander (ASV SRC)
Sam Price (AU Students SRC)
Rebecca Alexander (Volunteer)
Matt Shotter (Volunteer)
Kippie Lodge
Andy Prentice (Organiser)
ASV SRC
Mark Gauci (Organiser)
Alan Finlay
Dave Conn
Denmore Park
Mike Henderson (Organiser)
Alan Finlay
The Meadows Sports Centre (Ellon Squash Club)
Phil Thorpe (Organiser)
Frank Ballantine
Geoff Leer
David Ovenstone
Garioch Sports Centre
Steve Shinnie (Organiser)
Stuart Kennedy
Robin Warnock
Elvis Payet
Fred Green
Aberdeen SRC
Dave Ireson
George Tierney (food)
Jacqueline Hegarty (soup)
Everyone who donated money and raffle prizes.
https://www.scottishsquash.org/wp-content/uploads/2015/10/WSD-10.png
533
944
Scottish Squash
https://www.scottishsquash.org/wp-content/uploads/2017/10/Scottish_Squash_Logo_LANDSCAPE-300x90.jpg
Scottish Squash
2015-10-14 09:24:24
2016-08-26 10:54:27
World Squash Day 2015 – UNICEF Charity Squash and Cycle Challenge