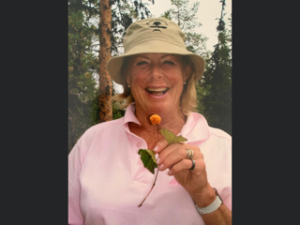 It is with great sadness that we have learned of the passing of Minty Smith, who passed away on 13th February, 2022.
Minty will be greatly missed by all who knew her, and we offer deepest condolences to her family.
The Highlands & Islands Squash Association obituary read as follows:
"The best way to describe Minty was 'A Ship in Full Sail!' 
Minty (Smith and Duncan) was a consummate, talented and fiercely competitive sportswoman who excelled at any sport that she took part in. But for us, who knew her and came under her spell, she was an accomplished squash player and a delight to be with both on and off court. Resplendent in pink, her favourite colour, she dominated ladies squash in the Highlands during the late 70's. 80's and 90's. She had an open and bubbly personality with a smile that went from today to tomorrow, it was a pleasure to be on court with her as her sense of humour and sheer delight in just playing squash pervaded the whole match. Once, when asked where the ball was at the court in Aviemore, she reached into a snow drift at the door and pulled out an ancient, grey, polished ball, more like a stone than a squash ball. She dried it on her tracksuit top and then apologised for the rime ice on the walls below waist height, she didn't recommend playing a boast as all that happened was the ball would slither along the wall and die in the front, her opponent couldn't stop laughing all the way through the match.
Minty was born Shiona Mary Scott, in 1940, the daughter of a Scotts farmer in Kenya. She lived there until she was six when the family returned to Scotland as the British colonial system began to disintegrate. The family lived near Ballantrae, Ayrshire and Minty attended Wellington Girls School in Ayr and then St Leonard's in St Andrews where she became proficient at golf, lacrosse and squash.
After school she qualified as a physiotherapist in Edinburgh, which she continued to practice until she retired, and then started working in Aberfeldy. Here she met her first husband, Campbell Smith, who was an accomplished squash player. From there they moved to Drumnadrochit near Inverness where Minty's sports life took off.
They joined the Inverness Tennis and Squash Club (ITSC) and started to play for the Inverness Teams in the Moray Firth League. In the 1970's to 1990's squash in the highlands was booming, there was a tournament nearly every weekend and the Moray Firth League boasted a number of Men's and Ladies leagues that were very popular and competitive. Minty quickly became the leading light of the Inverness Ladies team who were a dominating force in the Ladies's league. She, Carol Baker, Jean Murray, Jill Johnson and Helen McKenzie were a powerhouse in the north with their only real competition being the Nairn Ladies team, the matches between the two providing a viewing spectacle extraordinaire for any teams playing at the same home venue. The Annual prize-giving party, lavishly provided by Hawco and Company, was a riotous event in which Minty and Co ensured that the evenings were never forgotten and are still recalled by the few who remain.
Minty now received the attention of the Scottish Squash Racquets Association (SSRA) and was regularly selected to play for her country in the Over 50, Over 55 and Over 60 teams.
Minty had boundless energy and enthusiasm giving her time to junior coaching at Inverness, Cardio Rehab sessions for the NHS (that are still fondly remembered in Nairn), fitness classes and to golf where she was the Nairn Ladies Captain for a number of years.
Sadly Minty succumbed to Alzheimer's and died on 13th February 2022. She is survived by John, her husband, and her two sons Roderick and Angus."
https://www.scottishsquash.org/wp-content/uploads/2017/10/Scottish_Squash_Logo_LANDSCAPE-300x90.jpg
0
0
Scottish Squash
https://www.scottishsquash.org/wp-content/uploads/2017/10/Scottish_Squash_Logo_LANDSCAPE-300x90.jpg
Scottish Squash
2022-02-24 10:21:14
2022-02-24 10:21:14
OBITUARY