Kyle Penman has high hopes for the future after "double-double" success
Squash ace Kyle Penman has enjoyed making a habit of back-to-back wins in recent years. 
The Bridge of Allan youngster secured a double victory at U17 and U19 level at the Scottish Junior Championship for the second year in a row in 2022.
Then in September, Kyle was crowned Scottish Squash Junior Player of the Year, having won the award the last time it was presented in 2020. 
Alongside these achievements, in the last year he has secured wins at events in England, represented Scotland in European competition and made his debut at the US Junior Open. 
But it was a stunning third place finish at the British Junior Championship which was the highlight of Kyle's season in 2021-22. 
Kyle said: "The British Junior Championship has always been one where I've been a bit unlucky, maybe I should have won a match which I've lost, and then placed lower than I should have. 
"To pull through in that tournament and consistently play well over the weekend was really nice, and to come out with third place, I was very happy with that."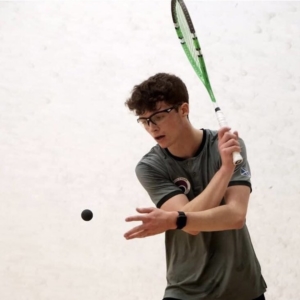 While experiencing success across Scotland and overseas, an achievement closer to home was one close to Kyle's heart, as he was crowned club champion at Bridge of Allan Squash Club – making him the youngest player to clinch that title, aged just 16. 
He reflected: "That one has always been one that I've wanted to win, because growing up as a junior I would go and watch the club championships and watch the guys play. 
"Before Covid I was still competing with the guys, but they were beating me.  
"To keep everything up during Covid and then come back and get my name on there as the youngest person ever to do it was quite an achievement." 
It was an important year for Kyle on and off the court, as he juggled his squash training with exams at school. 
The 17-year-old even sat a Physics exam in a Netherlands' hotel room at 7am, while on international duty. 
Kyle said: "It was really tough, but I used squash as an escape.  
"I'd be busy with school and everything throughout the day, then I'd rest for a bit.  
"The rest would be going out playing squash and training and using that to escape from school, which helped me to focus more when I was in school." 
Kyle has high hopes for the future, and having recently passed his driving test, he is hoping to make the most of his newfound freedom as he continues to travel for training and competitions. 
He said: "I'm going back to the US Junior Open this year, and then I've got the British Junior Championships next weekend (27th – 30th October), so I'm hoping to finish in the top 10." 
With all the success he has had as a talented youngster, Kyle knows the importance of helping younger and less experienced players, and this is a responsibility he relishes. 
Kyle said: "When I was younger it was great to be able to go up and watch the high-level players, and for them to come off and give you a smile or a little conversation meant a lot to me. 
"If I can make someone else feel like that, then who knows what they might want to do with their squash." 
Former Scottish Squash President, Jim Hay, has kindly provided sponsorship for the Junior Player of the Year award for the period 2018-2028. As a result of this sponsorship, Kyle also received a trophy and a cash award of £200 to help cover some of his expenses as a young squash player.
https://www.scottishsquash.org/wp-content/uploads/2022/10/Kyle-Penman1.jpg
1280
960
Stuart Monteith
https://www.scottishsquash.org/wp-content/uploads/2017/10/Scottish_Squash_Logo_LANDSCAPE-300x90.jpg
Stuart Monteith
2022-10-26 10:32:44
2022-12-01 13:29:38
Kyle Penman has high hopes for the future after "double-double" success