The Grampian Masters tournament was held at the Aberdeen Squash and Racketball Club on 21/22 October 2017.
There were a total of 66 competitors who took part in one Ladies' event and eight Mens' events.
Mark Gauci and the Grampian committee, managed a very well organised tournament. They all worked hard to make all competitors welcome and the bar was busy with an excellent selection of hot food and cold drinks. The competitors thanked Mark and the Grampian committee for all their hard work.
Thanks are also due to Scottish Squash and SportyHQ for managing the entry and supporting the Grampian committee in running the tournament. Maureen Maitland supported the committee by providing refereeing services throughout the tournament.
Ladies O40
This is a first – we have two excellent complementary reports from players for this event which was clearly enjoyed by all competitors despite the age differences!
There were 7 competitors of varying ages and the competition was played as two round robins. The first-round robin included the youngster in the draw, Ailsa Polworth (Inverness Tennis & Squash Club), who played beautiful squash and was the final winner. The 2nd place in first round robin was taken by hard hitting Helen Cordiner from the home club.
The second round robin was won by Fiona Morrison of the home club, beating Jane Davey from Inverness, Bernie Beattie from Dunblane and Mandy Craig Gould form Inverness in three games. The athletic Jane was getting into her game by the third game, losing the final game to 12, leaving it a bit too late for a winning score. Bernie and Fiona's game was a very close and exciting contest with Bernie losing the 3rd and final game 16 – 14. Jane managed to keep the ball in play long enough, to beat Bernie's very accurate touch play.
Sunday saw a semi final involving Inverness players, Ailsa and Jane, with Ailsa winning comfortably and an Aberdeen semi-final of Fiona and Helen. The latter was a fabulous match with first Helen taking the ascendency, then Fiona fought back for the 2nd game and continued with the 3rd, while Helen took the 4th 15-13, but Fiona triumphed 16 -14 in the 5th game.
After already playing 4 games, the final saw Ailsa take on Fiona who put up a good fight winning the 1st game 16-18, but losing the 2nd to 12 and then running out of steam to a well deserved winner in Ailsa. 3rd/4th play-off saw Helen beat Jane 3-1. Maureen Carroll and Bernie Beattie played for 5th place, with Maureen just sneaking a 3-1 win.
Girl Power!
What can I say but what a wonderful weekend we had at the Grampian Masters in Aberdeen. The entry as you can see from the line up shot was one of the best (7 ladies), we've had in the ladies category for a while and long may it continue.
Firstly I'd like to thank our one and only female eagle-eyed referee Maureen Maitland who was on form and had her work carried out having been a pretty ferocious player herself handling some tricky players and decisions, all us ladies were pussy cats compared to the men! Oh and to Margaret Sturman our very own budding photographer attempting to capture players when they least expect it!  Good to see Norma too, the most positive lady I know, always there willing you on and I'm looking forward to seeing her back on court in the New Year.
The draw was interesting, we had two round robins, which in one way of looking at it was good, meaning you had lots of games which is fine if your 40 plus, however we're made of tough stuff and we all battled on in our own way.
First up and an interesting match was none other than Helen Cordiner  "little miss gorgeous" against the formidable reigning champion Ailsa Polworth – it was fast and furious and Helen was holding her own, running and covering the court well, put up a good fight but Ailsa's boasts aiming for 1/2 inch above the tin was just too much!  Next up was the feisty red head 'fi fi' against jolly Jane Davey, (she never stopped smiling) and knowing I had another 2 games ahead of me and at the tender age of 54 on the same day, thought I needed to up my game, although Jane stretched, jumped even spun around returning some amazing winners thankfully 'fi-fi' won.
On other courts we had some incredible players, including Mandy Gould. Next up was Bernie Beattie, she was just epic when those serves and cross drops were on phew, it drew you to your knees, almost head butting the front wall just trying to pick up her return.  Saving the best till last and that of course is the lovely Maureen Carroll, 60 eh um……years young but what a lady, extremely deceptive with some killer lobs, certainly holding her own and what a game she had with Bernie sadly I didn't see it as I was killing myself playing Helen in a five setter in the semi final (it could've gone either way and then in under two hours back on court in the final battling Ailsa (give me strength)… amazingly 'fi-fi' dazzled her in the first game which she actually won, she had a game plan but the poor body just couldn't pull it off, better luck next time and perhaps a longer break!  Next up we had Helen against Jane and that was quite a match both ladies were pushing themselves covering the court at "grease lighting pace" considering the amount of games we'd all played over 2 days, it was tight and exhilarating not too mention exhausting just watching, Helen had the edge and pulled through.
All in all a fab weekend, thanking all the girls for taking part, all the organisers and of course Aberdeen Squash and Racketball Club for putting on such a superb event and feel I had to mention the carrot and coriander soup it was "delicious."
Thank you
From a knackered auld ginger heeded wifee
MO35
The O35 draw had 5 aspiring players in the draw and started early at 9am in Aberdeen – this was very early for Mike Martin as he had only returned home to Inverness at 1am after an eventful 11 hour drive home from Standsted airport.
First on court was tournament favourite and Scotland regular Mike Black against Fernando Vincente. Mike controlled the first two games with his usual consistency and devastating accuracy. However, Fernando was moving well and stepped up the court volleying well and pressuring Mike with his fast and attacking game style to take the 3rd. The 4th was a battle but Mike's experience proved the key factor, as he claimed a 3-1 victory.
Mike Martin played Simon Peachey, a local player from ASRC who was fit and tested Mike frequently. However, Simon gave away too many cheap points and otherwise this would've certainly been a lot closer than Mike's 3-0 win. Mike then played seemingly the sadist of the weekend Danny Selway, not content with one event Danny opted to play the O35 and O40 events giving him a total of 7 matches over two days. Danny attacked well against Mike and was 5-0 up in the first game. Mike eased his way into the game and with an improved length pressurised Danny and started to lengthen the rallies which in hindsight was a little cruel looking back after seeing Danny on Sunday afternoon – a 3-0 victory for Mike.
After a light lunch of soup and toasties at the bar Mike went on court against Fernando. He dominated the first two games controlling the T and taking the ball early frequently and battled away and chased as many balls as he could – Fernando made a string of errors in game 3 to take the score to 2-1. The fourth ebbed and flowed as Mike led 6-2 up before going 9-6 and the 10-9 up. Having worked the ball and Fernando, he played a high defensive boast and was completely out of position and Mike smacked the game ball straight into the tin and went on to make two more unforced errors to give Fernando a well deserved victory.
Danny on his umpteenth game of the day then took out ASRC player Simon 3-0.
Sunday came and Mike, for one woke up extremely sore, stiff, and tired, not a good combination. He met Danny on court who was clearly extremely stiff and sore and in the first game he couldn't really move – however once his joints were loosened up he sprung into life and battled back claiming the 2nd and defying his court time chasing down balls and fighting hard. Mike pipped the next two to take it 3-1. Danny's last game was against Fernando and he was "completely knackered" to quote Fernando losing 3-0.
Simon lost 3-0 to Fernando and Mike but will have benefitted from playing 4 good games and hopefully we will see him at the other events.
Mike's last match of the day was against Mike Black and he cruised the first two games and was 10-7 up in the 3rd and looked to finish with a rolling nick and but a lack of concentration handed Mike the 3rd game. Mike B refocused and cruised the 4th to gain his maiden Masters title for the 2017/2018 season and claimed his bottle of Prosecco, which he was eagerly looking forward to!
Mike Black was the winner and won all four matches, the runner up was Fernando Vincente who won three matches, third place was Mike Martin who won two matches, fourth place was Simon Peachey who won one match and in fifth place was Danny Selway.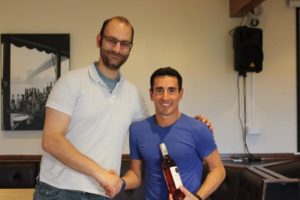 MO40
There were four competitors and the competition was played as a round robin. The top seed was Keith Simpson, the second seed was Blair McKenzie from the home club, the third seed was Scott Hay from Hamilton and the fourth seed was local player (and sadist) Danny Selway who played in both the O35 and O40 events.
Keith Simpson confirmed his seeding with winning all three games – 3-1 v Blair, and 3-0 v both Scott and Danny. The runner up was Scott who won two games – 3-1 v both Blair and Danny and in third place was Blair with a 3-1 win over Danny.
MO45
There were five competitors and the competition was played as a round robin. In a closely fought competition the winner was Peter Buchan, runner up Paul Jenkins, then John Kynoch, then David Massey and finally Tommy Van Huuksloot. The results can be seen in the table below: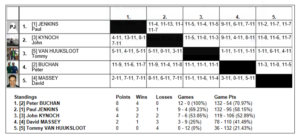 On a very early Saturday morning (9 am), the first match of the round robin saw the top seed Paul Jenkins from Edinburgh play John Kynoch from Inverness. Both are Scottish Internationalists in this age group so we were in for a good game here. Paul started the game on fire playing up the court, volleying the ball and nicely taking the pace of the ball. With John hitting a lot of cross courts this fed nicely onto his racket and he won 11-4. The 2nd game started the same as the first except John was starting to move better and hit a bit straighter. Unfortunately, Paul was still on top and 8-3 looked like he was going to run away with it. However, John managed to keep the ball alive and Paul uncharacteristically hit 4 tins in a row. At 8-7 Paul won a point but the momentum had changed. John kept up the pressure and took it 13-11. The 3rd and 4th games followed the same pattern. Paul managed to get out an early lead, but John dug in and was playing better than the beginning of the match. Unfortunately, he couldn't close the gap and also get the ball past Paul who was still volleying well. Paul won 11-8 and 11-7 respectively and the match 3-1. This game was a good start to the competition.
Not long after (9.30am) Peter Buchan from Montrose took on David Massey from Inverness. Although it's been a few years since they last played, David has improved his squash game a lot. Unfortunately, Peter was playing on home courts and was up for it. The first 2 games saw Peter keep the ball alive and deep in the back corners. This completely unsettled David and he couldn't get in front of Peter. Peter won 11-3 and 11-0 respectively. The 3rd game was more competitive and David built up a lead of 4-1. However, Peter got back on top and from 5-5 went through the next 6 points unanswered to win 11-5 and match 3-0.
The next match saw local Tommy Van Huuksloot enter his first Masters tournament against Paul Jenkins. I call this match a baptism of fire for Tommy as he was always struggling to keep up with a totally new pace of game to what he was used to. However, he had the strongest support cheering him on. Tommy seemed to be always stuck at the back of the court. He won quite a few points in each game but never troubled Paul who always seem to have a gear or two to go up in. Paul won 3-0.
In the afternoon, John played David in what you would call a local challenge – except at a different location. John has always had the upper hand against David with his shots and movement always being that bit stronger. David was up for this match and played a lot better than his first game against Peter. He managed to get in front of John and put in some low hard shots which John struggled to deal with. However, John always seemed to have enough and his boasts always seemed to catch David on his heels or had enough to stretch David out of position so that he had a straightforward shot to win the point. John won the match 3-0, 11-8, 11-6 and 11-7.
The next match was another local one of Peter against Tommy. Peter continued Tommy's welcome to Masters' competition by making sure that Tommy had to really win his points by minimising any errors from his shots. Each game saw Tommy work very hard but with little return for his effort. Tommy lost 3-0.
The last game on Saturday afternoon was Paul against David. Paul and David were feeling strong to play a 3rd match in one day. The difference in seedings showed in the first game as Paul (similar to his first game against John) took the ball early and dropping it with little pace on it. David could not cope with this and Paul won easily 11-2. The 2nd and 3rd game were much closer with David managing to get the ball past Paul by playing a little bit straighter. Paul also dropped his level of play but managed to always keep ahead on the points and won 11-7, 11-7 and the match 3-0.
Sunday morning (another 9 am start) saw Peter play John. The first game was a close encounter with Peter starting the stronger. At 5-1 up, John started to get into the game more and put Peter under pressure by keeping him at the back of the court. Peter tried to force the next few points by going low and hard cross court, but continually found the tin. From 5-5, Peter and John traded points but Peter was always continued to hold the lead. At 10-9, Peter managed to change this trend to win the next point and 1st game, 11-9. The 2nd game saw Peter play a lot more aggressively and not let John at the front of the court. This worked well and helped him win the game 11-4. The final game saw Peter start off the better, winning a few points before John, playing to his strengths and keeping the ball to the back of the court before dropping the ball for winners off any weak shots from Peter. However, Peter's lead was quite large and although John competed it was not enough to pull back the gap and Peter won 11-8 and the match 3-0.
It was David against Tommy next. With both players not winning any matches on Saturday, the looser had the potential to win the wooden spoon spot in the competition. The 1st game saw David take the game to Tommy and didn't let him in it. Tommy seemed very nervous and struggled to return David's service and David easily won 11-1. The 2nd game saw much better squash being played by Tommy. Tommy's return of serves where going short but catching David out. However, after a couple of handouts to each other, David's stronger hitting ability took control and he won 11-6. The 3rd game saw Tommy a bit tired and David took the game 11-4 and match 3-0.
Next up was Paul against Peter, both undefeated so far and whoever won this match would win the M045's. In the 1st game, Paul started the stronger and with Peter making a lot of errors, this led to Paul taking the lead 9-6. A long rally then occurred with a clear stroke at one point for Paul. However, he played on and Peter eventually took the point to make it 9-7. From there Paul made four errors on the trot to give an unlikely 1st game to Peter 11-9. The 2nd and 3rd games followed the same pattern with Peter and Paul trying to get the ball over and past the person to the back of the court, with a lot of cross court floating shots. Peter was on top of these exchanges and got good leads in both games. The leads were too much for Paul to get back and Peter won 11-6 and 11-7 respectively, and thus the match 3-0.
The final match saw John play Tommy. Unfortunately, Tommy was tired by now and had little to attack John with. John was patient and made Tommy work for his points. All 3 games were a bit one sided but Tommy could be proud of his efforts for his first Masters tournament. John won 3-0 (11-5,11-0,11-3).
MO50
It was an early start on Saturday morning for the eight Over 50s competitors who made their way to the Mannofield club.
Kicking things off were Brian Robertson and Inverurie player Steve Shinnie.  Steve must have felt things were conspiring against him when, already suffering from a cold, he broke a racket in the warm-up.  Despite competing well in spells, things didn't get any easier for him as he went down 3-0 to the top seed.  Compensation of sorts for Steve came in the form of winning the plate competition on Sunday.
The second match of the day, between Stuart Mitchell and Colin McMullen, was the first to go to a fifth set decider, except that it didn't go the distance.  Stuart had to pull out with a back injury with the score at 2-2, an unfortunate end to Stuart's weekend.
Despite Archie MacGillivray chasing everything down, second seed Russell Hunter made smooth progress in his match with a 3-0 win, a second game score of 11-9 being the closest Archie got to putting Russell under real pressure.
Completing the first round of matches was a tantalising encounter between Martin Sanchez and Mark James.  Martin played with greater consistency to win the first two games, with Mark a bit out of sorts.  Had Mark managed to win a very close third game, the course of the match may have changed, but as it was Martin won it 12-10 to progress to the next round 3-0.
Semi-final matches were played on Saturday afternoon, with Brian playing Martin and Russell playing Colin.
In the first of the two matches, games one and two were very competitive and close on the scoreboard until the latter stages when Brian got a run of points to win each as Martin, who had been under the weather in the lead up to the tournament, began to flag.  Having gone 2-0 up, Brian was able to press home his advantage in the third to win the match.
Neither player gave an inch in the second semi-final, which was very close in terms of scoring (e.g. 15-13 in game one, 18-16 in game three) and also a very tense, sometimes niggly affair.  As you might have guessed, the match went to a fifth game, Colin having come from a game down to take a 2-1 lead before Russell levelled at 2 all.  In that final game, Colin made a fast start and maintained a clear points advantage to end Russell's challenge and make it to the final.
Day 2
Sunday afternoon brought the two finals, the first seeing Steve Shinnie win out against Archie MacGillivray (12-10 in the 5th game) in the Plate final.
The first game of the final of the main event was very close, Colin having a game ball before Brian squeezed home 13-11.  Having made that breakthrough, Brian was able to exert greater control in the subsequent games.  Although each was very competitive, Brian kept the scoreboard ticking over to win in straight games and win his first title of the 2017/18 season.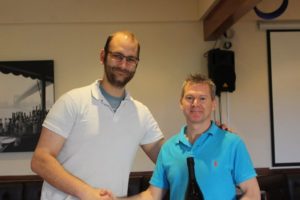 MO55
There were 10 competitors and the competition was played as a knock out.
There were two first round ties early on Saturday morning involving four Aberdeen players. Leslie Wilson comfortably beat Lance Marshall 3-0 and Les Symmons beat Eric Duguid 3-0.
In the afternoon quarter finals the top four seeds progressed to the semi finals. Top seeds Chris Holt and Ronnie Carter had comfortable 3-0 wins over Leslie Wilson and Les Symmons.
The other two ties were much more competitive. Third seed Roddy Robinson played some excellent drops and deceptive boasts to win the first two games 15-11, 15-11 against Norman Patterson. Norman typically fought back tenaciously and won the third game 15-13. He continued his good form with good drives to the back corners and won the fourth game 15-9. In the deciding game Roddy was clearly tired but he managed to keep in touch at 8 all – at this stage Norman looked the likely winner. However Roddy dug deep against a tiring Norman and played a number of winning drops and boasts to win the final game 15-9, literally falling over the line as he was awarded a stroke – this was an entertaining game which kept the large gallery on their toes.
In the last quarter final, home player and fourth seed Neil Rayner played Ricky Easton of SSRC. The first game was very competitive but Neil held on to win 16-14. Neil continued his good form and kept Ricky at the back of the court with strong drives and deceptive boasts and won the second game 15-7. Ricky fought back well and won the third game 15-7 but in the fourth game Neil again took control and closed out the game 15-11 and progressed to the semi final.
In the first semi final on Sunday morning Chris Holt played Roddy Robinson. Both players played well in the first game – Chris very composed and moving Roddy round the court with good drives and drops and Roddy playing deceptive boasts and drops. Roddy won the first game 15-12 but clearly he was tired. Chris fought back and with his superior fitness comfortably won the second game 15-4. Chris continued his good form and closed out the next two games 15-9, 15-8 to progress to the final, even kindly taking a long shoe time-out to give Roddy a breather.
In the other semi final Ronnie Carter played Neil Rayner – an interesting match with Ronnie taking the ball early and playing his trademark boasts at every opportunity, with Neil driving the ball hard to the back corners and volleying anything within range. Neil started strongly and won the first game 15-9. Ronnie's boasting errors reduced and he won the second and third games 15-5, 15-8. The fourth game was much more competitive with the lead changing hands numerous times but Ronnie held his nerve saving two game balls to pinch the game 16-14 and hence the match.
The final between Chris Holt and Ronnie Carter was their first meeting of the 2017/18 Masters season. In a 'see-saw' first game with both players moving well, it was won 15-12 by Chris. Ronnie fought back and levelled the match by winning the second game 15-11. Chris took control in the third game which he comfortably won 15-6, but was it too easy? The fourth game was very competitive – with Chris trying to close out the match and Ronnie trying to take the final to five games – Ronnie was successful winning the game 15-12. The fifth game was also tight and both players had opportunities to win the match which was enjoyed by the knowledgeable gallery. Ronnie again kept his nose in front and won the fifth game 15-12 and the O55 title.
In a four player Plate competition Norman Paterson comfortably beat Ricky Easton 3-0 in the final.
MO60
There were 12 competitors and the competition was played as a knock out.
First round: 2 of the 4 first round matches were 3-0 wins for the higher seeded player. David Gillies had a very good 3-1 over Bryan Jackson. The last of the first round ties was Dick Bird v William Jappy. A relieved Dick ended up winning 3-1 after William squandered 6 game balls in the 3rd and 4th games.
Quarter finals: All 4 quarter finals were fairly comfortable 3-0 wins for John Rae against Phillip Shore, Ernie Cowell against Eric Donohoe, John Charles against Dave Gillies and Keith Gristwood against Dick Bird.
Semi finals: The first match was John Charles v Keith Gristwood. Keith was probably slight favourite but made an uncharacteristic number of errors while John kept the ball in play long enough to win 3-1. The second match resulted in a major upset when number 1 seed John Rae lost 2-3 to Ernie Cowell. Having won the first 2 games 15/10, 15/11, John looked in control in the middle of the third but seemed to lose focus slightly and lost it 11/15. At that point you would still have backed John's experience and stamina to prevail but to his credit Ernie never let John back in the match and won both the 4th and 5th 15/7 for an outstanding win.
Final: Ernie Cowell v John Charles. At 1 game all, fatigue was setting in. Ernie won a tense 3rd 15-12. An even tenser 4th ensued and John had chances to take it. Ernie stuck to his usual tactic of serving well and hitting hard and deep into the corners as John's legs began to wobble and just won it 15/13 to complete an excellent event for him.
In a five player Plate, Bryan Jackson beat Eric Donohoe 3/2 in a very close (17-15 in 5th game) and exciting final.
MO65
There were 6 competitors and the competition was played as two round robins.
The first group comprised Dave Sturman, Emilio Fazzi and Walter McAllister. Dave beat both Emilio and Walter by 3-0 to win the group. Emilio beat Walter to come runner-up.
In the other group Alex Allan beat Alex Sinclair (17-15 in the 5th) and Phil Leek 3 – 0, to win the group. Alex S. beat Phil to come runner-up.
Walter beat Phil 3-0 in the 5/6 play-off; Emilio beat Alex S 3-0 in the 3/4 play-off; and Dave beat Alex A. 3-1 to go one better than in the T&F and win his first Scottish Masters event of the season. Well done Dave.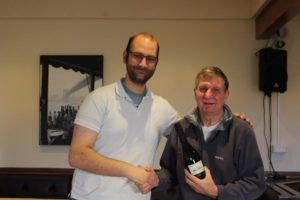 MO70
A good entry of 9 competitors after Andy Duff withdrew at short notice.
Another new player, Alastair McMeckan entered the O70's.
The competition was played as a knock out.
Saturday
First round
Alastair McMeckan beat John Mortimer in the first round, to make up the eight for the  quarter-finals.
Quarter finals
No upsets, as Tom Kane and Bernard Starkey had comfortable 3-0 wins, over Ian Nicholson and Ken Reid, respectively.
Alastair McMeckan v Ian Ross
(match of the day)
Having played with Ian in the O65 International team in Dublin in 2013, Alistair knew that Ian was fitter and faster.
Although carrying an injury, Alastair who was competitive throughout, went for his shots, and played many winners, particularly backhand service returns this made it difficult for Ian, especially in the second game which Alastair could have won.
Ian won match 3-0 – 15-9, 15-13, 15-9.
Alastair clearly is one to watch, as he matched an in-form Ian who was pushed throughout with some strong powerful play.
George Stirrat v Alfie Thomson
George after leading 2-0, had to work hard to beat another lefty, Alfie.
Alfie took the third game 15-8, with some deadly accurate returns of service and touch play. He was very much in contention in the fourth – but lost his mojo and the match going to George 3-1
Sunday
Semi finals
George Stirrat v Bernard Starkey
George was too sharp for Bernard in an early morning match, with his hard accurate service, making it difficult for Bernard who never got into the game. He made too many unforced errors allowing George to make the most of loose balls. George easily winning the match 3-0.
Ian Ross v Tom Kane
(match of the day)
A hotly contested match, with Ian, the new European over 70s champion, in hot form.
Ian quickly settled in with some strong play, taking an early lead.
Both players were playing a similar game with loads of deft touch shots and speedy movement on court.
Ian won the first game comfortably.
Game 2: Tom came storming back in this one and took a 9-5 lead. However a strongly contested decision by the referee went against Tom and this unsettled his play – he lost the next six points in a row and Ian closed out the second game 15-12.
Ian came out of the stalls quickly to establish an early lead in the third game, which Tom could not cut back despite a late fight back towards the end of the match, which Ian went on to win and the match 3-0.
Ian commenting on Tom's game –
"Tom is an amazing player for his age! You cannot let up against him."
Final
Ian Ross v George Stirrat
A return battle, as George overcame Ian in the Tayside Masters.
On that occasion Ian had competed in both the over 65s and the over 70s, so it was intriguing to see how he would fair coming into the Grampian with only the over 70s to cope with.
The first game saw Ian starting very confidently and he established an early lead, which he tenaciously held on to, closing out 15-12.
George fought back in the next two games, but Ian always had a strong grip on the match, and George was always playing catch up.
A great match, with both players in great form.
Ian's consistency continued with no games lost throughout the tournament – Ian winning 3-0, 15-12, 15-9, 15-9.
Ken Reid won the Plate, with a 3-0 win over Ian Nicholson after Ken had beaten John Mortimer and Ian defeated Alfie Thomson, both by 3-0 in the semi finals.
It looks like there will be stiff competition for places in the Over 70s National team, with around at least nine players vying for the six spots.
Masters Ranking Points
The updated Masters Ranking Points will be uploaded to the Scottish Squash website.
Dates for your Diary
West of Scotland Masters – Dumfries Squash Club – 25/26 November 2017
East of Scotland Masters – Edinburgh Sports Club – 20/21 January 2018
Central Masters – Bridge of Allan Sports Club – 17/18 February 2018
Scottish Masters Nationals – Inverness Tennis & Squash Club – 9-11 March 2018
For details of all 2017/18 Masters Tournaments see Scottish Squash website
https://www.scottishsquash.org/wp-content/uploads/2017/10/IMG_1759.jpg
682
1024
Allan McKay
https://www.scottishsquash.org/wp-content/uploads/2017/10/Scottish_Squash_Logo_LANDSCAPE-300x90.jpg
Allan McKay
2017-10-30 16:49:01
2017-10-30 16:49:01
Grampian Masters