2018/19 Scottish Squash Annual Awards – winners
The Scottish Squash Annual Awards for 2018/19 were dished out recently at Oriam, Scotland's Sports Performance Centre in Edinburgh.
This year we had six categories with the squash community asked to nominate individuals and clubs for respective awards.
Over the course of the past few weeks we've managed to catch-up with all the category winners.
The 2019 Referee of the Year gong was awarded to Steffan Gwyn, one of our up and coming referees, who has shown considerable commitment to support the delivery of squash competitions across all levels.
Steffan first qualified in 2017 and began refereeing tournaments the following year when he was selected for the Mission 2022 scheme which aims to develop a number of new referees ahead of the 2022 Commonwealth Games in Birmingham.
In a short space of time he's already enjoyed some memorable highlights – refereeing at the 2019 European Team Championships in Birmingham alongside some of the best referees in the world and marking the 2019 Edinburgh Open final between Paul Coll and James Willstrop.
The 25-year-old said: "I'm really happy to have won the award and a massive thanks go to the extremely supportive team at Scottish Squash, as well as all the referees I've worked with.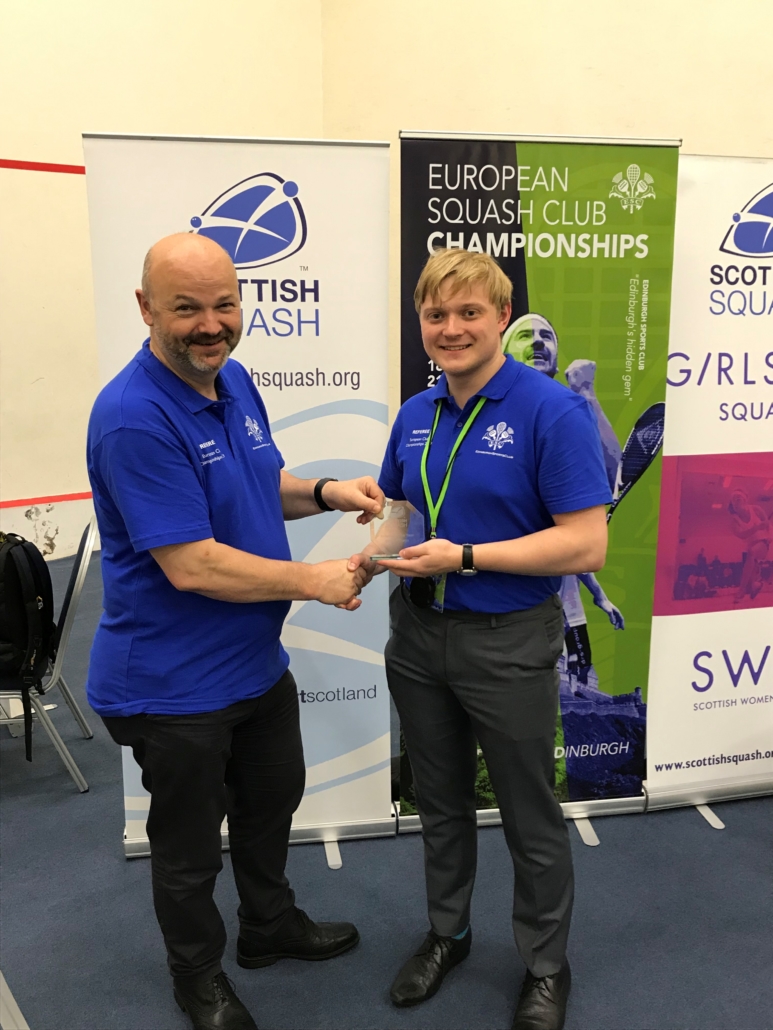 "I started refereeing because it seemed like a great way to get more involved in the sport I love.
"The Mission 2022 scheme is also motivation to continue pushing forward with my refereeing.
"There's a lot for me to aim for and to get selected as a referee at the Commonwealth Games in Birmingham would be fantastic."
The 2019 Scottish Squash Coach of the Year award went to former world number eight player Jane Martin.
Jane has been a coach at Bridge of Allan Sports Club for 12 years, helping their junior section thrive and producing a string of Scotland internationalists in the process.
One of her star pupils is Kyle Penman who recently won the Welsh Junior Open Under-15 title.
Jane has also helped create coaching programmes for ladies beginners as well as a mixed adult programme.
She said: "It's a huge honour to get this award from Scottish Squash and one I am very proud of.
"No small part of me winning this is down to the fact I'm lucky to be at such a fantastic club where everybody plays their part.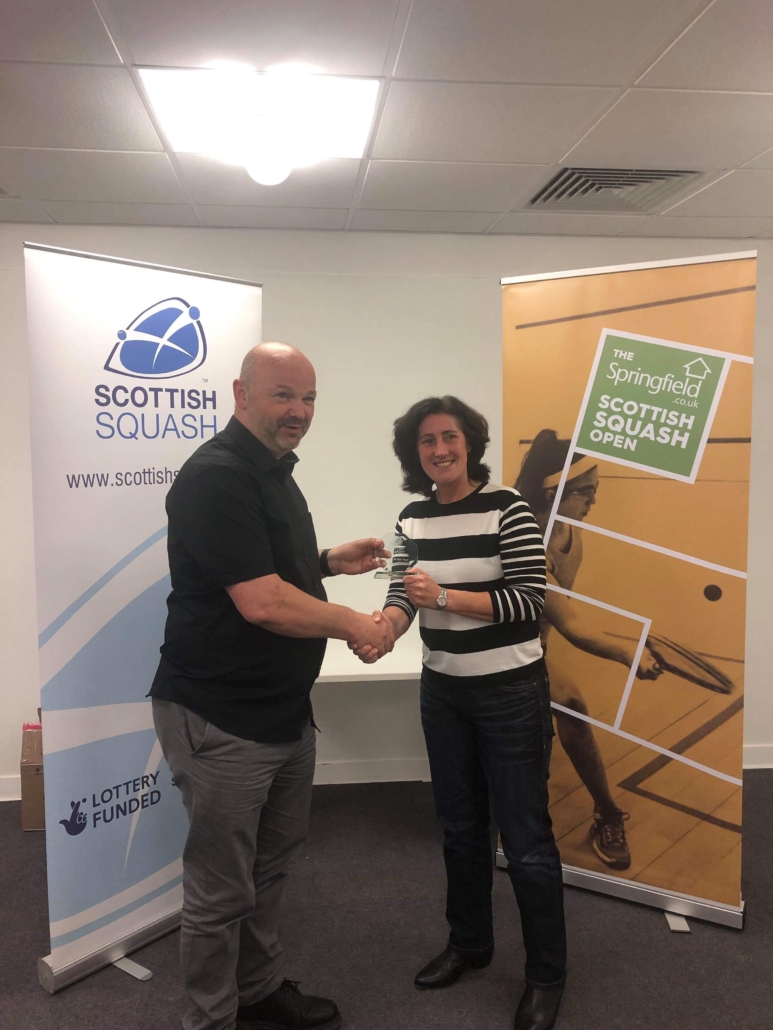 "This allows me to focus on the job in hand which is to develop the standard of squash from our junior and senior players.
"I'm also very lucky that we have so many hard working and talented juniors and a group of parents who are totally supportive of their kids and what we are trying to do at Bridge of Allan."
This year's Club of the Year award went to Forthill Squash Club.
In 2015 the Broughty Ferry club had a membership of 23 which included just one junior player.
But after the efforts of a dedicated committee and a 'squash for all' approach to recruitment the membership base has risen to more than 90 – a third of which forms their Junior section.
The cash injection from increased membership and fundraising together with the implementation of a financial restructuring plan has enabled a renovation of Forthill's outdated entrance, ladies changing area, communal hallways as well as three squash courts.
All court lighting is now up to World Squash Federation competition standard.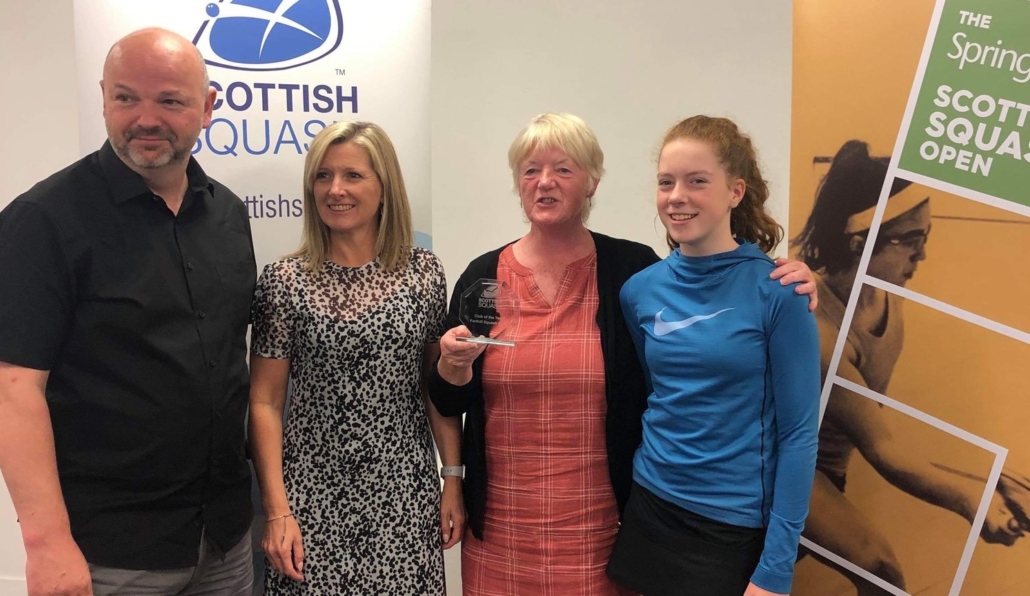 The culmination of all their hard work was showcased at the official re-opening of their newly refurbished courts earlier this year by Joe FitzPatrick, MSP for Dundee City West and Minister for Public Health, Sport and Wellbeing and Shona Robison, MSP for Dundee City East.
Forthill Squash Club President, Willie Irvine, said: "Receiving the Scottish Squash Club of the Year Award was pretty overwhelming when we consider where the club was only a few years ago.
"It would be fair to say our future did not look very bright.
"To achieve what we've done gives us all a tremendous amount of pride and satisfaction and having this hard work recognised by Scottish Squash is very satisfying indeed."
Read more about the renaissance of Forthill Squash Club here.
The 2018/19 Scottish Squash Masters Player of the Year award was won by Ian Ross who has enjoyed success across the globe.
He finished the 2017/18 season on a high by winning a silver medal (O70s) at the World Masters Championships in Charlottesville, USA.
This year he retained his Scottish O70s title before going on to secure silver at the O70s European Championships in Vienna.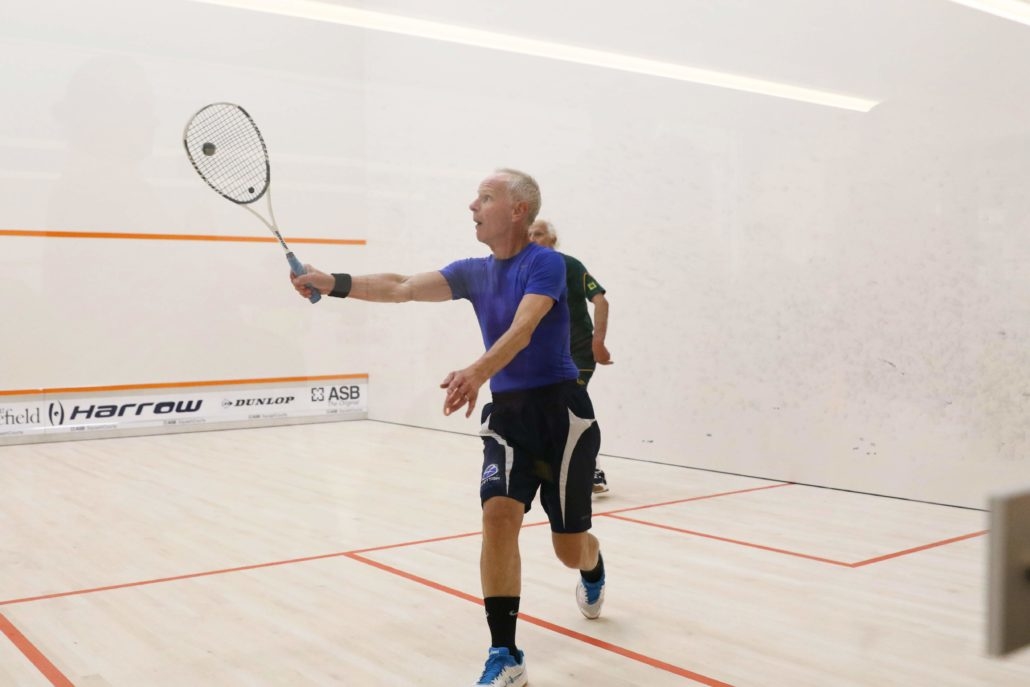 A gold medal came Ian's way last November when he won the O70s Midlands title and he was runner-up at the British Open held in May this year.
Ian has also represented Scotland at the Masters Home internationals where he was runner-up in the O65s category and third in the O70s.
He said: "I'm delighted and honoured to receive the Scottish Masters Player of the Year award which was last won by Jim Dougal.
"As well as competing on court I now enjoy putting something back into the sport by coaching the young juniors at Grange Sports club having passed the Scottish Squash Coaching Level 2 course in March."
Rising star Georgia Adderley won the 2018/19 Junior Player of the Year award.
Georgia enjoyed a terrific 2018 securing a second successive Dunlop British Junior Championship (BJC) title and goes for a hat-trick of BJC titles next week in Nottingham.
She won the U19 title at the 2019 Joma Scottish Junior National Championships in Aberdeen and the GU19 JC Lindsay Scottish Junior Open title in Edinburgh.
Georgia then went on to help Scotland's Senior Women, seeded eight, to fourth place at the European Team Championships – their highest finish in 14 years.
This is her final year at junior level but she's already starting to compete across the world on the PSA Tour, venturing to Australia and India in recent months.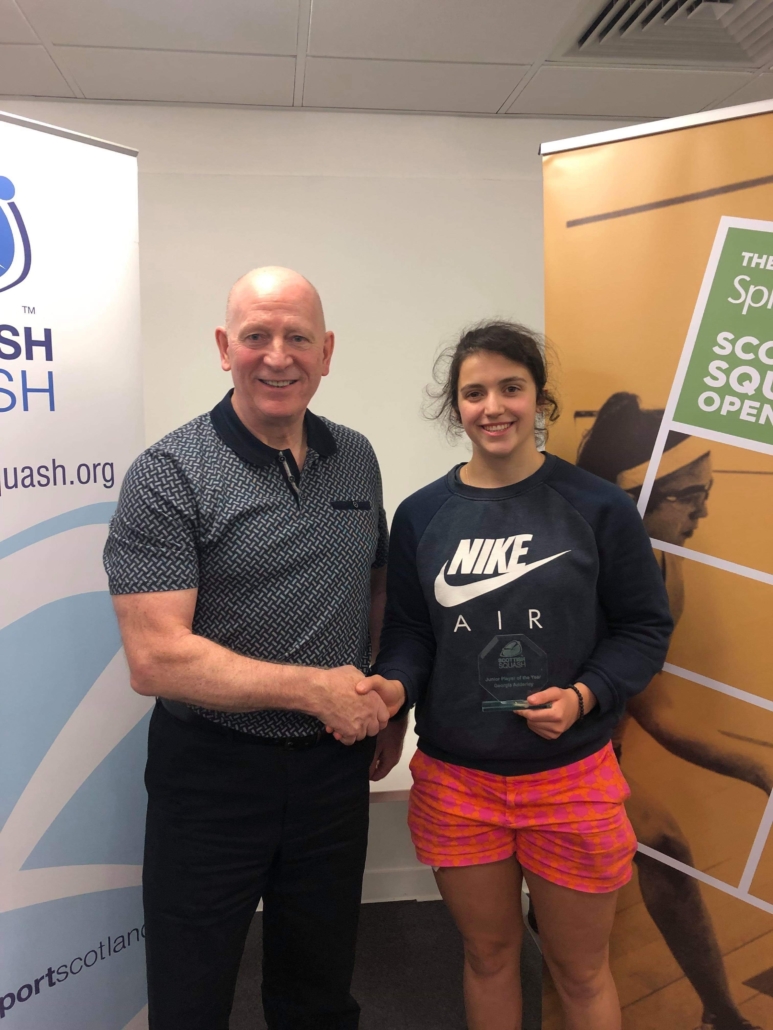 She said: "I'm really happy to have won this award.
"It's been a busy season with some ups and some downs but to be recognised with this award means a lot.
"I've got a couple more junior events left before I move up to senior level and I'm hoping to finish strongly.
"I really appreciate all the support I get from Scottish Squash."
Rory Stewart won the Senior Player of Year award after a breakthrough season.
A quarter-final finish at the Swedish Open in March was a sign that things were starting to come together for Rory but it was his performance at May's European Team Championships in Birmingham which proved the real turning point.
The Crieff player defeated French duo Baptiste Masotti (WR61) and Victor Crouin (WR73) producing some of his best ever squash to help Scotland win a bronze medal.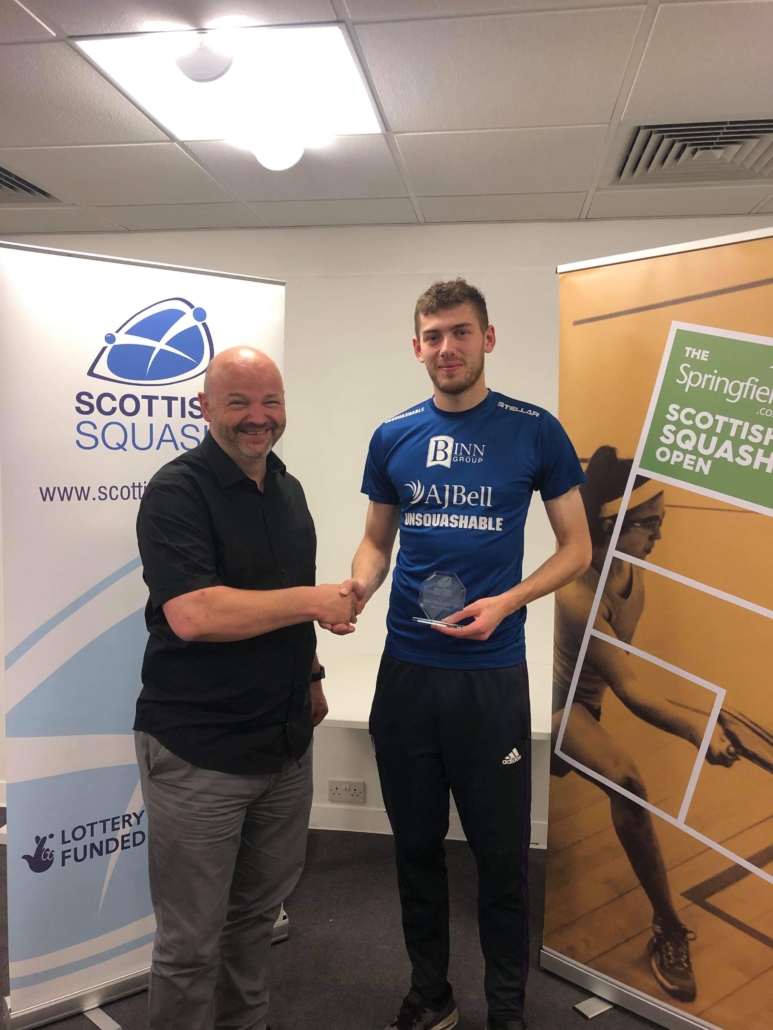 And within a week he had won his first every PSA World Tour title at the $5.5k Mar del Plata PSA Open in Argentina.
Rory was then able to reach the quarter-finals of both the Regatas Resistencia Open and Colon Open before a semi-final finish at the $11.5k Paraguay Open where he came tantalisingly close to reaching the final.
In August he made the semi-finals of the Russian Open.
The 23-year-old said: "I'm delighted to have won this award.
"It was a really strong second half of the season and I was very happy with it.
"Off court I tried to change things, like going to be bed at a decent time, waking up earlier before training and changing my diet.
"I also spent a lot more time on court training with Paul Bell (Scottish Squash Director of Squash)."
https://www.scottishsquash.org/wp-content/uploads/2019/10/rsz_forthill_squash_club_1.jpg
864
1493
Allan McKay
https://www.scottishsquash.org/wp-content/uploads/2017/10/Scottish_Squash_Logo_LANDSCAPE-300x90.jpg
Allan McKay
2019-10-25 15:13:46
2019-10-25 15:40:47
2018/19 Scottish Squash Annual Awards – winners