Georgia Adderley won a third British Junior title this month and with just a few weeks left in the junior ranks, she's been reflecting on her experiences ahead of a full-time move on to the PSA Tour in 2020.
The 18-year-old has enjoyed a prolific junior career, dominating the domestic scene in Scotland from an early age then doing likewise against Britain's best.
In a repeat of last year's GU19 British Junior Championship (BJC) final, Georgia defeated Alice Green 11-7, 11-8, 7-11, 11-8 on November 3 to secure a third BJC title having won the GU17 trophy in 2017.
Her final junior tournament will be at the Dunlop British Junior Open in early January before she turns 19 later that month.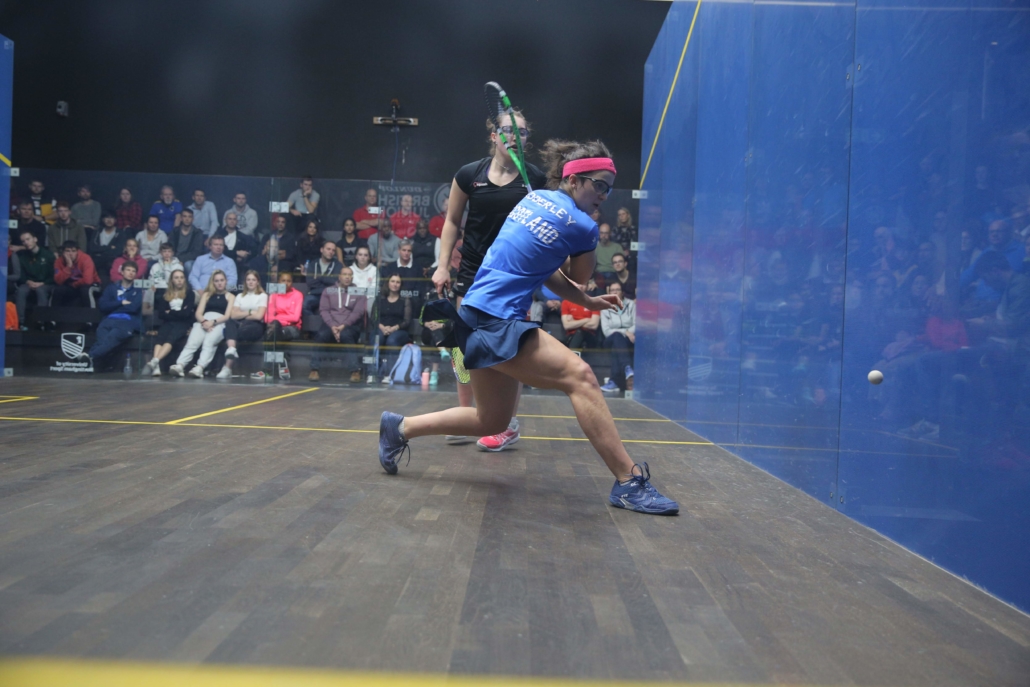 Georgia said: "I was really happy with how I performed at the BJC because I played well throughout the week.
"It was a target event for me and I put a lot of work in over the past few months so it was great that it paid off.
"I was the number one seed which brings its own pressures and I think I handled that pretty well.
"I was 7-1 up in the fourth game against Alice but she clawed things back which made it quite stressful and I was happy to eventually pull through in the end.
"To come away with a third title was great and I was over the moon."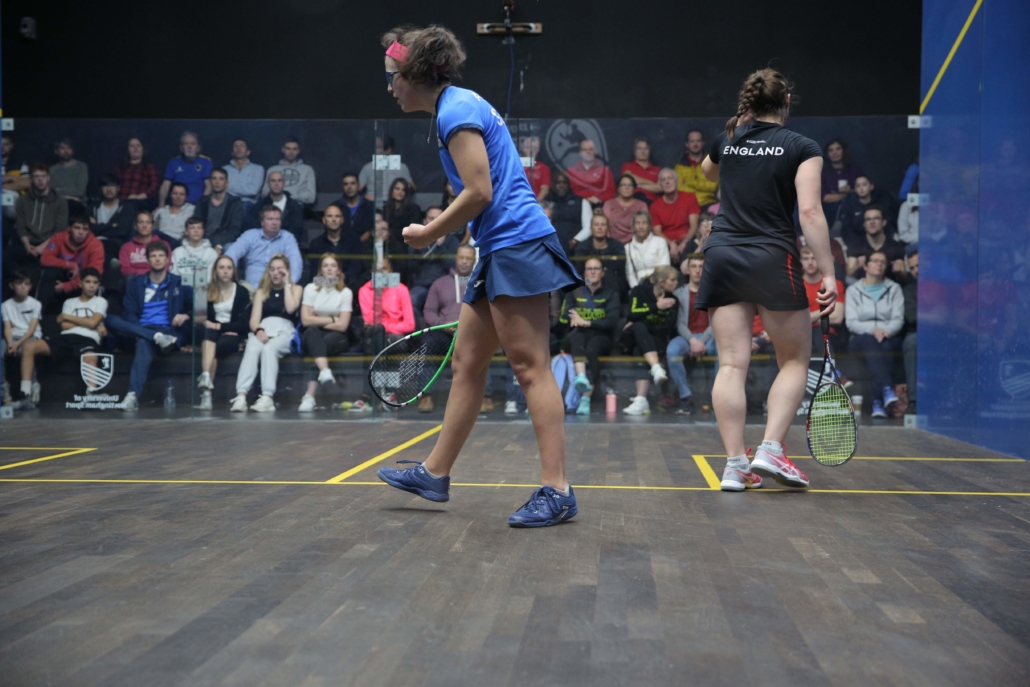 Georgia has been competing on the junior circuit since the age of 12 and she has paid tribute to the support team who have enabled her to achieve so much in what's still a fledgling career.
She said: "I have been really lucky having so much support from Scottish Squash as well as Springfield Properties in the last couple of years, and my parents who have been amazing.
"I couldn't have done it without my parents and I really mean that. They have supported me so much.
"They would drive me to training and to different events but it's also the little things that are actually so significant.
"When I was living at home, having dinner ready for me when I got back from training was huge in terms of recovery and I remember at the Scottish Junior Open when they made ice baths for me.
"I had eight ice baths in three days and they sat with me whilst I screamed the house down!"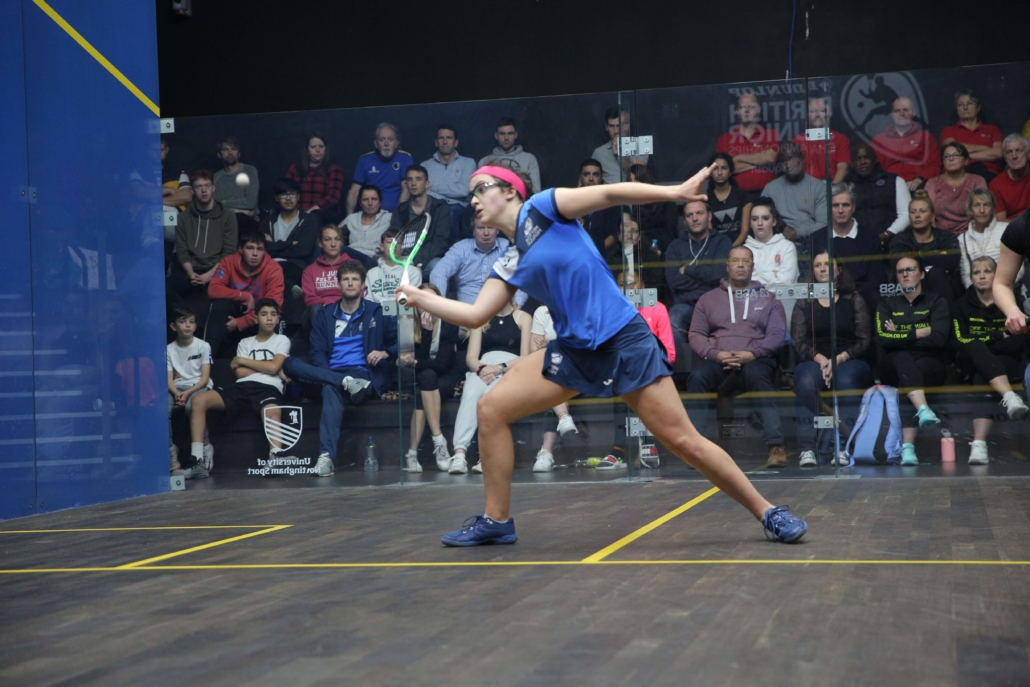 She continued: "Having the opportunity to compete on the European Junior circuit was invaluable for me as well and I always say to other juniors – go and do that, give yourself that opportunity because it makes you a better player for the experience.
"I've travelled by myself, travelled in teams, travelled with my parents and all that exposure I feel can help me going on to the senior tour."
2019 has seen Georgia begin the transition on to the PSA World Tour and she's been testing herself in far reaching places already including over the summer in Australia and India.
She added: "In Australia I learnt a lot and feel it was a pivotal moment for me.
"It was my first major long distance trip without a coach or my parents.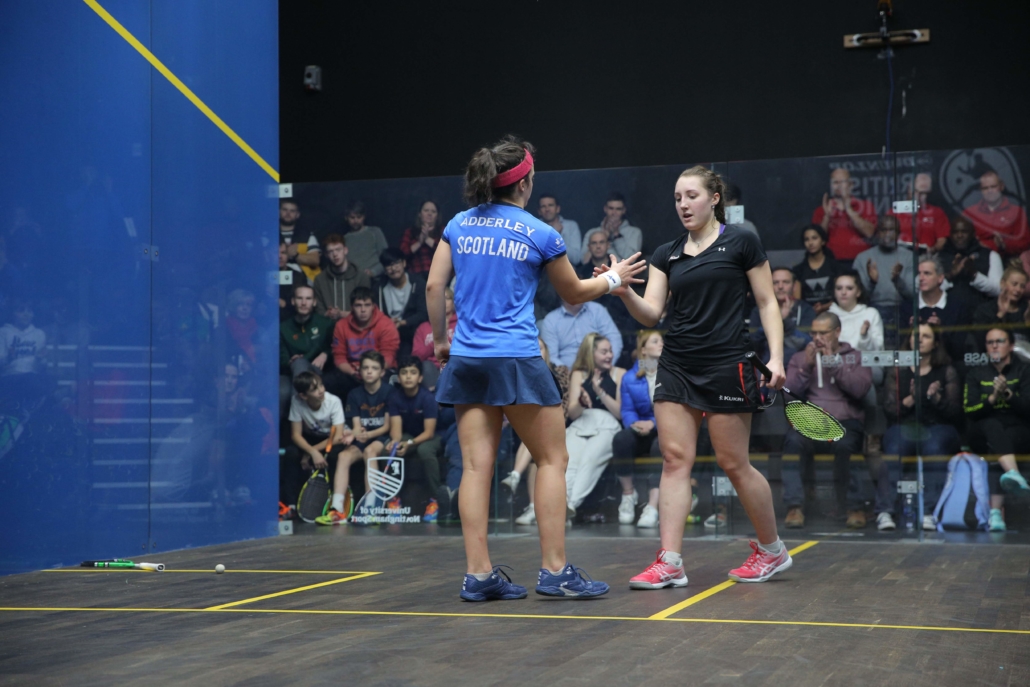 "It was hard but I knew it was something I needed to do if I want to make a success of this as a career.
"India was the same, a really good experience, staying in a room by myself in Chennai which is a pretty chaotic city to navigate.
"My performances could have been better but I took away some key learnings, especially mentally which helped at the BJC in Nottingham."
For full results and photos from the 2019 BJC, click here.
Pictures courtesy of England Squash.
https://www.scottishsquash.org/wp-content/uploads/2019/11/IMG_9257.jpg
3265
4898
Andy Weston
https://www.scottishsquash.org/wp-content/uploads/2017/10/Scottish_Squash_Logo_LANDSCAPE-300x90.jpg
Andy Weston
2019-11-12 16:18:32
2019-11-12 17:25:42
Georgia Adderley signing off Junior career in style