Five Nations 2023: Latest News and Results
Scottish Squash are delighted to be hosting the Five Nations 2023 at Edinburgh Sports Club from 21 – 23 April. The event is an annual round robin style tournament competed in the Under 13s and Under 15s age categories between Scotland, Ireland, England, Wales and France. Here you can find all the latest news and results from the event as they unfold over the weekend. The full match schedule can be found at the bottom of this page.
Day Three
Congratulations to England, Five Nations U13 and U15 Champions!
Under 13s Round 5: England 14 – 6 France | Ireland 6 – 17 Scotland
Under 15s Round 5: England 19 – 3 France | Ireland 7 – 16 Scotland
Sunday at the Five Nations did not disappoint as a heavyweight clash between England and France lived up to the hype, with the U13s tie coming down to the last match, and England winning 3-2 overall, with a points total of 14-6. England also took control in the Under 15s, and despite a standout match between Ismail Khalil (ENG) and Amir Khaled (FRA) ending 2-3, an overall score of 19-3 saw England crowned champions of the U15 category as well.
It was a day to remember for our young Scots too, who battled it out with Ireland in two key matches to secure the bronze medals. Both age categories finished 3-2 in favour of Scotland after some highly competitive games. Proud moments and big smiles for the home team at the presentation ceremony!
Scottish Squash would like to thank all the teams, parents and coaches for a fantastic weekend, and congratulate all players on representing their countries while showcasing a superb standard of junior squash.
Final Scores U13: England 74 | France 63 | Scotland 37 | Wales 25 | Ireland 14
Final Scores U15: England 79 | France 63 | Scotland 33 | Ireland 26 | Wales 19
Day Two
U13 Round 3: France 20 – 0 Ireland | England 20 – 0 Wales
U15 Round 3: France 20 – 2 Ireland | England 20 – 0 Wales
U13 Round 4: Ireland 8 – 17 Wales | France 20 – 1 Scotland
U15 Round 4: Ireland 19 – 8 Wales | France 20 – 3 Scotland
Another full day at the Five Nations has left England and France poised at the top of the standings in both age categories, with the fantastic prospect of a showdown tie between the two on the cards for Sunday morning. The noise volume at ESC certainly went up a level as the competition ramped up on Saturday, and after lunch the tie of the day was no doubt a series of back and forth matches between Wales and Ireland; Wales winning the U13s 17 – 8 before Ireland hit back in the U15s 19 – 8, numerous five game matches and great noise from the spectators! Despite losses to a quality (and loud!) French team, Scotland remain hopeful for the bronze medals, with it all to play for in both age groups on Sunday morning vs Ireland, as Wales take round 5 off. A great final day in store! View the full scoring after day two here.
Totals after Day Two – U13: England 60 | France 57 | Wales 25 | Scotland 20 | Ireland 8
Totals after Day Two – U15: England 60 | France 60 | Ireland 21 | Wales 17 | Scotland 17
Day One
U13 Round 1: France 17 – 3 Wales | England 20 – 2 Scotland
U15 Round 1: France 20 – 1 Wales | England 20 – 0 Scotland
U13 Round 2: England 20 – 0 Ireland | Scotland 17 – 5 Wales
U15 Round 2: England 20 – 0 Ireland | Scotland 14 – 8 Wales
The Five Nations began on Friday with an immediate and buzzing atmosphere. An exciting first day of action at ESC saw Scotland battle back in round 2 and earn valuable points in the standings with victories over Wales at both ages, including a hard-fought 14- 8 win in the Under 15s match. It was a strong opening day for England, who lead the standings with maximum points gained after two rounds and some superb squash on display. France also earned impressive wins in round 1, and will be looking to build on their success over the weekend after having round 2 off. Another big day awaits on Saturday, during which Ireland and Wales play both rounds and there will be plenty of points at stake to catch up, with England off in round 4 during the afternoon. The full scoring of day one, with individual results, can be downloaded here for viewing.
Totals after Day One – U13: England 40 | Scotland 19 | France 17 | Wales 8 | Ireland 0
Totals after Day One – U15: England 40 | France 20 | Scotland 14 | Wales 9 | Ireland 0
Team News
Scotland
Under 13: Thomas Myers, Kamran Shamoo, Callum Smith, Phoebe Hamilton, Rebecca Little
Under 15: Murdo Mackenzie, Cailean McAlpine, Zack Paton, Ella Bannister, Felicia Chan
England
Under 13: Will Burton, Jaanshere Khan, Joe Colton, Phoebe Griffiths, Esther Chak
Under 15: Ismail Khalil, George Griffiths, Dylan Kalar, Mariam Eissa, Reka Kemescei
Ireland
Under 13: David Connell, Eoin Mullery, Ben Lynch, Jack Clery, Laya Sabry, Lucy Lynch, Rebecca Day
Under 15: Christian Dromgoole, Aaron Knox, Adam Power, John Day, Zoe Yeomans, Shriya Drawid, Rebecca Jackson
Wales
Under 13: Leon Lauder, Thomas Fenlon, Jacob Green, Jacob Baker, Madalena Sidoli, Eliza Hales, Evie Salisbury
Under 15: Aled Davis, Archie Davis Clarke, Reuben Davis, Ethan Willis, Nia Seren Thomas, Megan Beynon, Erin Lauder
France
Under 13: Lysandro Joneau, Robin Gautier, Adam Rameau, Lily Romieu, Rafaella Guidoni
Under 15: Amir Khaled, Ethan Lecordier, Theo Baudry, Leelou Laporte, Sarah Guyot
Five Nations 2023 Schedule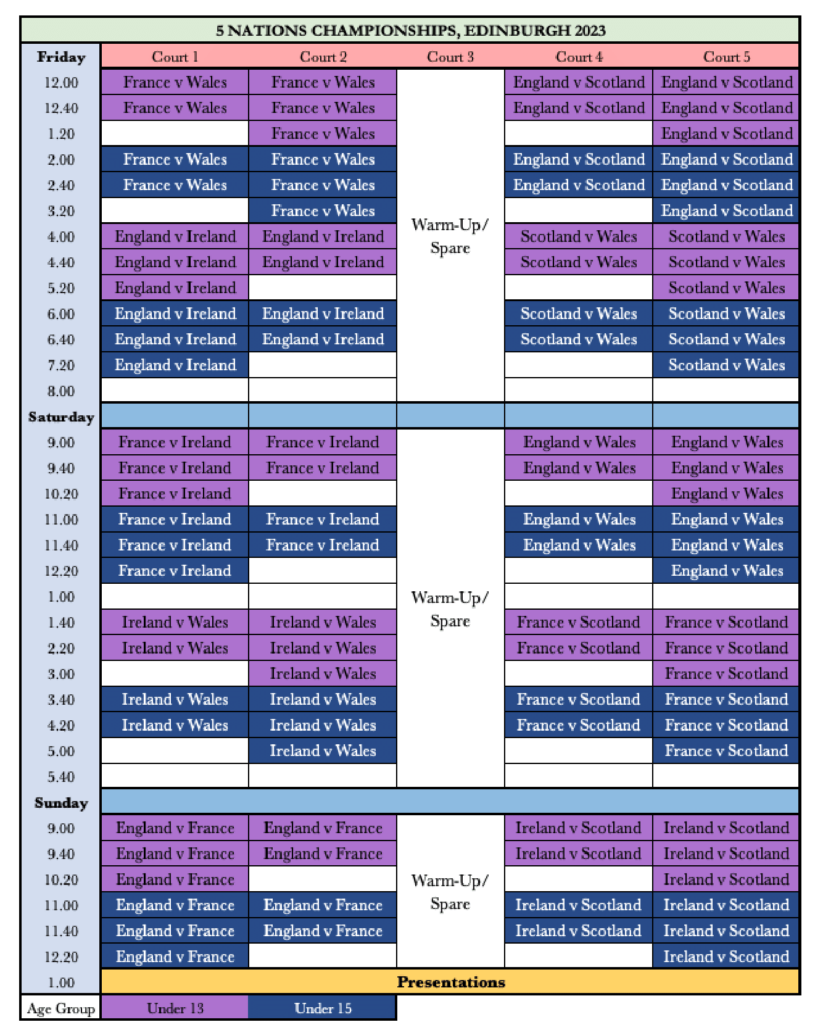 https://www.scottishsquash.org/wp-content/uploads/2023/04/Five-Nations.png
304
525
Scottish Squash
https://www.scottishsquash.org/wp-content/uploads/2017/10/Scottish_Squash_Logo_LANDSCAPE-300x90.jpg
Scottish Squash
2023-04-17 16:14:02
2023-04-23 13:28:35
Five Nations 2023: Latest News and Results