East of Scotland Masters Report
The 35th East of Scotland Masters tournament was held at Edinburgh Sports Club on 17/18 January.
There were a total of 73 competitors who took part in 2 ladies and 8 men's' events. It was encouraging that there were sufficient entries to hold all 10 events. There was a disappointing entry in numbers (only 7) this year but certainly not quality for the ladies events.
Eric Donohoe and the East of Scotland committee managed a very well organised tournament. They all worked hard to make all competitors welcome and at the prize giving competitors thanked Eric and the committee for all their hard work.
Thanks are also due to SSRL (Ross Cairns) and Ernie Cowell for managing the draws and supporting the East of Scotland committee in running the tournament. Yvonne Ferguson, Dave Ferguson, Mike Halpin, Craig Mitchell, Craig Pounder and Seigo Masuda deserve thanks for providing marking services on both Saturday and Sunday.
Alex Sinclair and Ernie Cowell quickly assessed the East of Scotland results and updated the Masters Tournament Points. Alex emailed the updated Points to his Masters distribution list of about 350 players who have participated on the Scottish Masters circuit over the previous 10 years.
Match of the Day – Saturday
MO50 Ronnie Carter beat Chris Holt 6/9, 7/9, 9/3, 9/3, 9/5
This was an excellent match at the quarter final stage between second seed Chris Holt and Ronnie Carter. Throughout the match Chris took the ball early and regularly hit the ball to a good length and width whereas at every opportunity Ronnie tried to break the game up with his deceptive boasts and short rallies. The first two games were very competitive however Chris taking both games to lead 2/0. Ronnie fought back strongly to win the next two games and set up a fifth game decider. In the fifth game Ronnie continued to take the initiative by breaking up the play with his winning boasts and took an early lead. However Chris levelled up at 5 all before Ronnie closed out the match to win the match 9/5 in the final game. The spectators enjoyed this very competitive match.
Match of the Day – Sunday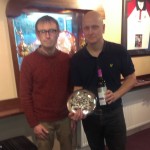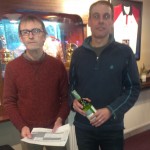 MO45 Final – Paul Jenkins beat Mark Beaumont 6-9, 9-5, 9-4, 5-9, 9-1
This was a very entertaining match between the top two seeds. The players had very contrasting styles – Paul with his excellent touch and playing drop shots from all over the court and Mark with his strong driving game and excellent court coverage. Mark won the first game but Paul won the next two games playing his winning drop shots and appeared to take control of the match. However Mark fought back bravely to win the fourth game and take the match to five games. Paul then played an excellent final game and won the game 9/1 and the match 3/2.
Ladies Match of the Tournament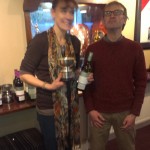 Ladies O35 Round Robin – Sabine Mackenzie beat Isabelle Tyrrell 9/7, 8/10, 8/10, 9/2, 9/0
This was clearly the ladies match of the tournament with a massive 5 setter between Sabine MacKenzie (Scotland) and Isabelle Tyrrell (England). After many long and hard fought rallies Sabine's power and determination gave her the edge to win the match 3-2 and she continued her winning streak to take the title. It is hard to believe that Isabelle, also a previous winner of the event, has had major foot surgery as she moved effortlessly around the court. This match was very competitive and played in excellent sportsmanship from both players. The Home Internationals could provide a rematch in perhaps not such a friendly environment! We do really appreciate Isabel making the effort to travel up to this tournament and hope to see her next year.
Results and Leading Masters Tournament Points (after East of Scotland Masters)
Ladies O35
There were only three competitors and they played a round robin. Sabine MacKenzie won the tournament with Isabelle Tyrrell runner up – see details above of 'Ladies match of the Tournament'.
Ladies O50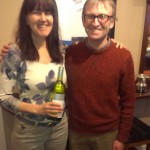 There were four competitors and they played a round robin. Sue Strachan made her debut in this age group at the East and won the event without dropping a game against previous winners. Moira Atkinson was runner up. Sue adds the East title to her South and is fast establishing herself at the leading player of this age group.
MO35
There were six competitors with Michael Black and Andrew MacBean the top seeds. In the quarter finals on Saturday morning Barry Masson comfortably beat Jonathan McBride 3/0 and Blair McKenzie beat Craig Duff 3/1. In the semi finals the top two seeds Michael Black and Andrew MacBean won their matches 3/0.
The final of the MO35 was the last match to be played on Sunday in front of a large gallery. The two players have contrasting physiques – Michael small and compact and Andrew tall and very physical. Andrew started very strongly and his weight of shot and court coverage were too much for Michael and he took a 2/0 lead. The third game was much more competitive and Michael was retrieving more balls and prolonging the rallies. With Michael leading the third game 7-6, it looked as though the match would go to a fourth game. However Andrew upped his game and played some excellent shots to win the game 9-7 and the final 3/0.
MO40
There were six competitors with Peter Buchan and Mark James being the number 1 and 2 seeds respectively. The competition was split into two groups of three with probably the best matches being played on Saturday.
In group one, there was Peter Buchan, Ian Morrison and Gregory Leplatre. Ian started the group off with a well deserved 3-1 victory against Greg. Although slow to start off and losing the first game quite quickly, he managed to start finding a good length and with hitting the ball low and hard against the tall Greg, came through easily in the next 3 games. His next game against Peter was tough and although competed well, Ian lost all 3 games. Peter then played the tall Greg and had some good rallies. However, his experience and movement was too much and he won his second match 3-0. This meant the group order was Peter, Ian then Greg.
In group two, there was Niall Morris, Mark James and Roderick Campbell. This was an exciting group as matches were all tough and could have gone either way. Niall was on first against Roderick and was steam-rolled in the first 9-0. However, Niall recovered from his slow start to win the second game. The third was a titanic game going to the wire with Niall losing it 9-10. However, with his good fitness and starting to take the ball early he managed to turn the match round and win it eventually 3-2. Niall's next game was even tougher against Mark. Mark playing his first game was on exceptional form taking the ball early and twisting Niall all the time with his shots. Mark managed to keep up this high level of play for two games before Niall got back into the game taking the third 9-1. The fourth game was nip and tuck until 4-4 when Mark managed to up the pace again and get a run of points to win the game and match 3-1. Mark against Roderick was a match of contradictions. With Mark playing in the O45's as well, he had already played another game which probably hit his fitness. Mark started slowly and lost the first 9-1, the second game was much more competitive with Mark winning it 9-7. The third and fourth games were identical to the first two including the scores. In the final game at 6-6, Mark's legs seem to give in and Roderick won 9-6. Although everyone had one game, this saw the group being decided by count-back with the order being Roderick, Mark then Niall.
Sunday's early semi-finals saw Roderick recover from his tough matches on Saturday to win comfortably against Ian 3-0. Peter had a tougher game against Mark but came through it also 3-0. The final saw Roderick start off very quickly against Peter and lead 7-3. However, Peter managed to dig in and steal the first 9-7. After that Peter managed to come to terms with Roderick's low hard hitting and stepped up the court taking the ball early. Playing more controlled squash Peter started moving Roderick around the court before finishing the point with relatively easy shots. Peter was then able to win reasonably comfortably the next two games and the final.
MO45
There were nine competitors. The top two seeds Paul Jenkins and Mark Beaumont comfortably won their quarter final matches. The other two quarter finals were very competitive five game matches with Andrew McCulley beating Dave Lindsay 10-9 in the final game and Mark James beating Craig Mitchell.
In the semi finals Paul Jenkins beat Andrew McCulley 3/0 and Mark Beaumont beat Mark James 3/0. In the final Paul beat Mark 3/2 in the 'Sunday Match of the Day'. In the Plate final Craig Mitchell beat David Lindsay 3/1.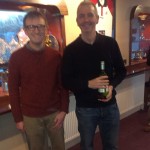 Leading Masters Tournament Points
| | | | |
| --- | --- | --- | --- |
| Pos. | Name | Pts | Pld |
| 1 | Mark James | 880 | 5 |
| 2 | Peter Buchan | 855 | 3 |
| 3 | Andrew McCulley | 660 | 4 |
| 4 | David Lindsay | 645 | 6 |
| 5 | Craig Mitchell | 425 | 3 |
| 6 | Paul Jenkins | 360 | 1 |
| 7 | Mark Beaumont | 330 | 1 |
| 8 | Frank Ellis | 300 | 1 |
MO50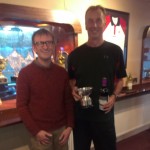 There were 14 competitors and this was the most competitive age group. On Saturday morning the pick of the first round matches was a 3/1 win for Graham McAinsh against Jimmy Wells – this was a reversal of the result at the Dumfries Masters.
In the quarter finals Simon Goglin beat Graham McAinsh 3/1, Robin Ridley beat Rolf Hansen 3/0, Brian Robertson beat Russell Hunter 3/2 and Ronnie Carter beat Chris Holt 3/2 in 'Saturday Match of the Day'.
On Sunday morning in the semi finals Simon Gogolin comfortably beat Robin Ridley 3-0, and Ronnie Carter beat Brian Robertson 3-0. In the final Simon Gogolin played very well and used all his experience to beat Ronnie Carter 3-1. Ronnie again played well in the final and posed problems for Simon by taking the ball early and playing his deceptive boasts. In a competitive Plate competition Jimmy Wells beat Mark Adderley 3-1 in the final.
Leading Masters Tournament Points.
| | | | |
| --- | --- | --- | --- |
| Pos. | Name | Pts | Pld |
| 1 | Chris Holt | 1150 | 5 |
| 2 | Brian Robertson | 1045 | 5 |
| 3 | Russell Hunter | 830 | 5 |
| 4 | Simon Gogolin | 780 | 3 |
| 5 | Ronnie Carter | 500 | 3 |
| 6 | Rolf Hansen | 380 | 6 |
| 7 | Robin Ridley | 375 | 2 |
MO55
With 10 entrants this was a 16-format knock out event. The closest match was a quarter final between Ken Maxwell and Norman Paterson, which Ken just won. Another excellent contest was the semi final between Neil Rayner and the 2014 M55 winner Dave McAleese. Neil would have been delighted to just win it 10/8 in the 4th, allowing him to conserve some energy for the final against Ridley. The schedule of 5 matches in 26 hours that number 1 seed Robin Ridley set himself by entering both the M50 and M55 events was ambitious. However in the M55 event he was totally dominant, beating Dick Bird, Ken Maxwell, and Neil Rayner, dropping zero games and only 22 points in the process. The win was Robin's 7th East Masters title (4 at M50 and 3 at M55). In the Plate final Norman Paterson beat Kenny Mitchell 3/0.
Leading Masters Tournament Points
| | | | |
| --- | --- | --- | --- |
| Pos. | Name | Pts | Pld |
| 1 | David McAleese | 1050 | 6 |
| 2 | Neil Rayner | 945 | 4 |
| 3 | Norman Paterson | 720 | 5 |
| 3 | Robin Ridley | 720 | 2 |
| 5 | Alan Susskind | 540 | 4 |
| 6 | Peter Shivas | 500 | 2 |
| 7 | Keith Gristwood | 405 | 4 |
| 8 | Simon Gogolin | 360 | 1 |
| 9 | Boyd Kydd | 270 | 1 |
MO60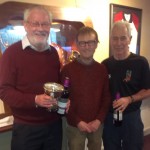 Although we did not know it at the time, the quarter final between Ernie Cowell and Jim Dougal was the best contest of the event. Taking place on court 5 to accommodate the large gallery, each of the 5 games was fiercely contested. Jim won the first 2, but Ernie showed great resolve in the next 2 when he remembered to stop playing cross courts which caused Jim's winning volleys to dry up. In the fifth Jim raced to a 5-0 lead which was ultimately too much for Ernie to claw back. The 2011 M55 winner Dave Taylor made only his second Masters appearance of the season, but lost out to the wily Dave Sturman. In the top half of the draw John Rae progressed smoothly to the final beating Mike Mooney and then Eric Donohoe. The John Rae v Jim Dougal final was a repeat of the 2014 final, and the 2013 final, and the 2012 final, and numerous other M60 finals around Scotland. In the event it was somewhat anticlimactic with John playing a strangely subdued match that Jim gleefully dominated. Only the second was close at 9/7. If Jim Dougal can win the M60 next year he will become only the second player in the 35 year history of the East Masters to do the "clean sweep" of an age group by winning it 5 times in a row. In the Plate final Walter McAllister beat Phil Leek 3/0.
Leading Masters Tournament Points
| | | | |
| --- | --- | --- | --- |
| Pos. | Name | Pts | Pld |
| 1 | John Rae | 1350 | 9 |
| 1 | Jim Dougal | 1350 | 7 |
| 3 | Emilio Fazzi | 625 | 6 |
| 4 | Dave Sturman | 585 | 6 |
| 5 | Alex Allan | 525 | 4 |
| 6 | Eric Donohoe | 490 | 5 |
| 7 | Iain McLean | 425 | 4 |
| 7 | Ernie Cowell | 425 | 4 |
| 9 | Dave Taylor | 400 | 2 |
MO65
There were only six competitors. In the quarter finals on Saturday morning Donald Shearer beat Warren Cameron 3/0 and Alex Sinclair beat Bernard Starkey 3/0. In the semi finals top seeds Ian Ross beat Donald Shearer and Alex Sinclair beat Ian Nicolson.
In the final Ian Ross played well and beat Alex Sinclair 3/0. In the Plate final Bernard Starkey rounded off a good tournament by beating Ian Nicolson 3/0.
Leading Masters Tournament Points
| | | | |
| --- | --- | --- | --- |
| Pos. | Name | Pts | Pld |
| 1 | Ian Ross | 1248 | 6 |
| 2 | Alex Sinclair | 980 | 7 |
| 3 | Chris Wilson | 690 | 4 |
| 4 | Donald Shearer | 595 | 4 |
| 5 | Ian Nicholson | 380 | 3 |
| 6 | Warren Cameron | 340 | 3 |
MO70
The Over 70s was played as a round robin among four players, Bill Kennedy, David Brown, Zander Wedderburn and Vincent Taylor. David Brown, the youngster in the group, dominated this division, losing only seventeen points in winning his three matches 3-0. Vincent Taylor was second, with his only loss being to David Brown in the battle for first place. So David repeats as champion, having also vanquished Vincent in the final in 2014. It was a delight to see Zander Wedderburn back on court after dealing with some medical problems over the last few months. Also Bill Kennedy was back on court after having to take some time off after corrective eye surgery. Next up is the Central Scotland Masters at Bridge of Allan in February. Hopefully this same cast of characters will be joined by others who want to win their places in the Home Internationals at the end of the season.
Leading Masters Tournament Points
| | | | |
| --- | --- | --- | --- |
| Pos. | Name | Pts | Pld |
| 1 | David Brown | 450 | 2 |
| 2 | Vincent Taylor | 425 | 2 |
| 3 | Ken Reid | 415 | 3 |
| 4 | Bill Kennedy | 150 | 1 |
| 5 | David Rogan | 125 | 1 |

Dates for your Diary
| | | | |
| --- | --- | --- | --- |
| Event | Dates | Venue | Closing Date |
| Bridge of Allan Masters | 6th, 7th & 8th February 2015 | Bridge of Allan | 23rd January 2015 |
| Grampian Masters | 28th February & 1st March 2015 | ASRC, Aberdeen | 13th February 2015 |
| Scottish National Masters | 13th, 14th & 15th March 2015 | SSRC, Maryhill |  28th March 2015 |
https://www.scottishsquash.org/wp-content/uploads/2014/12/Masters-Generic-11-e1419245458526.jpg
439
1026
Scottish Squash
https://www.scottishsquash.org/wp-content/uploads/2017/10/Scottish_Squash_Logo_LANDSCAPE-300x90.jpg
Scottish Squash
2015-01-28 10:05:34
2016-08-26 11:04:04
East of Scotland Masters Report