Young People Drive Squash Forward at Inverness Royal Academy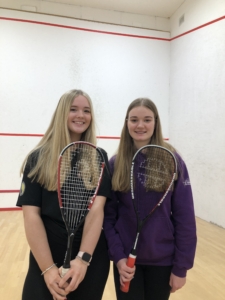 Squash is taking off at a Highland secondary school, with the help of two enthusiastic pupil volunteers and six courts marked out in the gym hall.
Kirsten and Aimee (pictured), two keen squash playing pupils at Inverness Royal Academy, completed the Squash Leaders programme delivered by Scottish Squash last year, and now they're putting their learning into action in a big way.
They run a weekly squash club in their school hall which has grown to almost 20 regular participants – and they've forged links with Inverness Tennis and Squash Club (ITSC) to grow the project further.
Kirsten said: "Most people play football or basketball at school, so we wanted to get more people introduced to squash.
"When we first started people would poke their heads in the door to see what we were doing then they would walk away.
"After a few weeks they started coming in and now they haven't stopped showing up – so they must be enjoying it!"
With six squash courts taped in the school's gym hall, it has been a good introduction to the game for pupils keen to give the game a go.
Aimee said: "It works really well in the school hall, with just a front wall.
"Since all the players are beginners, they don't really need to play shots which involve the side walls, so it works out quite well."
Now, the newly introduced monthly session at ITSC will give the pupils the chance to get on a full-sized court and develop their skills further.
It will also allow ITSC to welcome the next generation of squash players to the club while developing a partnership with a local secondary school.
Active Schools Co-ordinator for Inverness Royal Academy Hazel Wilson said: "Kirsten and Aimee both signed up for the Highlife Highland leadership programme two years ago and had completed a huge amount of hours volunteering with Inverness Tennis and Squash Club.
"When I approached them with the opportunity to be the 2022 Young Ambassadors for Inverness Royal Academy, they took it under their wings and decided to use this opportunity to increase the provision of squash in the school.
"Since then they have been the main driving force behind the increase in squash at the school not only by providing a lunchtime squash activity but also developing links with the local squash club.
"Kirsten and Aimee have worked extremely hard to develop squash within Inverness Royal Academy and build a link and relationship between the school and Inverness Tennis and Squash Club."
Club Manager at Inverness Tennis and Squash Club, Ailsa Polworth also spoke positively of the work, saying:
"We are delighted to be able to support this initiative. The work being done by Kirsten and Aimee has enabled us to create a link with the school which hopefully we can now build on. We agreed to provide the facilities free of charge for these sessions run by Active Schools and so far the numbers have been encouraging.
If this proves successful in attracting more young people to the sport, then it would be a great model for other schools in the area."
Scottish Squash Club Development Manager (Young People) Jack Brodie said: "It has been brilliant to see all the great work that Kirsten and Aimee have put in to launching a squash club at their school.
"The club has been really popular, and it all started with equipment which was already available in school, so it is a great example for others that might want to start their own school squash club.
"Kirsten and Aimee have managed to get lots of their peers playing squash for the first time, and the link with Inverness Tennis and Squash Club will provide a great opportunity to develop their club further. I'm really excited to see their continued positive impact on squash in Inverness."
https://www.scottishsquash.org/wp-content/uploads/2023/02/8724801E-6F0A-4F19-83AB-CEFF7AC9109C-scaled.jpeg
2560
1920
Jack Brodie
https://www.scottishsquash.org/wp-content/uploads/2017/10/Scottish_Squash_Logo_LANDSCAPE-300x90.jpg
Jack Brodie
2023-02-28 16:20:03
2023-02-28 16:26:52
Young People Drive Squash Forward at Inverness Royal Academy