Squash Fitness presents the 'Squash Masters Online Home Internationals' which takes place from the 26-28 March 2021.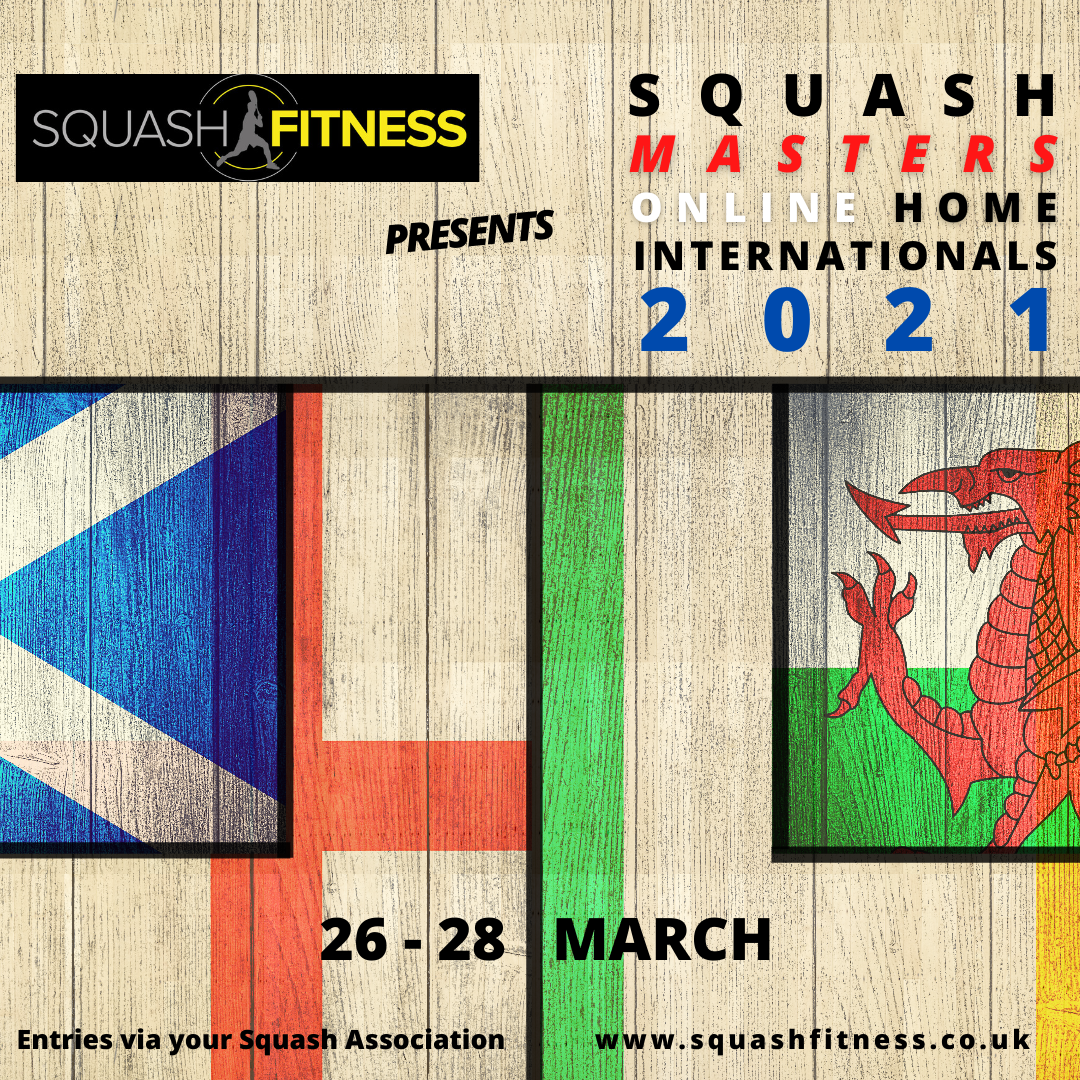 This excellent opportunity provides masters players in Scotland a chance to reconnect with friends from across the home nations, while being able to take part in a fantastic weekend of fitness based workouts with friendly competition while the Masters Home Internationals remains suspended due to the ongoing pandemic.
The online Masters Home Internationals will be delivered by Derek Ryan, a highly experienced Physiotherapist and Strength & Conditioning Specialist. Derek is the Lead Physiotherapist and Medical Co-ordinator for the Professional Squash Association (PSA) World Tour. Derek is a former professional squash player, having competed on the PSA World Tour for 12 years and reached a career high of world number 7.
For further information on how the weekend will be delivered please see the full details in the image below.
Registration is free to all Scottish players aged over 35 years old. The competition and weekend will feature players from England, Ireland, Wales and Scotland.
To register, please e-mail info@squashfitness.co.uk with your full name, country, age-group and e-mail address.
We hope you enjoy a great fun and competitive weekend with the opportunity to engage with some rivals at this time of staying apart.
Come on Scotland!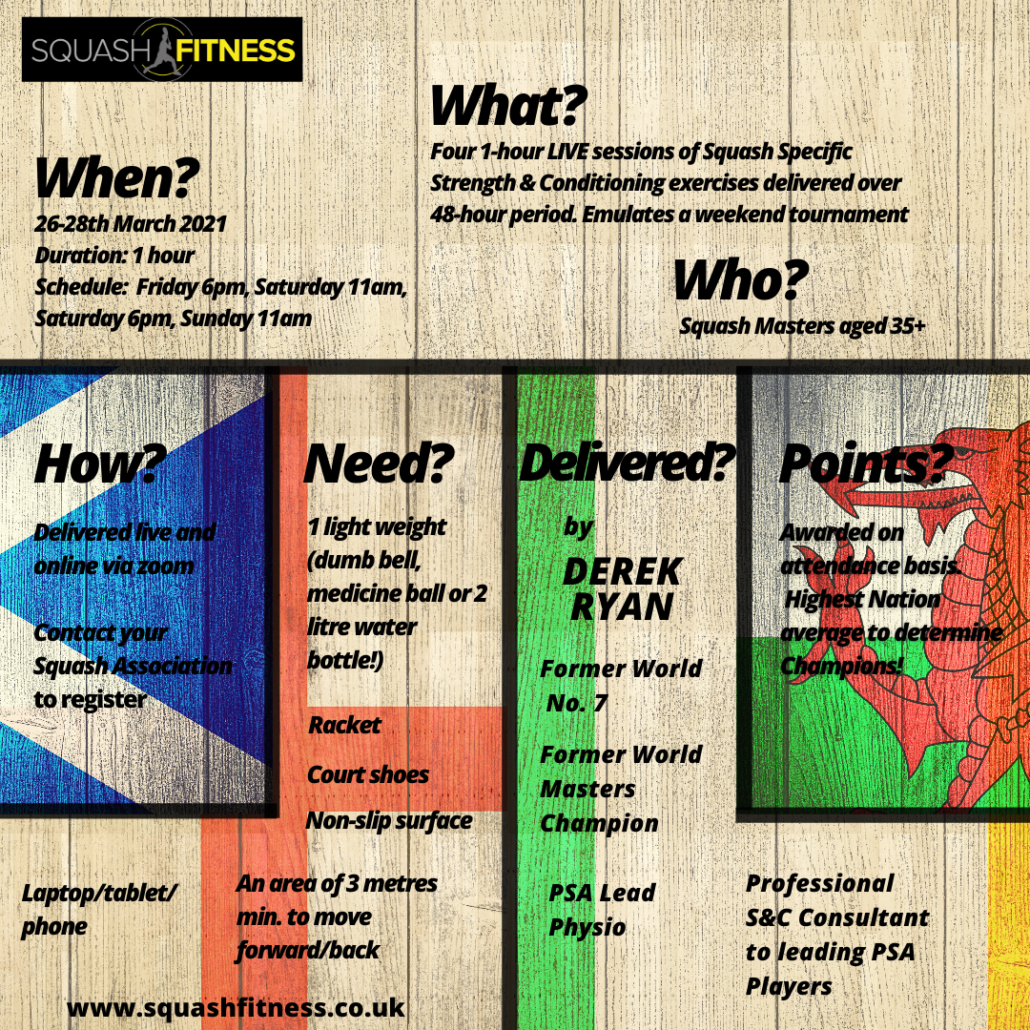 Information for Participants
All participants from Scotland must register by e-mailing info@squashfitness.co.uk with your full name, country, age-group and e-mail address.
Event Website for information and a bit of background. https://squashfitness.co.uk/home_internationals
Zoom Links to each of the 4 sessions will be sent to you after registration.
Points Based System
The points based system works as follows:  1 point per session attended.  Bonus point if all 4 sessions attended.  It is ok if participants do not attend all 4 sessions however there will be penalty deductions for example:
1 Class attended:      1 point awarded but 3 points deducted = Score -2
2 Classes attended:  2 points awarded but 2 points deducted = Score 0
3 Classes attended:  3 points awarded but 1 point deducted = Score 2
4 Classes attended:  4 points awarded plus 1 bonus point = Score 5
There will also be opportunities for bonus points during the sessions!
At the end of the tournament, points will be tallied for each nation and divided by the number of nation participants to give a nation average.  The nation with the highest average will be crowned the winner!
Videos May be On or Off during each of the sessions.
Full name used at registration must be displayed on Zoom for all sessions attended. This will help to make sure you are awarded the correct points!
All feedback before, during or after the tournament is welcome so please feel free to direct this via your association.
https://www.scottishsquash.org/wp-content/uploads/2021/03/Masters-Home-Internationals-Flyer-Pg1.png
1080
1080
Allan McKay
https://www.scottishsquash.org/wp-content/uploads/2017/10/Scottish_Squash_Logo_LANDSCAPE-300x90.jpg
Allan McKay
2021-03-07 20:19:47
2021-03-16 10:56:14
Squash Masters Online Home Internationals 2021