Junior Inter-Regionals Set the Tone for Exciting Season Ahead
The new season of squash in Scotland is off to a flying start after a successful and fun-filled opening weekend of competition in Edinburgh at the Scottish Junior Inter-Regional Championships on 3–4th September. A total of 96 juniors from across the country convened in the capital at Oriam, Heriot-Watt University, for two days of team-based squash across five age groups. Competing regions: West of Scotland, East of Scotland, Central, Highlands & Islands.
Always a popular competition for juniors, the Inter-Regionals showcases not only the widespread talent at the junior level in Scotland, but is also a fantastic opportunity for new friendships, networking and healthy competition between the rising stars of our sport. It is only possible because of the efforts and input of parents, guardians, coaches, team managers and regional volunteers throughout the country. To them and all the players, we extend our sincerest gratitude for making the event happen.
With six courts busy and bouncing from shortly after 9am on the opening day, the buzz in the squash hall was palpable. The juniors had no shortage of energy, despite most having travelled that morning, and some all the way from Orkney the day before! A long day of competition saw West (in Under 11s and 17s) and East (in Under 13s and 19s) in control on the scoresheets. The same regions were locked at 29 – 29 in the Under 15s, with Central also only two points shy of East in the Under 19s after the close of play on day one. Meanwhile, chances for runners-up medals were still wide open across the age groups, and there was no doubt of a thrilling final day ahead when all retired on Saturday evening.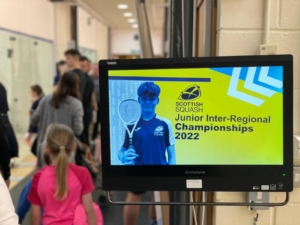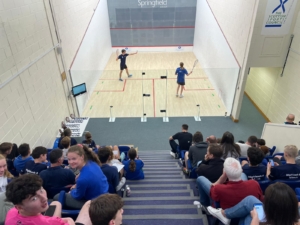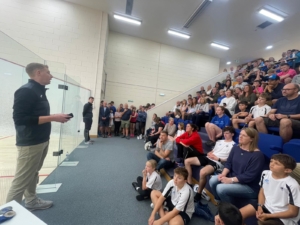 The tight score lines and medal prospects brought a little extra edge of competitiveness on the final day, and there was delight for Central early on as they scooped medals in the Under 11s and 13s, coming second to the winning teams of West and East, respectively. Even with competition done across the younger categories, the fun didn't stop; mini-games and rallies were relentless whenever a court was found empty – great to see! Meantime, competition was warming up for the older age groups.
The hotly anticipated Under 15s showdown saw West triumph over East on courts 3 and 4, with the balcony filling up fast. There was late drama in the Under 17s as well, as Highlands & Islands came out battling, and a strong midday Sunday performance ended with a win over East to secure them runners-up medals. Another assured outing from West saw them win the age group in style, with three wins from three and 47 points – one shy of the maximum.
The Under 19s concluded the tournament with some brilliant squash on display for the gathered crowds. A great fight on courts 5 and 6 saw Highlands & Islands narrowly defeat West on points difference. Meanwhile, East and Central were on court for their decisive tie, and the number 1 seeds—Rory Richmond and Kyle Penman—put on a show for the full gallery to great applause. With points still level, it came down to the final match, which saw Finlay Halton of East overcome Central's Oliver Hunter in three close games.
There was a great atmosphere at prize giving, as each region medalled in at least one age group, and a fantastic tournament ended with a great sense of anticipation for the upcoming season.
The first junior Gold sanctioned competition is set for early October in Inverness (sign-up here), before two more Gold competitions take place in Glasgow and Edinburgh in November. In December, the JC Lindsay Scottish Junior Open returns to Edinburgh, and we look forward to watching the Scottish entrants competing alongside some of Europe and the world's top junior talent. The Open is sure to be an exciting finish to the calendar year, before the Under 23 and Junior National Championships take place in January and February.
Scottish Squash would again like to thank all players for their participation and hope to see them competing in future events during season 2022/23. We would also like to thank all the staff at Oriam for their work over the course of the weekend.
For a full breakdown of results by age group, see here on SportyHQ. For our full calendar of upcoming tournaments available for sign up, click here.
https://www.scottishsquash.org/wp-content/uploads/2022/09/305146366_610544073858207_3545103874838514083_n.jpg
1536
2048
Scottish Squash
https://www.scottishsquash.org/wp-content/uploads/2017/10/Scottish_Squash_Logo_LANDSCAPE-300x90.jpg
Scottish Squash
2022-09-08 16:30:56
2022-09-08 17:48:23
Junior Inter-Regionals Set the Tone for Exciting Season Ahead