Girls Do Squash campaign launched at Notre Dame High School
Scottish Squash launched their Girls Do Squash campaign last week at Notre Dame High School in Glasgow with the premier screening of the Girls Do Squash promotional video
Last year squash was selected as one of nine sports in Scotland taking part in an exciting new multi-platform promotional campaign – Girls Do Sport.
The partnership between women's sport equality charity Scottish Women in Sport (SWiS) and the University of West Scotland (UWS) will see a total of ten programmes produced by students, graduates and staff at the university focusing on women in sport and highlighting one sport per show.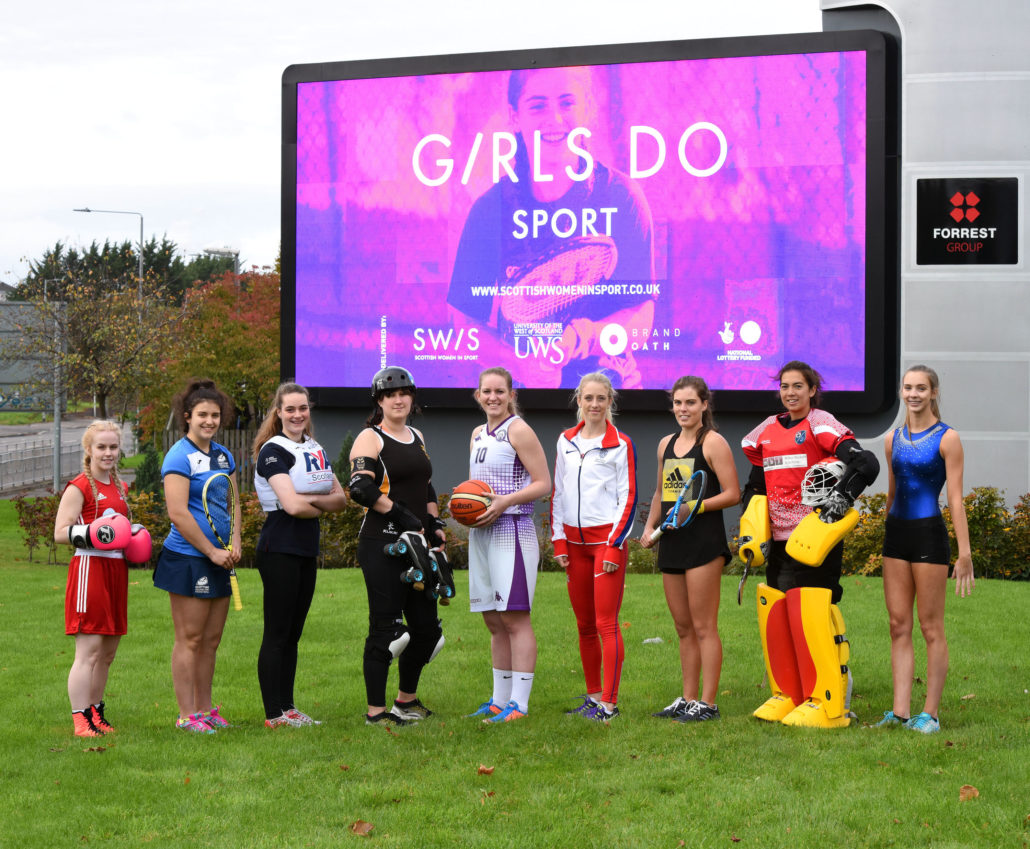 Scottish Squash are using this project as a springboard to drive increased participation in squash among women and girls as well in BME communities.
This has led to great work being done to promote squash and its health and fitness benefits within Notre Dame High School with pupils attending fun introductory coaching sessions at Scottish Squash Rackets Club (SSRC) in Maryhill, Glasgow over six weeks last year – the fourth time pupils from Notre Dame had taken part in the six week programme during 2017.
Notre Dame is the only remaining single sex comprehensive school in Scotland, with a student body where around 40 per cent of the girls come from a BME community/background.
The partnership with Notre Dame High School was showcased in the Girls Do Squash video, below.
Speaking after the launch of #GirlsDoSquash at Notre Dame High School SWiS CEO Maureen McGonigle said: "Scottish Squash has really embraced the Girls Do Sport campaign, they have taken on the challenge, produced some Girls Do Squash t-shirts and put on a specific event to help promote the film.
"We went out to Notre Dame and showed the video to pupils in first and third year. They loved it and got really involved, asking Lisa Aitken (Scotland's number one ranked female squash player) some great questions."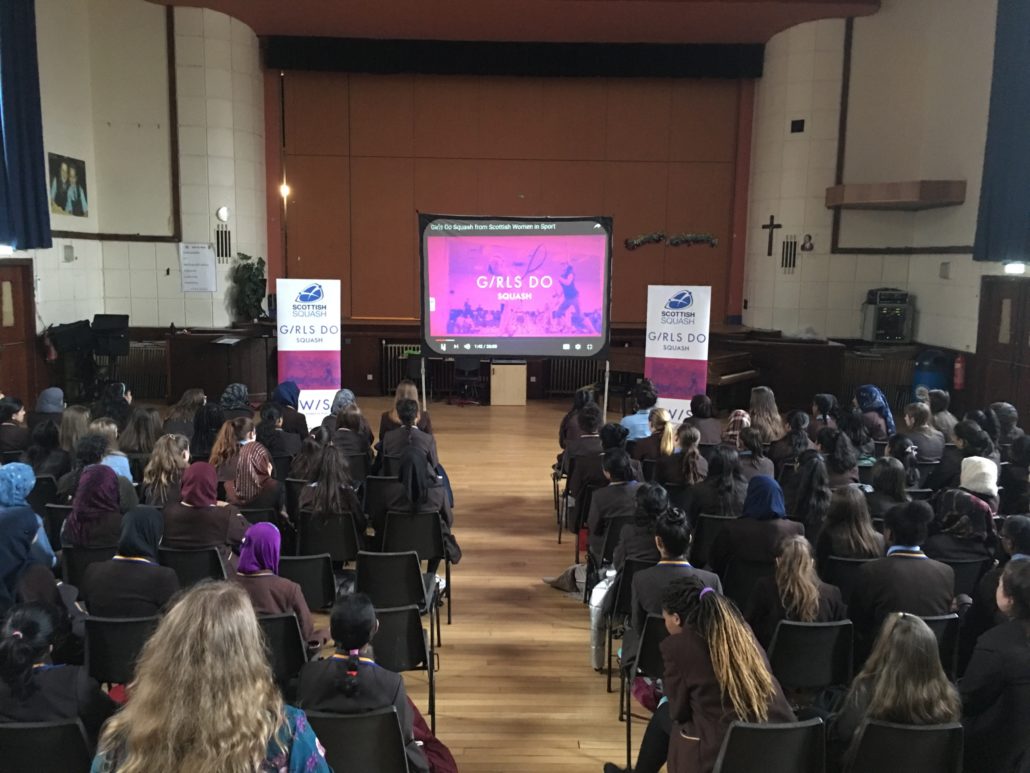 Scottish Squash CEO Maggie Still said: "What we have had with the Girls Do Squash video is a platform to really focus on women and girls and it has been tremendous.
"I couldn't believe how into squash the Notre Dame High School girls were and some of their questions for Lisa were brilliant.
"I think they were all enthused and will go away and play squash. But it doesn't matter whether it's squash, netball, badminton or whatever sport, the main thing is they will get active, play sport and enjoy an additional healthy activity."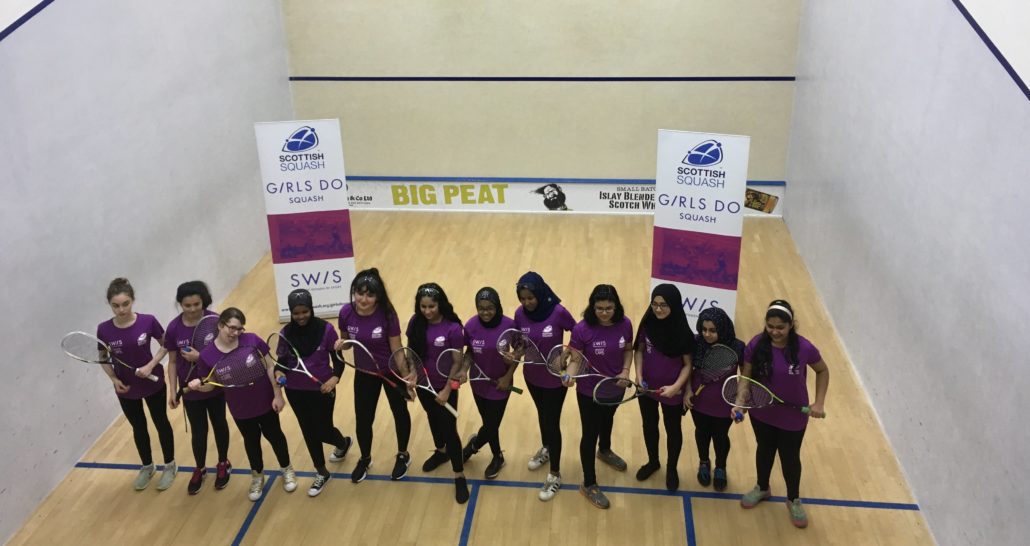 David Fallon, Scottish Squash Regional Manager (West) & National Lead for Sport Development, added: "We are very fortunate to be funded by the Scottish Government and sportscotland for bespoke equality and inclusion funding.
"We have steep but achievable targets to reach by April and we are looking good to achieve our women and girls centred targets.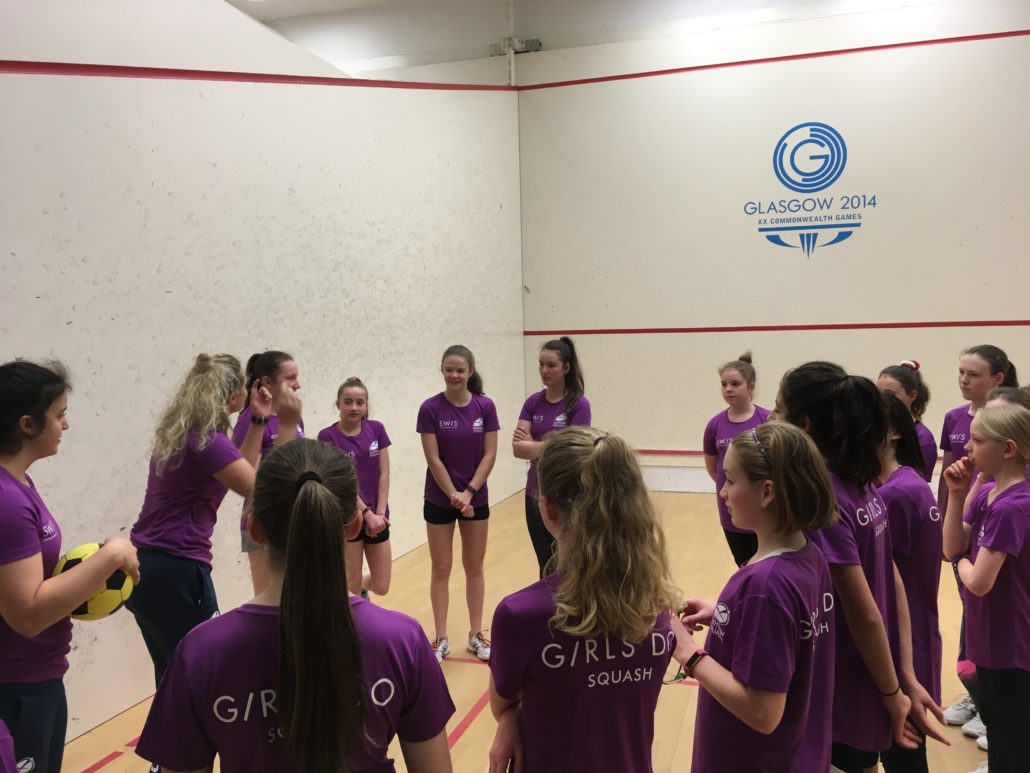 "Girls Do Squash has been so key in all this and the partnership with UWS and Scottish Women in Sport backed up by our funding from partners has been fantastic in helping us drive forward a women and girls strategy which will
have a massive impact in participation numbers around the country."
Scottish players Georgia Adderley and Lisa Aitken were in the RockSportRadio studios last week discussing Girls Do Squash on the #letshearitforthegirls show co-presented by  SWiS CEO Maureen McGonigle and Liz Clark.
Masters squash player Sue Strachan also joined the conversation on the phone and we heard from David Fallon, Maggie Still and a number of Notre Dame pupils who all attended the Girls Do Squash launch.
You can watch the hour long show through Facebook, here. or on Twitter, here. 
Alternatively, download the podcast, here. 
Girls Do Squash was also showcased as part of sportscotland's 'Focus on…' monthly features and chosen as one of the five most inspiring sporting stories from across the United Kingdom by BBC Sport.
Watch the Girls Do Squash video below.
https://www.scottishsquash.org/wp-content/uploads/2018/01/GirlsDoSquash.jpg
1080
1920
Allan McKay
https://www.scottishsquash.org/wp-content/uploads/2017/10/Scottish_Squash_Logo_LANDSCAPE-300x90.jpg
Allan McKay
2018-02-01 16:57:58
2018-02-01 17:28:20
Girls Do Squash campaign launched at Notre Dame High School