Bridge of Allan's Kyle Penman produced some brilliant squash in Aberdeen last weekend to secure a rare double at the 2020 Scottish Junior National Championships.
The 14-year-old won all eight of his matches to secure gold in the BU15 and BU17 events at Aberdeen Squash & Racketball Club.
Kyle was top seed in the Under-15s event and didn't drop a game throughout, defeating second seed Dylan Pearman in the final, 11-7, 11-1, 11-5.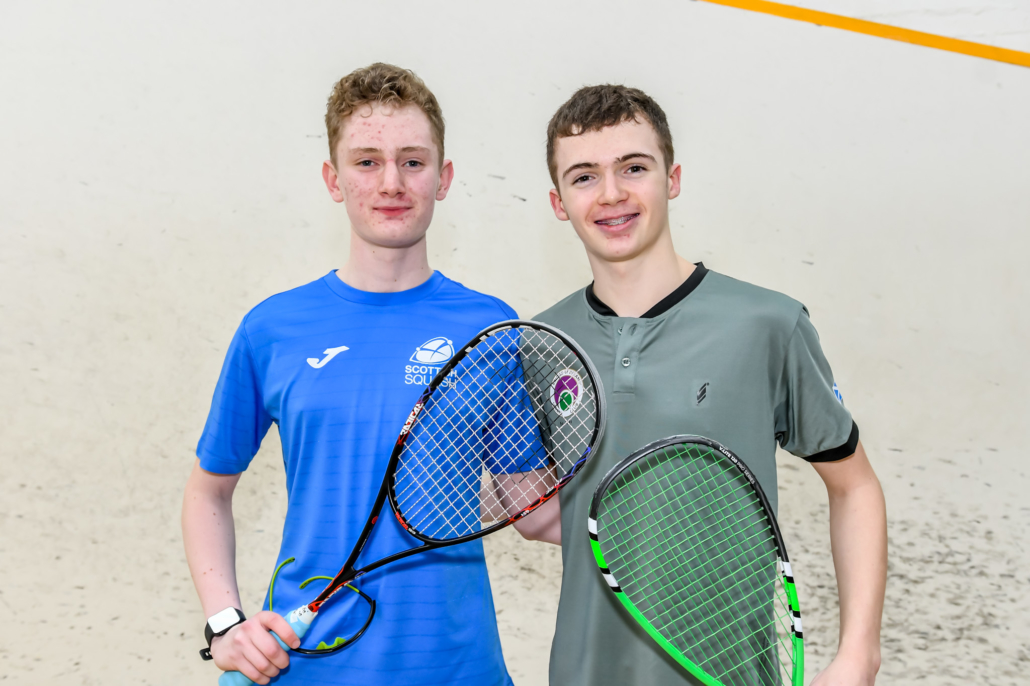 He went into the Under-17s as third seed and edged out Adam Hunter (2) in their semi-final 8-11, 11-9, 11-7, 11-5 to set up a meeting with number one seed Rory Richmond.
Again Kyle prevailed in four tight games to seal the title against the 2019 BU15 gold medallist, 5-11, 11-9, 11-13, 6-11.
"I came here really wanting to win the U15s but the U17s was going to be a real stretch to win. So to come away with two titles is something I'm proud of.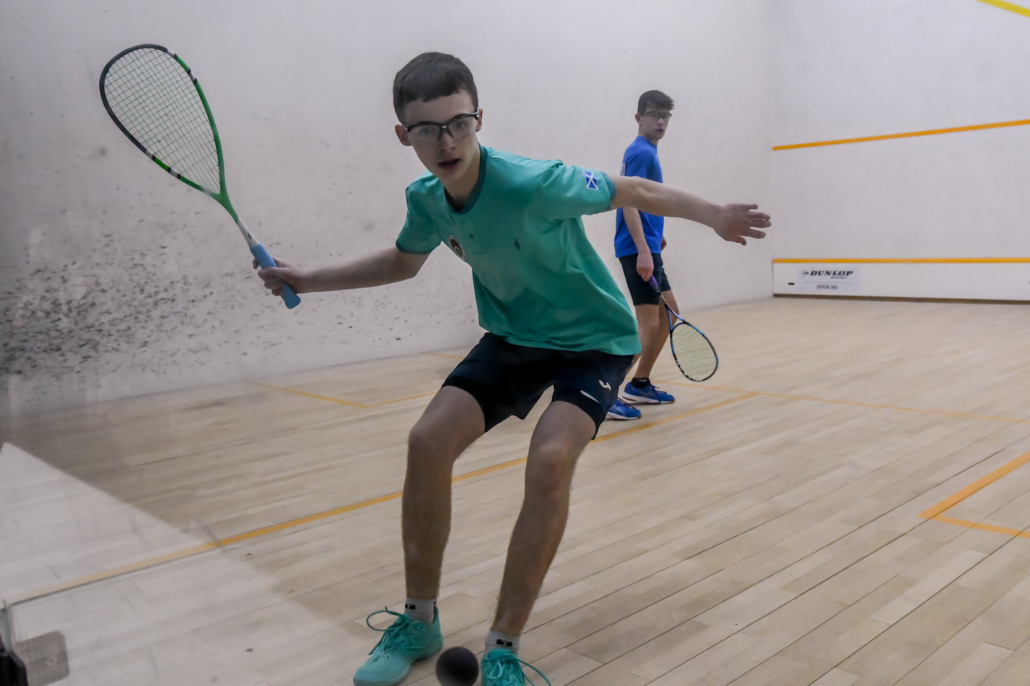 "Despite playing a lot of matches I felt fine physically ahead of the U17 final but mentally it was tough.
"I was efficient in the Under-15s event which was important but after a tricky U17 semi-final against Adam I knew if the match with Rory had gone into a fifth it could have been a different story.
"The body and feet were hurting but I kept going mentally until the end.
"I was pleased with my grit and determination to get the win because Rory is a very good player.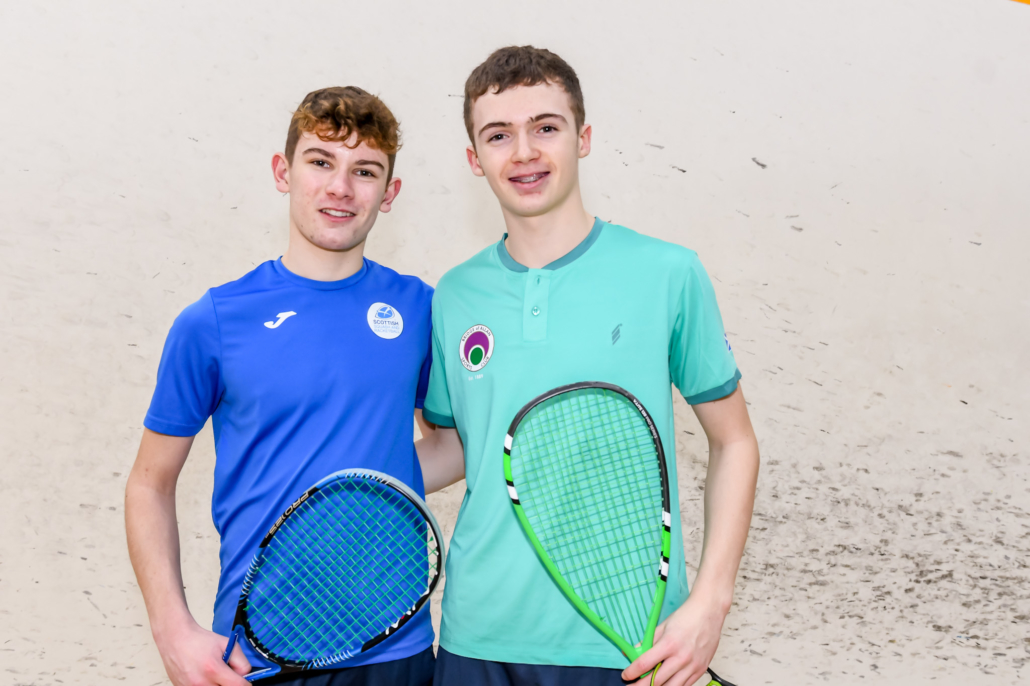 "I haven't played Rory in two years and we have both progressed quite a lot."
He added: "Last summer was a turning point in my squash because I was on court a lot and improved my fitness.
"In the first half of this season I won the Irish and Welsh Under-15 titles and that gave me a lot of confidence."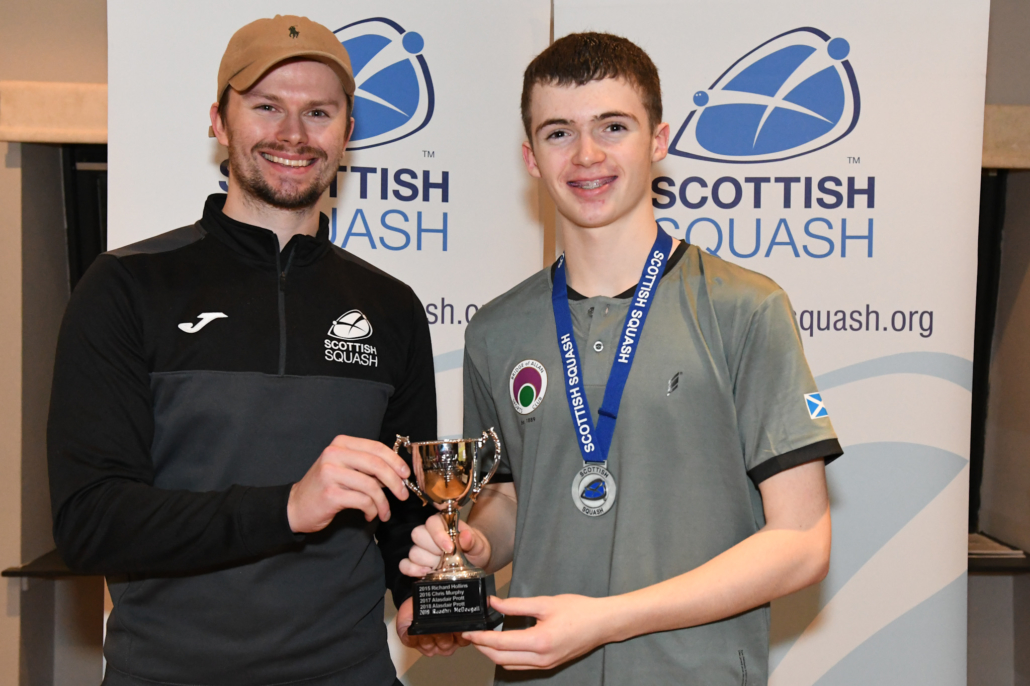 Elsewhere, Oliver Hunter beat Sam Shannon 11-9, 9-11, 6-11, 3-11 in the BU15 bronze medal match whilst Finlay Scott won BU17 bronze (walk over in the 3/4 play-off) after narrowly missing out on a final berth in a last four epic against Rory Richmond, 11-6, 9-11, 13-11, 9-11, 11-4.
In a repeat of last year's BU19 final, Alasdair Prott (2) beat 2019 champion John Meehan (1) impressively in three 6-11, 3-11, 5-11.
Alasdair was clinical throughout the tournament and the 18-year-old feels his move to Edinburgh last summer has improved his game.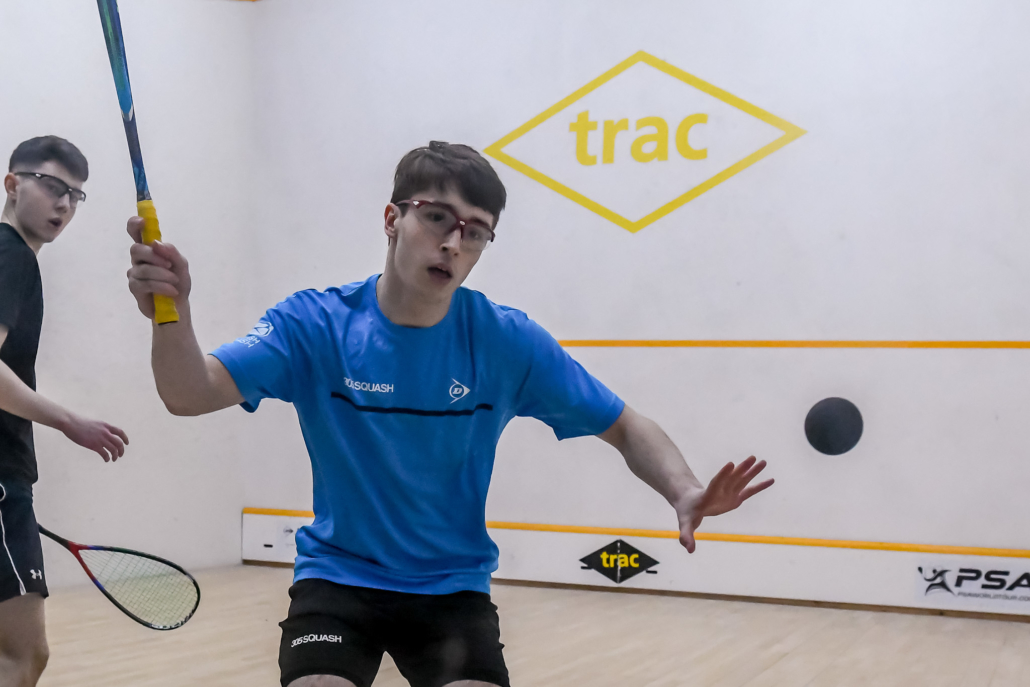 The first-year Heriot-Watt student said: "Both John Meehan, Harry Barron and myself have moved to Edinburgh and the training has been superb for us all.
"Scottish Squash coach Kylie Lindsay has really helped me in the last six months as have Paul Bell and Kevin Moran.
"It's top quality coaching and I've started playing more of a base game rather than taking the ball in too early in the rally.
"A base game is more suited to the transition into the seniors and I've been a bit more patient on the ball, waiting for a more certain opportunity rather than just going up the court looking for whatever I can get.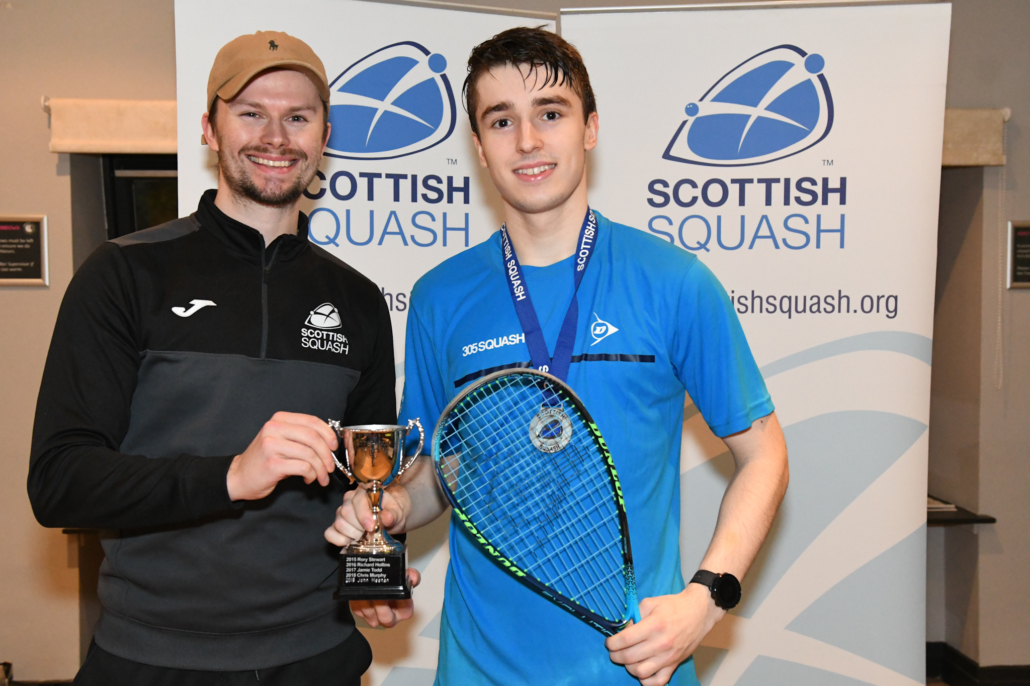 "It showed in the performances throughout the weekend and in the final."
He added: "After last year when John got one over me here I was determined to win this time.
"The competition in our age group is always great and John and I are pushing each other forward into the seniors now."
The BU19 bronze went to Ruadhri McDougall after his 11-9, 11-8, 8-11, 11-7 win over Andrew Glen.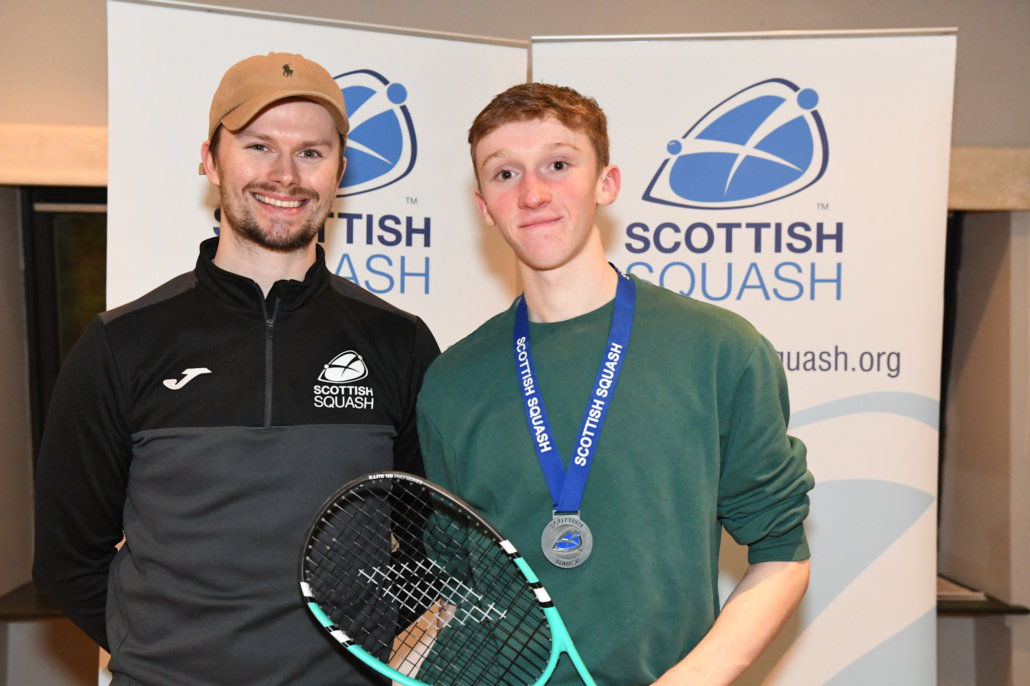 Meanwhile, Watsonian junior John Green (1) went one better than last year in winning gold in the BU13 event after finishing second 12 months ago.
The 2018 and 2019 BU11 champion beat second seed Archie Niven 11-7, 11-6, 11-2 to seal the U13 title whilst Zach Saldanha won the bronze medal match against James Beaumont, 8-11, 11-8, 11-9, 11-6.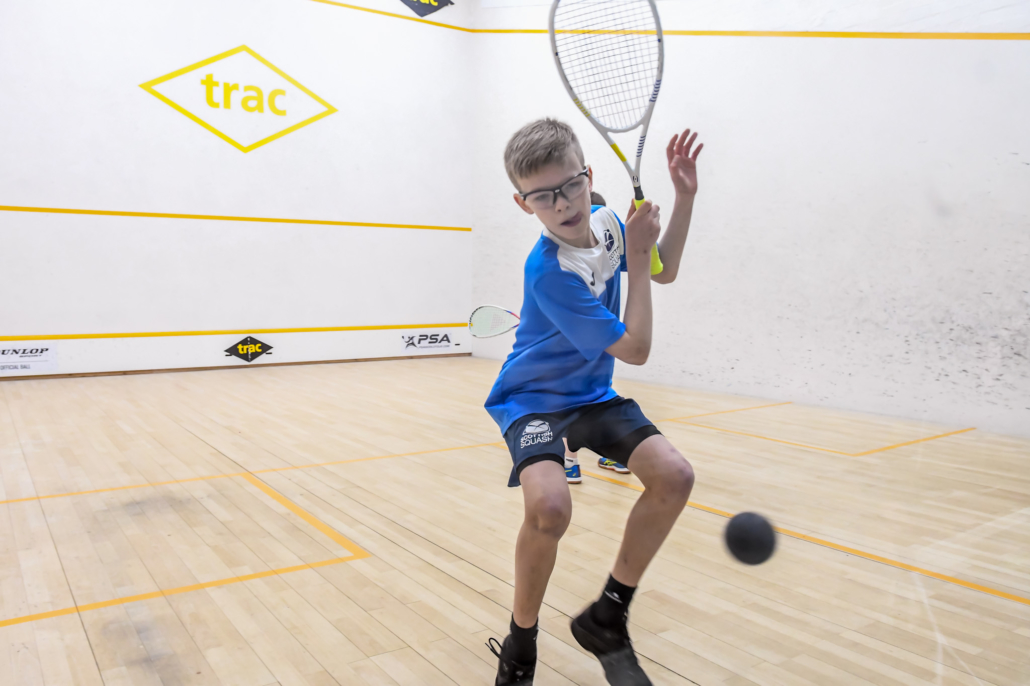 There was a medal upgrade for Nairn's Zack Paton, the 2019 BU11 runner-up winning gold this year after his final win over Murdo Mackenzie, 11-4, 11-8, 11-7.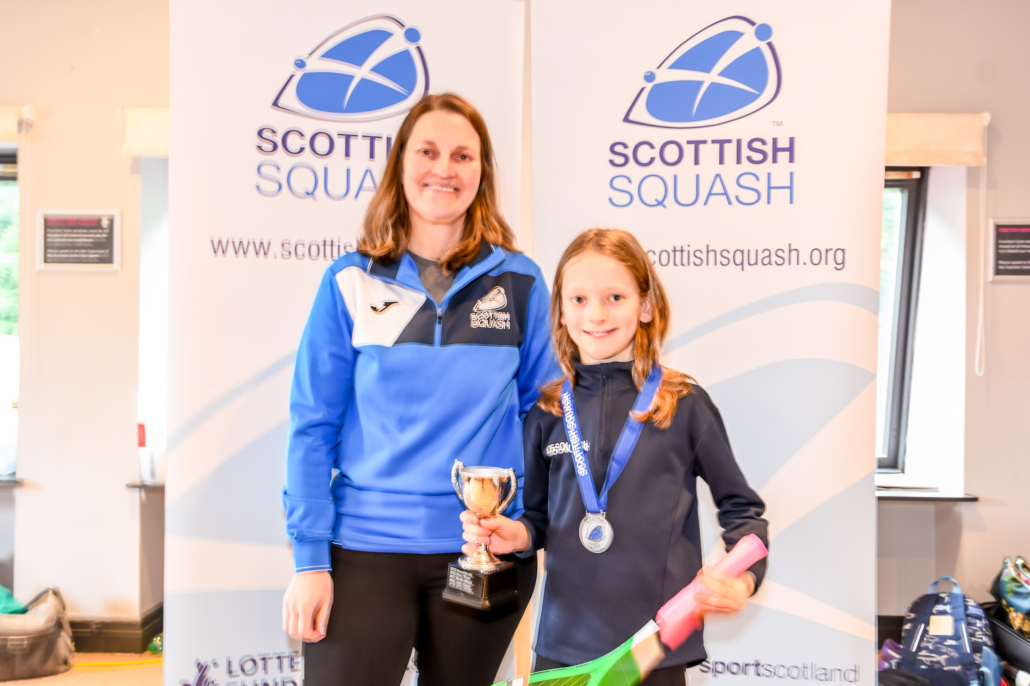 Cailean Mcalpine sealed BU11 bronze thanks to an 11-3, 11-7, 7-11, 11-5 victory over Jamie Pearman.
For all results and placings, click here.
Read the girls' round-up here.
Scottish Squash would like to thank Aberdeen Squash and Racketball Club for helping deliver another successful Scottish Junior National Championships which saw 110 Scots compete across three days of action (January 31-February 2).
https://www.scottishsquash.org/wp-content/uploads/2020/02/20200202_Scottish-Junior-National-Champs_RobertsSports-022.jpg
1365
2048
Andy Weston
https://www.scottishsquash.org/wp-content/uploads/2017/10/Scottish_Squash_Logo_LANDSCAPE-300x90.jpg
Andy Weston
2020-02-06 16:07:37
2020-02-06 16:07:38
2020 Scottish Junior National Championships - Boys' Round-Up