WSF WORLD DOUBLES CHAMPIONSHIP – TEAM SCOTLAND MOMENTS OF THE WEEK SO FAR
The World Doubles Championship has been a memorable tournament for Team Scotland.
The players have produced the highest levels of performance, and they have defied expectations in beating seeded opponents and progressing to the latter rounds of the competition.
We take a look back at five of Team Scotland's best moments from the tournament so far.
Kempsell's quarter final winner
This was a titanic quarter final battle between Scotland and a highly-seeded Australian side.
A phenomenal performance from Clyne and Kempsell culminated with this backhand winner, and wild scenes on the court, in the stands and round the country.
Honestly can't tell you how many times I've watched this. Incredible win and Dougie's reaction at the end perfectly expressing how we all felt in that moment. #Passion #Semifinalsbound 🏴󠁧󠁢󠁳󠁣󠁴󠁿 pic.twitter.com/Q9zYcDMA8k

— Kevin Moran (@KevSquash) April 7, 2022
Adderley and Aitken with a young fan
The first day of the tournament was a successful one for Team Scotland on the court.
It was a moment off the court which caught the eye of many though, when Lisa Aitken and Georgia Adderley showed what squash is all about through a fantastic interaction with a young fan.
Georgia Adderley even played out a couple of rallies with the young player, and was given a run for her money!
This is how to inspire youngsters. @G_Adderley01 took one of our juniors on court for a hit and @LisaAitken1 gave her a racket. Superb girls! And a fantastic result as well! 💪 pic.twitter.com/lAYVJ3lPy8

— Jenn Saldanha (@JennSald) April 5, 2022
Lobban and Stewart through to quarter final
Greg Lobban and Rory Stewart triumphed in their last 16 tie against Hong Kong, and were delighted to clinch their quarter final place.
The result led to this fantastic moment of delight from Lobban towards his partner being caught on camera. What a team!
😊 That smile from @LobSquash!

Congratulations to @Rorystewart_17 and @LobSquash, who have reached the men's quarter finals in the World Doubles in Scotstoun, Glasgow! 🏴󠁧󠁢󠁳󠁣󠁴󠁿

⏰ Play resumes today at 14:30

📺 Watch all four courts live ⬇️https://t.co/DEf7rPFkuK pic.twitter.com/0lxtFWtLDf

— Scottish Squash 🏴󠁧󠁢󠁳󠁣󠁴󠁿 (@Scottish_Squash) April 7, 2022
The perfect lob?
This is the shot that we all dream of on the squash court. An unreturnable shot giving us the chance to take a breather.
That's what Douglas Kempsell delivered with a perfect lob in a match against Indonesia. Quite a skill, and we're sure he meant it!
Is this the perfect lob? 👀@Kempsell with a fantastic effort in his WSF Men's Doubles match, no chance of returning that!

📺 Watch every court live on YouTube, Facebook and the @olympicchannel ⬇️https://t.co/6BFYComNjt#WSFDoubles #PerfectStage pic.twitter.com/oOCikX6XxB

— Scottish Squash 🏴󠁧󠁢󠁳󠁣󠁴󠁿 (@Scottish_Squash) April 6, 2022
Lobban and Aitken heroics set up semi-final clash
Lisa Aitken served up one of the performances of the tournament in the mixed doubles quarter final match with New Zealand.
She hit winner after winner as the Scots blew the number one seeds away.
The crowd were delighted, and rightly so! What a team!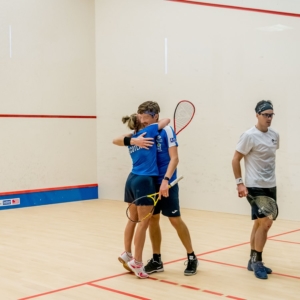 Shot of the tournament?
This one isn't strictly a Team Scotland moment, but it was in a game Scotland were involved in.
South African Christo Potgieter delivered an incredible shot from his knees, to the disbelief of commentators, fans and no doubt the players on the court too!
Sometimes you just have to respect an opponent's brilliance.
🎙 "Oh my word! He's hit that from his knees – you've got to clip that up!"

🎥 @DarylSelby: Player, Commentator, Media Director!

📺 Watch all the action from the WSF World Doubles ⬇️https://t.co/DEf7rPFkuK pic.twitter.com/1opJUOjVZ6

— Scottish Squash 🏴󠁧󠁢󠁳󠁣󠁴󠁿 (@Scottish_Squash) April 5, 2022
The Scottish players will be looking to create more memorable moments today as the competition heads towards its conclusion.
Scottish teams will be in action in knockout matches this morning to determine whether they can move closer to a place in Saturday's finals.
Tonight at least two Scottish teams will play in semi-finals, with the potential for one or even two Scottish teams to compete in the final of the men's doubles tomorrow.
The championship is being broadcast live on Youtube, the WSF and Scottish Squash Facebook pages and on the Olympic Channel, with BBC iPlayer and SQUASHTV broadcasting all of tonight's semi-final matches.
The WSF World Squash Doubles features men's, women's and mixed doubles events, culminating in the finals on Saturday 9th April. Tickets are available for purchase on Eventbrite now https://bit.ly/3JzcskN.
Squash was recently voted by Forbes Magazine as the healthiest Sport in the world and getting involved couldn't be easier. Many clubs run special deals for new members and offer competitive leagues throughout the year. Either pay a visit to a club near you for more information or contact Scottish Squash to get started.
https://www.scottishsquash.org/wp-content/uploads/2022/04/Lobban-Stewart.jpg
781
900
Stuart Monteith
https://www.scottishsquash.org/wp-content/uploads/2017/10/Scottish_Squash_Logo_LANDSCAPE-300x90.jpg
Stuart Monteith
2022-04-08 09:07:58
2022-04-08 16:05:00
WSF WORLD DOUBLES CHAMPIONSHIP – TEAM SCOTLAND MOMENTS OF THE WEEK SO FAR