Finals day at the 2018 JC Lindsay Scottish Junior Open witnessed some epic matches at Edinburgh Sports Club (ESC) on Sunday, December 30.
Of the 10 finals played on ESC's renowned court 5, three went the distance with every match proving highly competitive.
England took home the most gold medals (3) with players from Pakistan and Canada claiming two apiece.
Malaysia and India juniors also picked up trophies along with Scotland's very own Georgia Adderley who won the GU19 title having previously won the U17 version in 2016.
The competition was hosted by Edinburgh Sports Club and Oriam; Scotland's Sports Performance Centre and attracted close to 200 competitors from across 31 different countries.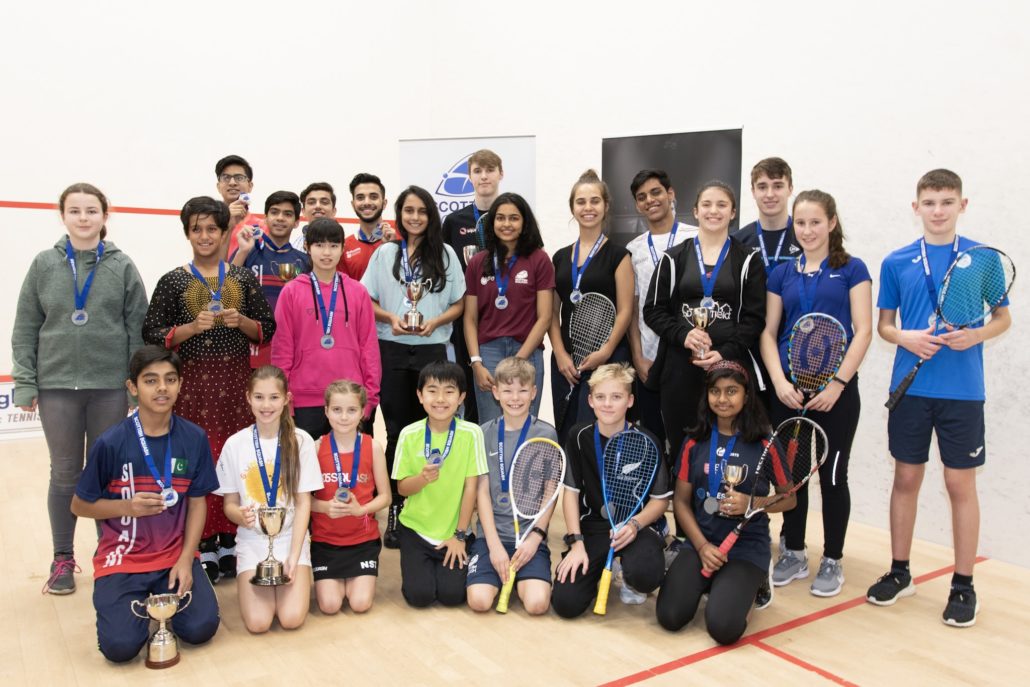 The pick of the final matches were played in the middle of the day on Sunday with both the BU15 and GU15 finalists serving up classics.
Malak Eltorgman (CAN) appeared well set to land the GU15 title after going two games in front against Akari Midorikawa (JPN).
But the Japanese junior found some form, grinding out the next two games to set up a decider.
It was anyone's match but a couple of unforced errors from Akari and an increase in tempo by Malak saw the Canadian win the final game and the title – 11-5, 11-4, 9-11, 7-11, 11-5.
"It was a great final," Malak said.
"After her comeback I really needed to stay focussed and keep my composure.
"My balls were landing in the middle of the court too often and she was using the drop shots well.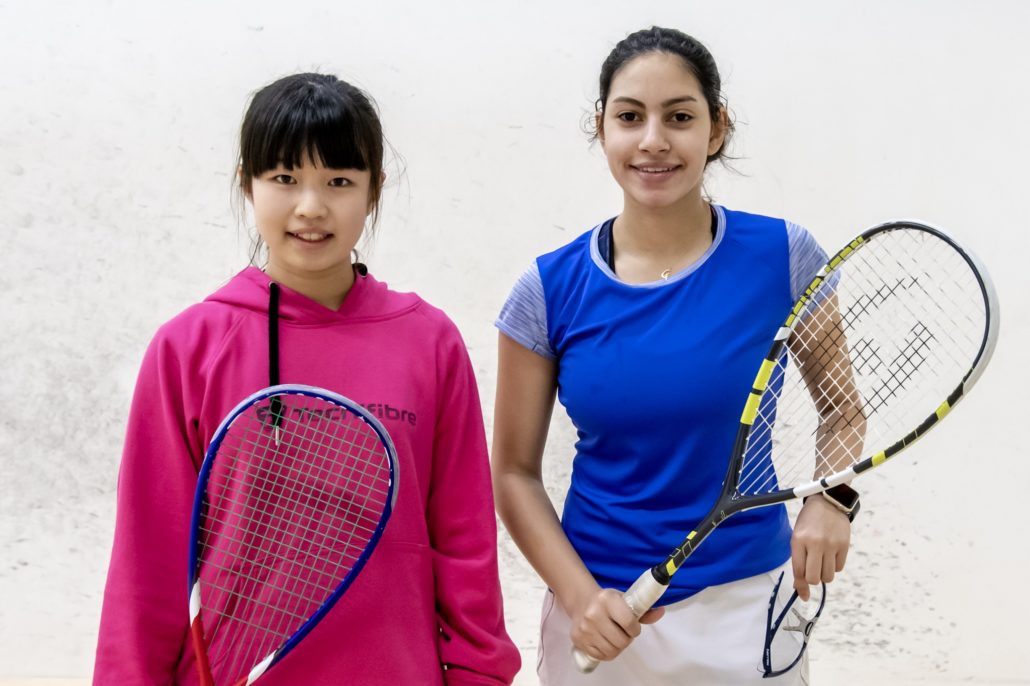 "I needed to change this in the last game and land the balls further back in the court.
"Thankfully this worked and I'm so happy to have won."
Malak's twin sister Farida won bronze in the GU15 age group beating Scotland's Jessica Shaw 11-1, 11-1, 11-7.
The BU15 final was equally compelling as top seed Juan Jose Torres Lara (COL) took on second seed Muhammad Ashab Irfan (PAK).
Juan Jose is one of the best movers at U15 level with an ability to pick up any ball thanks to his lightening footwork.
Both players produced some enthralling rallies but it was Muhammad who was the slightly more consistent which allowed him to seal the win – 8-11, 11-9, 11-9, 5-11, 11-7.
Muhammad, below, said: "He's a very tough competitor. It was very tiring but I really enjoyed the match and my fitness helped a lot.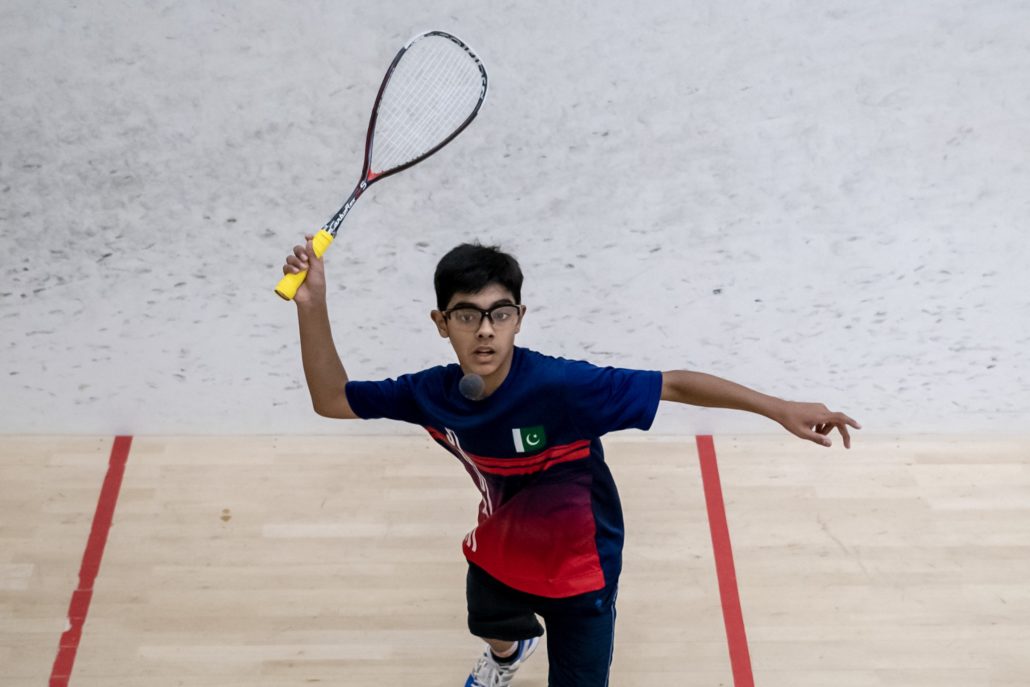 "It's my first international event so to win is great and it gives me confidence for the upcoming British Junior Open."
The 3/4 play-off was just as tight with Scotland's Rory Richmond beating England's Louis Murray 12-10, 5-11, 11-8, 5-11, 11-7.
Despite nursing a hamstring niggle, Georgia Adderley (2) found a way to win her final against defending GU19 champion and top seed Sneha Sivakumar (Sin).
Georgia eased through the opening game 11-6 but was quickly pegged back by a hardy opponent losing the next game 2-11.
Sneha seemed to be taking control in game three but Georgia turned around her fortunes impressively winning the next two evenly fought games, 11-8, 11-7.
The two-time British Junior champion said: "I'm over the moon.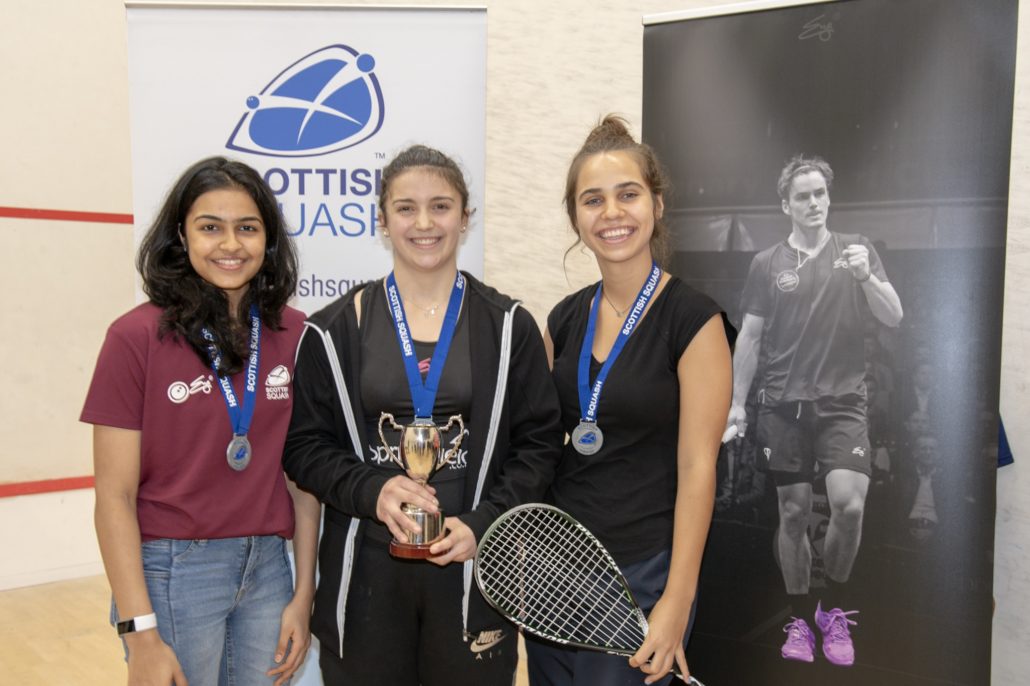 "I played the right game and managed to come through.
"In the third I was struggling mentally and I just wanted to sort that out. I hit a good length at 6-2 and after that I felt really confident on the ball.
"Playing on my favourite court in Scotland (court 5) was great and it was amazing to have the home support. Most of my family was here as well which was also nice."
South African Helena Coetzee (5/8) won GU19 bronze defeating England's Eleanor White (3/4), 9-11 11-6 12-10 11-6
The final match of the day saw top seed Darosham Khan (CAN) defeat Indian (3/4) Rutvik Rau in three tight games, 11-8, 11-8, 13-11.
Darosham was thrilled to pick up his second ever Scottish Junior title having won back in 2015.
The Canadian said: "It feels amazing to win. You could see on court that I was full of emotions, they all came out on court and I am really happy.
"The first person I will call is my dad because he wanted me to win this title really badly.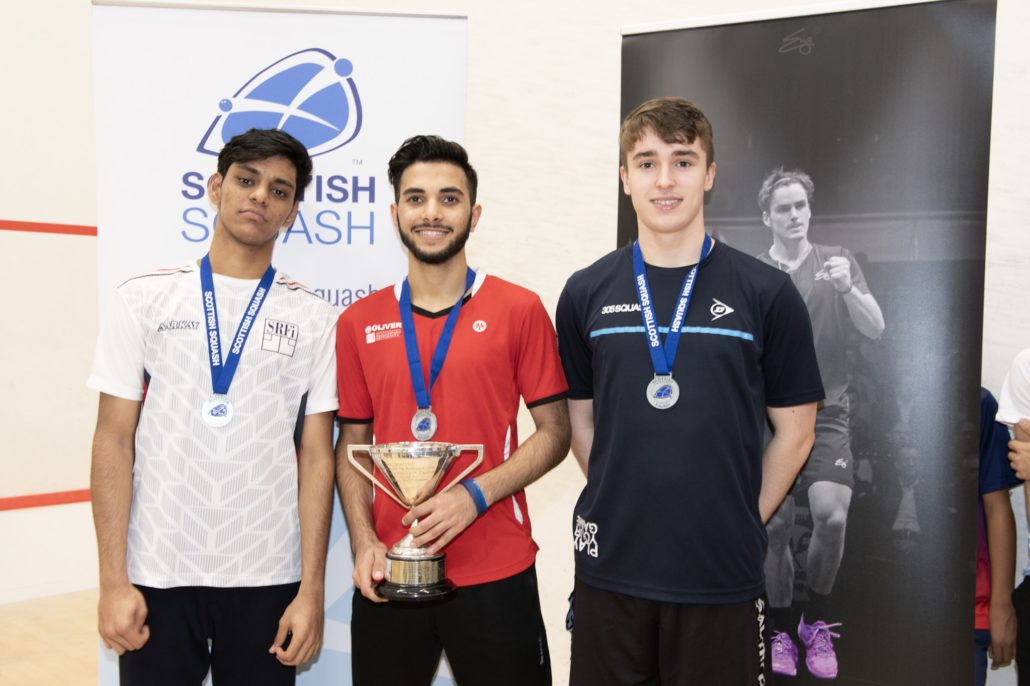 "The past two months I have trained hard for this tournament and next week's British Junior Open and I was delighted to win in three very tough games."
Scotland's Alasdair Prott, a two-time BU17 Scottish champion, claimed bronze in his first year at U19 level defeating England's Max Forster (5/8), 11-6 7-11 12-10 12-10.
This year's BU17 champion is Ben Smith (3/4) from England after he found a way past Pakistan's top seed Haris Qasim.
In a gruelling final which included some lung bursting rallies, Smith recovered from a slow start to seal victory, 5-11, 11-7, 11-5, 10-12, 11-7.
The Grimsby-based player said: "I was glad to get through it after a tough first game.
"I had to reset and go again.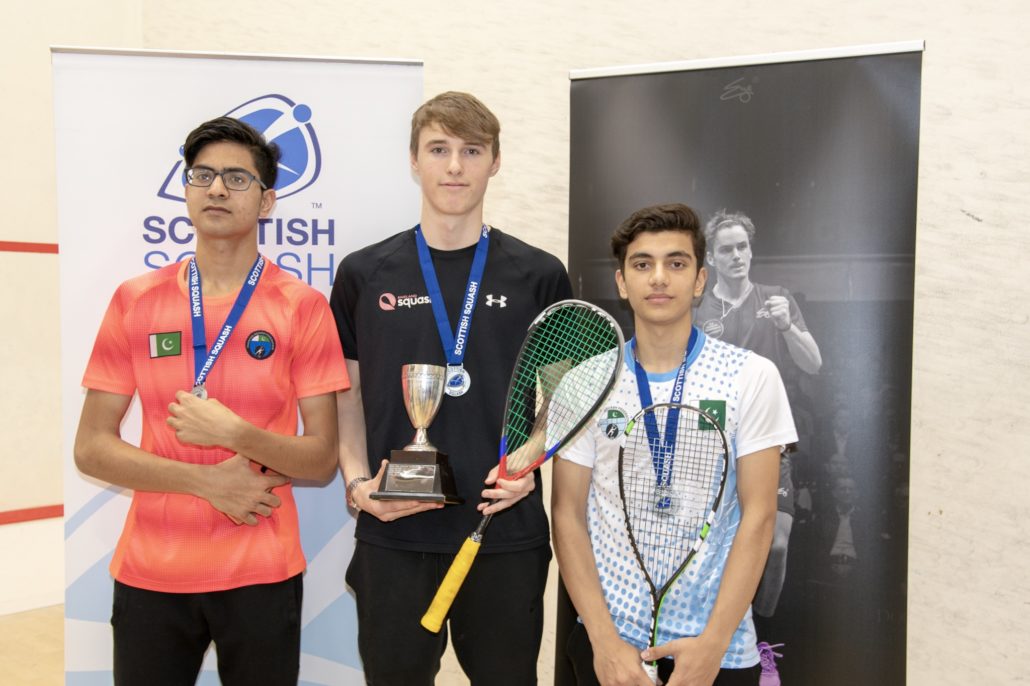 "I have been watching Haris all weekend and knew it was going to be very tough. I had to prepare well to win.
"It was my first Scottish Open and hopefully I can come back next year to compete at under-19 level.
"The facilities are really good at both ESC and Oriam and I've enjoyed my time here."
Pakistan's Muhammad Farhan Hashmi (5/8) won BU17 bronze after beating Adam Goad (3/4) of England 6-11, 13-11, 11-8, 13-11
India's gold medal came courtesy of talented 16-year-old Yoshna Singh who won the GU17 title.
Yoshna is a two-time Indian national champion and finished seventh at the Asian Junior Championships.
She was made to work hard for her victory, narrowly seeing off Aussie Sze Yu Lee 11-6, 8-11, 11-4, 13-11.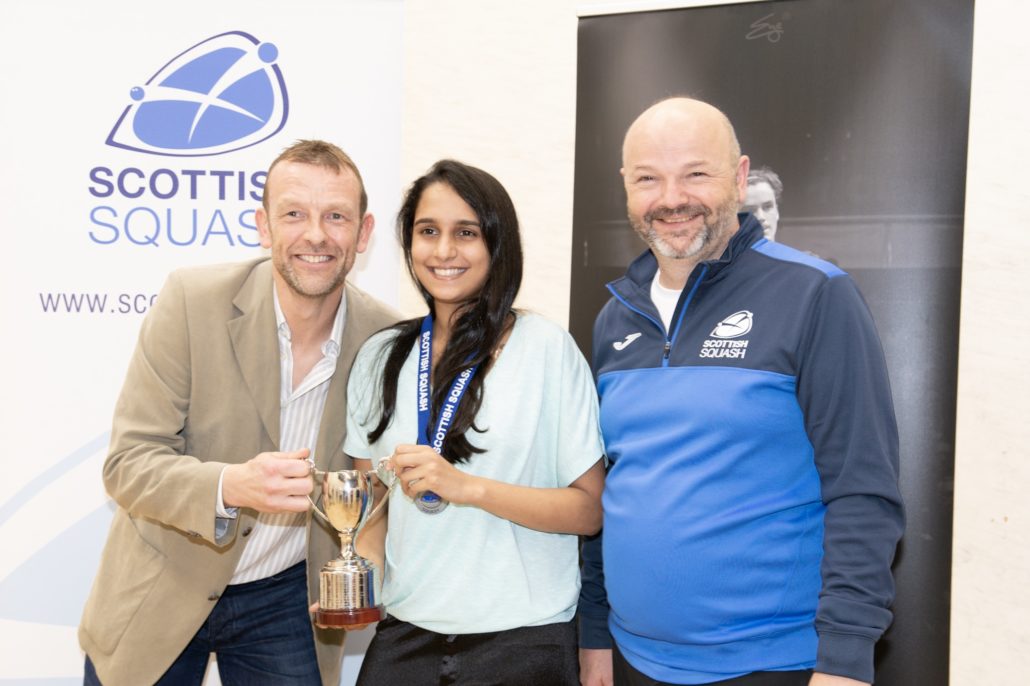 The Indian U17 no.1, above, said: "It was a good match, she is a wonderful player who made the match very tough but fun.
"She made a few unforced errors which helped me but she pushed right to the very end."
On court one, Scotland's Lucy Murchie (5/8) secured GU17 bronze defeating Pakistan's Amna Fayyaz (9/16) 14-12, 11-9, 11-8.
The opening match of the day was a battle of the top seeds at GU11 level with Reka Kemecsei (1) from England beating second seed Sarbani Maitra (AUS) in another tight three game contest, 11-9, 11-8, 11-7.
Reka said: "I didn't give up and had to keep my concentration throughout against my opponent who enjoyed a good tournament as well.
"My drops shots and volleys are strengths of mine and they worked well."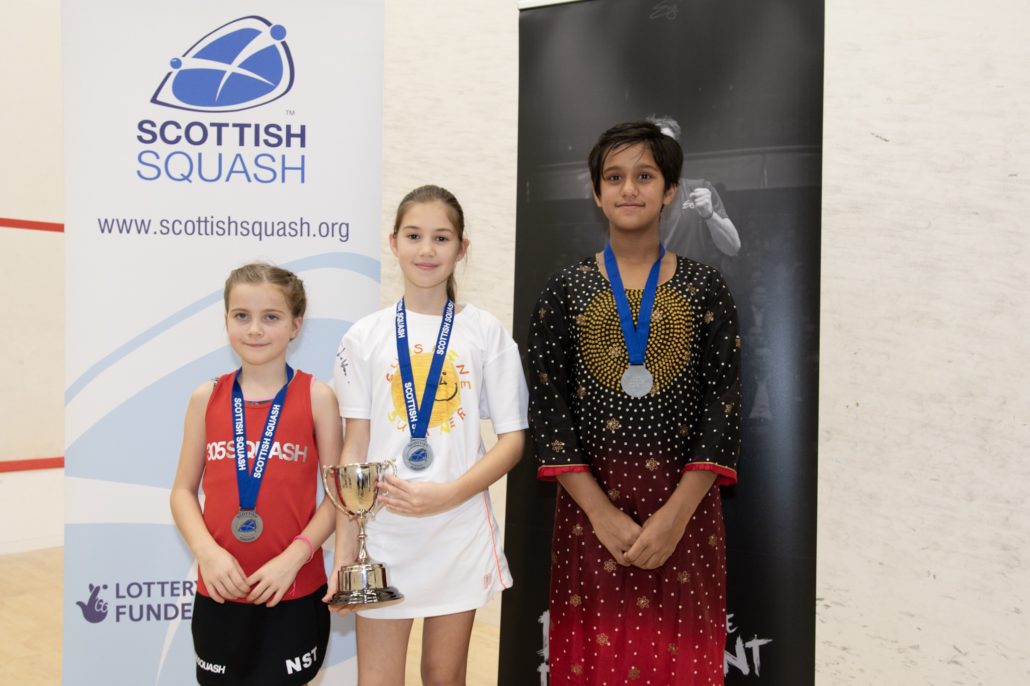 Nia Seren Thomas of Wales beat Scotland's Merryn Penman 11-9, 11-4, 7-11, 12-10 to win GU11 bronze.
The BU11 final was also a clash of the top seeds with the second seed prevailing this time, Jayden Oon of Malaysia winning 13-15, 11-6, 11-9, 11-5 against Japan's Shunsaku Kariyzono.
Jayden said: "I was third last year so to win this time is great. I was nervous in the final but really enjoyed playing in the tournament again."
The all-Scottish BU11 bronze medal match was won impressively by John Green (3/4) who beat Zack Paton 11-4, 11-1, 11-0. John is pictured below with other Scottish medalists.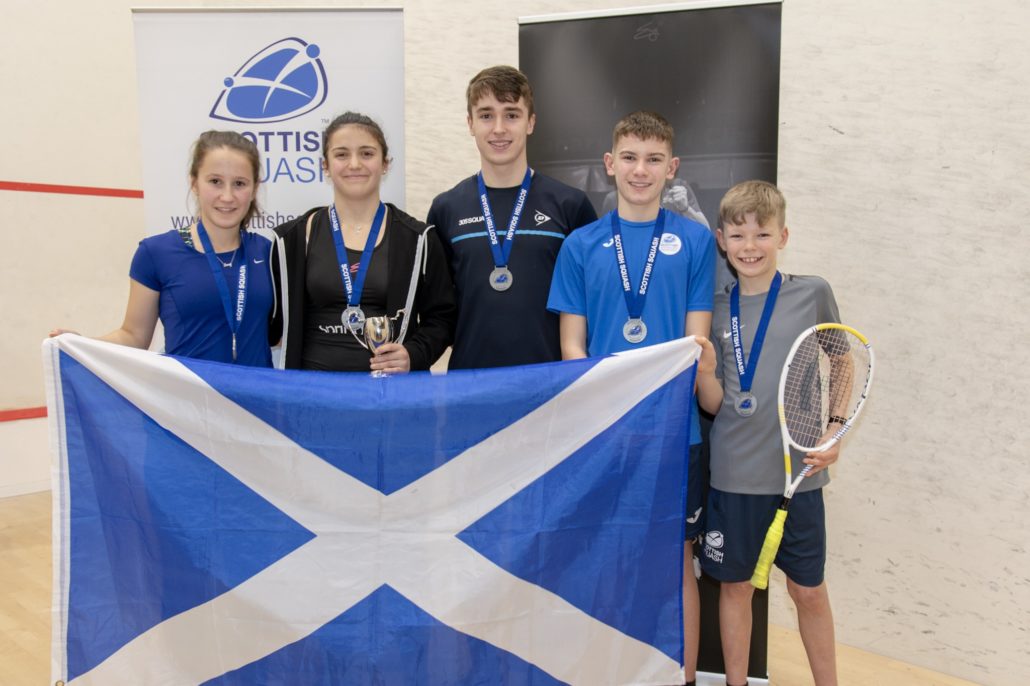 It was Wales v England in the GU13 final which saw the English junior Renetha Srindran (3/4) topple second seed Alys Jenkins 11-8, 11-3, 11-4.
Renetha said: "This tournament meant a lot to me. I really wanted to win and it feels good.
"It's my first big tournament win so I'm very happy."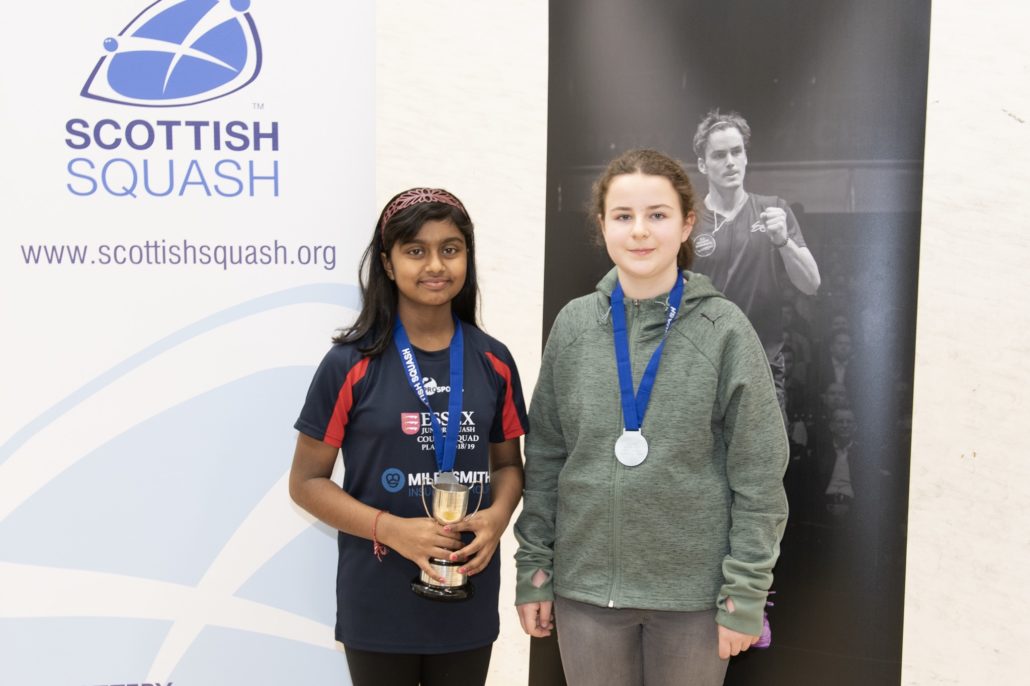 There was further bronze medal success for Scotland with Louisa Kaven (3/4) beating Australian Soha Khatri 11-3 11-9 11-6 in the GU13 3/4 play-off.
Pakistan's Syed Anas Ali won the BU13 title thanks to an 11-3, 11-9, 11-8 win over Egypt's Youssef Sarhan (3/4).
A delighted Syed, below, said: "I am very pleased to have won my first international tournament.
"I really enjoyed the event and the hospitality of the people in Edinburgh was very welcoming. I hope to come back again."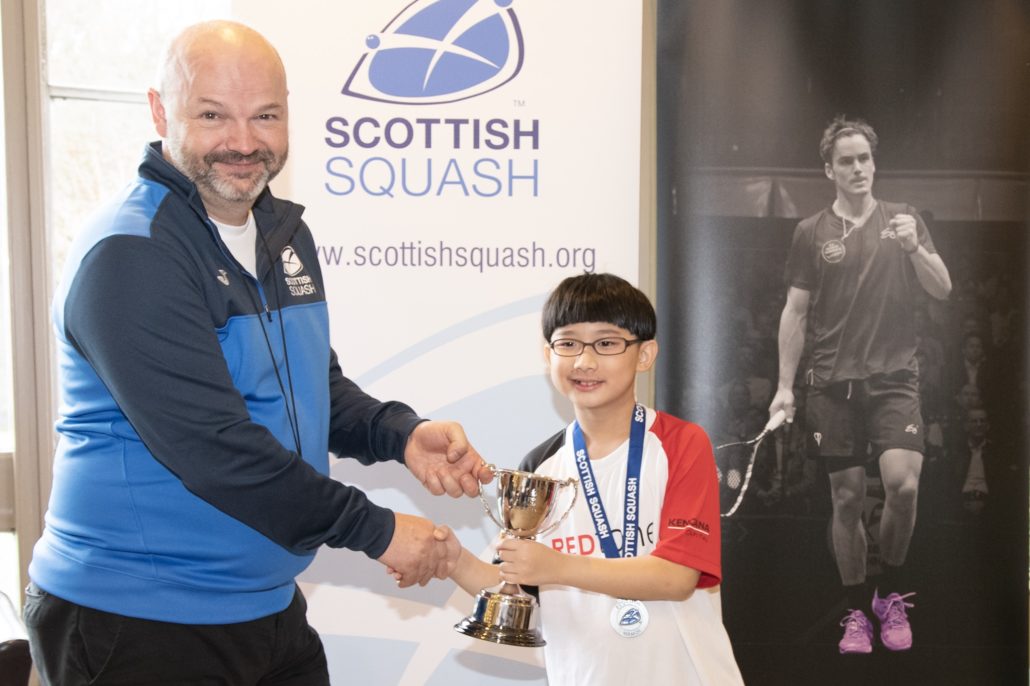 Second seed Freddie Jameson from New Zealand took home BU13 bronze after his defeat of Northern Ireland's Yuv Pahuja (3/4) 11-4 11-7 11-2.
A full rundown of results can be found here.
Images from this year's event can be found on our Facebook page, here.
Scottish Squash would like to thank official event sponsor JC Lindsay and key partner Eye Rackets UK and the Professional Squash Association.
We would also like to thank event hosts Edinburgh Sports Club and Oriam; Scotland's Sports Performance Centre.
Thanks also to Arnold Clark for providing mini buses to our transport team to keep people moving between venues.
https://www.scottishsquash.org/wp-content/uploads/2018/12/GroupWinners-2018.jpg
1366
2048
Andy Weston
https://www.scottishsquash.org/wp-content/uploads/2017/10/Scottish_Squash_Logo_LANDSCAPE-300x90.jpg
Andy Weston
2018-12-31 15:20:44
2018-12-31 19:13:28
Thrilling JC Lindsay Scottish Junior Open finals day brings 2018 to a close