Heart of Scotland Appeal teaming up with Scottish Squash to get the nation moving
The Heart of Scotland Appeal, a fundraising campaign by national charity Heart Research UK, have teamed up with Scottish Squash to raise awareness of cardiovascular disease and encourage more people to increase their activity levels.
The Heart of Scotland appeal was launched in 2019 to raise awareness of the problem of heart health in Scotland, and to generate vital funds for pioneering research at Universities' and hospitals across the country. Recently, Heart Research UK funded almost £300,000 worth of research at universities in Glasgow and Dundee to investigate links between COVID-19 and heart disease.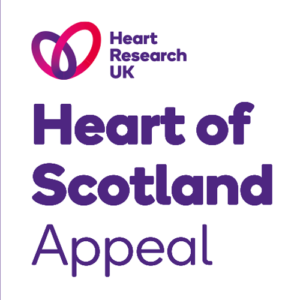 Coronary heart disease is Scotland's single biggest killer, with lifestyle factors such as obesity and lack of exercise directly impacting upon a person's risk.
In an effort to combat the statistic that more than a third of adults in Scotland do not achieve recommended levels of physical activity, the Heart of Scotland appeal has teamed up with Scottish Squash to inspire people across Scotland to get more active.
In a survey by Forbes magazine, squash was ranked as the healthiest sport in the world. Forbes consulted with personal trainers, coaches and exercise physiologists, and ranked sports as being the 'healthiest' in terms of cardiorespiratory endurance, muscular strength, muscular endurance, flexibility, calories burned in 30 minutes and injury risk.
Lisa Aitken, Scotland's number one female squash player, said: "Squash is just a really healthy way to have fun. It obviously has the cardiovascular benefits, getting fit and strengthening the heart, but there's so many people that try squash and say, 'Oh, I was just having so much fun. I didn't realise I burnt 700 calories!'
"Squash is for people of all ages, but I would also love to see even more young people get involved with the sport.
"Squash is one of the sports that can develop youngsters in so many ways. You've obviously got physical elements, like speed and strength and then hand-eye coordination, balance.
"Then you've got the mental aspects of it, having to problem solve and use your brain to work out the tactics. Squash encompasses so much for a young person."
Dr Sue Strachan, who is the current Scottish Women's over-55 champion, played squash as a child before focusing on a medical career. After 17 years without playing, she picked up the game again.
She said: "I was truly terrible when I started again, and for a couple of years just played occasionally.
"I was introduced to Masters Squash (for over 35's) and made so many new friends I wouldn't have otherwise met. I was the fittest and happiest I'd been for 20 years, because it's so good for your mental health, as well as your physical health.
"It fits into that busy life really well, way less time than a good gym session, but it's so much more fun. Sport is just so key to a happy life.
"I work in an admissions unit in the hospital as a physician, so I see people every day with heart problems for lots of different reasons.
"I know about the benefits of sport and the benefits of physical activity, and if we have a society that encourages and educates people on that, then we will have a healthier society."

Amanda Donaldson, Senior Fundraiser for the Heart of Scotland appeal, said: "We all know that physical activity is beneficial for our wellbeing, both physically and mentally. Here at the Heart of Scotland Appeal, we want to encourage as many Scots as possible to get more active.
"We're delighted to be partnering with Scottish Squash to promote the sport as a great way to get fit, meet new friends and improve your heart health, and to raise awareness of the Heart of Scotland Appeal and the life-saving research that we fund."
Allan McKay, Director of Development at Scottish Squash, said: "We're delighted to partner with Heart Research UK and work together to raise awareness of The Heart of Scotland Appeal as we highlight the positive impact that sport and physical activity can have on individuals' risk to coronary heart disease.
"Squash can play a strong role in offering health, fitness and physical activity benefits to everyone in a really fun and social environment. By working closely with The Heart of Scotland Appeal we want to raise awareness to communities across Scotland of the opportunities to participate in squash and help to improve health and physical activity levels which can hopefully go a little way to tackling coronary heart disease in Scotland."
To learn more about the Heart of Scotland appeal and find out about how you can help, please visit https://heartresearch.org.uk/heartofscotland/. You can save 10% on your special designed Christopher Kane Heart of Scotland t-shirt and badges using the code Squash at https://gift.heartresearch.org.uk/onlineshop/
https://www.scottishsquash.org/wp-content/uploads/2021/06/HOS-appeal-logo.png
500
500
Allan McKay
https://www.scottishsquash.org/wp-content/uploads/2017/10/Scottish_Squash_Logo_LANDSCAPE-300x90.jpg
Allan McKay
2021-06-04 09:27:10
2021-06-04 09:27:10
Heart of Scotland Appeal teaming up with Scottish Squash to get the nation moving