The West of Scotland Masters tournament was held at the Dumfries Squash and Racketball Club on 25/26 November 2017.
There was a total of 65 competitors who took part in one Ladies' event and seven Mens' events.
The tournament was generously sponsored by JAMES HALLAM INSURANCE and the catering was sponsored by NEIL THOMAS DOUGLAS (NTD) PHOTOGRAPHY.
Sue Strachan and the West of Scotland committee managed a very well organised tournament. They all worked hard to make all competitors welcome and the bar and catering supplied by the bar staff in the club staff Pam, James and Willie the bar manager was excellent. At the prize giving Robin Ridley on behalf of all the competitors thanked Sue and Jim Scriven for all their hard work in the organisation and managing the weekend competition.
Thanks are also due to Scottish Squash and Sportyhq for managing the entry and supporting the West of Scotland committee in running the tournament. John Crawford, Norma Marshall, Alan Law and Malcolm supported the committee and all the players by providing refereeing services throughout the tournament.
Ladies O35
The women's entry was small but perfectly formed with 5 entrants – we decided to make it a round robin so that each player would have 4 matches, hence making the long journey down to Dumfries worthwhile!
We wore rainbow laces to support the campaign for equality in sport – make sport everyone's game is the message we hope to promote.
Play started at 10am with home player Sue Strachan against Elaine Inglis from Edinburgh. Sue and Elaine came back off after the first point as Elaine had sustained a racket knock to the bridge of the nose (not Sue's fault…honest!). Sue asked the referee whether they could come off to give Elaine a chance to recover then restart play at the beginning later in the morning. They did that and had a close contest with Sue trying to volley as much as possible, coming out winner 3-1. Jane Davey from Inverness took on Christina Graham from Edinburgh and won 3-0 in another good match. Christina beat a very nervous Carrie Gray from Edinburgh, who was playing in her first Masters tournament, 3-0 in Christina's 3rd match of the day.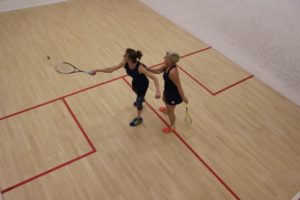 On Sunday morning the women were first on court again with Sue and Carrie and Christina and Elaine. Sue and Elaine turned out to be too strong for their opponents and came out 3-0 winners. The last matches were the youngsters – Carrie and Elaine and the over 50s Sue and Jane neither of whom had dropped a match. In the youngsters game Elaine was too strong for Carrie and won 3-0.
Sue and Jane went on with a contrast in styles and both focussed on the win. Sue managed to keep Jane behind her with some strong hitting and won 3-0 to take the O35 title with Jane runner up.
It was great that Carrie came down and played in her first one and we hope she will now join us in the next East of Scotland Masters in January. We also look forward to Norma Marshall rejoining the competition after absence through illness meaning that she could only mark and referee rather than play.
We hope that there will be more women enter into the East of Scotland Masters in view of the ease of travelling to Edinburgh for many, as we progress through the 2017-18 season towards the National Masters championship which will be held in Inverness in March 2018.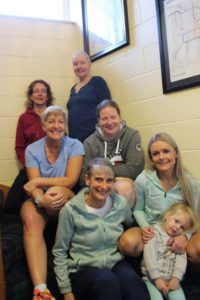 MO35/MO40
There were five competitors and the competition was played as a round robin.
 Saturday kicked off with Barry Masson v Scott Hay, which was a tight affair, Scott edging ahead with the first, but Barry coming back to lead 2-1, then a 4th game which could have gone either way eventually settling it 3-1 in Barry's favour.
At the same time, Chris Gray was showing ruthless form against Blair McKenzie, and despite Blair's efforts Chris came through in a fairly quick 3-0.
Next up, Barry and Blair were on court together. The match momentum swung wildly in each direction throughout, with Barry taking the first, then Blair taking the next 2 convincingly for little return. Blair perhaps took his foot off the gas in the 4th and so it went a 5th, in which Blair took a strong 6-2 lead only to find a strange attraction to the tin and letting Barry back from the dead. Barry moved ahead 10-6, and although Blair found a couple more, points Barry gratefully sneaked what would be the tightest match up of the draw 3-2.
Chris and Scott were then on, and once again Chris' shot making was proving too much for his opponent, and he came through another match unscathed 3-0.
Last up on the Saturday, Billy Scott made his first appearance, taking on Aberdeen club-mate Blair. I didn't catch this one, but I gather Blair was able to put his penchant for the tin aside and beat Billy 3-0.
On Sunday morning, Billy v Scott was a very tight affair, both players battling hard for their first win of the weekend. In the end Scott was able run down enough of Billy's shots, and came through a well contested 3-1.
At the same time, Barry and Chris were on court – the first game was tight up to 7-7 from which Chris played some great shots to pull away for 11-7. The second was even more convincing from Chris, but then Barry managed to find a way to get Chris moving around the court and found a few winners, and so took the match into a 4th game; however any hopes of any further comeback were short lived with Chris proving too strong for the 3-1 win.
Chris then played Billy soon after, and completed the round robin with his 4th win, another 3-0, and with it the title.
Barry and Billy were up next, and the first game was tight, Barry edging it 11-8. From there Barry was able to come through a little easier in a match that would no doubt have been closer had Billy not already played twice earlier in the day with limited rest time.
The final match of the weekend was Blair v Scott – I only caught this after the 2nd game, but the first 2 had apparently been tight, but with Blair taking both. Blair got himself ahead in the 3rd too – there were a number of well contested rallies, a few tight marking decisions to be made, and no lack of determination on both sides, and ultimately Blair was able to hold onto the lead established, and come through the victor for 3-0.
Overall it was an enjoyable weekend with some good matches. Well done to Chris the undefeated winner, and Barry the runner up; and many thanks to Sue and everyone else involved in organising and marking over the weekend.
MO45
The West of Scotland Masters saw the largest number of entrants in the men's over 45 this season with 8 players travelling to Dumfries.
The matches started late on Saturday morning with all four matches and the first round produced some good squash with Angus Woodward beating David Massey 11/2, 11/2, 11/3; Chris Turlik beating Adam Clayton 11/7, 11/6, 11/8; John Kynoch beating Andy McCulley 11/8, 1/9, 11/5 and Douglas Emery beating David Lindsay 11/5, 5/11, 11/7, 11/6.
On Saturday afternoon the first semi final was between Angus Woodward and Chris Turlik with Angus winning 11/8, 11/2, 11/2 to secure his place in the final. The second semi final was between John Kynoch and Douglas Emery and this turned into a tough 5 game decider as both players fought to win the match. John won the first game 11/7, Douglas the second 11/3 with John taking the third 11/9. Douglas was not going to give up taking the 4th 11/5 and secured the 5th 11/5 to take his place in the final with Angus.
The plate saw both Andy McCulley and David Lindsay withdraw from the event to put David Massey and Adam Clayton through to the plate final which Adam won 3-1 (11/10, 11/7, 12/14, 11/4) on Sunday.
The final of the men's over 45 was held on Sunday afternoon between Angus Woodward and Douglas Emery. Angus took the first game 11/6 with Douglas fighting hard and taking the second 11/6 to equal the match. The third game went to Angus 11/7 to put him ahead 2-1 and ready for the fourth but Douglas was not able to respond with Angus taking the fourth 11/7 to secure the match 3-1 and the O45 title.
MO50
One call-off from the original draw left nine participants to battle it out in the MO50 category.
Day 1
There were two Saturday morning matches.  Mike Service, the first of a cluster of local players taking part in the age group, took on Archie Magillivray and, after winning a close first game (11-9), pushed on for a comfortable 3-0 win.  His reward was a quarter-final against top seed Tony Hetherington later in the day.
In the other first round match, Lockerbie's David Lindsay, playing his first over 50s Masters event, won the first game against Alan Nicoll before the Townend player reeled off the next three games to progress.
Quarter-final matches were played on Saturday afternoon.  On paper, the pick of those matches was between the 4 and 5 seeds, Jim Wells and Martin Sanchez.  In cool court conditions, neither player was inclined to rally but the match was intriguing, nonetheless.  Martin seemed to have gained the upper hand when he went into a 2-1 lead, but Jim fought back to take it to a decider and kept his form in the latter stages of that game to get through to the next round.
In the other matches, there were no upsets to the seedings.  Mike Service won the first game against Tony Hetherington before Tony took command for a 3-1 win, while Les Harkness and Brian Robertson had straight game wins against Stuart Mitchell and Alan Nicoll respectively.
Day 2
Dumfries was well represented in Sunday morning's semi-final matches, with Jim Wells and Les Harkness both through.  Jim's opponent was Tony, while Les played Brian.
It was a case of déjà vu in the Tony v Jim match – they met in last year's South of Scotland Masters tournament held at Dumfries.  As happened last year, and despite his best efforts, Jimmy couldn't find a way of knocking Tony off his stride.  The outcome, as last year, was a 3-0 win for Tony.
Les was well in control in the early stages in the other match, cruising into a 2-0 lead with very good shot selection and execution.  Brian fought back in the next two games and seemed to be heading towards the final when 10-7 up in the fifth game.  However, Les dug in and, in a manner that Harry Houdini would have been proud of, made a great escape to win 12-10.
The final on Sunday afternoon was one of contrasting styles, but in terms of points scored, there was little between Tony and Les.  Les drew first blood by winning the first game 11-7, but thereafter it was Tony who was able to close out each game.  The game scores of 11-9, 11-8, 11-8 are indication enough of a hard-fought encounter.  Congratulations go to Tony on his win.
MO55
There were 10 competitors, three of whom were local, and the competition was played as a knock out.  The travel prize goes to Neil Rayner from Aberdeen and who was in no rush to return home on Sunday, despite moaning about the long journey.
The two first rounds saw Ricky Easton comfortably beat Lance Marshall 3-0, and local Keith Gristwood also saw off Rolf Hansen 3-0, but with two of the game scores being reasonably close.
Three of the quarters were competitive, only Chris Holt having a comfortable match against Keith who was somewhat tired from two earlier matches having beaten Rolf and also winning in the 60s.  Local top seed Ronnie Carter faced Ricky, saving two games balls in the first, but Ricky levelled having dominated the latter part of the second game.  Although the momentum appeared to have swung towards Ricky, Ronnie took control of the next two to win 3-1.  Roddy Robinson beat Neil 3-0 but this was not as easy as it sounds; Neil had chances in the second having led most of the game and the third was also tight until Roddy squeezed out the last few points.  The third home player, Robin Ridley, played Norman Patterson who took the first but needing 4 game balls to achieve this.  He nearly took the second to a tie-break before Robin closed it out 15-13.  Thereafter, Norman played too many loose shots and although retrieving well, Robin took increasing control to win 3-1.
The plate had some walkovers such that there were only two matches: Norman dispatched Lance 3-0 and Neil made the final without striking a ball.  Perhaps this did not help when it came to the plate final as Neil confessed to not being able to hit the ball that well.  Despite this, the match went the whole distance with Neil's shot play being countered by Norman's speed around the court.  It was still nip and tuck in the fifth until Neil's shots deserted him allowing Norman to take 7 of the last 9 points to win 4-15, 15-8, 15-10, 6-15, 15-10.
Back to the semi finals of the main event which were contested by the top four seeds (well done the draw-master/mistress): Ronnie vs Roddy and Robin vs Chris.  Roddy threatened in the first but kept feeding Ronnie's favourite boasts allowing Ronnie a reasonably comfortable win 15-11, 15-8, 15-8.  The other semi was tighter, hardly a point apart in the first until Chris won a few big points at the sharp end.  Chris built a cushion in each of the next two games, only for Robin to draw back almost level, before Chris kept his nose in front to win 15-12, 15-11, 15-11; Robin may have had the 60s event on his mind where he faced a semi and hopefully a final.
So to the final, a repeat of the last event in Aberdeen where local favourite Ronnie had edged out Chris 3-2, and another close affair expected.  The first game was tight until Ronnie appeared to have it in the bag at 14-10 but a few mistakes allowed Chris to pinch it 16-14.  Ronnie built strong early leads in the next two, his trademark boasts too low, and at times from tight against the wall, for Chris to reach; despite Chris having a run of points, this only made the game scores respectable and Ronnie led 2-1.  The partisan support, all bar the occasional lone voice, was with Ronnie.  However, Chris managed to play a few more drops to the front negating Ronnie's boasts to take the next two games to win 16-14, 11-15, 10-15, 15-8, 15-9 and take the O55 title.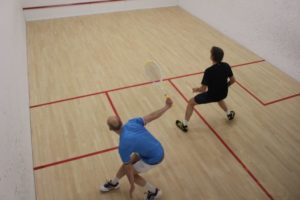 MO60
There were 10 competitors and the competition was played as a knock out.
First round: David Gillies beat Lance Marshall 3-0. The other match saw Bryan Jackson beat Eric Donohoe 3-2 after Eric squandered good leads in the 4th and 5th games.
Quarter finals: Favourite Robin Ridley disposed of David Gillies 3-0 although David nearly sneaked the 3th game. The second quarter was a repeat of last month's final in Aberdeen. It was a similar close contest but the result was reversed with John Charles beating Ernie Cowell 3-1. In the third quarter Keith Gristwood did very well to beat England-based Colin Sheilds 3-1 with every game in doubt until the last couple of rallies. The 4th quarter was John Rae v Bryan Jackson. Unprecedentedly John had only entered one age group so was playing his first match at 3:20 in the afternoon when normally he would on at least his third match. A fresh John versus a tired Bryan was only going to have one outcome and John duly won 3-0.
Semi finals: The first match Robin Ridley v John Charles. By this time Robin was out of the M55 event and was able to focus fully on the match in hand which he won 3-0 albeit John put up some good resistance in the first 2 games. The second semi was Keith Gristwood v John Rae. Keith was by then out of the M55 event as well, but a fresh John took no mercy and after a close first game, John took control and won 3-0.
Final: Robin Ridley v John Rae. It is fair to say that Robin, on his home courts was a pretty strong favourite. Robin won the first 15-9 and was in control. The second was different with John taking an early lead and he fought doggedly to maintain it and win 15-10. The monumental effort from John in the second could not be sustained however and Robin won the next 2 fairly rapidly for a 3-1 win, and fully justified his position as number 1 seed.
Plate: Lance Marshall and Eric Donohoe were the only competitors and Eric convincingly beat Lance 15-11, 15-9, 15-10 in the final.
MO65
There were 9 competitors and the competition was played as a knock out.
The only first round tie on Saturday morning was between Walter McAllister and Jim Webster. Jim had made the long trip from Aberdeen on Friday – he started well and won the first game 15-10 but Walter fought back and won a close second game 15-13. Walter continued his good form and won the next two games and progressed to the quarter final.
The quarter finals were played on Saturday afternoon. Top seed Jim Dougal beat Phil Leeek 3-0 in three close games. In the second quarter final Emilio Fazzi, seeded 5 played Alex Allan, seeded 4. Emilio started well and did not allow Alex into the match – he won the first game 15-10 and closed the match out by winning the next two games 15-9, 15-12. Ian Ross played Alex Sinclair and won the closely contested first game 16-14 after Alex had two games balls. Alex continued to play well and deservedly won the second game 15-11. Ian fought back and won the next two games 15-9, 15-11 and was relieved to progress to the semi final. Alex is playing well and getting back to the form he played at before his illness over the last two years. Second seed Dave Sturman played Walter McAllister – Dave won a close first game 15-12 and closed the match out by winning the next two games 15-7, 15-7.
The two semi finals were played at lunchtime on Sunday. In the first match Jim Dougal played Emilio Fazzi – Emilio continued his good form and won the first game 16-14. Jim fought back well with his trademark drops and boasts and won the second game 15-8. However Emilio then took control of the match with winning drops and strong drives as well as cutting out his losers – he won the third and fourth games 15-7, 15-11 and progressed to the final.
In the second match Ian Ross played Dave Sturman – the first game was nip and tuck before Ian won the last two points to win 15-13. Ian had the upper hand in the second game and led 14-10, however Dave fought back to level at 14 all and had a game ball at 15-14. Ian saved the game ball and eventually won the game 19-17. Ian got off to a good start in the third game and closed the game out winning 15-5. The 3-0 win was not a clear reflection of a closely contested match!
Emilio Fazzi played Ian Ross in the final – back to the drawing board for the seeding committee! Emilio was fast out the blocks and played numerous backhand drop and drive winners and won the first game 15-11. Emilio continued his good form in the second game but Ian fought hard and got back to 13-13 before he played a forehand drop into the tin with Emilio in the back corner – Emilio took his chance and won the second game 15-13. The third game was closely contested – Ian was forcing Emilio to play more balls and Ian won the game 15-12. Ian led 7-2 in the fourth game and at this stage it looked as though the final was heading to five games. However Emilio had other ideas and fought back, cutting out his losers and won the game 15-12 and deservedly won the O65 title. 'Historian' Alex Sinclair cannot remember when or if Emilio last won a Masters event – well done Emilio!
Only three players played in the Plate – Alex Sinclair, Phil Leek and Jim Webster. Phil won the first game 15-13 against Alex but Alex fought back to win the next three games 15-9, 15-5, 15-8. In the final Jim won the first game 15-9 against Alex and at 4 all in the second Alex pulled up with a calf injury. After a 3 minute break Alex returned to court but after losing the second game 15-4, he retired and Jim Webster therefore won the plate.
MO70
There were 7 competitors and the competition was played as a knock out.
Saturday
Round 1
George Stirrat was given a bye.
Andy Duff v Ken Reid
Ken had an easy 3-0 win over Andy who is easing his way back into the Masters.
Bernard Starkey v Alf Thomson
*Match of the day
An interesting contrast in style creating a hard tussle!
Alfie playing so many exquisite returns especially from service as opposed to Bernard who was working hard to put a game plan together, just scraping enough points to scramble home in the first two games.
He then quickly lost the third, having no answers to Alfie's touch play.
Bernard eventually getting on top of Alfie's drop and lob play in the fourth game and overcame his opponent.
Result Bernard won 3-1.
Tom Kane v John Mortimer
Tom with his powerful serving and clever touches around the court dominated this match and comfortably beat John in straight games.
Result Tom won 3-0.
Semifinals
George Stirrat v Ken Reid
In a closely contested match over the first three games the match was well balanced with George leading 2-1. George however maintained his form and was the much stronger  player  in the fourth recording a 3-1 win and moved into the final.
Tom Kane v Bernard Starkey
Tom produced an amazing run of outright, and outrageous winning shots against Bernard to enter the final with a comfortable 3-0 victory.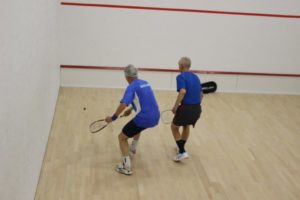 Sunday
Final
*match of the day
George Stirrat v Tom Kane 
Tom rapidly got into his stride, with George struggling to cope with Tom's accurate touch shots and speed around court.
In a very short time Tom had run up an 11-2 lead. However things changed very rapidly when George completely changed his game, reverting to a clever hard service which caught the side wall low near the back wall each time. This proved to be highly successful on a slightly cold and dead court with the ball difficult to dig out of the back corner.
Unbelievably, George powered his way back to take a 12-11 lead (10 straight points})
Tom then came back fighting hard and levelled the score at 13 all, before losing the next rally and George to served and won the next point and the game 15-13.
Game 2:
This one was nip and tuck up to 9 all, but Tom was struggling to return George's hard service, and George finally pulled away to win 15-10
Game 3:
George raced in to an early lead and held that throughout.
Tom again staged a late fight back, but George held his nerve to win the game and match and O70 title.
A gritty tenacious battle much appreciated by a large and noisy audience.
Both winner and runner up were commended for a match played in the best spirit of sportsmanship and fair play.
Plate Final
Andy Duff v Alfie Thomson 
In the plate final Andy, after beating John Mortimer on Saturday, met up with Alfie in the Plate final.
Andy continued with his good form and had a great battle with Alfie who fought all the way to 2-2, but could not stay with Andy who ran out as the winner 15-10 in the final game.
Result Andy won 3-2 and won the O70 Plate.
Dates for your Diary
East of Scotland Masters – Edinburgh Sports Club – 20/21 January 2018
Central Masters – Bridge of Allan Sports Club – 17/18 February 2018
Scottish Squash National Masters – Inverness Tennis & Squash Club – 10/11 March 2018
https://www.scottishsquash.org/wp-content/uploads/2017/12/Capture1.png
276
366
Allan McKay
https://www.scottishsquash.org/wp-content/uploads/2017/10/Scottish_Squash_Logo_LANDSCAPE-300x90.jpg
Allan McKay
2017-12-04 15:21:24
2017-12-04 15:36:49
West of Scotland Masters