The U15/17 European Team Championships brought the 2014/15 season to a close this weekend in Lisbon, Portugal. Scotland were represented by Patrick O'Sullivan, Nathan Sharp and Emma Fitzsimmons in the U17 event and Alasdair Prott, Chris Murphy, Fraser McCann and Georgia Adderley in the U15's. Both teams were accompanied by Assistant National Coach, Stuart Crawford, and East RPN Head Coach, Claire Gray.
Day 1 provided a hectic schedule with both teams playing twice across two venues and the small matter of Nathan and Emma also having to sit their National 5 English exams after they had finished competing for the day. The U17 team faced a challenging start against top-seeds England. Emma came closest to winning a game as she held 4 gameballs in the first against Lucy Turmel before losing it 13/11. Patrick and Nathan were unable to trouble their respective opponents.
The second match of the day for the U17's was always more likely to offer hope of an upset against the higher seeded Germany. Patrick dominated large portions of his match but was unable to find enough winners despite controlling much of the play, eventually losing 3-1. Emma put up a spirited performance to seriously challenge Saskia Beinhard, who finished in the top 16 at the U19 European Individual Championships after beating Kirsty Lobban, but also lost 3-1 to give Germany a 3-0 win overall after Nathan lost his match.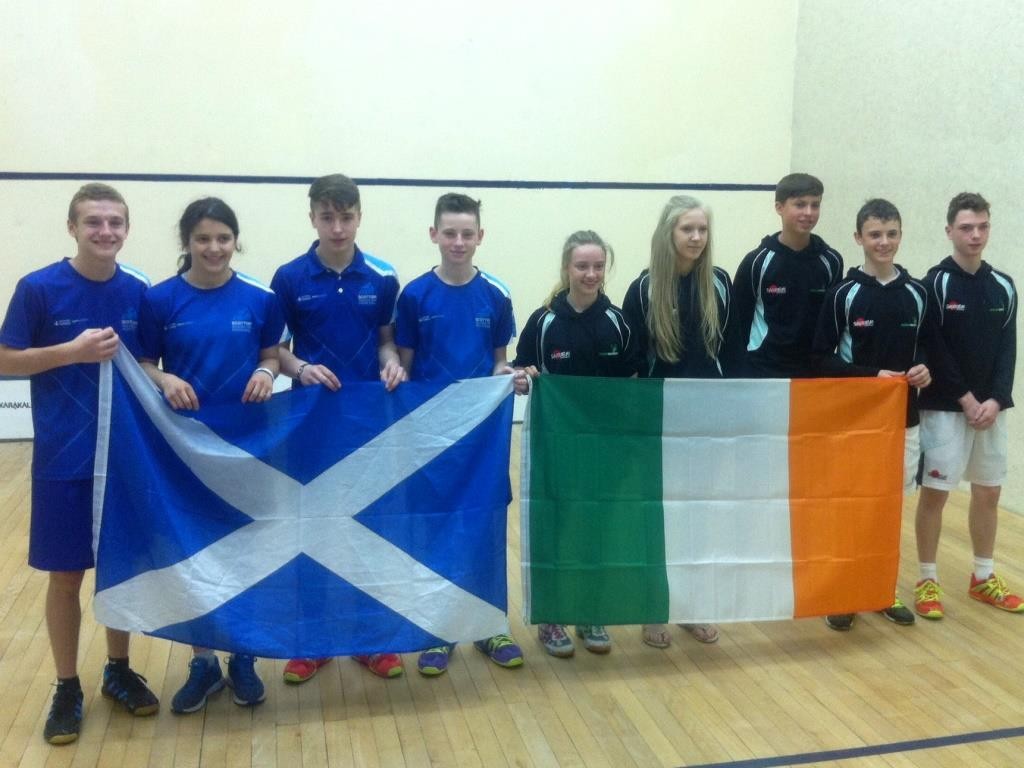 The U15 team, seeded 6th, enjoyed a far easier start to their campaign, beating Sweden and Norway without conceding a single game to guarantee a place in the quarter-finals, with one final Pool match against 3rd seeds Ireland on Day 2. Alasdair Prott got off to a flying start against Scott Gillanders, winning the first game 11/3, before Scott reasserted to win the match 3-1. Chris Murphy was unable to repeat his upset win over Conor Moran at the Five-Nations, losing 3-0, leaving Georgia Adderley to play Sophie O'Rourke in the final match. Georgia had lost 3-1 to Sophie at the Five-Nations and was understandably keen to reverse this result despite the Irish having already won the tie. In a see-saw encounter, Georgia eventually recovered from 2-1 down to save 2 matchballs in the fifth before winning 11/7, 6/11, 10/12, 11/6, 15/13.
Day 2 for the U17's saw them beat host nation Portugal 3-0 and then follow that with another 3-0 win over Hungary to secure third place in the group. This put them into the 9-16 play-offs where they would face Norway, who they also dispatched with a minimum of fuss thanks to 3-0 wins from Patrick and Emma, before Nathan lost the dead-rubber 2-1.
The U15 team faced 4th seeds Switzerland in the quarter-finals. Alasdair was never able to get into his match against European No.2, Yannick Wilhelmi, losing 3-0, to leave the Scots needing to win the remaining two matches in order to progress to the semi-finals. Georgia proved once again that she is now among the best players in Europe for her age by beating the European No.4, Ambre Allinckx, 3-0 (11/5, 11/3, 11/9) to level the tie leaving Chris to play the decider. A superb start from Chris, playing more patiently than normal and looking extremely focussed, saw him lead 2-0 and 5/3 when he suddenly appeared to jar his heel and start limping. A brief injury time-out of 3 minutes was taken before he returned to the court, clearly still in a lot of pain and unable to move freely. Somehow he managed to close the game out 11/9 to put Scotland through to the semi-finals, despite barely being able to move.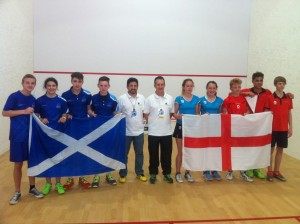 England were the semi-final opponents for the U15 Team. Alasdair got the match underway against Jared Carter in what turned out to be a very high quality encounter played at an astonishing level for two 13 year-olds. The first two games were shared before Jared pulled clear in the third. Alasdair gave it everything he had in the fourth, reaching gameball to take the match into a fifth but Jared was able to close it out 11/9, 8/11, 11/5, 12/10. Georgia was now left with the task of keeping the tie alive for the second time of the day. Her opponent would be English No.1, Ellen Cooper, who she had previously beaten 3-2 a couple of months ago at the Five-Nations. After taking a 2-0 lead, it looked like Georgia would do it again but Ellen started the third strongly and built some confidence and momentum, which she never relinquished to eventually win 9/11, 7/11, 11/7, 11/6, 11/7, to put England through to the final and leave the Scots to face a rematch with Ireland in the 3-4 play-off.
At the other end of the squash centre, the U17 team were involved in an equally tense battle with Belgium. Patrick lost an extremely close match 11/9 in the fifth before Emma continued her good form to ease to a 3-0 win. Nathan's match was even closer than Patrick's, reaching 10-all in the fifth before he finally managed to win the last two rallies to seal the win for Scotland and put the U17's through to the 9-10 play-off against Slovakia.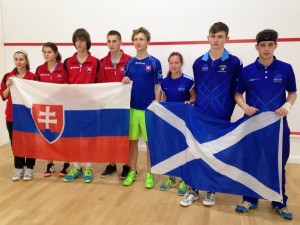 The final matches for both teams took place on Sunday morning, with the U15's up first in their 3-4 play-off with Ireland. Chris played first against Sam Buckley and after 3 close games he trailed 2-1 (9/11, 16/18, 12/10), when his heel started to trouble him again early in the fourth. After going down 8/3 it was obvious that he was no longer able to compete and he conceded the match to put Ireland 1-0 up. Alasdair played Scott Gillanders for the second time this weekend, but the score remained the same with Scott winning 3-1 to give Ireland the Bronze medal.
In the last match of the weekend, Nathan lost the opening match 3-0 against Slovakia but Patrick put in an assured performance to win 3-1 leaving Emma to wrap up the decider with another 3-0 win, leaving her with a very respectable record of 5 wins from her 7 matches, and giving the U17's a 9th place finish overall.
The event rounded off another successful season for the SSRL Performance Programme – arguably our most successful ever across the board and certainly the most successful since 2009. Scotland have now reached 6 ETC semi-finals in a row at junior and senior level without a medal to show for their efforts. However, one thing is certain… you can't win a medal if you don't reach the semi-finals! With a promising new generation of players showing signs that they are already capable of competing with the best in Europe there is a bright future ahead for Scottish Squash and there will undoubtedly be many more opportunities for these players to get on the podium eventually.
https://www.scottishsquash.org/wp-content/uploads/2015/05/U15-Swiss.jpg
960
1280
Scottish Squash
https://www.scottishsquash.org/wp-content/uploads/2017/10/Scottish_Squash_Logo_LANDSCAPE-300x90.jpg
Scottish Squash
2015-05-20 12:22:11
2016-08-26 11:02:07
U15/17 European Team Championships