Scottish Squash are encouraging every club in Scotland to open their doors and support World Squash Day 2017 – which takes place this Saturday, October 14.
The annual event aims to promote the game and encourages clubs to open their doors and organise activities to attract new players to the sport.
Squash is rated one of the healthiest sports in the world and is also a sport for life, with competitions starting at under-11 level and continuing through all the age groups to Masters events for players aged 80 and above.
Scottish national champion Georgia Adderley said: "I love squash and any opportunity to encourage other people to try the sport is a great idea.
"It's not just about getting fit, there is the social aspect I love as well which clubs help to create.
"You meet so many new people.
"Hopefully there's plenty of clubs around Scotland and globally who will have an open doors policy on Saturday to celebrate World Squash Day."
World Squash Day founder, Alan Thatcher, said: "At a time when many governments are spending a fortune on treating the effects of childhood obesity and a lack of physical activity among middle-aged people, squash can provide the ideal solution.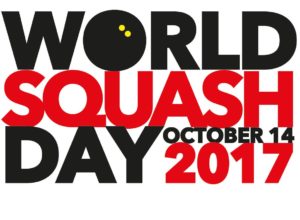 "Squash burns around 900 calories per hour and the health benefits can last a lifetime for those who continue playing into their 40s, 50s and 60s.
"We have a thriving Masters scene in squash and former world champions like Australia's Sarah Fitz-Gerald continue to blaze a trail through the age-group competitions.
"Looking at the PSA World Tour, all of the players are remarkable athletes who produce truly dynamic entertainment at the highest level. We are very fortunate to have such outstanding role models in the game."
Thatcher, who is also Chairman of the Mote Squash Club in Maidstone, continued: "We have a busy programme of events on World Squash Day at The Mote. We will be holding special events for juniors and free coaching to attract female players to the sport before our annual Champagne Doubles competition.
"Many clubs around the world are supporting World Squash Day by hosting events to support their charity partners, some of whom are linked to the PSA Foundation."
If your club is supporting World Squash Day 2017, please get in touch with us here or tag us on social media and we will share your posts. 
To find your nearest squash club, click here. 
https://www.scottishsquash.org/wp-content/uploads/2017/10/WorldSquashDay.jpg
846
1156
Andy Weston
https://www.scottishsquash.org/wp-content/uploads/2017/10/Scottish_Squash_Logo_LANDSCAPE-300x90.jpg
Andy Weston
2017-10-10 12:54:43
2017-10-10 12:54:43
Scottish Squash backs World Squash Day 2017