Scottish Junior Doubles 2015
The Scottish Junior Doubles was held on the 20th December at Scotstoun Leisure Centre. This was a fantastic opportunity to stage a festival of squash at our Commonwealth Games venue. This really is a unique event and the only one of its kind on our calendar.
We all rose to the logistical challenge and 53 matches took place from our Boys, Mixed and Girls events. Three doubles courts at Scotstoun were full of exciting squash matches all day.
Scotland's finest young talent really was on display and it was a credit to all juniors who showed such skill level and stamina that is required in the doubles game.
In our Girls final Georgia Adderley & Emma Fitzsimmons proved to be stronger and more experienced than their younger opponents, Maddie Orr & Lucy Murchie. Orr & Murchie did not go down without a fight though before losing 11-7 11-3.
There were some nail biting matches in our Mixed semi finals which was a family affair with the Orr family in action. After a thrilling three setter Maddie Orr & Robbie Harper narrowly lost a place in the final losing out to Jack Orr & Emma Fitzsimmons who were worthy winners.
Our talented pairing of Georgia Adderley & Alasdair Prott narrowly defeated Emma Fitzsimmons & Jack Orr in the mixed final 11-9 11-7. A match that was full of skill, determination and bursts of the Adderley lunges that we have become accustomed to seeing!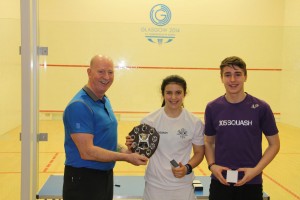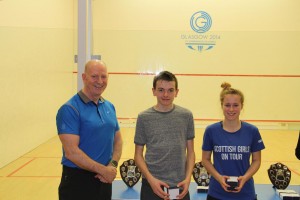 Moving onto the Boys event which was so huge that we were forced to split into two divisions! Division Two also included a couple of entries from our young girls pairing of Orla Young & Beth Moglia and Maddie Orr & Lucy Murchie. The girls proved to be a challenge for the boys finishing second and fourth in their pools respectively.
The boys division two final proved to be a closely fought battle between Daniel O'Sullivan & Daniel Paul and Robbie Harper & Adam Gibson. O'Sullivan & Paul eventually defeated their opponents 7-11 11-6 11-9.
The pinnacle of the event was in the Boys Open Final. Ewan Hearns & Ross Henderson were up against Nathan Sharp & Richard Hollins. What a cracking match this proved to be. The boys were in shot making mood and Sharp covered the length of the court several times showing some fantastic retrieving skills. However, it still wasn't good enough as Hearns & Henderson eventually took the trophy, defeating the pair 11-9 11-7, making them champions for the second year running.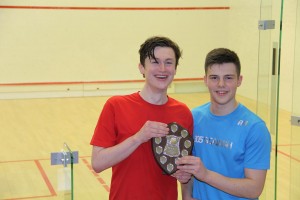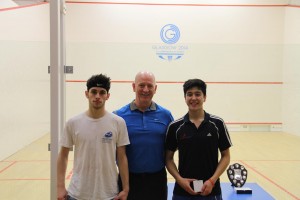 I could not think of a more appropriate way to end 2015. What a frenzy of squash this day was, I am sure we had some exhausted players …and parents by the end of it! Well done to all who entered, you really did do yourselves proud, showing such skill and sportsmanship on and off the court.
On behalf of SSRL I would like to wish you all a very Merry Christmas and Best Wishes for 2016.
Full Results
Download here
https://www.scottishsquash.org/wp-content/uploads/2015/12/SJDO-15-cover-pic-e1450787344364.png
596
1348
Scottish Squash
https://www.scottishsquash.org/wp-content/uploads/2017/10/Scottish_Squash_Logo_LANDSCAPE-300x90.jpg
Scottish Squash
2015-12-22 13:19:44
2016-08-26 10:53:12
Scottish Junior Doubles 2015