Bridge of Allan's Kyle Penman made it a family double at the Scottish Junior & Under-23 National Championships in Aberdeen on Sunday after winning his first national title.
Kyle defeated Dylan Pearman 11-7, 11-5, 11-7 at Aberdeen Squash & Racketball Club (ASRC) in the BU13 final.
It followed on from his younger sister Merryn's win in the GU11 event on Saturday.
Kyle had to get past his regional squad teammates Felix Wood and Jamie Cargill to reach the final which he did in impressive style, not dropping a game throughout the U13 event.
He said:  "Any tournament win feels good but to get your name on the national title is more special.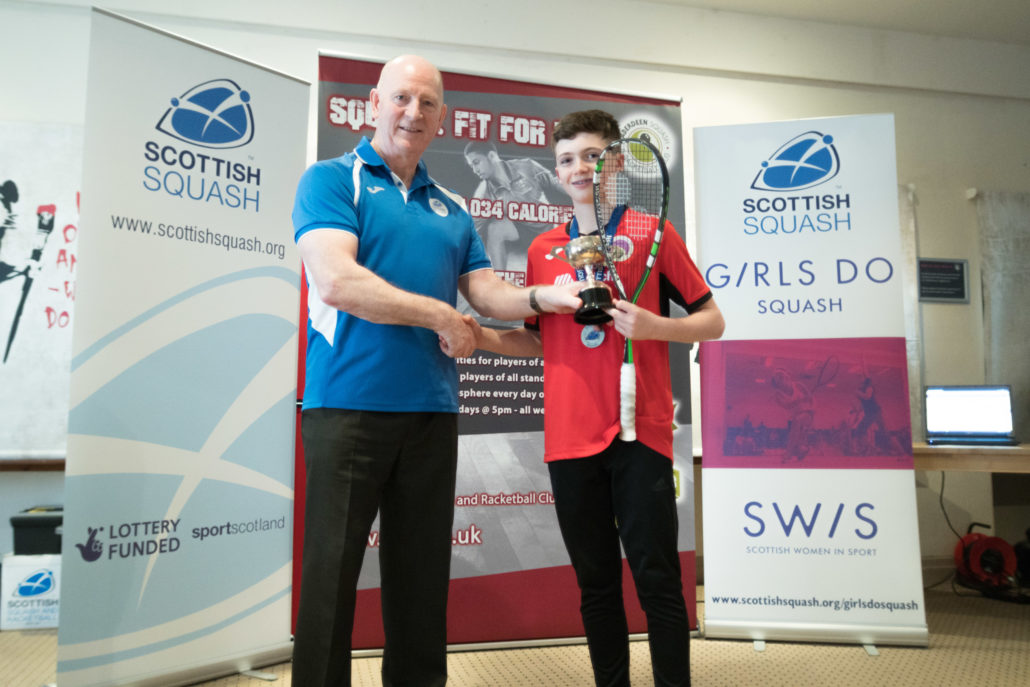 "It's hard playing your teammates but sometimes you have to do it to get the wins.
"I played well, especially when I put into practice what I talked about with my coach.
"I find it important to believe in yourself and not let your head drop even if you go three or four points down.
"You need to focus on the next point and I feel I did that well in the final."
Rory Shaw claimed the bronze medal in the BU13 event.
JC Lindsay Scottish Junior Open U17 champion Alasdair Prott had to work hard to claim his eighth national title.
The BU17 top seed defeated second seed John Meehan 11-8, 11-9, 9-11, 11-2 in Sunday's final.
In a competitive age group, Alasdair did well to see off the stern challenges of Ruadhri McDougall and Marcus Henderson without dropping a game to reach the final.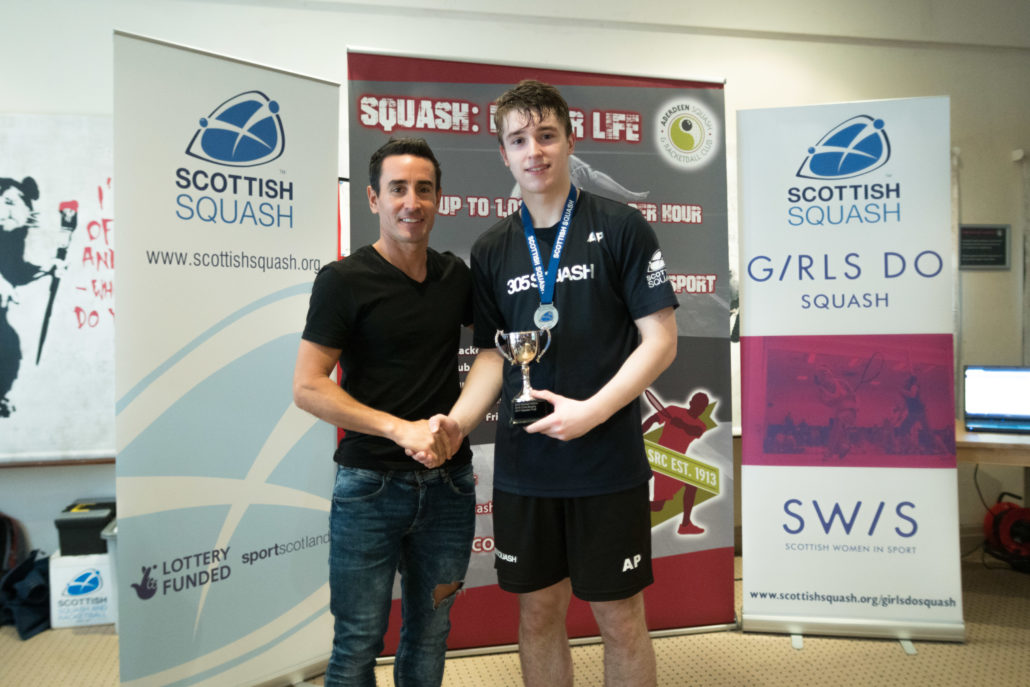 He said: "Some people say there's nothing better than winning a National title and I can agree quite a lot with that.
"It's great to be champion of your country and feels really good.
"In the morning I had to be careful because there's so many players coming through now so I really had to be on my game.
"I knew the final was never going to be easy. John (below) has been playing really well this season, his game has come on so much.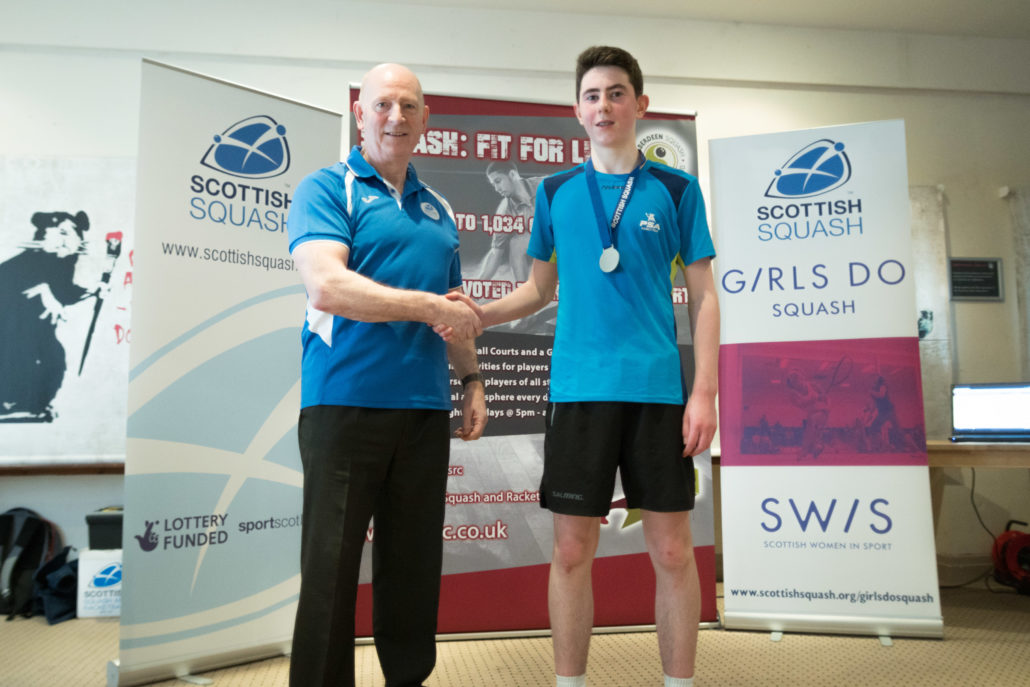 "It was a physically tough match and I really enjoyed it."
Ruadhri McDougall won the BU17 bronze medal match beating Daniel O'Sullivan 11-2, 5-11, 11-8, 9-11, 11-4.
Chris Murphy won his second national title after an 11-5, 11-4, 11-3 win over Andrew Hill on Sunday in the BU19 event.
The Giffnock player won all four of his matches without dropping a game, a statistic which pleased him.
"My consistency was a real positive for me," he said.
"I got a good start in all my matches which gave me an early advantage.
"I was confident going into the final and it's a great feeling to get my second title, especially against a good player like Andrew who has played for Scotland.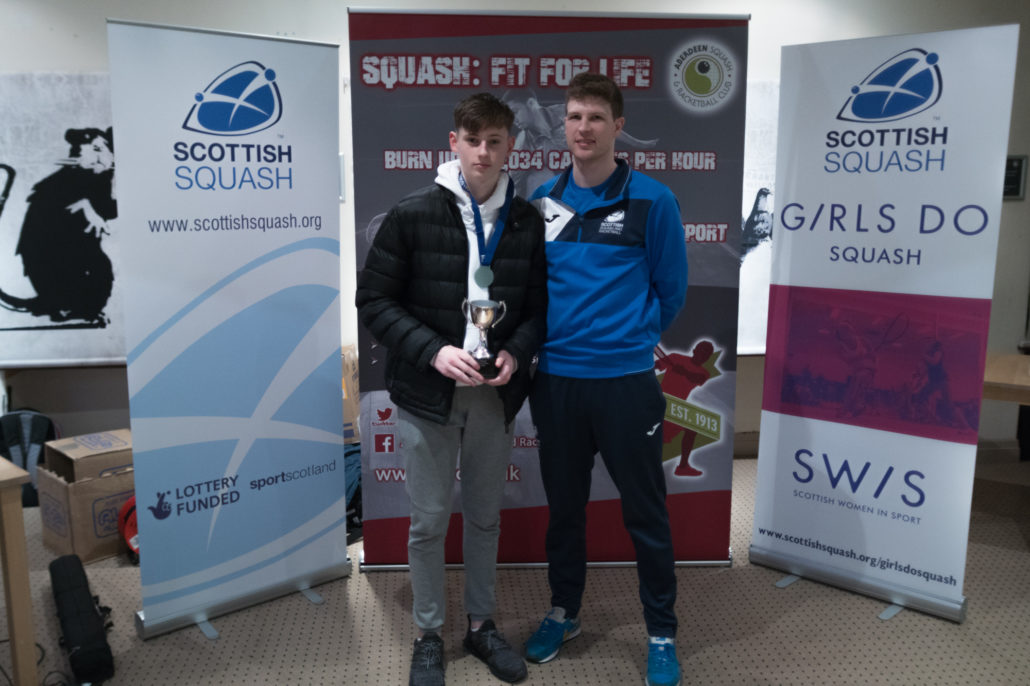 "A big part of my game is my attacking which I feel can give me an advantage over other players and it's something I continue to work on."
He added: "ASRC is a brilliant venue with a good atmosphere and I was happy with my tournament."
James Taylor landed the BU19 bronze medal after an 9-11, 4-11, 11-8, 11-9, 11-1 win over Tino Mackay Palacios in the 3rd/4th play-off.
Meanwhile Adam Hunter, centre below, says he had to dig deep to win his first ever national title.
The 14-year-old Giffnock player beat Brodie Young in a keenly contested BU15 final, winning 10-12, 11-5, 13-11, 11-9.
He said: "I have worked hard for this and it feels great.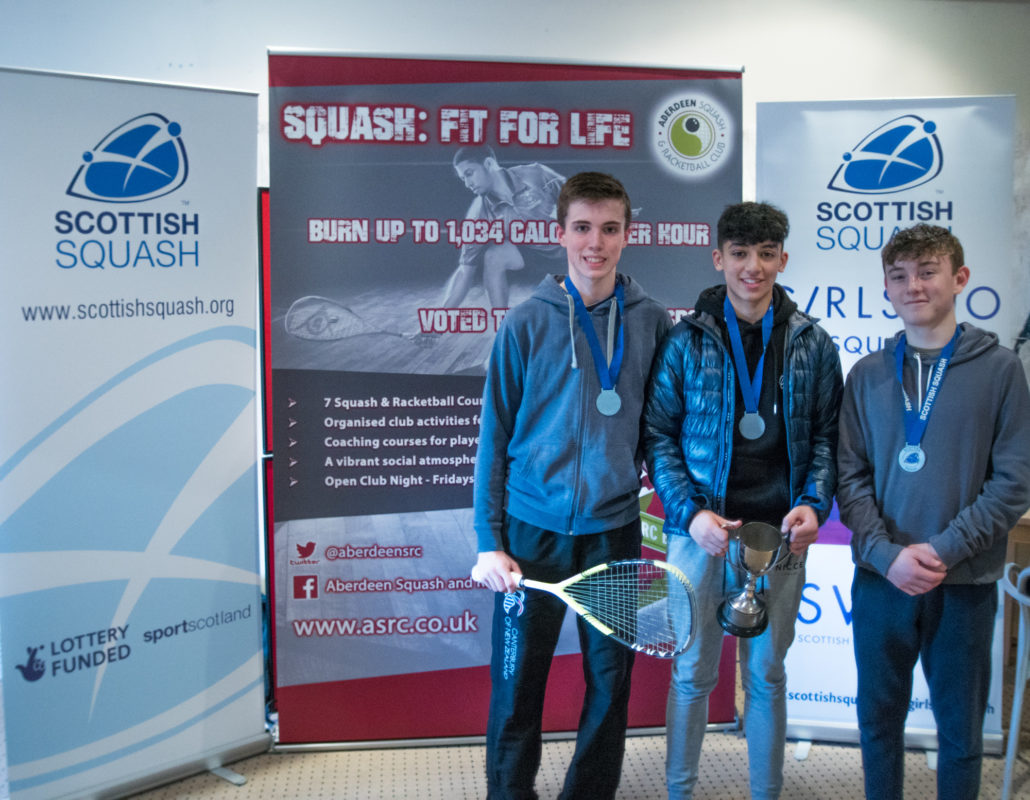 "Last year I was coming 10th or 11th in these events but I have worked on my whole game to change that.
"Brodie and I have had some good battles in the past. This match was maybe a bit scrappy but I dug in a lot. I really wanted to win."
Andrew Torbet won the bronze medal after defeating Rory Richmond, 11-7, 14-12, 11-7.
Crieff's Rory Stewart retained his Men's U23 title beating Craig Valente-Wallace in four games, 11-2, 11-3, 9-11, 11-6.
Rory, who reached the Edinburgh Sports Club Open semi-final last month, dropped just one game on the way to victory at ASRC.
He said: "I was delighted to retain my title and enjoyed all the matches I played.
"I started the final off well and any shot I was going for was coming off.
"Craig got slightly frustrated but fair play to him for fighting back.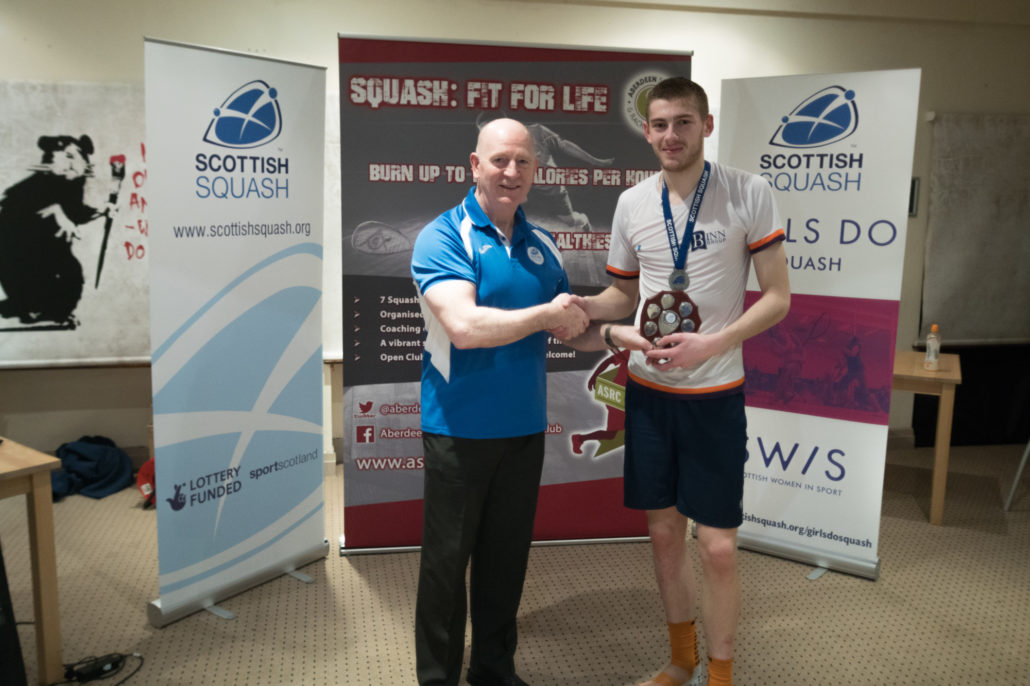 "He outplayed me in the third and most of the fourth so I was happy to come through.
"ASRC is a great venue and it has a really good atmosphere similar to Edinburgh Sports Club. I enjoyed my weekend."
Angus MacPherson finished third in the MU23 event ahead of fourth placed Bruno Macari Shaw.
In the BU11 event John Green, below, won the title after an impressive win over Mark McCormick.
Top seed John had a bye in the first round and beat Alexander Dudley in his opening match 11-3, 11-4, 11-2.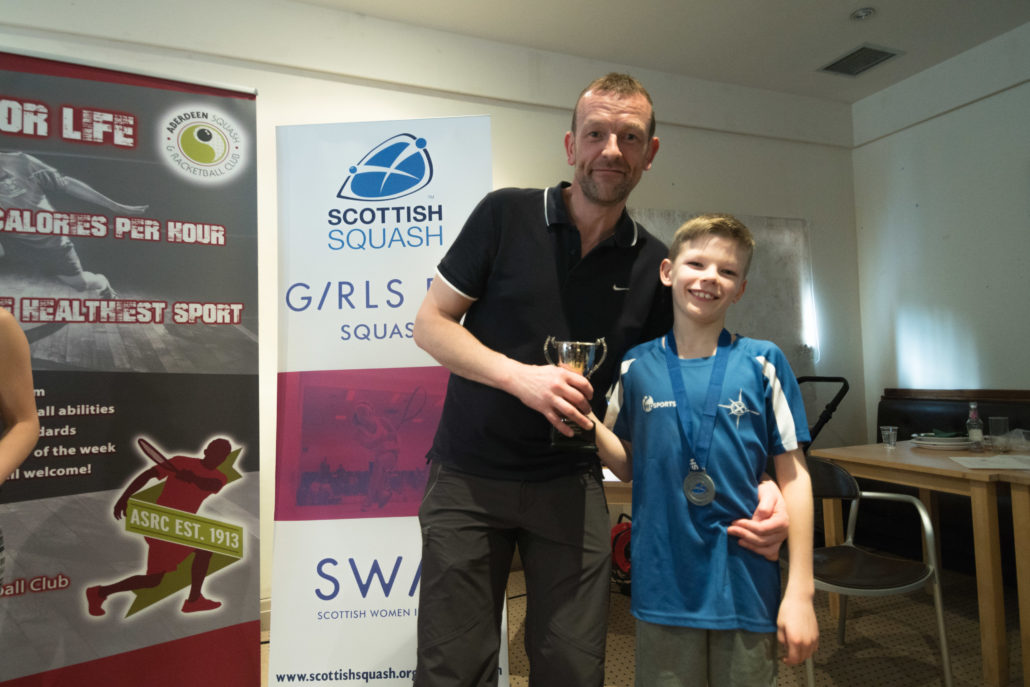 He then defeated James Beaumont 11-3, 11-2, 11-3 before rounding off his great tournament beating Mark McCormick 11-3, 11-3, 11-5.
James Beaumont won the bronze medal match against Jamie Pearman 11-7, 11-9, 7-11, 11-4.
For all results and placings, click here.
Scottish Squash would like to thank Aberdeen Squash and Racketball Club for helping deliver another successful event.
https://www.scottishsquash.org/wp-content/uploads/2018/02/kylesmaller2.jpg
1840
3993
Andy Weston
https://www.scottishsquash.org/wp-content/uploads/2017/10/Scottish_Squash_Logo_LANDSCAPE-300x90.jpg
Andy Weston
2018-02-06 21:53:21
2018-02-09 17:18:05
Scottish Junior & Under-23 National Championships: Boys & MU23 Round-Up