The inaugural Team Scotland v Rest of the World Squash series played across two sold out venues last week has been deemed a big success, with plans afoot to bring more events showcasing the world's best players back to Scotland.
World number one male player Gregory Gaultier was the star attraction alongside world number 12 Paul Coll from New Zealand and the USA's world number 17 ranked female player Olivia Blatchford.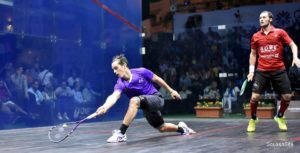 The Rest of the World (RoW) trio proved too strong over the two days of exhibition singles action that saw them face off against Scotland's top two males players Alan Clyne and Greg Lobban as well as top ranked female Scot Lisa Aitken at Newlands Lawn Tennis Club on Monday (August 21) and Edinburgh Sports Club on Tuesday (August 22).
Event organiser Kevin Moran said: "The response we have got from the squash community to stage these types of events has been great, everyone has been so supportive.
"We sold out both venues, Newlands in five days, with 90 per cent of tickets in Edinburgh sold in a week.
"We're very keen to grow this type of event and the main aim is obviously to stage PSA tournaments in Scotland in glass courts and making our sport more appealing to the public at large.
"Even though this was an exhibition event, you could tell the players were taking it pretty seriously and using the matches as part of their training ahead of the new season. So the timing of the event was useful from a players point of view."
Scotland's future stars of tomorrow also got a unique opportunity to take part in three coaching clinics which saw both the RoW and Scotland players pass on their tips and put the youngsters through their paces.
"Every region in Scotland selected two or three kids to send to Edinburgh to get coaching from the players in Sunday's clinic," Moran explained.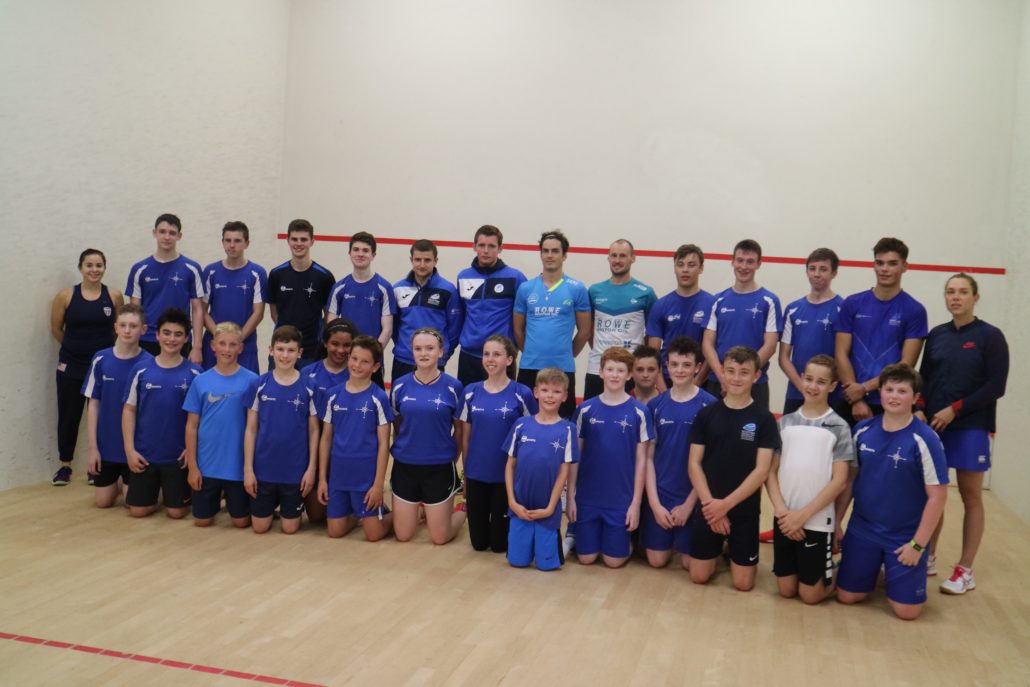 "We wanted to show that this was an event for the whole of Scotland and for the youngsters to get an opportunity to be on court with some of the world's best players was fantastic."
Last year French World Number One Gregory Gaultier played an exhibition match in Edinburgh against Alan Clyne and he was delighted to return to Scotland again off the back of an amazing season which saw him lift six PSA World Tour titles during an incredible 27 match unbeaten stretch.
Gaultier said: "I haven't played much squash recently but to start preparations for the new season here in Scotland is great.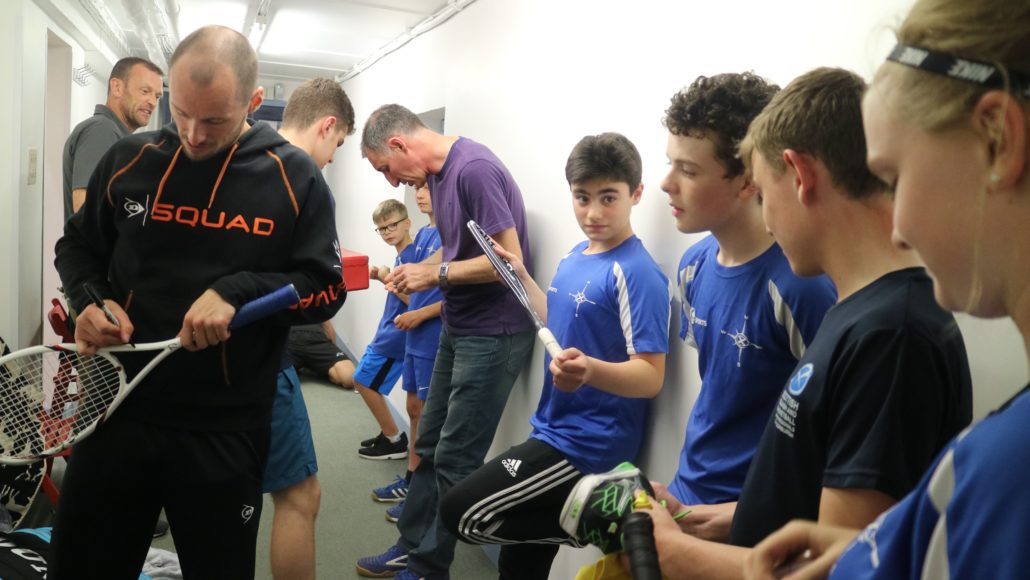 "In PSA tournaments you are focused on your match and routines but an event like this allows you to try different things on court and give back to the youngsters and people who love the sport.
"Organising this event for Alan (Clyne) and Greg (Lobban) before they head to the China Open is great preparation for them and I hope to come back to Scotland again."
Lobban, who prised one game off Gaultier on Tuesday, said: "It's really good to get this type of event in Scotland and to get on court with both Gregory and Paul.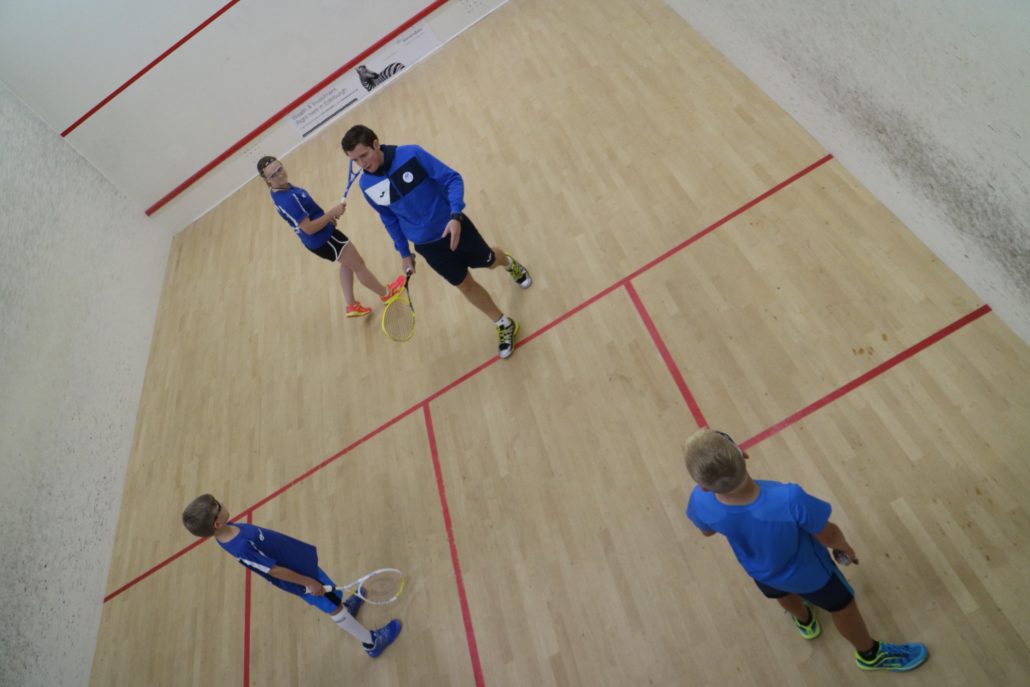 "Playing the best players makes you realise how much better they are at certain things and gives you the determination to try and reach their level."
Olivia Blatchford and Lisa Aitken played each other on consecutive days with the USA number one coming out on top on both occasions.
Aitken, who won the New Zealand International Classic title in June, says playing a top 20 player at this time of the year is ideal preparation ahead of a busy start to the new season which sees her on the road for seven weeks from next month.
She said: "I have played a lot of doubles this summer so to get on court with Olivia in front of a home crowd has been awesome and good fun.
"She is experienced and a quick mover and in terms of my squash that's the kind of level I am looking to get to.
"All credit to Kevin for putting this event on and thanks to everyone who bought tickets."
Blatchford, who plays her first competitive tournament since April this week in Shanghai, added: "I travel a lot around the world and there is a unique intimacy to exhibitions.
"There's a lot more personality on show and an involvement with the crowd which makes it special.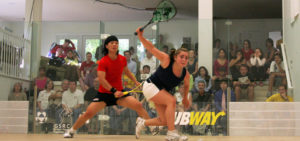 "I haven't competed since the end of April at the US Nationals so this event was a wonderful opportunity to get on court in front of a crowd and get the butterflies again."
She added: "It's good to see Lisa back on court after her illness.
"She is playing at a standard far higher than her current ranking (72) and I would say she will soon get back to her previous high (38 in the world) and push on from there."
Kevin Moran would like to thank the following for their important involvement in the event:
All of the players, Newlands Lawn Tennis Club for hosting Monday's matches, The West of Scotland Squash Committee, Martin Woods (regional coach).
JJ and his team at Edinburgh Sports Club for hosting Tuesday's matches, the East of Scotland Squash Committee, Scottish Squash, Andy MacBean and Eye Rackets, George Tasker and his company for supporting the East Juniors.
Scottish Squash are looking to speak to potential sponsors and investors who would be keen to help bring a PSA World Tour event to Scotland. If you or your business are interested, please contact CEO Maggie Still via email – Maggie.Still@scottishsquash.org 
https://www.scottishsquash.org/wp-content/uploads/2017/08/IMG_1587-1.jpg
3376
6000
Andy Weston
https://www.scottishsquash.org/wp-content/uploads/2017/10/Scottish_Squash_Logo_LANDSCAPE-300x90.jpg
Andy Weston
2017-08-28 15:03:18
2017-08-28 15:03:18
RoW v Scotland event proves big hit with players and fans