Nottingham Home Internationals Report 2016
Men's O35s
The Mens O35s team travelled to Nottingham this year with the only one thing on their minds – winning. The Wales and Ireland teams were very strong as usual but we felt confident that we could match them and then hopefully trouble the favourites England on their home turf. With that in mind we named a full strength team to kick off proceedings vs Wales on the
Friday night.
Debutant David Morrison was on first against David Evans for Wales and after settling his nerves he did his best to make a decent match of it but David (Evans) experience, and perfectly executed holds, proved too much for our David to cope with. Next up was Mike Black against Alistair Hale of Wales at No 3.  Mikes preparation and appetite for the weekend was obvious to see and after a tight first game, he closed out the match easily to level the tie at 1-1.
Peter O'Hara then took to court to face the intimidating figure of David Howe in the battle of the No 1s.  Peter took the first in typically blistering fashion but David remained composed and then levelled the match with an incredible display of touch and court craft that caught Peter by surprise. Peter then re-asserted himself and closed out the remaining 2 games with some clever squash that David struggled to respond to. 2-1 to Scotland.  Next on court was the No 4s and Chris Gray put on a cracking display of his trademark flicks and holds to work Matthew Lloyd-Lewis and despite his best efforts, he couldn't stop Chris from eventually taking the match and sealing the tie for Scotland.
To finish the night the No 2s – Andrew MacBean and Lloyd Forkan – played out a good spirited but hard fought 3-1 that was a dead rubber but a good opportunity for Andrew to try and clear his head cold.  He had to focus and battle to pull it back after losing the first game but eventually won 3-1 to round off a great start to the tournament for Scotland.
Saturday morning was the match we had all been looking forward to, England. First on for us was Craig Duff against home club manager Nick Hargreaves. Craig played some of his best squash to produce an incredible 1st game in which he was extremelyunlucky not to win.  After that effort, and against a player who relied allot on his fitness, it was an uphill battle from
there and Craig went down 3-0 but showed we were by no means intimidated.
Mike Black then was paired with the new England captain, Chris Gillespie. Mike really showed his form and the rewards of his hard work leading up to the weekend as despite despite Chris managing to sneak the first game 11-9, "Scrappers" relentless attacking and dogged retrieval was too much for Chris and Mike took the next 2 games in commanding fashion.  In the 4th,
Chris managed to steady things and put in a tremendous amount of effort to keep the game close but even a few desperate "lifelines" from his team-mate referee couldn't stop Mike from closing out the match 3-1.
Next up, Peter had the daunting task of trying to overcome England's Ben Ford – the current British National Masters champion and former PSA player ranked 82 in the world, who after meeting his England team-mates on the Friday, had shown his class against Ireland the night before.  Peter gave it his all (as always) and showed the fight and class of a player who up until this point, had never lost a Masters Home Internationals match at either O35s or O40s.  Ben managed to cope with Peters attacking squash better than most ever do and eventually brought to an end the his incredible unbeaten run.
With Scotland now losing 2-1, the pressure was on Chris Gray to level the match and keep us in with a chance. Chris seemed to surprise his opponent, Tom May, and his England team-mates by getting off to a cracking start and taking the first 2 games 11-7.  Tom then managed to get a foothold for thefirst time and took the 3rd game, but this gave Chris a second wind and he
produced and amazing display to take the 4th game 14-12 – levelling the match at 2-2.
The deciding match was between Scotland captain Andrew MacBean and our favourite England player, Darren Lewis.  Andrew, who was clearly struggling and feeling under the weather tried to do what he could, but even on a good day Darrens class would most likely have been too much for him. Darren duly clinched the deciding tie and the match 3-2 for England.
After travelling to compete and to have a go at winning it, the team was left extremely disappointed knowing this was now out of reach, but we had gave it our best and weren't a million miles away from being successful. However, we knew we had to lift our spirits for a match vs Ireland before enjoying a night out in Nottingham and so did our best to enjoy the final match.  With nothing left to play for and with Peter already having made many sacrifices to be with the team, he was encouraged to take this chance to set off early for home, with his young daughter and partner, to get prepared for his sons Cup Final the next day.  It says alot about Peter, and the team-mate and competitor that he is, that he was so reluctant and uncomfortable in doing so but also the regard he is held in by the team that they accepted facing the Irish without him to give him the time with his family.
The match vs Ireland was great craic and so was the evening reception and night out that followed.  It was a great weekend and credit to Nottingham for their hosting and running of the event, it was well done and very enjoyable.
Next year, the MO35s will be in Scotland. Would be a good one to win…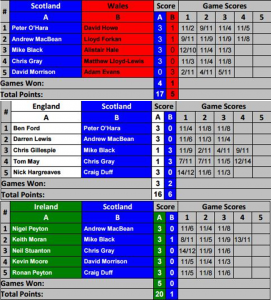 ---
Men's O55s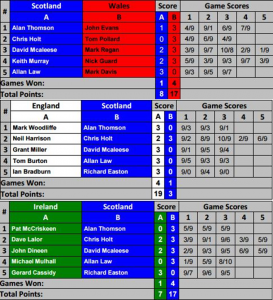 ---
Men's O75s
The Scottish O75 team of Vinnie Taylor, Tom Kane and Bill Perrie had an excellent Home International, finishing in second place to Wales.  The team won seven of a possible nine individual matches, recording 3-0 wins against both England and Ireland on the Saturday but losing by a close 2-1 margin to Wales on the Friday evening.  That margin was the difference between first and second place.  Tom Kane, at the number two position, was undefeated and never looked to be in trouble.  Vinnie Taylor played exceptionally well on Saturday for his two wins, after a disappointing loss on Friday.  Bill Perrie was a model of consistency and full value for his two wins.  He was unfortunate not to win against Wales, losing a close 3-1 decision.  In all, it was a happy Home International for the team and bodes well for 2017 when Scotland will be the hosts.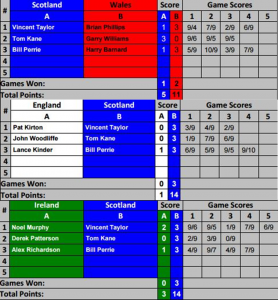 ---
Womens O55s

O55 team consisted of Pauline Douglas, Eunice Bond, Moira Atkinson and Christina Graham. After duly meeting up in the hotel on the Friday afternoon we decided our team order, for the coming Home International matches.
Our first match on the Friday evening was against Wales, on paper a very strong team, so we had to be ready to go for it straight away.  We had a convincing 4-0 win against wales.
P. Douglas
V
S. Johnson
3-1 win
E. Bond
V
L. Davies
3-2 win
M. Atkinson
V
A Davies
3-0 win
C. Graham
V
W. Norris
3-1 win
Match 4-0 Scotland    Points 17
Saturday morning  Scotland v England. The auld enemy, always the toughest match of the weekend, but ready to give it our best shot.
P. Douglas
V
J. Campion
0-3 loss
E. Bond
L. Sturgess
0-3 loss
M. Atkinson
S. Howlett
3-2 win
C. Graham
T. Bennett
 0-3 loss
Match 1-3 England    points 3
Saturday Afternoon Scotland v Ireland.  Determined to secure second place we required a convincing win.
P. Douglas
V
D Reardon
3-0 win
E. Bond
V
A. Costelloe
3-1 win
M. Atkinson
V
C. Lowry
3-0 win
C. Graham
V
C. Mooney
  3-0 win
Match 4-0 Scotland    points 17
A well earned second place, a great team effort.
| | | |
| --- | --- | --- |
| 1 | England | 50 points |
| 2 | Scotland | 37 |
| 3 | Wales | 26 |
| 4 | Ireland | 3 |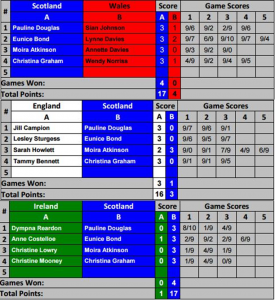 https://www.scottishsquash.org/wp-content/uploads/2016/05/IMG_0763.jpg
480
640
Scottish Squash
https://www.scottishsquash.org/wp-content/uploads/2017/10/Scottish_Squash_Logo_LANDSCAPE-300x90.jpg
Scottish Squash
2016-05-15 12:08:32
2016-08-26 10:46:09
Nottingham Home Internationals Report 2016