Looking to find a squash partner? Do you and your friends fancy joining a fun, social box league? Want to take part in exclusive, free events and find out about local squash opportunities? Would you like to earn rewards for your participation?  If you answered yes, to any of those questions, our recreational membership is for you! Sign up today for FREE!
Social members receive the following benefits:
Join our network of social players and communicate with other members to arrange games.
Exclusive entry to local squash events giving you the equivalent of up to 10 hours of FREE court time.
Enter exclusive box leagues and play against your friends or other local squash players.
Rewards for active social members; input your games and scores so we can acknowledge and celebrate your participation.
Communicate with the National Governing Body and voice your opinions on the sport and detail how we can improve your squash experience.
Here's how to get involved.
Step 1: create an account on sportyhq.com and update your profile (initial sign up is free).
Step 2: click the search icon and find your club. You can set the club as your primary club in the Clubs section via Edit My Profile.
Step 3: use the membership dictionary on the club page to arrange games.
Step 4: continue to participate in regular squash activity. If you've got the time, input your activity and results. Note: both players must be registered on SportyHQ in order to input game results.
Step 5: once you are on the system and active you will get an email asking you to pay your membership fee (just £1 per year). Once this is payed you will be fully eligible for the benefits listed above.
Step 6: if you would like to set up a box league send a message to the page admin.
Step 7: keep checking your email to ensure you don't miss out on exclusive squash events and information.
We are currently running the membership exclusively at Musselburgh Sports Centre. However, keep checking back to get a full list of participating venues as we expand the programme.
Feel free to share the poster below to help promote the recreational membership.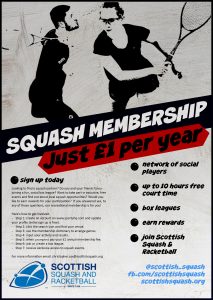 For more information, or to enquire about adding a venue near you to our recreational membership scheme, please email christopher.cox@scottishsquash.org
https://www.scottishsquash.org/wp-content/uploads/2016/04/SportyHQ_Rec_Membership-e1461691573340.jpg
1876
2472
Scottish Squash
https://www.scottishsquash.org/wp-content/uploads/2017/10/Scottish_Squash_Logo_LANDSCAPE-300x90.jpg
Scottish Squash
2016-04-26 17:44:06
2016-08-26 10:47:25
New recreational membership launched for social players: join today for FREE