Now that I have spent some time in my new role as National Coach I have had the opportunity to get to know the current systems that are in place and think about the way we want to approach the future of squash in Scotland. I will be trying to pass on this message to as many people as possible and one method is to write my monthly coaching blog to keep you updated on my thoughts, methods and general progress of the performance programme.
January has certainly been a hectic month full of events for players of all levels in our pathway, this has brought up some interesting points of discussion which I would like to go into in this first blog.
THE IMPORTANCE OF MATCH PLAY
Match play is the reason why most people fall in love with the game of squash; there is just nothing like a good old thrash around with a similar standard player.
Squash players love playing squash! Ask any squash player on the planet why they play squash and the answer with be based around a match. Winning, the competitiveness, the problem solving required, the intensity and the individual element.
Coaching however…
My first rule of coaching is always let the players do what they enjoy doing, it's up to us as a coach to figure out how to help them get better in a fun and exciting environment.
Many coaching sessions usually entail a series of carefully planned routines in which you tell a player exactly what to do and in what order and they are required to do it repeatedly until they perfect the textbook technique of executing the shot. This however takes away all of the players' motivators for playing the game in the first place as well as being totally unrealistic to the situation the player is likely to be in when they play in the tournament on a weekend.
In the centralised programme we spend a lot of time developing the physicality of our players to ensure they meet all the demands they need to compete with the world's best. Every session the players do we track and record their heart rate to ensure we are meeting the physical goals of the session and like I said before there is nothing like a good game of squash.
Take a look at the heart rate data below and you will see that no matter what is done or practiced a training session simply cannot produce a heart rate as high as when you play a match.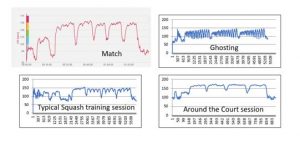 It is the biggest learning opportunity for players to discover their own strengths and weaknesses because they are much more likely to reflect on a performance that has resulted in a win or a loss.
When a player is in a match they can generally tell you what went well and more importantly what went wrong.
Walk into a changing room in any squash club in Scotland and you will hear the in depth post-match analysis going on between players. If a player receives feedback from peers, parents, onlookers and coaches that follow a similar theme it is very likely that they will take notice and act on improving.
It won't take long before the player is coming to the coach explaining that they keep losing because they can't play a backhand drop and would like you to help them improve the technique. From there the athlete is totally motivated to make changes in their game as they understand that some work on technique may well help them to play better squash and perhaps win that next league match.
In this situation, a coach receives total buy in from the player and you can make the necessary changes much quicker as opposed to banging your head against a brick wall because they won't play that backhand drop in a match despite working on it for the past 6 weeks.
My tip for coaches is at the beginning of every session?  Ask the question "what do you need to work on today?" If they don't have an answer play a game until they can see a strength/weakness in their play that they are wanting to develop.
It allows coaches to discover which of the many aspects of competitive squash (technical, tactical, psychological, physical etc) are making the difference between winning and losing.
There are so many different aspects to a game of squash that it is very difficult to know which one is making the difference. How many times have we seen the player with the perfect technique be taken apart by the runner whose determined scrapping sees them through to victory? Or the 26-year-old athletic specimen who is embarrassed by the 12-year-old girl in 15 minutes. There are so many ways to win a squash match that if you want to be a successful player or coach you need to pay attention to them all.
One point for players to consider is when was the last time your coach watched you play a match? Your coach can learn so much from watching you play that it might be worth sacrificing your 45-minute feeding session and pay them to watch your next important match which will give them so many more ideas which will help you win more matches as opposed to just winning the knock-up
As I mentioned this month we have had lots of our performance players learning, implementing & developing through tournament play. Some of the most notable results are:
Georgia Adderley finished 7th in the British Junior Open
Alasdair Prott won the Scottish Junior Open
Alan Clyne qualified for the main draw in the Tournament of Champions
Lisa Aitken and Kevin Moran won the Central Senior ranking event
Rory Stewart won the British U23 Open
Alan Clyne won the Edinburgh Open
January brought a lot of success for the players but we will once again go through the same process as we do whether we win or lose.
Review our performance – What was good and what was bad?
What do we need to work on to improve our performance next time?
Does our training plan ensure we will be able to make these improvements?
Let's make it happen!
Paul Bell (Scottish Squash & Racketball National Coach)
https://www.scottishsquash.org/wp-content/uploads/2017/02/Paul_Bell.jpg
3344
5016
Scottish Squash
https://www.scottishsquash.org/wp-content/uploads/2017/10/Scottish_Squash_Logo_LANDSCAPE-300x90.jpg
Scottish Squash
2017-02-02 17:52:01
2017-02-02 17:52:01
National Coach's January Blog