European Team Championships 2017
As always the European Team Championships is the highlight of the season for the team and an event where we usually perform well.  One thing is for certain there isn't a team in the event who love representing their country more than the Scots do.  After a great pre event training phase and boosted by the return from Injury of Greg Lobban and the Lisa Aitken & Robyn Young making their return to international competition for Scotland. Confidence was high within the group and we were all very positive and confident that we could have another great week representing Scotland.  This is an account from myself and Martin to give you some insight into not just the results but the reasons why the results happened and some of the tactical, technical, physical & mental insights into the matches.
As always feel free to get in touch and ask further questions and check out the post event video below!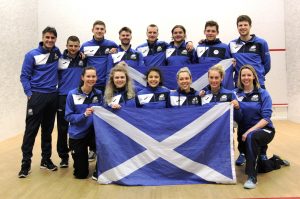 Day 1
As usual day one is always a stressful one as the fate of the week is usually determined by just a few points. First of all we waited for the highly anticipated hydration test results, a special mention goes to Elspeth who managed to break the 1000 barrier handing over what could only be described as Apple juice to Katrina. First match was the girls back in division 2. We started against Switzerland with Robyn Young making her senior debut up first. Robyn went down 3-2 in a nail biter which could easily have gone either way. The match was decided by length as both had terrific short games so whichever player managed to hit the best length won the game. Next up was Lisa, a very experienced former top 30 player, proud to be back in the Scotland kit and bleeding blue again. After the obligatory nervy first game Lisa took control of the match and despite a blip at 7/2 up in third she wrapped up a comfortable 3/2 win if there is such a thing! So the fate of Scotland rested on the young shoulders of Georgia Adderley in the deciding match. Unfortunately the Swiss girl played an unbelievable match to win a very close 3/0 and claim victory for Switzerland.
The women needed to turn tears into positivity and luckily a bit of lunch did just that just in time for our match against top seeds Ireland. Luckily in my past life I knew a lot about the Irish ladies team and that knowledge proved valuable. First up was Elspeth who had the luxury of playing her opponent last week in the Irish open. Once again she proved too strong for her Irish counterpart and repeated her 3/0 win. Next up Lisa had the task of slowing down the whirlwind Hannah Craig brings to the squash court which she did with relative ease with a 3/0 victory. Finally to finish the day it was the battle of the 16 year olds always a brutal affair but Georgia showed just how much she has improved taking the first two games comfortably. The final two games heated up both going to two clear points but Georgia got the win for and Scotland win 3/0. This leaves us in second place in the group with one game to go against Hungary tomorrow which victory will ensure a semifinal place.
Theoretically the crunch match of the group stages for the men was against home hosts Finland.
1st match Clyne took on Olli Tuominen at his home club on the permanent glass court. Clyne played his usually formidable style of good length, searching drops and then counter drop, though Olli was controlling the pace and reading the game, running out to a 2-0 lead. Clyne moved to backhand containment to control the pace and take away the angles for Olli to attack, and looked comfortable. In the 4th Olli didn't miss and ran to 10-5, and while Clyne made a formidable comeback, Olli clinched the match with some surprise end game shots. 1-0 Finland.
Greg Lobban's 1st game back from 6 months out with serious injury was an awkward affair, going on to an incredibly fast glass court against Henrik Mustonen. While there were moments of brilliance from Greg, the pace and variation from Mustonen was a little too much at this stage. 2-0 Finland.
Both Dougie Kempsell and Kevin Moran took on the task of stubborn resistance, Dougie winning 3-1 and the Kev pulling out an impressive 3-0 victory to tie the match and win-loss record. Both players were rewarded for all-court positive play, punctuated by low risk volley drop winners and gave the team a platform to build on. 2-2
Day 2
Czech Republic are a much improved team over the past 10 years, all matches were expected to be solidly contested, with hope to win while losing as few games and points as possible. It was to prove a dream day with Greg Lobban coming through 3-0 against veteran Jan Koukal with some measured front court attack and hitting past Koukal to expose his lack of racket head rotation on defence. 1st victory in 6 months and felt sweet for Greg for many reasons. 1-0
Clyne took on the rhythmical all court game of leftie Daniel Mekbib, holding him and punching deep and the attacking short. Great display, and again he saved a couple of tight games to come through for the team 3-0. 2-0 Scotland.
Dougie Kempsell is like a rock in these situations, controlling the T with solid length and punchy volleys, holding the T with impressive physicality. While sometimes lacking racket head speed to create variation & deception, in these types of matches Dougie and his style is hard to break down. 3-0 Scotland.
Kev Moran again played beautifully rhythmical, varied and intuitive squash, using deception and working boast, finishing the rallies with volley backhand drops. Occasionally overcooking the hold-crosscourt from front left, Kev was still too good for his opponent, coming through 3-0 to give the team an impressive and mathematically necessary 12-0 victory in game scores over Czech.
After a positive start in the group stages this was D day we were up against Hungary for a place in the Semifinals. It turned out to be quite a tame affair with the girls proving too strong and completing a clean sweep of 3/0 victories which was a great confidence boost moving into the semifinals. Finishing second in group B set us up with a tough semifinal against the vastly experienced number 1 seeds Germany.
With Finland having taken a game against France, our goal was to win at least two games to progress to the semis, a tall order against an incredibly well organized squad with world class players, including world no.1 Greg Gaultier. We rested Greg Lobban, so there wasn't much breathing room. Clyne and Dougie started, Clyne winning the 1st game against Gaultier, despite Gaultier playing a very fast pace and hitting a multitude of low straight & faded kills from 3/4 court. Clyne hustled, countered and took the initiative and his chances, and after 50 minutes was 5-1 up in the 5th game. Greg at that point hit an incredible number of low kills from everywhere, Clyne not quite imposing himself enough or taking his opportunities. It was a great performance, giving his team the necessary points to move through to the semis, though Greg's experience and resolve were impressive and the reason he has been so successful. 0-1. Dougie Kempsell put up a great fight against former top 10 player Castagnet. Both players have similar styles – solid, all court games, with the Frenchman having slightly more precision on the backhand drop and a little more variation when needed. Dougie fought bravely and gave his team a game to add to the tally and give an unassailable point's score. 0-2
Kev Moran took on the rhythmical Gregoire Marche, both players playing fluid squash, and while Kev came out with some impressive backhand drop shot winners, Gregoire read Kev's hold-cross and was usual a half step ahead in each rally. Kev played well, though saved his energy for the upcoming matches. 0-3. Rory Stewart took on the mobile Lucas Serme, playing well, though was under the gun physically. Rory is incredibly talented, though to bring out his talent needs to get stronger and lower to dominate the middle of the court. He ends up hitting crosscourt out the corners as he is too close to the ball, and ends up doing a lot of work and having to counter attack to win his points. Serme had to work, though ran out a 3-0 winner. 0-4. The team goes through to the semis to face No.1 seeds England, which was the primary objective of the week.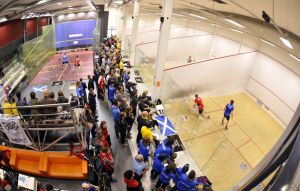 Day 3
Semifinals day and despite their being very little pressure or expectation on the women there was a lot of confidence in the group. First up was Georgia with a tough task ahead against the very experience German number 2. Boosted by the men in the audience the atmosphere was electric, she started the game nervously as you would expect from the youngster which led to some quite loose and passive squash which the German took full advantage of cutting the ball off at every opportunity and playing some nice kills. A change of tactics to up the pace of the match gave Georgia a lot of purpose with what she was doing saw a tough second game which Georgia sneaked by 2 clear points. This was massive and G used this momentum to steamroller the third as well with some fantastic high paced squash. The fourth was the most interesting of all we all thought Georgia had it but feeling confident she took her foot slightly off the gas and the German was there once again to show her skill and hit some brilliant winners and send the game into a decider. Reminding Georgia of her last experience of a fifth game against a German in the Edinburgh Open we used the phrase fortune favors the brave and sent Georgia off the WIN the game for herself as opposed to not losing it. She did this fantastically all the way through reaching 10/6 up. At this point however a little bit of inexperience crept in and rather than playing the way she had to get to match ball G stepped back and the German capitalised saving 5 match ball in an intense atmosphere the whole crowd we on the edge of their seats but devastatingly for G the German took the game 13/11. Georgia played fantastically well to put herself into a winning position against a fantastic player and despite being incredibly hard on herself as any top player would be this experience is going to be valuable for her future development and was a fantastic result. After the rollercoaster of Georgia's match Lisa's game was much more straight forward playing against the highest ranked player in division 2 she easily dispatched the German number 1 hitting the back corner targets with ease and taking advantage on the volley. So it was down to a decider for Elspeth in what was to be a nervous match for both player. Given the standard of the first two matches the decider was disappointing with both players making lots of unforced errors. Elspeth saved 4 match balls in the third which gave the crowd some hope of a fight back. Unfortunately the German put together two good rallies to take the match 3/0 and send Germany through to the final. On this occasion nerves got the better of Elspeth who didn't really get going until late in the third. It was a harsh lesson for her to understand that no matter how much you want it you can't force a win from a match the player who plays the best squash will always win so it's vital to put your energy into your performance rather than the result. So the team miss out on promotion with two very narrow defeats but there is still the small matter of a bronze medal to play for.
It was always going to be tough to compete against top seeds England while resting our No.2 Greg Lobban, though we also knew that sometimes in team competition, and especially when good players strap a Scotland shirt to their back, anything can happen. It was with this spirit that we approached the match. Alan Clyne got off to a rocky start against Nick Matthew, competing for the rallies, though Nick as usual getting front with high length, pushing forward on the T, anticipating, holding position and volleying with pressure. The court was very quick but dead at the front, and it took Clyne until halfway into the 2nd game to gain some traction. Using the fast front wall to change the direction of the ball, cross courting and using kills, Clyne ratcheted up some points, though it was too little too late today to produce a result against Nick. 1-0 England.  Rory Stewart moved to the No.4 position. Rory hits the ball very cleanly, can accelerate or decelerate his racket head from a short swing and change direction with deception. However, getting his feet into position to make this happen can be a challenge for the big man, especially when up against a seasoned pro like Tom Richards. Some great rallies and shots, though Rory was always chasing to keep position and Tom was keeping on the pressure, and the game evolved simply to give Tom the win. England 2-0. Dougie Kempsell is incredibly solid, though can be a little predictable. James Wilstrop, like all top players, takes calculated risks with anticipation to keep building pressure. James also has incredible touch and variety, and it produced a wonderful match of solid hitting and position from Dougie and all-court pressure squash from James. There was some pressure as if we were going to win, Dougie and Kevin Moran needed to win without losing a game, and without losing many points. James just squeaked the 1st game and the match was over. They played a best of 3 exhibition, as did Selby & Moran, and Scotland looked set for another ¾th battle v Germany for the 5th year running. 4-0 England.
Finals Day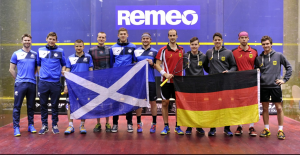 It's a familiar position for both teams to be playing off for bronze. Germany has had the better of Scotland for most of the past 5 years, though last year the lads wrestled the podium place from Germany for the 1st bronze in many years. Could we do it again?
Clyne started against Top-tenner Rosner, obviously his style not favoring the glass court, though playing better than he did against Nick Matthew. Rosner can play straight & tight, uses height well, volleys well, can move the ball around, and for a big man can get really low and balanced in the front corners to counter attack. Clyne usually benefits from playing fast and counter attacking, especially counter drop, though has had some success at being more attacking around the middle in his better matches recently. Rosner was confident, playing deep well, forcing Clyne back, and attacking short. Clyne wasn't able to make the pace or have Rosner under pressure deep or short. He tried to turn Rosner by hitting wide crosscourt and faded crosscourt kills, though Rosner absorbed everything for long enough to withstand Alan Clyne yet again as he ran out a 3-0 winner. 1-0 Germany Dougie Kempsell proved to be too nimble and accurate for Rudy Rohrmuller. Rudy is a huge guy, and if you give him a chance to dominate from the middle of the court he has nice shots and takes so much space. Dougie managed to hit straight enough and get the balls in the corner effectively to expose Rudy's movement. Dougie also has the physical strength and attitude to handle playing a very physical player, and maybe even thrives on the challenge. While Rudy took the 3rd game Dougie managed to close the game down and hit some great dying length from the volley to come through a crucial match. 1-1 Kevin Moran and Valentino Rapp are both mobile, though Kevin possesses more variety and a better ability to finish the rallies. Rapp kept on picking everything up, exerting pressure on Kev to finish off the rallies. Kev kept his patience in the big moments, didn't shoot too soon, content to keep control of the game, play a moving game, use deception, and winning his points from tight drop shots or anticipated volleys. It was an edgy game, well contested, though Kev is a leader and takes his anchor role on the team very seriously, and yet again came out with the crucial win when needed. 2-1 Scotland. It was all down to Greg Lobban against the much improved Raphael Kandra, a tough task given Greg had only been back in action for two matches after a 6 month layoff. Greg knew he could play an open attack-counter-attack game, utilizing his anticipation skills and ability to finish the rallies. He started playing disciplined squash, keeping the ball high & tight, staying away from kandra's left forehand volley, and going straight & short with volley drops & counter drops, attacking Kandra's deep backhand when there was space. It paid off and Greg took the 1st. We just needed one more game, and Germany needed to win almost every point to secure the win. Greg lost a little discipline and Kandra started to get more physical, pouncing on loose balls, creating too much pressure for Greg, and while Greg straightened up occasionally, it was Kandra that rolled through the next two games without much resistance. Greg got it back in the 4th, using great touch and the occasional flick winner to put himself within shooting distance of the finish line. However, it wasn't to be. A gargantuan effort from Greg, and a fine display from Kandra to drag his opponent into a physical match defined the struggle, and Kandra just won 12-10. Just two points from victory, and the overall score line Germany just beat Scotland by 6 points in the entire match on countback.
The excitement on the final day was extraordinary and the fact the boys were in the middle of another tense encounter with Germany really didn't help the preparation for the women. The 3/4 playoff was against Austria a team we didn't know much about. The undefeated star of the tournament Lisa Aitken was on first and once again romped home with a 3/0 victory. It was brilliant to see Lisa back playing for Scotland and her leadership and professionalism was fantastic for the other members of the team. We are looking forward to being part of her journey back to the top. Next up was Robyn who was able to express herself with a great attacking and creative performance which would seal the victory for the team and a division 2 bronze medal at the first attempt.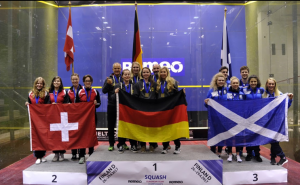 Overall we had a fantastic tournament with the women the goal was to gain valuable experience for this young team with the hope that we could challenge for promotion next season. The whole team completely smashed those expectations and were 1 point away from promotion. The biggest positive was the way the whole team rose to this new challenge and the experience and motivation they have gain from the event makes us all very excited for the possibilities which lay ahead. If anyone offered the Men 4th place to us on leaving for Helsinki, given the struggle Greg has had with his injury, we would have snapped it up, and as the team and the players improve, we are satisfied with the tournament, and look towards a bright future where we are aiming for more than a bronze.
Paul Bell (Scottish Squash & Racketball, National Coach)
https://www.scottishsquash.org/wp-content/uploads/2017/05/IMG_3692.jpg
2881
4351
Scottish Squash
https://www.scottishsquash.org/wp-content/uploads/2017/10/Scottish_Squash_Logo_LANDSCAPE-300x90.jpg
Scottish Squash
2017-05-04 12:12:20
2017-05-15 11:16:58
National Coach delighted with senior teams success