Scottish Squash and Racketball has announced the winner of the Schools Competition to design Scotland's squash mascot – inevitably to be called WALLIE The winner, Mhairi Gibson, an S2 pupil at Queen Margaret's Academy Ayr in Ayr, was presented with her artwork in a commemorative frame by John Scott MSP for Ayr, ably assisted by Greg Lobban, Stuart Crawford, Alan Clyne and Kevin Moran, 4 of Team Scotland's squash players at the 2014 Glasgow Commonwealth Games. The athletes, resplendent in their Games kit, took questions from Mhairi's year group amongst which was "What is Racketball" and "Was the Games scary?" to which the correct answer was apparently "yes!"
_________
After the presentation, the athletes took a 5th year group on racquet WALLs created in the school gym by Scottish Squash and Racketball. The racket WALL is a low cost innovative method of increasing the reach of squash which has been developed over some time by Scottish Squash and Racketball (SSRL).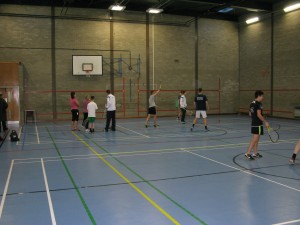 ________
CEO John Dunlop said "Still relatively new, racket WALLs are increasingly becoming a fixture in secondary schools in Scotland so that everyone can discover the fun of what we like to style as "bashing a ball against a wall." All you need is a ball, a wall and a racquet and you are on your way to squash. Along with new ways of delivering the sport in both primary schools and even nurseries which we hope to launch in 2014 – 2015, we believe Scotland may be leading the world in bringing the sport to many more than was hitherto the case. If, as we hope, squash becomes finally recognised as an Olympic sport, we hope that Scotland will be able to take its fair share of the GB team places available and maybe future Scottish athletes will have been introduced to the sport through initiatives such as racquet WALLs."
_______
A big thank you to Tony Flynn and all his staff and pupils at Queen Margaret's Academy. A great school and great pupils. l was personally delighted by the response of the PE staff to using squash as part of the curriculum. We look forward to rolling the sport into all South Ayrshire Schools over time. In the meantime we hope Mhairi will be able to help us realise WALLIE in the flesh, so to speak, as we turn her excellent design into a mascot with which we will promote the sport in the years to come.


https://www.scottishsquash.org/wp-content/uploads/2014/10/IMG_42331.jpg
1727
3264
Scottish Squash
https://www.scottishsquash.org/wp-content/uploads/2017/10/Scottish_Squash_Logo_LANDSCAPE-300x90.jpg
Scottish Squash
2014-10-09 12:22:02
2016-08-26 11:06:25
SCOTTISH SQUASH AND RACKETBALL MASCOT COMPETITION WE HAVE A WINNER!