Lisa Aitken hopes to build on an impressive finish to last season when she begins her new PSA Tour campaign next week in Malaysia.
The 27-year-old claimed her first PSA World Tour title, the New Zealand Classic, back in June after returning to the circuit at the turn of the year following two and half years out through illness having contracted dengue fever.
Second place finishes at the Jersey Classic and Matamata Open in New Zealand also helped Aitken soar up the world rankings from 202 in January to 68 where she currently sits ahead of the new season.
Now she has targeted more titles and a further rise up the rankings ahead of the $5k Malaysian Squash event in Kuala Lumpur next week and tournaments in Switzerland and France next month.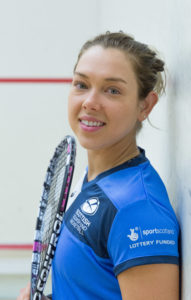 Aitken, who is competing for Newlands LTC in Germany this week at the European Club Championships, said: "I would actually say I am a better player now than before my illness when I was ranked 38 in the world.
"For me it's about being patient, playing these $5k events and hopefully picking up more titles and letting my ranking take care of itself.
"From there I can then look to compete in the bigger events against the top players but it will not be easy as the depth on tour is a lot stronger than it was three years ago.
"There's plenty of young players coming through, especially in Egypt, and we had a change of tin height from 19 inches to 17 inches just like the men which has made a big impact.
"You see more attacking squash coming into play now which suits the skilful players better and players who relied on physicality have had to develop their skill set.
"It has progressed women's squash and everyone is getting better."
Aitken has one eye on next year's Commonwealth Games in the Gold Coast where she's expected to play singles and doubles for Team Scotland Down Under.
She also hopes Scotland can earn promotion to the top table of European squash at next May's European Team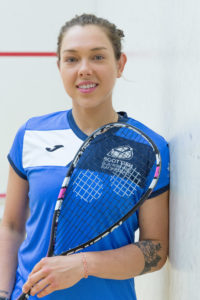 Championships and believes the depth of women's squash on the PSA Tour is being mirrored at home.
"I would say the quality and depth of the women's game is better than it has ever been in Scotland," Aitken said.
"There's a real buzz when it comes to the sport in Scotland and fortunately we have passionate people in place to improve women's squash and help increase funding in the game.
"We only lost out on back-to-back promotions at the European Team Championships this year by literally a couple of points.
"I believe when we eventually get promoted, hopefully next year, we will beat some of the best teams.
"We have a young team and hopefully we can get on the podium like the men in a few years time."
https://www.scottishsquash.org/wp-content/uploads/2017/09/LisaAitken1.jpg
3235
4792
Andy Weston
https://www.scottishsquash.org/wp-content/uploads/2017/10/Scottish_Squash_Logo_LANDSCAPE-300x90.jpg
Andy Weston
2017-09-15 15:22:07
2017-09-15 15:22:07
Lisa Aitken targets more silverware ahead of new squash season