Mixed doubles pair Doug Kempsell and Lisa Aitken shocked top seeds and defending champions Joelle King and Paul Coll from New Zealand this morning as they secured a place in the quarter-finals of the WSF World Doubles Squash Championships in Manchester.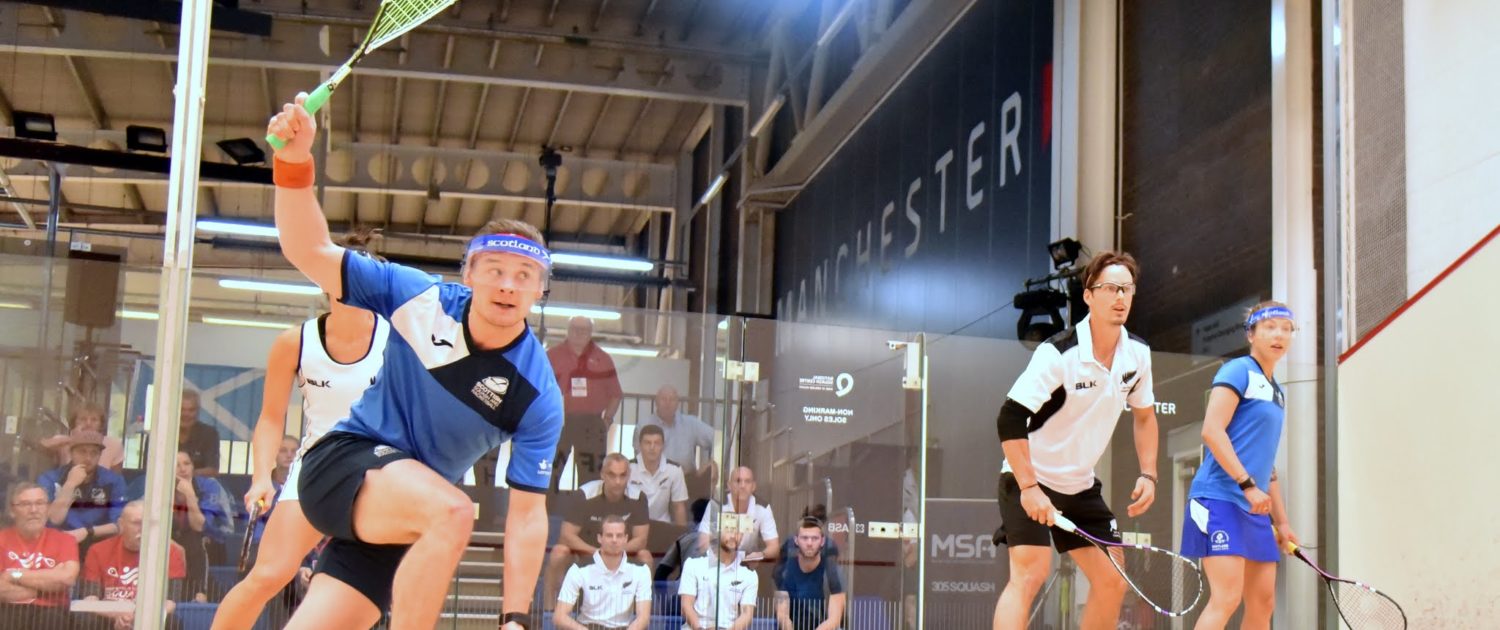 In an epic three game battle the Scots came out on top against the Kiwis 11/7, 5/11, 11/9.
They then defeated home favourites Adrian Waller and Victoria Lust 9/11, 11/6, 11/4 this evening to secure a safe passage into the last eight.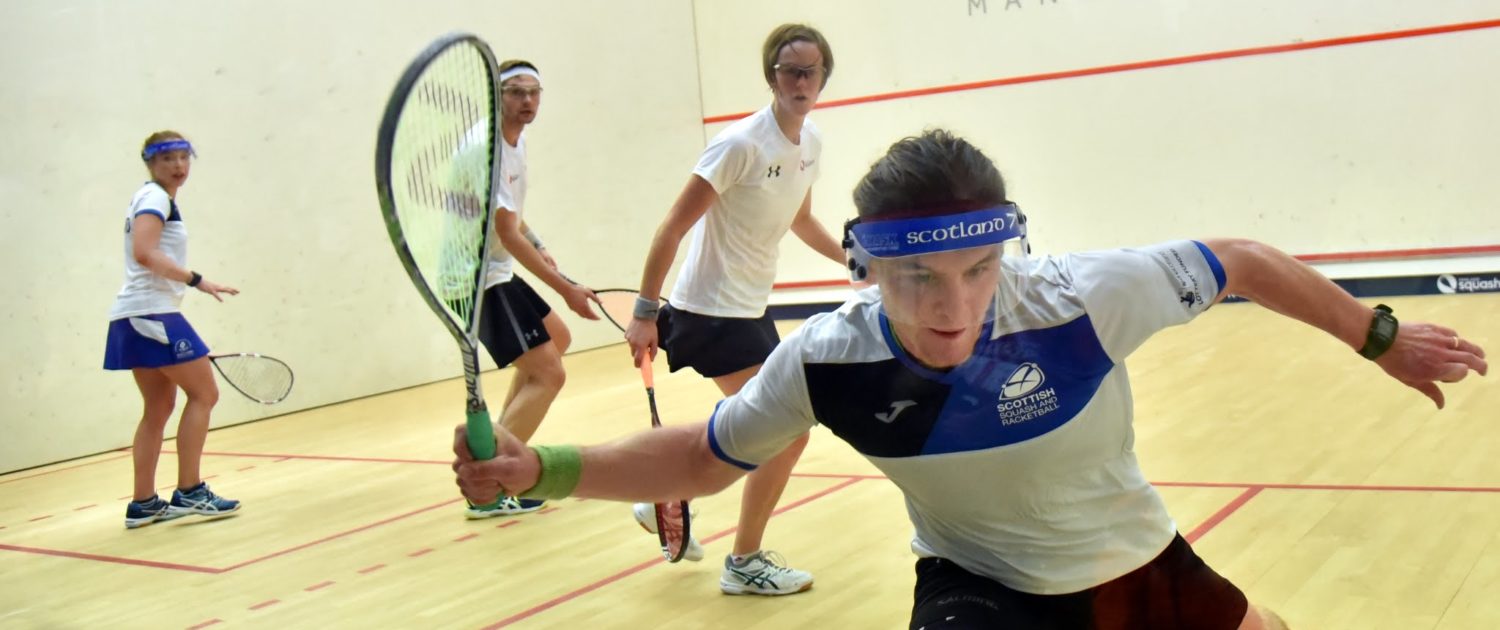 Unbeaten Kempsell and Aitken play South Africans Christo Potgieter and Milnay Louw at 11am on Thursday in their final Group A match before the knock-out stages.
It follows their win over Welsh pair Joel Makin and Deon Saffery, 11-3, 11-3 yesterday.
Men's doubles world champions Alan Clyne and Greg Lobban made it three wins from three in Group A after a comprehensive 2-0 (11-2, 11-5) win over Dutchmen Dylan Bennett and Piedro Schweertman this morning.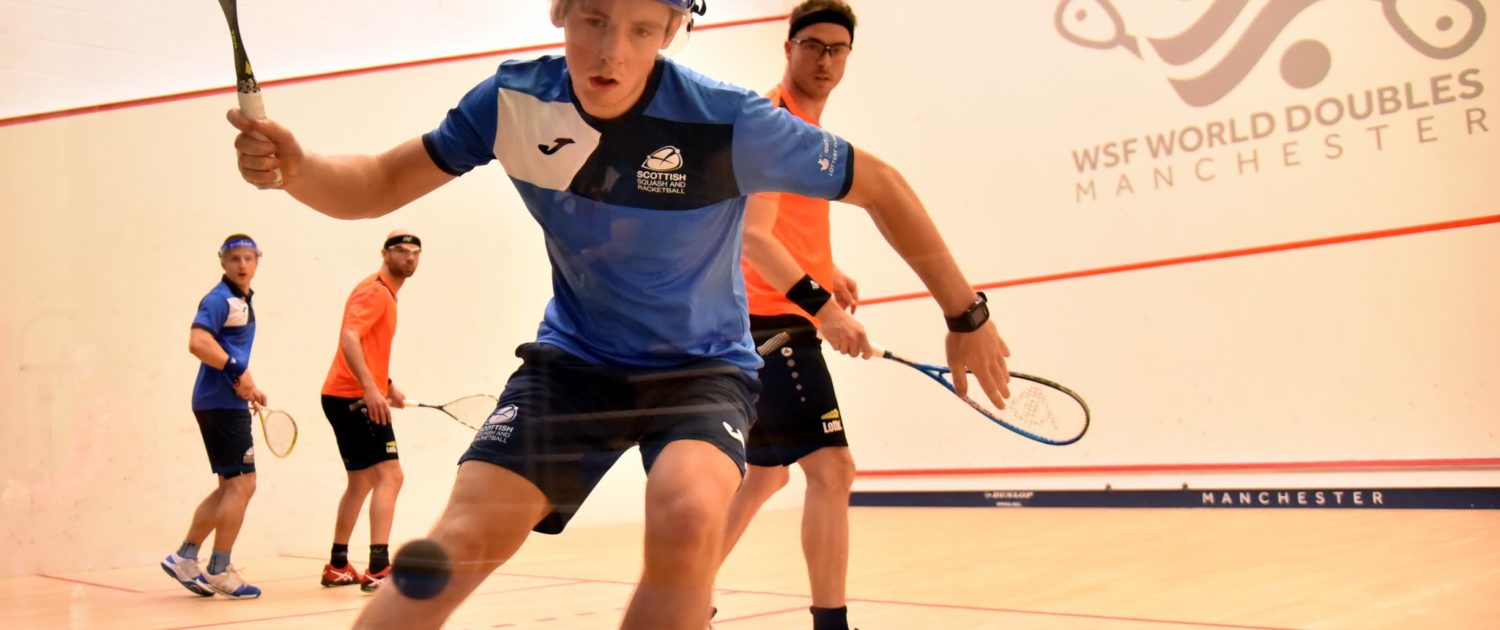 The Group A table-toppers defeated Indian pair Vikram Malhotra and Mahesh Mangaonkar yesterday, 11-1, 11-6, and Malaysia's Adnan Nafiizwan and Ivan Yuen 11-3, 11-8.
Clyne and Lobban play their quarter-final match tomorrow evening.
Meanwhile Kevin Moran and Doug Kempsell defeated Canadian duo David Baillargeon and Shawn Delierre in a gripping Group C clash, 11-6, 6-11, 11-7 to keep their quarter-final hopes alive.
The Scottish Men's Doubles Champions know that victory tomorrow against England's Declan James and James Willstrop can book them a place in the knock-out stages of a tight group.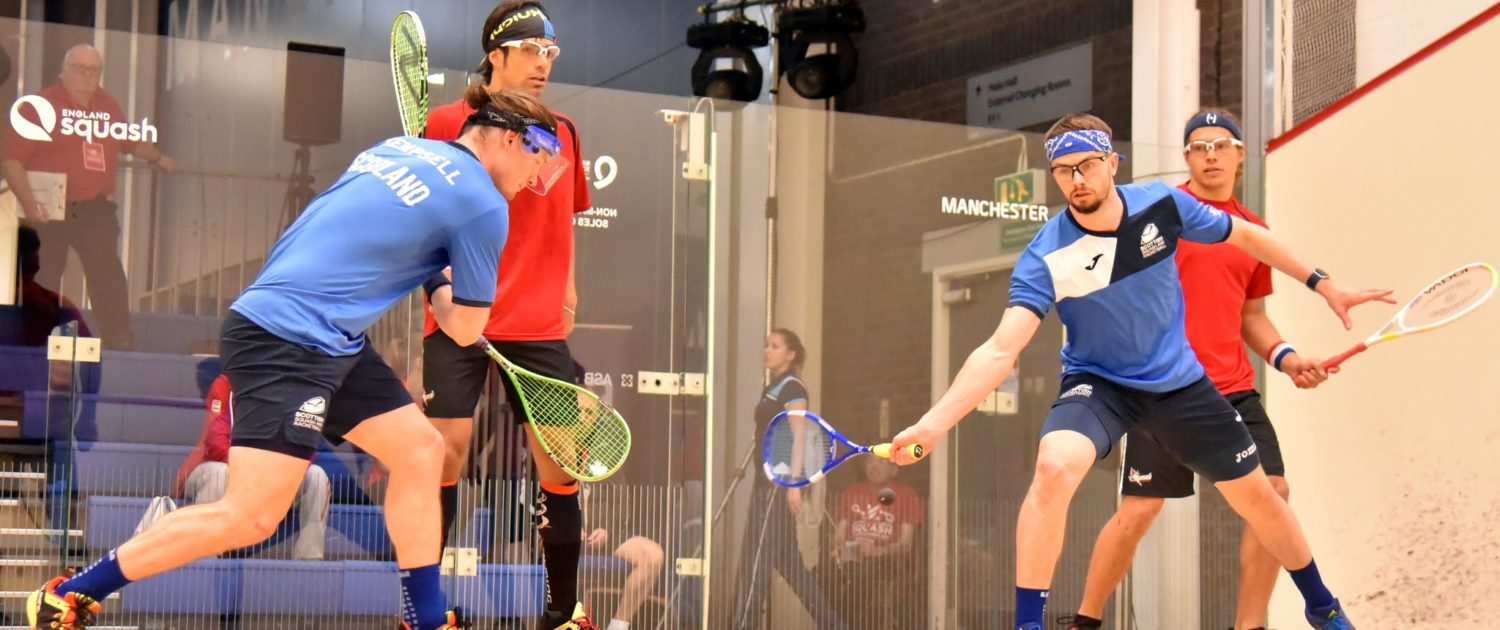 They lost a tough opening match against Kiwi champions Paul Coll and Campbell Grayson, 11-9, 11-6 on Tuesday.
In the women's doubles Carrie Hallam and Lisa Aitken saw their last eight hopes ended as they lost to Jenny Duncalf and Alison Waters 11/4, 11/1 earlier today.
They lost to English pair Laura Massaro and Sarah-Jane Perry, going down 11-6, 11-10 on Tuesday before a win over South African's Alexandra Fuller and Cheyna Tucker 11-7, 11-8 in Group D.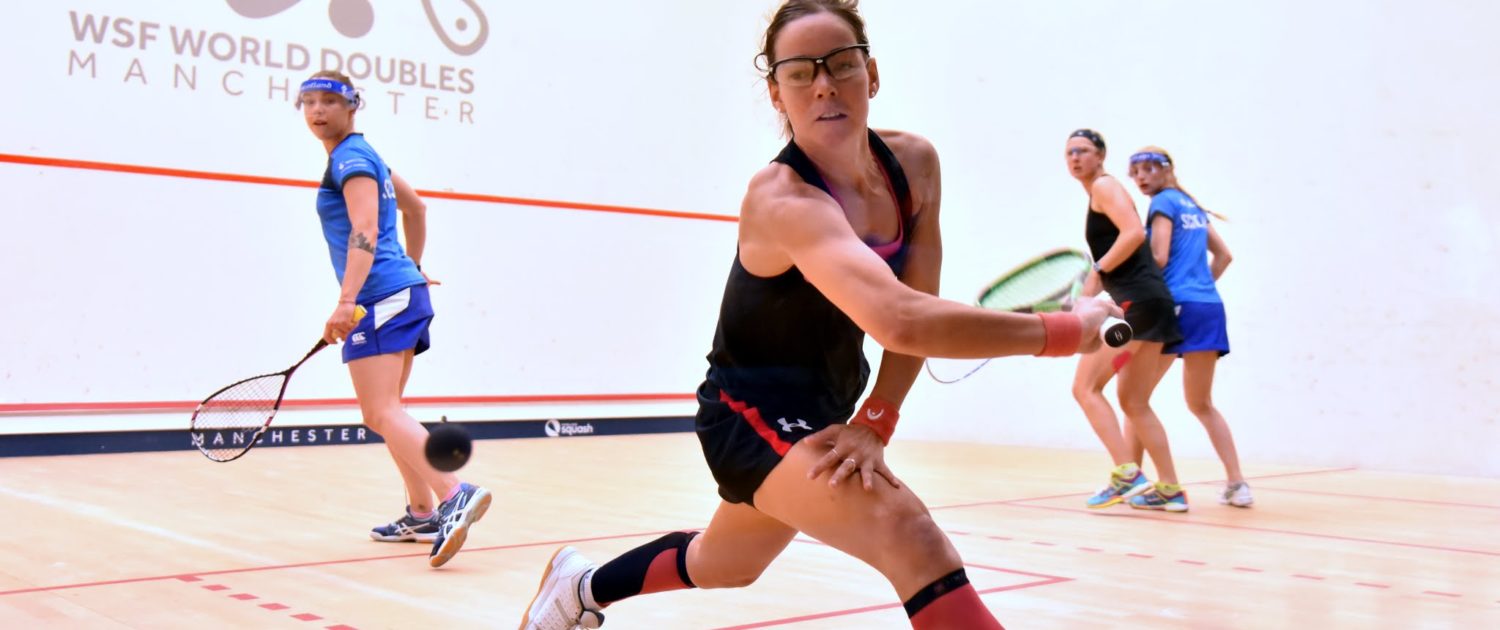 This evening in Mixed Doubles Group C, Carrie Hallam and Chris Leiper lost to Australian's Cameron Pilley and Donna Urquhart, 11-2, 11-4.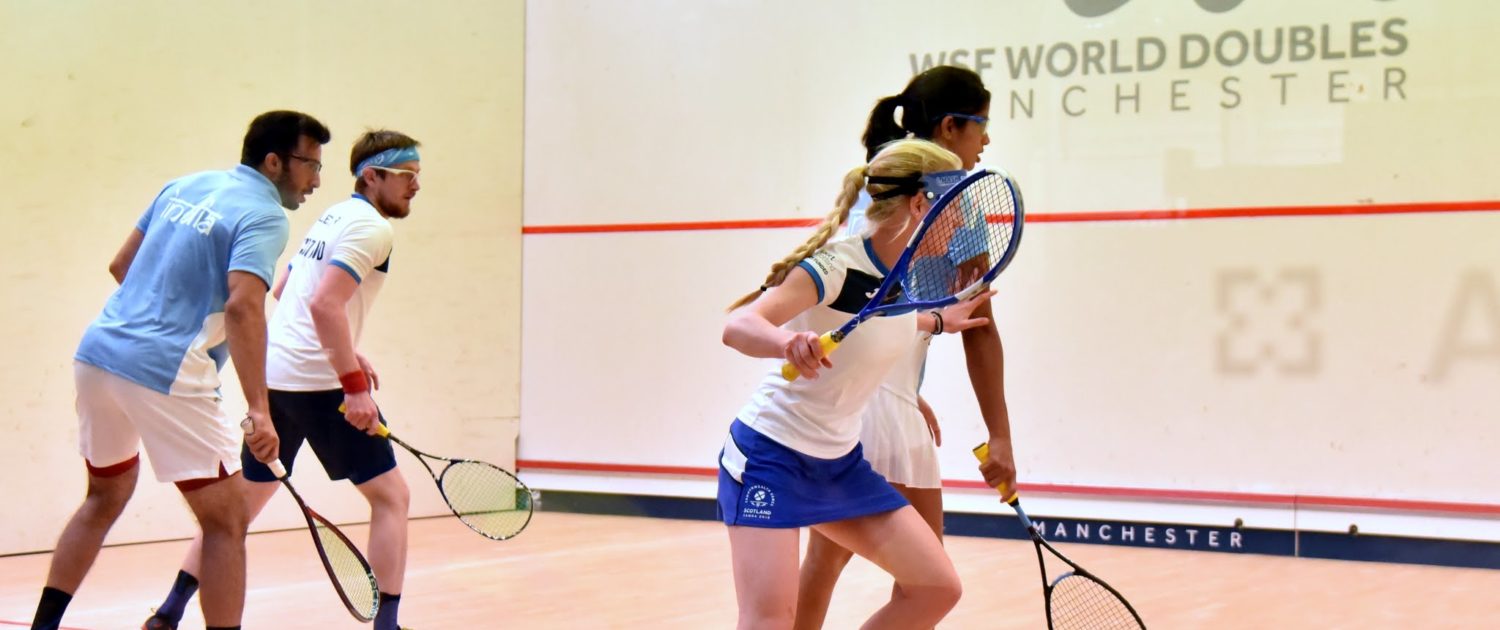 On Thursday morning, 11.45am, they play Columbian duo Andres Herrera and Catalina Pelaez and then Kiwis Zac Millar and Amanda Landers-Murphy at around 3.15pm having lost yesterday against India's Vikram Malhotra and Joshna Chinappa, 11-5, 11-6.
For photos, draws, schedules, live streaming and more visit the official website at: http://wsfworlddoubles.com
Follow the action on Twitter with @WSFworlddoubles
Day Two results.
Mixed A [8] Waller /Lust (Eng) 2-1 Makin / Saffery (Wal) 11/8, 9/11, 11/9 (44m)
Mixed A [9] Kempsell / Aitken (Sco) 2-1 [1] Coll / King (Nzl) 11/7, 5/11, 11/9 (48m)
Mixed B [7] Creed / Evans (Wal) 2-0 [10] Delierre / Cornett (Can) 11/9, 11/4 (26m)
Men A [1] Clyne / Lobban (Sco) 2-0 Bennett / Schweertman (Ned) 11/2, 11/5 (16m)
Mixed B [2] Ghosal / Pallikal (Ind) 2-0 Kamal / Arnold (Mas) 11/7, 11/4 (20m)
Mixed C [6] Malhotra / Chinappa (Ind) 2-0 [11] Millar / Landers-Murphy (Nzl) 11/9, 11/9 (32m)
Mixed C [3] Pilley / Urquhart (Aus) 2-0 Herrera / Pelaez (Col) 11/5, 11/4 (16m)
Mixed D [5] Selby / Waters (Eng) 2-0 [12] Schweertman / Grinham (Ned) 11/4, 11/9 (20m)
Mixed D [4] Palmer / Grinham (Aus) 2-1 Baillargeon / Todd (Can) 11/5, 8/11, 11/4 (32m)
Women D [4] Massaro / Perry (Eng) 2-0 Fuller / Tucker (Rsa) 11/5, 11/4 (17m)
Women D [5] Duncalf / Waters (Eng) 2-0 [12] Aitken / Hallam (Sco) 11/4, 11/1 (18m)
Men D [12] Kempsell / Moran (Sco) 2-1 Baillargeon / Delierre (Sco) 11/6, 6/11, 11/7 (65m)
Men A [8] Adnan / Yuen (Mas) 2-1 [9] Malhotra / Mangaonkar (Ind) 11/8, 10/11, 11/8 (69m)
Women A [8] Cornett / Todd (Can) 2-0 [9] Grinham / vd Heijden (Ned) 11/8, 11/5 (19m)
Women B [7] Evans / Saffery (Wal) 2-1 [10] Pelaez / Tovar (Col) 7/11, 11/6, 11/2 (40m)
Women C [11] Cardwell / Nunn (Aus) 2-1 [6] Arnold / David (Mas) 11/9, 6/11, 11/10 (40m)
Mixed A [9] Kempsell / Aitken (Sco) 2-1 [8] Adrian Waller / Lust (Eng) 9/11, 11/6, 11/4 (64m)
Mixed A [1] Coll / King (Nzl) 2-0 Potgieter / Louw (Rsa) 11/6, 11/7 (19m)
Mixed B [7] Creed / Evans (Wal) 2-0 Kamal / Arnold (Mas) 11/8, 11/4 (30m)
Mixed B [2] Ghosal / Pallikal (Ind) 2-0 Bennett / vd Heijden (Ned) 11/4, 11/4 (16m)
Men B [2] Cuskelly / Pilley (Aus) 2-0 Brits / Potgieter (Rsa) 11/3, 11/10 (23m)
Mixed C [6] Malhotra / Chinappa (Ind) 2-0 Herrera / Pelaez (Col) 11/7, 11/4 (17m)
Mixed D [5] Selby / Waters (Eng) 2-0 Baillargeon / Todd (Can) 11/6, 11/3 (17m)
Men B [7] Creed / Makin (Wal) 2-0 [10] Beddoes / Williams (Nzl) n11/7, 11/8 (34m)
Mixed D [4] Palmer / Grinham (Aus) 2-0 Vargas / Tovar (Col) 11/7, 11/3 (21m)
Men D [4] Coll / Grayson (Nzl) 2-0 [5] Willstrop / James (Eng) 11/9, 11/6 (44m)
Men C [3] Alexander / Palmer (Aus) 2-0 Kamal / Ng (Mas) 11/10,11/8 (32m)
Mixed C [3] Pilley / Urquhart (Aus) 2-0 Leiper / Hallam (Sco) 11/2, 11/4 (18m)
https://www.scottishsquash.org/wp-content/uploads/2017/08/AitkenKempsell.jpg
1646
2048
Andy Weston
https://www.scottishsquash.org/wp-content/uploads/2017/10/Scottish_Squash_Logo_LANDSCAPE-300x90.jpg
Andy Weston
2017-08-02 19:16:03
2017-08-02 19:16:06
Lisa Aitken and Doug Kempsell shock defending champions and move into quarter-finals