The Home Internationals for Ladies O50, Men O50 and Men O70 were held in Dublin on 4/5 May at the superb Fitzwilliam Club.
The three Scottish Teams all met at the Fitzwilliam Club on Friday afternoon for practice and team and group photographs. Ahead were matches against Wales on Friday evening, England on Saturday morning and finishing against the host nation on Saturday afternoon.  As is tradition, all matches were played in the order 5, 3, 1, 4, 2.
Ladies O50s
The Ladies team had a number of late call-offs and were only able to field five players – but it was still a strong, competitive team.
The Scottish Team, in team order was Ashley Mears (captain), Sue Strachan, Pauline Douglas, Moira Atkinson and Helen Cordiner. The team was strongly supported by 'photographer' Margery Reid.
Friday night – Scotland v Wales
Helen got the team off to a great start with a comfortable 3/0 win over Jenny Jones. Helen hit the ball cleanly to the back of the court and did not let Jenny into the game.
Pauline Douglas then played Lynne Davies – Lynne is a regular competitor on the European and English Regional circuit. Pauline showed all her experience and floated the ball to all corners of the court. Lynne struggled to control the ball and Pauline convincingly won 3/0.
Captain Ashley Mears then played Helen Barnard – Helen has just moved into the O50 age group and has had some good results in the English Regional events. Ashley fought hard but was outplayed by Helen who won the match 3/0.
With Scotland leading by 2/1, Moira Atkinson played Wendy Morris. Moira has been nursing a back injury and has not played much squash this season. Moira started well and won the first game 15/7, but Wendy fought back well to win the second game 15/9 and a nail-biting third game 15/13. Moira took control in the fourth game which she won 15/9. The fifth game was 'nip and tuck' all the way until Wendy won 15/13 and won the match 3/2. It was a very competitive match!
With the match finely balanced at 2/2 all, Sue Strachan played Sian Johnson. Both players played well in the first game and both had chanced to win it – Sue took her opportunity and she won the first game 19/17. The second and third games were equally competitive with Sue and Sian playing excellent squash and entertaining the large gallery. To the delight of the Scottish supporters Sue held her nerve and clinically won both games 15/11, 15/12 and the match 3/0.
Final result Scotland 3 Wales 2 – Scotland 15 points Wales 6 points – a great result for the Scottish Team!
In the other match England beat Ireland 5/0 – England 20 points Ireland 0 points.
Saturday Morning – Scotland v England
Helen played Isobel Smith in the first match. Helen played well but Isobel was the stronger player and comfortably won the match 3/0.
Pauline then played Hilary Kenyon. The first game was very competitive and Hilary won it 17/15 and she continued her good form to easily win the second game 15/6. At 2/0 down Pauline demonstrated her shot selection, fitness and fighting spirit – she won the next three games 15/13, 15/10, 15/11 and the match 3/2 and levelled the match at 1/1 all.
Ashley played England #1 Rachel Woolford and Ashley played well and won a very entertaining first game 17/15. Rachel however fought back strongly and comfortably won the next three games and the match 3/1.
Moira played Beverley Brockway – Beverley started very strongly and won the first two games. Moira fought back and deservedly won the third game, however Beverley took control of the fourth game and won the match 3/1.
In the final match Sue played Kay Fellows – despite this being a 'dead rubber' it was a fantastic game. Kay won the first game 15/13 but Sue fought back strongly to win the next two games 15/8, 15/13 and take a 2/1 lead. Kay showed her fighting spirit and won the fourth 15/11. With the score at 10/10 in the final game and both players going for winners the match could have gone either way – however Kay held her nerve and won the last five points to win the game 15/11 and the match 3/2.
Final Result Scotland 1 England 4 – Scotland 7 points England 19 points
In the other match Wales beat Ireland 5/0 – Wales 20 points Ireland 5 points
Saturday afternoon – Scotland v Ireland
All five Scottish Ladies played very well and all won their matches 3/0.
Final Result Scotland 5 Ireland 0 – Scotland 20 points Ireland 0 points
In the other match England beat Wales 3/2 – England 16 points Wales 6 points
Final positions England 55 points, Scotland 43 points, Wales 32 points, Ireland 5 points.
The Scottish MO50 team of Russell Hunter, Mark James, David Lindsay, Colin McMullan, Mike Ramsay and Brian Robertson gathered in Dublin on Friday morning in preparation for this year's Home International weekend.
Friday Evening
Opponents – Wales
Scotland Team:
Mike Ramsay
Brian Robertson
Russell Hunter
Colin McMullan
David Lindsay
Match Summary:
The opening match was against a Welsh side that had a few regulars missing and had an unexpected team order.  On first was Davy Lindsay, who was quickly into his stride to win the first game 11-1 against Darren Rowley and he maintained his form to win the next two games to win 3-0 and give Scotland the best possible start.
Russell Hunter continued in the same vein, playing the right shots at the right times to forge into a 2-0 lead against Nick Jones.  Russell was unable to maintain that level in the next game as Nick found a way into the match and the balance began to swing the way of the Welshman, who ultimately won out 3-2 with a dogged display.  An excellent effort from Russell.
Making his Masters debut, Mike Ramsay gave a very assured performance and was always ahead and always in control as he gained a straight games win against Welsh number 1 Ian Fenner-Evans.
Colin McMullan showed character in finding a way back into his match from 2-0 down against experienced campaigner Gary Hales to get back into contention at 1-2 and was very unfortunate to lose the fourth game 13-11 to end his challenge.
So with the match tied at 2-2, there was all to play for in the final match between Brian Robertson and James Walters.  The Welsh player was consistently accurate from the off and Brian found himself hanging on in the hope that his opponent's level would drop and provide a way into the game, but it didn't happen.  A 3-0 Welsh win meant an overall game score of 9-9, but Wales got the bonus points for a 3-2 win.
In the other match, England had a convincing 4-1 win, with the only loss a 3-2 defeat at 2 where Eoin Ryan beat Andrew Cross.
Saturday Morning
Opponents – England
Scotland Team:
Mike Ramsay
Brian Robertson
Russell Hunter
Mark James
Colin McMullan
Match Summary:
Highlights from this match were Colin McMullan winning the second game against Steve Dodridge before succumbing 1-3 and Mark James winning an impressive first game against Eamonn Price before too going down 1-3.  However, it was Mike Ramsay who got closest to winning, giving a tremendous display against English number 1 David Youngs.  Mike took the game to his English opponent with very positive play and the Englishman seemed to have few answers as Mike took a 2-0 lead.  However, David used his considerable experience, not to mention control with the racquet, to play his way back into the match and win two close games to set up an intriguing final game.  It was in the balance right until the end, with David winning 11-8, leaving Mike to rue a few missed drop shots in the latter stages having created good opportunities to strike.
In the other matches, Russell and Brian were both competitive and got close to winning individual games against Stephen McLoughlin and Andrew Cross respectively, but both came up short, each losing 0-3.  Overall, as they had shown against Ireland the previous evening, this England team had considerable strength in depth and had the knack of winning points and games when it mattered.
In the other morning match, Ireland had a convincing win against Wales.
Saturday Afternoon
Opponents – Ireland
Scotland Team:
Mike Ramsay
Brian Robertson
Russell Hunter
Mark James
David Lindsay
Match Summary:
Boosted by his win the previous day, David Lindsay played very well against left-hander Tony O'Brien, but didn't have things all his own way.  After sharing the first two games, there followed three very tight games, with Davy ultimately able to exploit a weakness in his opponent's game (which will remain a secret – they may have to play again) to win 3-2 and cap a great weekend for him personally.
Russell Hunter came up against a very good opponent in Brian Lalor, with the Irishman making steady progress towards a 3-0 win despite Russell's best endeavours.
Against tricky opponent Andre Maur, Mike Ramsay had to dig very deep after his efforts earlier in the day against England.  With the first game in the bag for the Scot, Andre struck back, but Mike again got his nose in front and when it mattered in the fourth, won the crucial points for a 3-1 win, in the process managing to avoid a potentially tense fifth game decider.
In what proved to be a crucial match in determining the overall outcome, Mark James played a very smart game tactically to prevent opponent Michael McKee from getting into his stride.  The Irishman got no favours from the referee, but as Michael frustration grew, Mark remained focused and determined to win in straight games.
Brian Robertson found the going tough against a very capable player in Eoin Ryan.  The Irishman was in total control in the first two games and despite Brian making a game of it in the third, there was an inevitability about Eoin closing out the match 3-0 to complete his weekend with three wins, the only non-English player to do so.
In the other afternoon match, England beat Wales convincingly, with the Welsh team only winning a single game.
It was a commendable effort by the Scottish players over the course of the weekend, with the overall outcome of Friday's match against Wales key to Scotland finishing in third place 7 points behind Ireland, but there was no doubt that England were the dominant team and deserved to win.
Final positions England 59 points, Ireland 34 points, Scotland 27 points, Wales 19 points.
Mens O70s
Having a lack lustre result in Cardiff in 2017 the Men's O70 team were looking forward to a more successful result here in Dublin.
The team has been strengthened with the inclusion of Ian Ross(1), George Stirrat(2) and Alistair McMeckan(5) coming into the team.
Tom Kane our amazing Octogenarian(3), Bernard Starkey Bandana man(4) and Ken Reid(6) making up the team. Ian our team captain was in no doubt about England being favourites but expected Scotland to achieve at least second place and depending on results from Wales and Ireland against England …..who knows were we could finish!
Friday evening:
Scotland v Wales
The competition got under way with Scotland taking on Wales who were slightly under-strength due to late injuries.
Alistair McMeckan (5) Scotland v Gary Williams (Wales)
Gary never really got going and Alastair took advantage, running away with the match with his strong serve and powerful play.
Result: Scotland won 3-0.
Tom Kane (Scotland 3) v Tony Carroll (Wales)
1st game, with both players trying to work out the others style. Tony, hard hitting with some deft touches and Tom varying pace, and testing Tony with slice and drop shots.
A fairly even game with Wales just edging it – 1-0 Wales.
2nd game, Tom quickly out of the starting block, having worked out his strategy.
After a fairly even start, Tom forged ahead, winning the second game.
3rd game, Tom well into his stride with drops and lobs, and although Tony fought back, the contest began to slip away from him as Tom's touch came to the fore.
4th game, Tony seemed to lose confidence as Tom's speed around court and range of strokes secured the game very quickly.
Result: Scotland won 3-1
Ian Ross (1) v Steve Evans
Steve started like a train, pace and power catching Ian off balance and winning the first 16/14.
Steve kept the pace going in the second and took an early lead, only for 'ballerina Ian' to find his touch and snatch the second 16/14.
Ian was now in the groove and won the next two games with his dominant play.
Result: Scotland won 3-1
Bernard Starkey (4) v Chris Leach
This match went one way then the other with some scrappy play and foot faults not helping Bernard.
At 2-2 'bandana' Bernard just edging the 5th 15/12 to take the match.
Result: Scotland won 3-2
George Stirrat (2) v Duncan Jones. George was on a mission – hard fast squash, left hand winners and despite Duncan's rallying and good lengths. George was always in control of this match taking an easy win.
Result: Scotland won 3-0
Match = Scotland 5 – Wales 0
Saturday morning
Scotland v England
This was a huge match against the 'Auld Enemy' – the winner of this match would be in a strong position to win the tournament.
The Scottish team was Ian, George, Tom, Alistair and Ken.
Ken Reid (5) v Martin Day
Ken never settled in this match and was overpowered by a more sprightly Martin.
Ken tried using his touch game creating drop shots from all over the court which Martin read.
Result England 3-0
Tom Kane (3) v Aubrey Waddy (England)
This match was not expected to last very long.
Aubrey newly up to the O70s after a successful career in the O65s both domestically and in Masters and British competitions.
Tom started well, with angled returns and good movement, he took the game to Aubery taking an early lead.
The second game was hotly contested and Aubrey just edged this one.
In the next two games, Aubrey found his length, and his excellent trickle boasts and increased pace proved to be too much for Tom, winning the remaining games.
Result England won 3-1.
After the match, Aubrey remarked to Tom 'that this had been his toughest match for a long time, and until the final point was won, he was not confident of being the victor'.
Ian Ross (1) v old foe Barry Featherstone.
The match was so close going one way then the other….Ian 15/11, Barry 15/6, Barry 15/12, Ian 15/13. This match had come alive. What a contest, magnificent!!
All on the fifth and final game!
By now Barry looked like a boiling kettle with steam coming out of all parts of his body.
Ian had lost pounds in weight and his Scotland shirt looked like extra extra large. The squash was superb –
Barry fast and pacey, good accuracy and relentless.
Ian, prowling like a cat, fast onto the ball, deceptive drops and boasts – match swinging one way then the other.
Ian's resilience held him in good stead and eventually drew Barry into playing some loose shots which Ian put away to win….Amazing
Result Scotland won 3-2
Alastair (4) v Jack Halford
The first game saw both players making mistakes and also hitting winners – with Jack gradually taking more control and winning the first game. Second game saw Alastair hitting better lengths, especially on the back-hand and was in a position to take the 2nd but tinned at 13 all to lose the second 15/13. Jack continued to keep on top and won the third.
Result England won 3-0
To show the sporting nature of these games, Jack then explained to Alastair how he could improve his game (one sentence which took 20 minutes to tell)!
George Stirrat (2) v Rodney Boswell
George was on a mission and through gritted teeth took the match to the experienced Rod and fought for every point taking the first 15/12. The second was equally competitive and George took the second 16/14. George was now on a high and won the 3rd 15/4, and smiled for the first time in two days!!
Result Scotland won 3-0
Match = Scotland 2 – England 3
Saturday afternoon
Scotland v Ireland
a strong and very competitive Ireland team, with both teams battling for 2nd place.
Ken Reid (5) v Toddy Kealy
Ken benefitting from his earlier match, starting well and soon got his eye in for drops and reaching shots which looked beyond him to take control of the first.
Toddy remained competitive but Ken's confidence improved and took the second.
The 3rd game saw Toddy getting better lengths and putting Ken under more pressure, but a little too late going down 16/14.
Result Scotland won 3-0
Tom Kane (3) now christened "Banana Skin" (by Aubrey) v Frank Fahey.
Frank started the quickest, very mobile and hitting good lengths and took the first two games. Tom fought back in the 3rd, cut down on his 50/50 shots and took the third. Frank maintained his composure, and was lively round the front of the court and took the match.
Result Ireland won 3-1
Ian Ross (1) v Seamus Daly
Seamus is an experienced player, who gives the impression of not being interested and then creates wonder shots from all-round the court. Seamus controlled the first game and Ian looked bewildered until the second part of the game when Ian started to read his opponents shots and made Seamus work harder all round the court. Ian took a close second game. From then on 'Captain Fantastic' took over and won.
Result Scotland won 3-0
Bernard Bandana Starkey (4) v Ciaran Roche
Bernard improved his accuracy and shot selection from the previous match and took the first two games. Ciaran was also competitive and played some superb squash in the 3rd to make it 2-1. The fourth was nip and tuck, Bernard seemed to enjoy hitting his serves out and Ciaran favoured the tin when in a winning position! Bernard re-gained his composure and went on to win a close game.
Result Scotland won 3-1
Final match of the week-end,
George Stirrat v Johnny Donovan
A cracker!!! Both playing high quality squash.
Johnny playing very correct and tidy squash with good movement round the court. George displaying a real competitive spirit, accurate drives and left-hand winners. Not a lot to choose between the players and consequently went to 5 games. The 5th was as close as could be as Johnny had come back from 2 down.
The Ayrshire spirit and the will to win came flooding back and saw George winning 15/13 in the final hard fought game to take the match.
Result Scotland won 3-2
Match = Scotland 4 Ireland 1
A sporting and competitive end to the Home International in Dublin.
By winning all three matches England deservedly won the title. The final score was England 55 points, Scotland 45 points, Ireland 31 points and Wales 8 points.
This was an excellent performance by the O70 team – great team spirit and deservedly won the runners-up medals.
It was an excellent weekend in Dublin Fair City and Irish Squash (Ciaran Roache) and the Fitzwilliam Club deserving great credit for the organisation and excellent hospitality provided.
All three Scottish Teams and their supporters enjoyed the Saturday evening presentation dinner.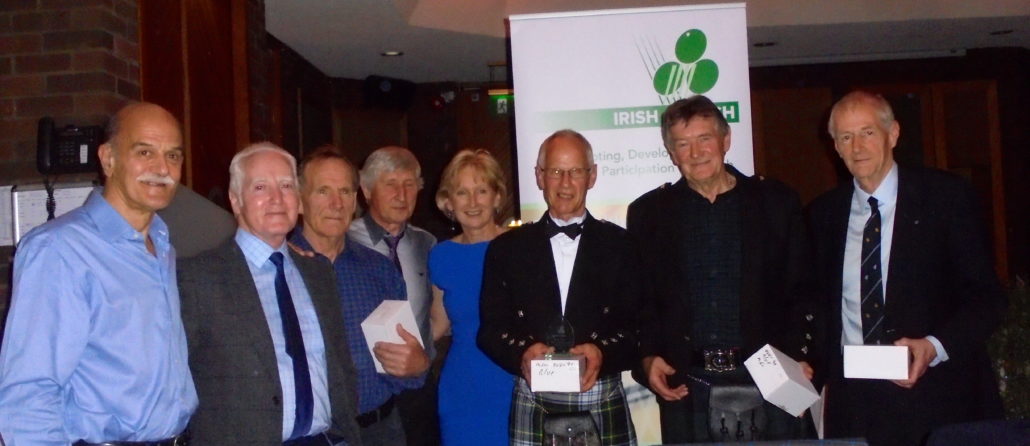 https://www.scottishsquash.org/wp-content/uploads/2018/05/Dublin-2018-Over-70s.jpg
3864
5152
Scottish Squash
https://www.scottishsquash.org/wp-content/uploads/2017/10/Scottish_Squash_Logo_LANDSCAPE-300x90.jpg
Scottish Squash
2018-05-17 15:13:25
2018-05-22 12:55:03
HOME INTERNATIONALS – DUBLIN 4/5 MAY 2018