HIGHLAND MASTERS – 10/11 OCTOBER 2015
The Highland Masters tournament was held at Inverness Tennis and Squash Club on 10/11 October 2015. The tournament was sponsored by Loch Ness Brewery with prizes of local craft specialist beers and some smart hats.
There were a total of 42 competitors who took part in 6 mens' events. Unfortunately there were insufficient entries to hold any ladies events or mens' O35 and O40s events.
David Massey and the Inverness Squash Club committee managed a very well organised tournament. They all worked hard to make all competitors welcome and provided an excellent catering service thoughout the tournament. At the prize giving competitors thanked David Massey and the committee for all their hard work in the organisation and the draws.
Thanks are also due to SSRL (Ross Cairns) for managing the entry and supporting the Inverness committee in running the tournament.
Alex Sinclair quickly assessed the Highland results and updated the Masters Tournament Points. Alex emailed the updated Points to his Masters distribution list of about 350 players who have participated on the Scottish Masters circuit over the previous 10 years'.
Match of the Day – Saturday
O65 Semi final – Alex Sinclair beat Ian Ross 0/9, 7/9, 9/3, 9/1, 10/8
Ian started well and comfortably won the first game. The second game was much tighter but Ian held on to take a two game lead. Alex fought back well and playing some excellent drop shots comfortably won both the third and fourth games to level the match at 2/2. In the final game Alex continued to play well and led 7/2 and appeared to be in control of the match. However Ian cut out the errors and clawed back to lead 7/8 but could not close out the game. Alex recovered to win the final game 10/8 and deservedly took his place in the final.
Match of the Day – Sunday
O60 Semi final – David Taylor beat John Rae 9/1, 9/6, 3/9, 7/9, 9/5
Dave flew out the blocks and comfortably won the first game. He was taking the ball early and hitting the ball very cleanly and surprisingly John was struggling to compete. The second game was much more competitive but Dave held on to take a 2/0 lead. In the third game John slowed the game down and played drops and lobs to take the third game. John continued with these tactics and closed out a competitive fourth game to level the match at 2/2. At this stage the gallery were convinced that John's superior fitness would ensure that he would win the final game. However Dave had other ideas and despite being 0/4 down in the final game he tenaciously fought back to take the lead and win the game and match 9/5.
MO45
There were five competitors and the competition was played as a round robin with each playing four matches over both Saturday and Sunday.
At the end of Saturday with each player having played two matches, top seed John Kynoch had won both matches against David Lindsay and Craig Mitchell. Craig Doel, a New Zealander who is a member of Edinburgh Sports Club and a newcomer to the Scottish Masters circuit also won both matches against David Lindsay and David Massey. In the other match Craig Mitchell beat David Massey.
On Sunday John Kynoch and Craig Doel won their morning matches to set up a knock out final between the players. The final was a hard fought match but John Kynoch won the match 3/0. Craig Doel was runner up and David Lindsay in third position with two wins beating David Massey in their last match of the weekend.
Leading Masters Tournament Points
| | | | |
| --- | --- | --- | --- |
| Pos. | Name | Pts | Pld |
| 1 | Mark Beaumont | 360 | 1 |
| 1 | John Kynoch | 360 | 1 |
| 3 | David Lindsay | 330 | 2 |
| 4 | Craig Doel | 290 | 1 |
| 5 | James Stewart | 265 | 1 |
| 6 | David Massey | 220 | 2 |
MO50
A low entry in the Over 50s led to a round-robin format with two groups of three competitors.
Saturday
Early talk was of court conditions, specifically the fact that it was slippery underfoot. The quantity of white powder creating those conditions was thankfully explained by court renovation work rather than anything that might require investigation by the local constabulary.
And so to the squash…. The opening encounters saw Graeme Patullo play Tom Smith in Group 1 and Duncan Fraser play David Wood in Group 2. In what became a pattern for the weekend for the Over 50s, wins were clear-cu
t, with Graeme and Duncan the victors by a score of 3/0.
Early afternoon and Brian Robertson and Archie MacGillivray entered the fray. Brian opened his account against Graeme, while Archie's opponent was Duncan. In Group 2, Duncan kept the momentum from the morning going to finish the day with maximum points after a second 3/0 win. On a still slippery but improving court 2, Brian was the winner, the margin of victory again 3/0, although Graeme was unfortunate not to get over the line in the third game from 8/5 in front.
The final group matches saw Brian against Tom and Archie against David. As had been the case throughout the day, games were hard fought but the outcomes were again 3/0, this time to Brian and Archie.
Sunday
Sunday morning saw a semi-final line-up of Brian v Archie and Duncan v Graeme. Although Archie competed well, he was winning serve but struggling to win points, while Brian kept the scoreboard ticking over for a 3-0 win. Meanwhile, Graeme was powering his way to – I'm sure you've worked it out by now – a 3/0 victory.
Before this year's Tayside & Fife Masters, Brian and Graeme hadn't met, never mind competed against each other. The final was their third meeting in two tournaments and was keenly contested. Graeme started each game well, getting 3 or 4 points ahead by playing positive squash, with his forehand drive particularly effective, but Brian managed to play his way back into contention and then gain control of each game, with accuracy the key. A challenging match, but ultimately Brian won 3/0 and lifted the title.
Leading Masters Tournament Points.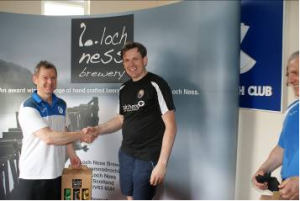 | | | | |
| --- | --- | --- | --- |
| Pos. | Name | Pts | Pld |
| 1 | Brian Robertson | 660 | 2 |
| 2 | Graeme Patullo | 445 | 2 |
| 3 | Duncan Fraser | 165 | 1 |
| 4 | Rolf Hansen | 150 | 1 |
| 5 | Archie MacGillivray | 115 | 1 |
| 6 | Fraser Mulford | 100 | 1 |

MO55
There were six competitors – two round robins followed by semi finals and final.
"There's only one Dickie Bird" not the shout from the gallery but from his fellow competitors when the first draw of eight appeared! By the time the correction was made another competitor had withdrawn thus we were left with two round-robins of three. The first had Neil Rayner, Les Wilson and Ricky Easton. In the first match Les ended up being too strong for Ricky and won 3/0. Neil was next up for Ricky and a similar result ensued which meant an early departure home for Mr. Easton. The final round-robin match saw Neil beat Les 3/1.
The other round-robin featured Keith Gristwood, Dick Bird and Norma Gregory. The early Saturday match saw Dick beat Norma 3/0, whereas the mid-afternoon match against Keith saw Dick recover from 8/2 down to take the first set 10/8. The second however saw Keith hit his stride and he took it and the third to lead 2/1. The fourth game was close for a while but Keith closed it out 3/1. Later Keith beat Norma 3-0, thus setting-up the Sunday semi finals of Neil against Dick and Keith against Les.
Both these matches proved to be tussles with Neil winning the Aberdeen derby 3/2 and Keith finally also beating Les 3/2. During the final Keith had his chances but Neil controlled enough of the rallies in each game to win 3/0 and the 6-pack of Loch Ness Brewery's finest.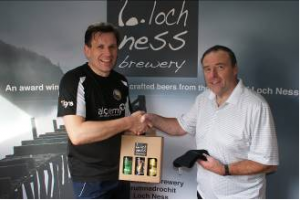 Leading Masters Tournament Points
| | | | |
| --- | --- | --- | --- |
| Pos. | Name | Pts | Pld |
| 1 | Dick Bird | 405 | 2 |
| 2 | Neil Rayner | 360 | 1 |
| 3 | Les Wilson | 315 | 2 |
| 4 | Chris Holt | 300 | 1 |
| 5 | Keith Gristwood | 270 | 1 |
| 6 | Alan Thomson | 210 | 1 |
MO60
With 12 competitors this was the largest age group. The last 16 ties were closely contested with the closest being the 60 minute match between Eric Donohoe and debutant John Charles. John has recent moved to Scotland after playing in Hampshire for many years. Any plans that Eric had of saving something for the next round against Dave Taylor quickly disappeared when John won the first 2 games. The next 3 games were prolonged affairs resulting in a 9-7 win for Eric in the final game.
The quarters all went 3-0 as per the seedings.
The semi between Jim Dougal and Alex Allan was unexpectedly easy for Jim due to Alex carrying an injury. In the other semi final Dave Taylor beat John Rae 3/2
(see Sunday's match of the day).
In the final Dave came out all guns blazing and took the first game. Jim was ahead in the second when Dave appeared to pick up a hamstring injury and from there Jim won games 2 and 3 before Dave was forced to concede and Jim took the title.
In the Plate the silky John Charles beat Phil Leek 3/0 in the final.
Leading Masters Tournament Points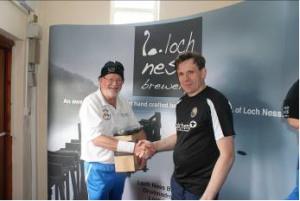 | | | | |
| --- | --- | --- | --- |
| Pos. | Name | Pts | Pld |
| 1 | John Rae | 785 | 3 |
| 2 | Jim Dougal | 550 | 2 |
| 3 | Dave Taylor | 380 | 2 |
| 4 | Paul Harris | 360 | 1 |
| 5 | Alex Allan | 355 | 2 |
| 6 | Eric Donohoe | 200 | 2 |
| 7 | William Jappy | 170 | 2 |
MO65
There were eight competitors. In the quarter finals on Saturday morning there were convincing wins for Ian Ross, Jim Dougal and John Rae against Phil Leek, George Porter and Warren Cameron respectively. In the other tie there was an exiting match between Alex Sinclair and Emilio Fazzio. Emilio won the first two games and was leading in the third but Alex tenaciously clawed back to win the third game 10/8. Unfortunately Emilio suffered a recurring muscle strain and was forced to retire and Alex moved into the semi final.
The semi finals were held on Saturday afternoon and Ian Ross met Alex Sinclair and Jim Dougal met John Rae. Alex beat Ian 3/2 in a fiercely contested match (see Saturday's match of the day). In the other semi final John comfortably beat Jim 3/0. John was full of running and consistently appeared to read Jim's full repertoire of shots.
In the final, early on Sunday morning Alex Sinclair met John Rae. Alex started well and led 5/1 in the first game, however John fought back strongly to win the first game. John's superior fitness and speed around the court proved too much for Ales and John won the next two games and took the title.
In the Plate Warren Cameron beat Phil Leek in the final 3/0.
Leading Masters Tournament Points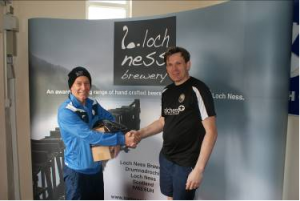 | | | | |
| --- | --- | --- | --- |
| Pos. | Name | Pts | Pld |
| 1 | John Rae | 790 | 3 |
| 2 | Alex Sinclair | 475 | 3 |
| 3 | Ian Ross | 425 | 2 |
| 4 | Jim Dougal | 405 | 2 |
| 5 | Phil Leek | 240 | 2 |
 MO70
There were five competitors and the competition was played as a round robin with six matches being played on Saturday and four on Sunday.
At the end of Saturday, Bernard Starkey topped the leader board with three wins against Ian Nicolson, John Mortimer and Alfie Thomson and Chris Jeffrey was in second position having won both his matches against Alfie Thomson and John Mortimer. In the other match Alfie Thomson beat Ian Nicolson.
On Sunday morning the match between Bernard Starkey and Chris Jeffrey was a repeat of the Tayside and Fife Masters final. In a closely contested and hard hitting match Bernard repeated his success by winning 3/1. Chris was runner up and Ian Nicolson was in third position.
Leading Masters Tournament Points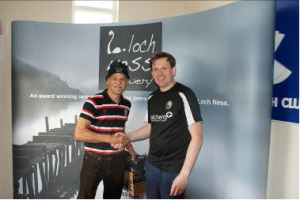 | | | | |
| --- | --- | --- | --- |
| Pos. | Name | Pts | Pld |
| 1 | Bernard Starkey | 660 | 2 |
| 2 | Chris Jeffrey | 565 | 2 |
| 3 | Ian Nicholson | 250 | 1 |
| 4 | Ken Reid | 233 | 2 |
| 5 | Alfie Thomson | 220 | 1 |
| 6 | John Mortimer | 155 | 2 |
| 7 | David Brown | 150 | 1 |
Dates for your Diary in 2015
South of Scotland Masters, Dumfries 21/22 November (Entries close 12 November)
West of Scotland Masters, Newlands Squash Club, 12/13 December (Entries close 4 December)
https://www.scottishsquash.org/wp-content/uploads/2014/12/Masters-Generic-11-e1419245458526.jpg
439
1026
Scottish Squash
https://www.scottishsquash.org/wp-content/uploads/2017/10/Scottish_Squash_Logo_LANDSCAPE-300x90.jpg
Scottish Squash
2015-11-06 10:21:07
2016-08-26 10:54:12
Highland Masters Report