Highland Junior Open 2015 Report
The Highland Junior Open was held at Inverness Tennis and Squash club (ITSC) on the 5th and 6th of December 2016. Given the ferocity of Storm Desmond we expected a number of withdrawals and during Friday night watched the progress of the wind with the Shetland contingent in transit on the ferry to Aberdeen. In the event there were no withdrawals, most central belt visitors wisely decided to travel the night before and the storm managed to vent most of its anger on the south and west of Scotland allowing the Shetlanders a bearable passage, as Billy Mycock the Shetland coach said, "They've managed to puke enough on the overnight passage so they might not be too bad in Inverness on Saturday night!"
The entry was down on last year, 52 players as against over 64 in 2014, this was possibly due to the late change in date but did not affect the standard or level of play nor the competitive nature of the weekend. There were 7 Divisions with the results as follows:
DIVISION 7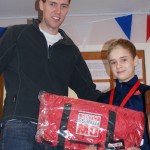 The division was played on a round robin with three contestants, Lindsey Sim, Molly Farmer (Shetland) and Ruairidh McLeod (Nairn). Ruairidh won all two of his games 3-0 in his first major Tournament, however, when asked if he enjoyed the weekend he said "Yes, some of it". When pressed to find out which bit he didn't enjoy he replied "I lost my first match to Ishaq and went down to Division 7, I should have won so I'm annoyed with myself!" That's the spirit.
---
DIVISION 6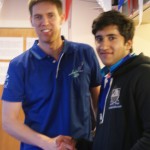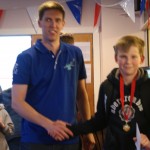 Players: Callum Wilson (Inv), Pietro Piazzi (Shet), Natalie Kynoch (Inv), Ishaq Raheel (Gord), Anna Simpson (Gord), Lea Lindenmeyer (Shet), Ben Booker Millburn (Nairn) and Gary Scott (Shetland).
Ben Booker Millburn cruised through to the final winning his matches 3-0, the final was against Ishaq Raheel and again Ben came through a 3-0 winner.
---
DIVISION 5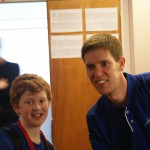 Players: Ross Donnachie and Calum Scott (Nairn), Ruairi McGettigan (Gla), Callum Ross (Abd),
Liam McDade (Inv), Steven Hill and Jennifer Riches (Edn) and Kennedy Moar (Shet).
Unfortunately Jennifer was forced to withdraw on Sunday morning due to ill health, a shame, as she would have been a firm favourite to be a finalist based on her performance on the Saturday. The final was between Steven Hill and Callum Ross with Steven coming out the winner 3-1.
---
DIVISION 4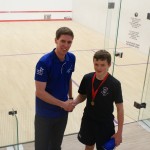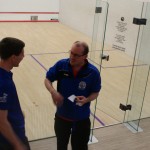 Players: Robert McNaught, Ewan MacAndie and Findlay McDougal (Gla), Will Jack,
Ben Barron and Lewis MacLennan (Nairn), Ross Jamieson and Craig Smith (Shet)
Robert McNaught and Ross Jamieson made it to the final which Robert won 3-0, however, the games were closely fought, especially in the first two which were 12/10 and 15/13.
---
DIVISION 3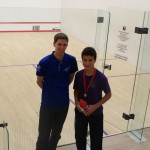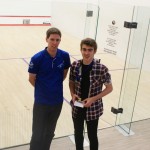 Players: Kelvin Anderson and Joe Niven (Shet), Lewis Barnard and Harry Jack (Nairn), Andrew Glen (Gla), Marcus Henderson and Ryan Milne (Abd) and Harry MacKenzie (Inv)
Harry MacKenzie and Andrew Glen powered through to the final. This was played at a fast pace with both players hitting a good length and retrieving well. Andrew came out the winner, 3-1, but it is great to see Harry MacKenzie back in the squash arena and playing well after a couple of years in the wilderness.
---
DIVISION 2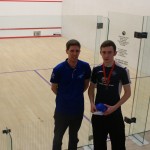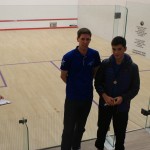 Players: Tino MacKay-Palacios and Callum Sorbie(Kin), Ruadhri MacDougal (Gla), Stuart Copland and Josie Wishart (Shet), David Riches (Edn), Katie Gregson-MacLeod (Inv) and Scott Lafferty (Thurso)
Both Tino and Stuart cruised through to the final winning their matches 3-0. Stuart won the first two games of the final 11/7, then Tino took the third 11/9 and seemed to be gaining confidence. The fourth was a very tight game, both players hitting the ball deep and close to the wall, it was a nail biting finish with Stuart coming out on top at 13/11.
---
PREMIER DIVISION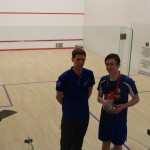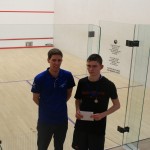 Players: Andrew Hill and James Riches (Edn), Ross Mowat and Fraser Steven (Thurso), Mark Coyle (Gla), Ewan Hearns (Inv) and brothers Daniel and Patrick O'Sullian (Gla)
The Division was closely fought but, as expected Patrick and Ewan made it to the final. Ewan was the title holder from last year but had recently lost 3-2 to Patrick so he was looking for revenge and counted on the home crowd to help. The first two games went to Ewan, 11/6 and 11/7, then Patrick seemed to gain the upper hand and increased the pace to take the third 11/8. As they went into the fourth Ewan seemed to be tiring and one had the impression that if Patrick took the game he would take the match by attrition. Ewan set off well taking the score to 5/1 but Patrick regained the serve and clawed back the game to 6 all. At this point Ewan seemed to gain a burst of energy and won the next 4 points to take it to 10/7 and match ball. Patrick hadn't read the script and after some long punishing rallies regained the initiative to be 11/10 and game ball. It looked like a five setter was on the way, but, out of nowhere, Ewan pulled out the stops and energy and won the next three points to take the trophy, 3-1, (11/6, 11/7, 8/11, 13/11). Squash is a Gladiatorial sport and there always has to be a winner and a loser, but sometimes it seems a shame, especially when two players are so evenly matched not only in ability but in temperament.
We have to thank the players and their parents for travelling on such a stormy weekend, especially those from the north, but it was worth it.
https://www.scottishsquash.org/wp-content/uploads/2015/12/HJO-15-Group-pic-e1449679776877.png
795
1378
Scottish Squash
https://www.scottishsquash.org/wp-content/uploads/2017/10/Scottish_Squash_Logo_LANDSCAPE-300x90.jpg
Scottish Squash
2015-12-09 16:48:56
2016-08-26 10:53:21
Highland Junior Open 2015 Report