WALES MASTERS HOME INTERNATIONALS 2023
The Scotland Women's Over 50's team have done it again!
After another final thrilling weekend of Masters Home Internationals squash we have the last results of the season.
Well done to all teams on a successful event.
The full results tables can be found below –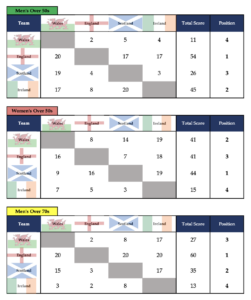 Scotland Masters Home Internationals 2023
The 2023 Scotland Masters Home Internationals takes place on the 5th and 6th May at Edinburgh Sports Club. Scotland play hosts to the Men's Over 35, 55 & 75  age groups, as well as the Women's Over 55 competition.
Download – Full final results
Round Three
A dramatic finish in the Men's Over 75s saw Wales climb back up to second place after an 11-4 win over Ireland to secure the silver medal, as Scotland lost to England 1-14. Elsewhere the Scots did achieve silver in the Men's Over 35s and 55s, despite England proving too strong for both age groups in round three. Well done to England who won all three Men's categories.
Further congratulations to England who also emerged triumphant in the Women's Over 55s despite a battling effort from the Scottish ladies in a close group. A big win for Wales, 20-0 over Ireland, in round three left them with a strong points haul but Scotland proudly held on to the silver medal.
Well done to all players on a great two days of competition.
Round Two
Victories for Scotland over Ireland and England over Wales in round two tightened things up at the top of the scoreboards in the Men's Over 35s and 55s. All to play for despite England holding a points advantage in both. Scotland's Women's Over 55s took the lead on the table after another excellent win and they will face England in round three in a decider. In the Over 75s it's a big ask for Scotland as their final opponents England hold an 11 point lead on the table after two maximum point wins.
Round One
A strong start by England saw them take dominant wins in all age categories in round one over Ireland. Scotland faced Wales in the opening round, with the Men's Over 55s and Over 35s winning 20-0 and 18-8, respectively. A superb tie in the Women's Over 55s between Scotland and Wales ended 18-8 in favour of the Scots after numerous 3-2 matches. Wales got on the board with a win themselves with an 11-4 win in the Over 75s.  A great atmosphere at Edinburgh Sports Club and lots to come tomorrow in rounds two and three!
MHI Ireland, 21 – 22 April 2023
Full Results – Well done to Scotland Men's Over 45 & 65, and Women's Over 45 teams who competed in Dublin at Fitzwilliam LTC.  Irish Squash – Facebook | Twitter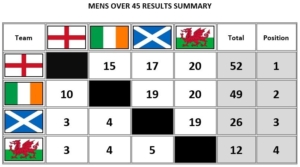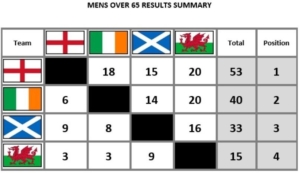 MHI England, 28 – 29 April 2023
Full Results – England took the win in all four age categories but nevertheless a great effort by our Scotland teams in the Men's Over 40 & 60, as well as Women's Over 35/40 & 60 age groups at MHI England hosted by Nottingham SRC.  England Squash – Facebook | Twitter
MHI Wales, 12 – 13 May 2023
Scotland Men's Over 50 & 70, and Women's Over 50 teams are off to Cardiff SRC for MHI Wales. Squash Wales – Facebook | Twitter