Cardiff Home Internationals
2017 Home Internationals Information booklet can be downloaded here. The booklet contains full results.
Men's Over 50
The Scotland O50s players congregated in Cardiff for this year's MO50s Home Internationals having travelled by planes, trains and automobiles.  Other than a considerable amount of swearing at intervals, there were no other similarities with the Steve Martin film of that name, as squash is a serious business!  The line-up for the event was Brian Robertson, Ronnie Carter, Chris Holt, Jim Wells, Colin McMullan and, making his Masters Home International debut, Martin Sanchez from Bridge of Allan.
The schedule meant a Friday evening clash with Wales followed by a Saturday morning encounter with England before finishing against Ireland on Saturday afternoon.  For the first time in the M050s Home Internationals, PAR scoring to 11 was being used.
Scotland v Wales (Friday, The Sport Wales National Centre)
The pairings saw Martin play James "Wally" Walters at 5, Chris up against familiar foe Gary Hales at 3, Brian play Welsh number 1 Jon Evans for the first time, Jim attempting to repeat his 3-0 win of the previous year against Ian Fener-Evans at 4 and Ronnie play Richard Evans at 2.  Every match in this encounter followed the same pattern, with the Welsh player being that bit better on the night.  There were a number of factors at play – Jon Evans boosted the Welsh team making them stronger than in Aberdeen last year, Wales also had home advantage, but for several Scottish players, going on court after spending up to 8 hours in a car also didn't help – lesson learnt!
Meanwhile, along the road in Cardiff Squash Rackets Club, the England team was beating Ireland 5-0, although Ireland did pick up 4 points at numbers 3, 4 and 5.
Scotland v England (Saturday a.m., Cardiff Squash Rackets Club)
A new day brought new energy to the team as they faced the daunting task of trying to break their duck against England.  The first match on court reflected the match with England as a whole.  A more assured performance from Martin Sanchez than the previous evening meant that he was right in contention in each of the games against Steve Martin (not the American film star referred to earlier – this one's from Doncaster).  However, when it really mattered, the Englishman managed to win the important points, best demonstrated in the third game where Martin led 10-6 but eventually lost out 13-11.
In the next two matches, Chris and Brian were both competitive against Duane Harrison and Steve McLoughlin respectively, but at the same time neither looked likely to cause an upset.  Each match ended with a 3-0 win for the English player, giving England the overall win.
At 4, Colin McMullan made a breakthrough by winning the first game of his encounter with Peter Lonsdale, but thereafter the familiar pattern returned, with Peter winning 3-1, aided by a couple of controversial refereeing decisions at key points.
In the final match, Ronnie was unlucky not to win the first game against Eamonn Price, losing it 13-11, and wasn't far away from winning the next.  As it was, at 2-0 down there was no way back as Eamonn took the third by a clear margin.
In the other match, Wales took the honours against Ireland, winning 5-0.
Scotland v Ireland (Saturday p.m., Cardiff Squash Rackets Club)
The final round of matches saw England and Wales fight it out for the first two places, while Scotland played Ireland to avoid the wooden spoon.  Encouraged by the morning performances, despite another heavy defeat, the Scottish players were desperate to get some reward for their efforts.
Colin McMullan at 5 got the team off to the perfect start with a controlled 3-0 win against Karam Singh, and what a difference a win makes…
Chris kept the momentum going with a 3-1 win against opponent Shaun McKee.  Despite losing the first game and having to contend with a bit of chat from his opponent throughout the match (mainly directed at the marker), Chris did well to maintain concentration and his form.
With one more victory required to seal the overall match win, Brian went one game up against Irish number 1 Michael McKee and despite losing the second, maintained his composure for a 3-1 win.
Despite an unorthodox style, Jim Wells' opponent Tommy Horran was very determined, chased every ball down and had effective shots on the forehand side.  Despite the Irishman winning the first two games narrowly, there was still a feeling that the more controlled player would come back into it and that was the case as Jim won a nervy third.  However, the tide didn't turn on this occasion, with Tommy scrambling to victory in the fourth.
Ronnie seemed like a man on a mission in the final match against Gerry Callanan, racing into a two game lead during a spell where Ronnie made almost no mistakes and a very able opponent had no answers to the questions being posed.  While Ronnie couldn't sustain the same level in the third game and Gerry was finally able to exert some influence, Ronnie still managed to get over the line 16-14 with great anticipation and shot selection when it mattered for an excellent straight sets win.
In the other match, England triumphed 5-0 against Wales, a clearer margin of victory than many had thought.
From a squash perspective, the final positions were a true reflection of the way the matches had gone, but the margins between players and teams were small and so the incentive to do better is great.  Away from the squash, other than the hotel being awkwardly located nearly 5 miles from the courts, the event overall was a great success, so thanks go to all from Wales Squash involved in its organisation.
Men's Over 70
Friday 21/4/17 Wales
First match against Wales was played at the National Welsh Sports Centre, Chris at 4 and Ken at 2 giving us good wins but we lost to Wales 3-2.
England first up tomorrow ??
Saturday 22/4/17 England & Ireland
At Cardiff Squash Club
Well, all matches against England went down 0-3, so not a great start. Enough said! Ireland let's hope we will see some success?
Against Ireland Ian had a solid opening match winning easily 3-0.
Tom was next up, going one down before dominating his opponent to win the match 3-1, something to give us hope!
Bernard followed with a disappointing result, but with some decent play, going down 0-3.
Alfie next, and looked to have the measure of his game taking an early lead, but had a dogged opponent who got the measure of his play in this close  match and Alfie just went down 2-3.
It went to the final match which Ken won well 3-1 and thus gave us a victory over Ireland.
However along with Scotland, both Ireland & Wales had only one victory.
In the final analysis one point was all that separated Wales from Ireland and Scotland.
With England dominant, but Wales sneaked a point off England to edge into 2nd place , with Scotland coming 3rd and Ireland 4th.
As a footnote our team didn't quite get there 'A' game over the weekend apart from Ken Reid. He had a terrific tussles, against both  Wales and Ireland, and was the outstanding player for Scotland.
On more positive note…..
Tom Kane was voted the male player of the tournament, showing the most sporting conduct,  by the referees. Quite an accolade in a  confrontational game, such as squash.
Report by Bernard Starkey
Full results from the Men's O70 team can be found here.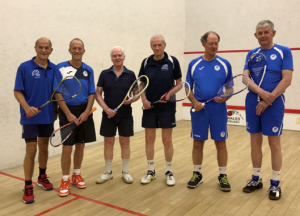 The MO70's team (left to right) B Starkey; C Jeffreys; T Kane; K Reid; I Nicholson; & A Thompson
Women's Over 50
The first Home International in Cardiff was a great weekend of squash. The Women's O50 team was somewhat depleted with key members, for various reasons, unable to participate. However, the 5 selected players put in fantastic performances to eventually take the runners up position.
The match against Wales was very close with 3 of the matches going to 5, Jennifer McCartney and Christina Graham narrowly missing out 2-3 and Eunice Bond playing heroically to win 3-2. Joyce Leach picked up what proved to be an invaluable point. 20 points against Ireland meant that the match against England would be crucial in determining the final positions. Christina Graham and Fiona McLean exceeded expectations and won their games 3-0 against strong English opposition and the 6 points gained in this match were enough to secure second spot for Scotland by one point over Wales.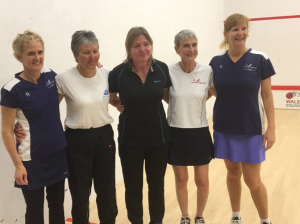 https://www.scottishsquash.org/wp-content/uploads/2017/04/MO50.png
638
855
Scottish Squash
https://www.scottishsquash.org/wp-content/uploads/2017/10/Scottish_Squash_Logo_LANDSCAPE-300x90.jpg
Scottish Squash
2017-04-26 13:47:55
2017-05-03 13:11:50
Cardiff Home Internationals