MO50s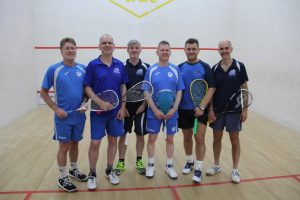 For this year's event held at Aberdeen Squash & Racketball Club, the Scotland team of Alan Thomson, Brian Robertson, Chris Holt, Jim Wells, Ronnie Carter and Duncan Fraser gathered for a schedule of matches that saw them play Wales on Friday evening, Ireland on Saturday morning and finishing against England on Saturday afternoon.
Scotland v Wales (Fri)
With fixtures being played in the usual Masters 5, 3, 1, 4, 2 sequence, Ronnie Carter was first on court with the aim of getting us off to a flier against Greg Watkins.  Despite the Welshman winning a close first game, by the fourth game Ronnie was leading 2-1 and in control when, as commentator Arthur Montford used to say, there was a 'disaster for Scotland' – there was no 'stramash' or other such drama, but an awkward movement left Ronnie with a damaged hamstring.  With his leg heavily strapped, Ronnie tried to continue, but within a few points it was clear that his tournament was over and what looked like a 3-1 win had abruptly become a 2-3 loss.
The significance of this only became clear later – there were solid wins for Jim (3-0) and Brian (3-1) against Ian Fener-Evans and James "Wally" Walters respectively, but with Chris going down 3-1 to the consistently accurate Gary Hales and Alan losing a very close encounter 3-2 against Welsh number 1 Richard Evans, it was Wales who edged the overall match 3-2.  The Scots could take some comfort from the fact that every player had won at least one game and the overall game score was 11-10 to Scotland, but it was very much a case of one that got away…
Elsewhere, the England team was dominant in a 5-0 win against Ireland.
Scotland v Ireland (Sat a.m.)
After the events of Friday, this was seen to be a must-win match.  Playing his first match of the weekend, Duncan Fraser showed no outward sign of nerves as he got the team off to the perfect start with a 3-0 win against James Downe.
The Irish levelled the match at 1-1 when number 3 Gerry Callanan got the better of Chris Holt in straight games, before Alan Thomson took to the court against the unorthodox but mobile George Hewitt.  George struck the first blow as Alan tried to ease himself into the match after his 5-set match on Friday, but early in the second game there was a second disaster for Scotland in as many days as Alan turned his ankle and limped out of the tournament.  For Ireland, a 3-0 win without really trying and a 2-1 lead overall.
So the position was clear – in order to avoid another overall defeat, Jim and Brian simply had to win.  Jim dealt with the first part with an assured 3-0 win against Irish number 4 David Borton, leaving a final match decider between Brian and Kevin O'Rourke.  From a very early stage, this looked like a match that could go the distance, with the score creeping up only very slowly.  Brian won the first and fourth games while his opponent won games two and three, with the winning margin in all games being no more than a couple of points.  In what was a war of attrition, estimated to have lasted 1 hour 20 minutes or more, Brian finally made it over the line 9-6 in the fifth.  So, a Scotland match win was achieved despite the further injury setback.
Meanwhile, England had a second convincing 5-0 win, against Wales.
Scotland v England (Sat p.m.)
With the Scotland team now reduced to 4 players, the England team kindly agreed to a request to bring local Neil Rayner, who happened to be at the club, into the team, allowing the full complement of matches to be played.  Neil proceeded to acquit himself very well, winning the first two games against Ray Burke before the English player fought back to win.
As for the other matches – Jimmy v Marc Aldridge (3), Brian v Peter Gunter (1), Duncan v Peter Lonsdale (4) and Chris v Murray Scott (2) – all the Scottish players gave it their best shot and succeeded in winning points, but were unfortunately unable to win games.  This meant that a strong England team again won 5-0, leaving them unbeaten over the weekend.
To complete the picture, Wales finished with a 4-1 win against Ireland to finish in second place, with Scotland in third place.
The Scotland team would collectively like to thank ASRC and Scottish Squash for putting on a fantastic event – the courts were in great order and the club demonstrated that it is well-suited to hosting such events.  Thanks are also due to all of the referees who gave up their time to officiate.
Men's O50s Results
Download here
---
Womens O50s Results – report to follow
Download here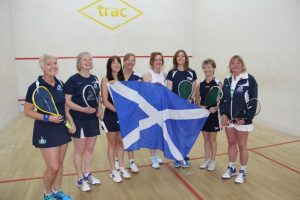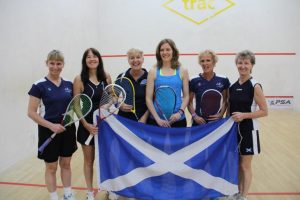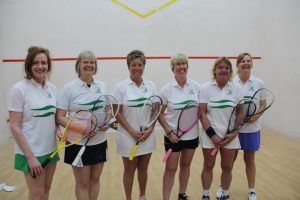 ---
MO70s
The Scotland team was weakened as Chris Jeffrey withdrew because of injury, so Ken, Vincent moved up and Ian Nicholson came in at 5. With Alf Thomson as reserve. Order of play Ian Nicholson (5), Ken Reid (3), Bernard Starkey (1), Vincent Taylor (4), and David Brown (2).
Friday pm Scotland v Wales
Our team arrived on Friday looking forward to the event.
First up was Ian who played some excellent squash but his opponent stuck in and took a 0-2 lead. Ian looked in command of his game and played some determined squash taking the next two games and making it to the fifth and finally take a nervy final game and match 3-2…..good start Second on Ken our captain dominated play with a comfortable 3-0 win.
Bernard started well losing the first game but recovered to make it 1-1 but went down easily in the next to games losing match 1-3. Vincent came on and with some excellent controlled play which his opponent had no answers, cruised to a 3-0 win. Final match against Wales was close with David hanging on to take the match 3-2 Giving Scotland a good start 4-1 (18 points to 7)
Saturday am Scotland v Ireland
Alf played at 5 and was first up, his opponent had no answer to his reach and 'soft' touch, racing to an early lead…looking good!At 2-0 it was going well only for Alf to miss a number of opportunities over the next two games to close it out, 2-2 game on….. All came good in the fifth game with Alf regaining his composure and touch to gain an excellent win 3-2
Ken continued where he left off on Friday and with his aggressive play he powered to an excellent 3-1 win, he was always in control. Bernard was not on the court today as his opponent took the match easily 3-1. Vincent standing down left Ian playing at 4. Ian started the match brightly and was well in control and went into an early 2-0 lead …..game on.
Opportunities came and went and with the loss of each game, his opponent seemed to grow more confident and Ian gradually ran out of 'steam' in what was an excellent contest that either player could have taken. However it was not to be as Ian succumbed 3-2 in the fifth after a huge effort.
Ian was later to lament on this result as it was to prove costly to our final ranking position….Ireland ahead of Scotland for second place. Ian did Scotland and himself proud after his efforts over the weekend leaving him completely drained with no more to give. David had no answer as his opponent cruised home 0-3 and Wales becoming victorious winning 3-2 (18-7)
Saturday pm Scotland v England
We were so up for this but apart from Ken all of the team had no answer to a powerful England. Ken our player of the tournament was courageous against a useful player and continuing his hard hitting and energetic play created What was a closely contested match moving to 2-2 and moving him into the fifth game. In the last game with his energies sapped Scotland's braveheart succumbed, losing 3-2 England the victors 5-0 (20-2) After the tournament a presentation meal, a fitting end to a wonderful few days….The food was great and along with the venue superb.
Final standings
1. England
2. Ireland
3. Scotland
4. Wales
To Blair and co in Aberdeen, Scottish Squash and not forgetting the referees who kept the tournament running smoothly…….many thanks.
Men's O70 Results – report to follow
Download here
---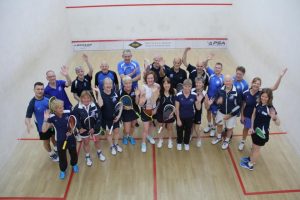 https://www.scottishsquash.org/wp-content/uploads/2016/05/IMG_7243.jpg
683
1024
Scottish Squash
https://www.scottishsquash.org/wp-content/uploads/2017/10/Scottish_Squash_Logo_LANDSCAPE-300x90.jpg
Scottish Squash
2016-05-15 13:58:35
2016-08-26 10:44:15
Aberdeen Home Internationals Report 2016