Jimmy Wells won his seventh Scottish Masters National title last Sunday at Inverness Tennis and Squash Club after winning the Men's Over 55s trophy.
Wells hadn't lost a game going into Sunday afternoon's final and came through his final in four games against Chris Holt, 12-15, 15-10, 15-12, 15-8.
It was his first Scottish Masters title at Over 55s level and second national success following hip surgery two years ago.
The Dumfries player said: "Chris and I had played each other in two tight matches recently and it was one apiece going into this final.
"So I knew it was going to be close and I am really pleased to have got the win.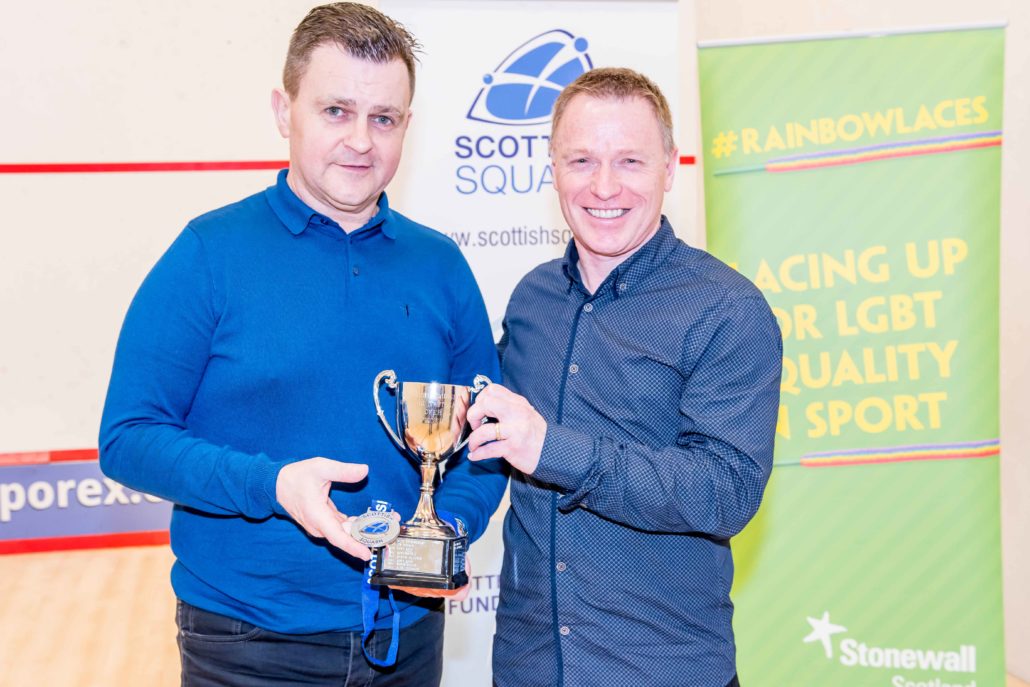 "I had to change up my tactics during the first game and the new tactic suited me and made all the difference.
"I didn't need to work too hard around the court and was able to make Chris do all the work."
He added: "Since I got my new hip it has felt like a new start. I did everything I could to get competing again and it's great to be back.
"It was a couple of years of struggle after 18 months off court and it has been difficult to get that winning mentality back.
"I really enjoyed my weekend. Inverness is a great club. I have been coming up here for 30 years playing National Leagues and you always get a great welcome."
Roddy Robinson won the plate competition after winning his final against Alastair Kirkwood, 17-15, 15-6, 15-9.
Robin Ridley was delighted to retain his Men's Over 60s title after a spell on the side-lines.
The defending champion damaged his ankle on Boxing Day and only recently returned to the practice courts ahead of this tournament.
But Ridley showed no ill-effects winning the title without dropping a game and defeating Peter Shivas in the final, 15-11, 15-9, 18-16.
"I haven't played Peter in a few years but he has really improved and he put me under quite a lot of pressure.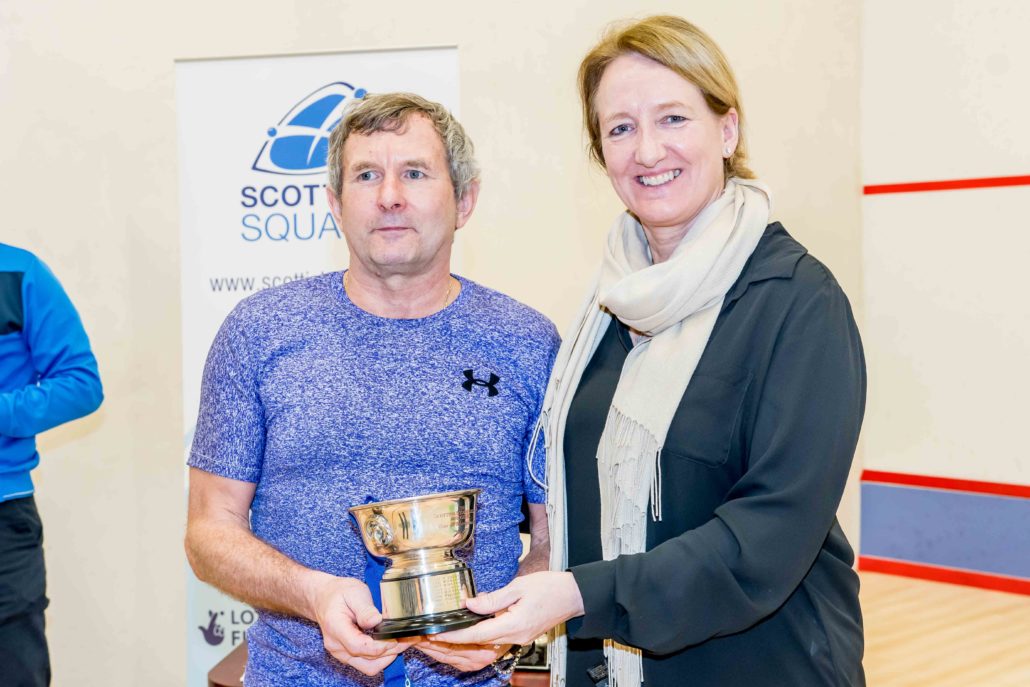 "He is a consistent player and has been involved in the Scotland set-up for years and I knew I needed to maintain my game.
"It's great to win having not played in two months. I only entered at the last moment but it feels good to retain my title."
Bryan Jackson took home the plate after defeating Lance Marshall, 15-9, 15-8, 15-7.
Dave Sturman is a national champion after winning a brilliant final.
The second seed defeated Ernie Cowell, below left, 12-15, 15-13, 15-10, 15-17, 15-11 in the Men's Over 65s event to claim the title.
Going into the final Sturman, below right, hadn't dropped a game throughout the competition but he was up against a player in sixth seed Cowell who had shocked top seed Jim Dougal in a tight semi-final.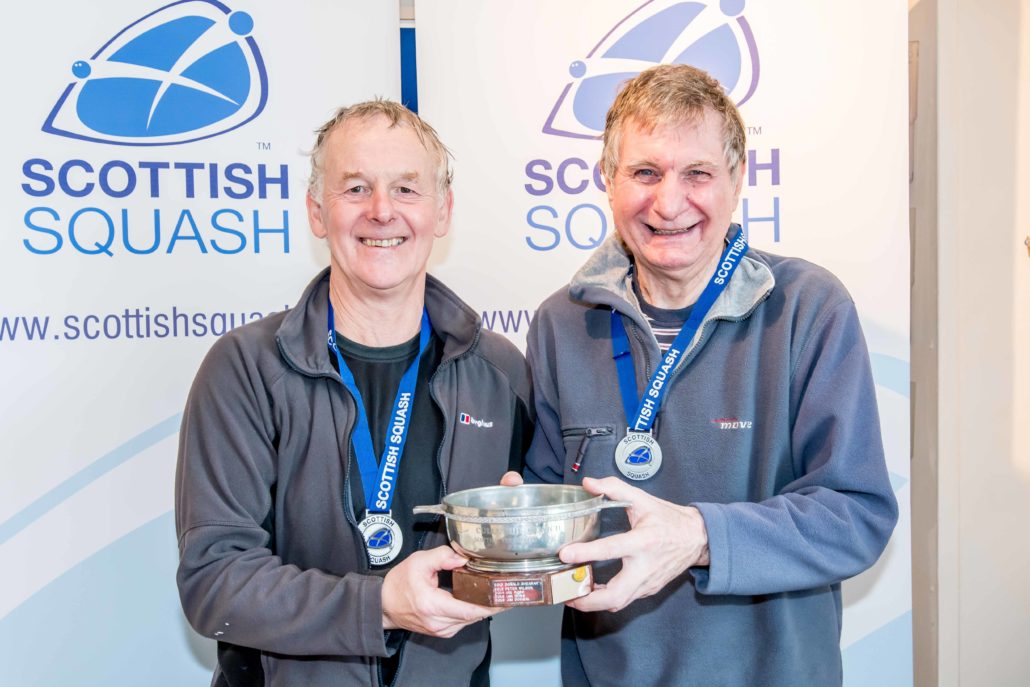 Sturman had match balls in the fourth game which were saved by Cowell but he kept his composure to claim victory.
"I am ecstatic," he said shortly after his marathon win.
"In the fifth game, Ernie was 5-0 up and I thought it was going to run away from me.
"But I managed to get the odd ball back and suddenly it was 5-5.
"Ernie then made a few mistakes and I capitalised on it."
He continued: "It was tough when I didn't convert the match balls in the fourth but grit and determination helped me through.
"I have great admiration for Ernie.
"He has been out for a few years with injuries and is back playing really well which is great to see.
"He had a long semi-final against Jim Dougal and was probably on his knees going into the final."
Bob Kass won the plate final defeating Phil Leek, 15-11, 14-16, 15-5, 15-2.
Top seed Ian Ross didn't drop a game on his way to victory in the Men's Over 70s event.
The Grange player defeated George Stirrat in the final, 15-8, 15-5, 15-7.
Ross said: "George beat me in Perth last year before I got the better of him in Aberdeen so I knew it was going to be a big match in the final.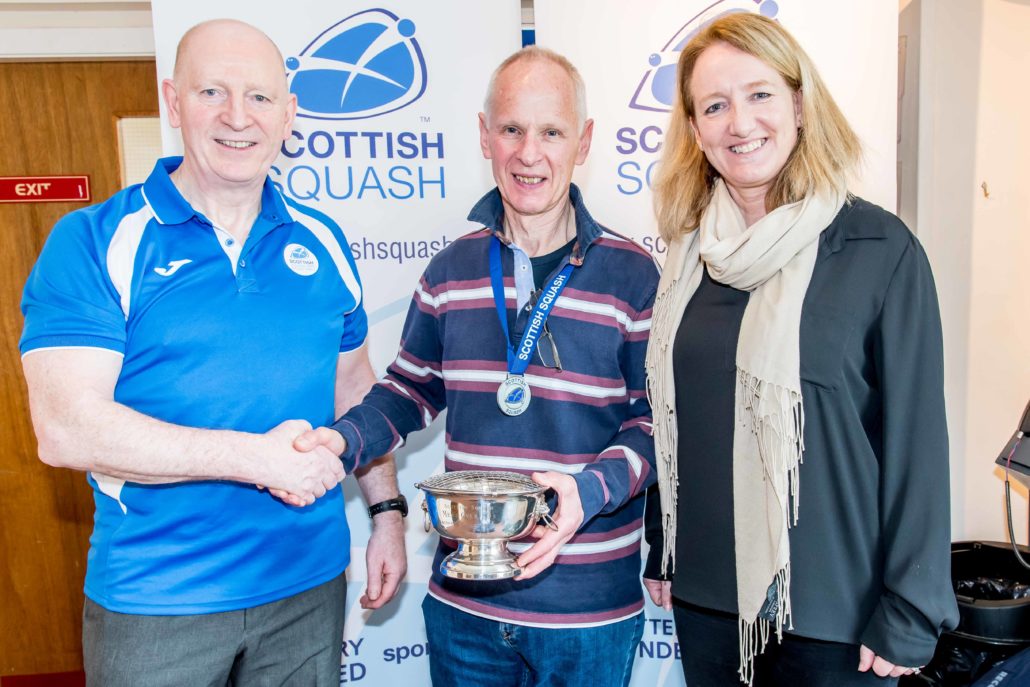 "He hits the ball hard on his forehand so I forced him to turn and play his backhands and that worked well.
"I kept ahead and needed to retain my focus in all three games because he is a good player."
He added: "Since I fully retired I have been playing quite a lot of squash with John Rae and Jim Dougal who are really great players to play with.
"That sharpens you up and there's no quarter given.
"John is unwell at the moment so all our thoughts are with him."
Tom Kane battled past Alfred Thomson, 15-9, 14-16, 7-15, 15-4, 15-7, to win the plate.
Andrew-Rugg-Gunn competed in the Men's Over 70s event and also took home the Men's Over 75s title for his efforts.
For a full rundown of results, click here.
https://www.scottishsquash.org/wp-content/uploads/2018/03/FinalFeature.jpg
2943
4414
Andy Weston
https://www.scottishsquash.org/wp-content/uploads/2017/10/Scottish_Squash_Logo_LANDSCAPE-300x90.jpg
Andy Weston
2018-03-16 18:40:56
2018-03-16 18:40:56
2018 Scottish Masters National Championships - Men's Round-Up, O55s-075s