Simon Boughton defeated old rival Peter O'Hara in a gripping Men's Over 45 final in Inverness last weekend to win his third Scottish Masters National title.
Boughton came from 10-5 down in a tense fifth game to claim an epic 3-11, 11-4, 4-11, 11-9, 12-10 win at Inverness Tennis and Squash Club.
It ended two-time British Masters champion O'Hara's brave pursuit of landing a hat-trick of Scottish titles during finals day on Sunday, March 11.
Boughton said: "I am really pleased.
"I've played Pete so many times and I haven't had a win against him in the Masters until now.
"At 10-5 down I thought it was going to be another glorious defeat but I am chuffed to beat him and finally get over the line.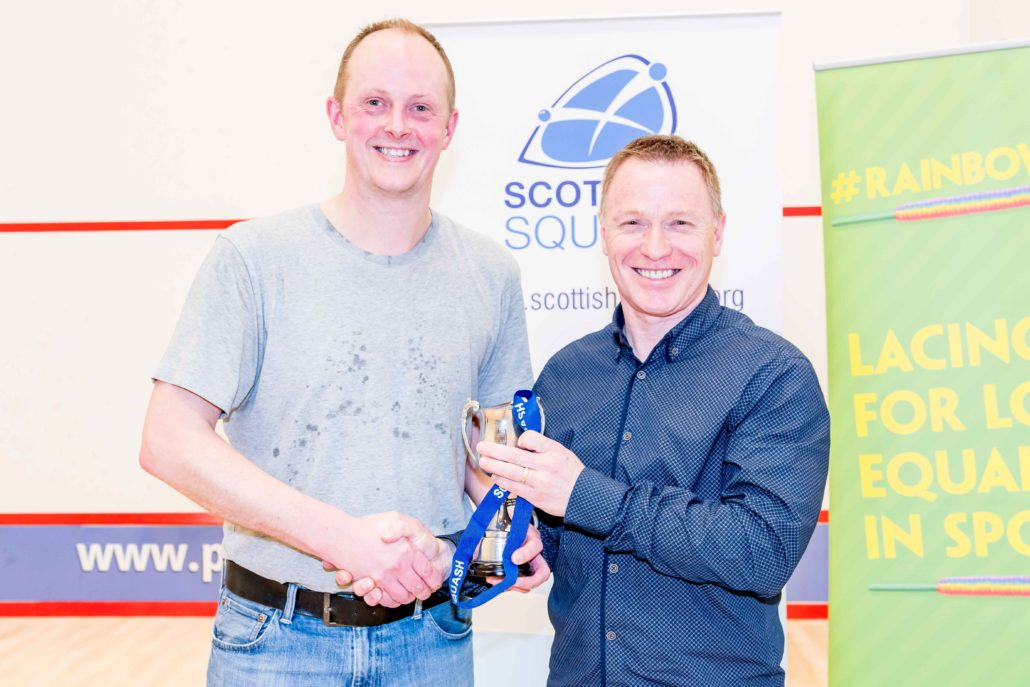 "Some of his shots are unreturnable so I needed to make him try and hit his shots from the back as much as possible to force the mistakes.
"Pete had played a few matches before the final which would have helped me and he made mistakes at crucial points.
"But he usually grinds through so I am really pleased to have got a win over him."
Chris Turlik won the plate competition after defeating John Kynoch in an equally enthralling final, 11-6, 9-11, 7-11, 11-9, 11-9.
Colinton Castle's Chris Gray felt he benefited from playing O'Hara straight after the Over 45s final but was delighted to secure his maiden Masters title in the Over 35s event.
Gray, 39, didn't drop a game throughout the weekend and defeated O'Hara in the final 11-6, 11-6, 11-7.
He said: "I only decided to play on the last day of entry but I am glad I did.
"I am delighted to take the title. My wife played this weekend as well so it has been a great experience."
He added: "In the first couple of rounds I played two guys who I had never played before which was nice.
"It suited me because, with my style, some players can get the read on me, so the element of surprise was there.
"It can be hard to concentrate when your opponent is struggling but Pete is able to hit five or six winners without moving so I had to retain focus in the final."
Ian Adamson defeated Derek Cameron 11-4, 10-12, 11-1, 11-7 in the plate final.
Peter O'Hara retained his Men's Over 40s national title after defeating Aberdeen's Keith Simpson in the final.
He didn't drop a game throughout the Over 40s event and saw off Simpson 11-4, 11-4, 11-9.
Reflecting on his bold decision to try and win a hat-trick of Masters titles this year, O'Hara said: "Playing six matches in one day was too hard but the challenge was there and I went for it.
"The quality of opponents I played were just too good to play one after the other.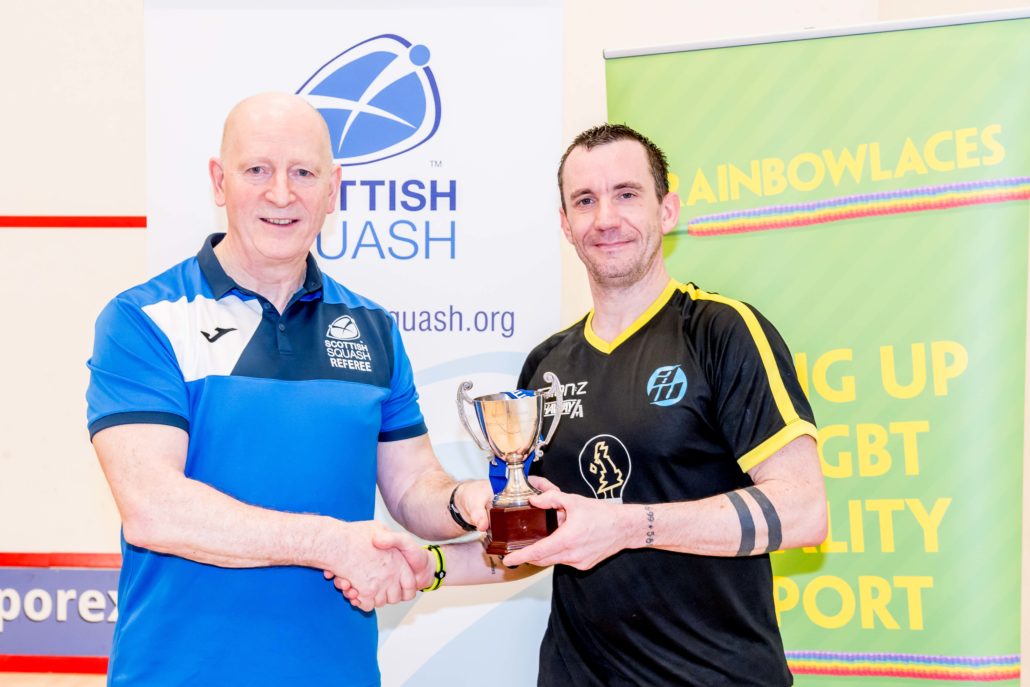 "It opened my eyes to how hard it was."
He added: "I have known Keith a long time and we grew up playing together. I was happy to win that one.
"I have probably only been on court three or four times the past month so I enjoyed the way I played."
In the plate final Coinneach Malcolm defeated Grant Campbell in four tight games, 11-8, 11-8, 10-12, 12-10.
Brian Robertson retained his Men's Over 50s Scottish Masters national crown.
The 53-year-old won all four of his matches with the top seed defeating sixth seeded Russell Hunter in the final, 11-3, 11-8, 11-4.
He said: "The final went exactly to plan, I was pretty consistent throughout and I am very happy.
"The last time we played earlier in the season he fought back from 2-0 down and that was on my mind in the third game.
"I made sure I didn't relax and let him back in.
"I found my length early and managed to pin back a dangerous opponent.
"I didn't give many cheap points to Russell which was a theme over the weekend for me."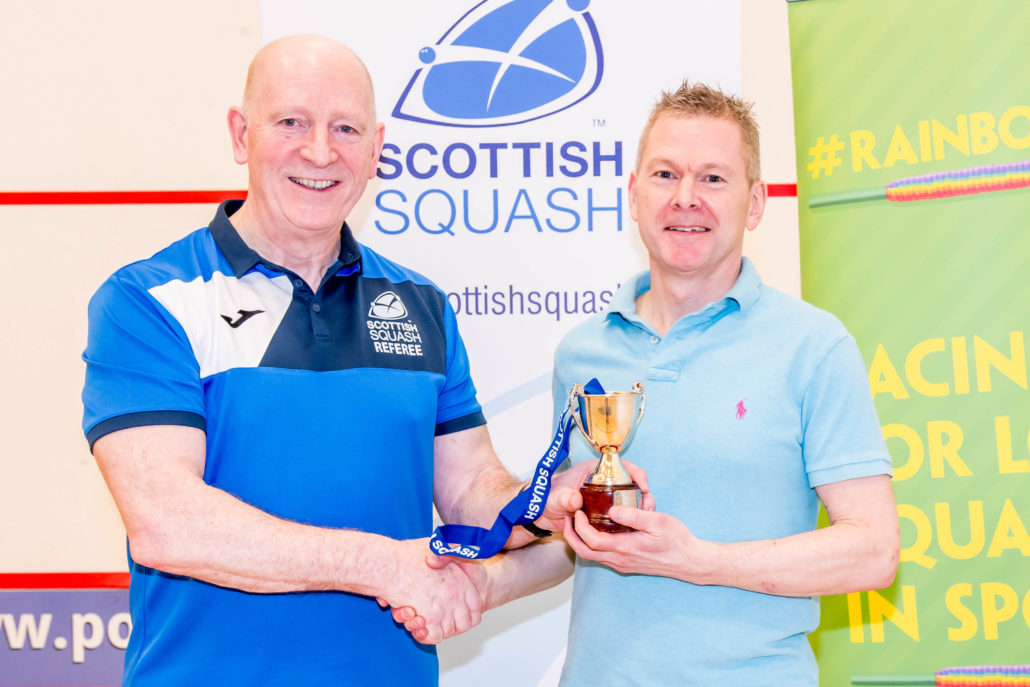 He added: "I like playing up in Inverness, it's a great set up with good courts.
"People have supported the tournament in their numbers which is really good to see"
In the plate competition, William Steven secured victory defeating Stuart Black in their final, 11-7, 11-4, 11-8.
For a full rundown of results, click here.
https://www.scottishsquash.org/wp-content/uploads/2018/03/OHaraAction.jpg
3712
5568
Andy Weston
https://www.scottishsquash.org/wp-content/uploads/2017/10/Scottish_Squash_Logo_LANDSCAPE-300x90.jpg
Andy Weston
2018-03-15 17:41:27
2018-03-15 18:38:45
2018 Scottish Masters National Championships - Men's round-up, O35s-O50s