TRAC Oil & Gas North Of Scotland Open Preview + Streaming
TRAC Oil & Gas North of Scotland Open 2017
Preview
The TRAC Oil & Gas North of Scotland Open returns for the 4th year running. Looking back, it's gratifying to see how far the tournament has come in terms of strength in depth of entry, in reputation on the PSA World Tour and in terms of engagement with the community. Boasting a magical one million confirmed media outreach in 2016, the stage is set for us to go bigger and better still, including a new colour scheme.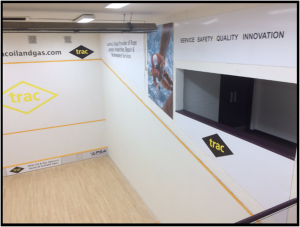 The TRAC Oil & Gas North of Scotland Open PSA M10 will run from Tuesday 28th March to Sunday 2nd April 2017 with two rounds of qualifying before the main draw commences as published further below.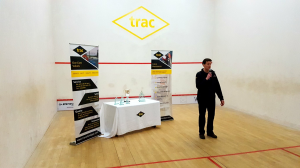 Danny Hawthorn, MD of TRAC Oil & Gas during the 2016 presentations.
This year in 2017, the main draw field is the most international we have yet had. Up and coming Englishman Richie Fallows heads the main draw with India, Jamaica, Spain, New Zealand, Belgium, Malaysia and Pakistan all represented.
Richie Fallows, WR62, has been enjoying a recent run of very good form. He reached the quarter finals of the British Grand Prix, making Daryl Selby, a near-permanent figure in the world's top 20, fight hard for 4 games. Richie also recently won the PSA Toulouse M10 outright.
Second seed is India's Vikram Malhotra, WR69. 28 year old Vikram is a late starter on the PSA world tour having joined in 2015. He quickly rose through the rankings winning the Florida Open M10 from qualifying after only 8 months on the tour. Only a few days ago, Vikram downed WR41 Mohamed Reda in the Wimbledon Squash Squared Open in a stunning 3 game performance 11-8 11-4 11-2.
3rd and 4th seeded Indian Mahesh Mangaonkar and Jamaican no1 Chris Binnie both return to the TRAC Oil & Gas North of Scotland Open for the second year running. Mahesh ended the hopes of Scotland's Dougie Kempsell in 5 brutal games at last year's tournament. As Vikram Malhotra did in Wimbledon, Mahesh also downed a higher ranked opponent in Malaysia's Ivan Yuen. Mahesh beat the WR40 in a 107 minute 5-game thriller which featured 3 tie breaks. 4th seeded Chris Binnie came through a controversial encounter last year with Richie Fallows ultimately finished runner up in the 2016 final to Youssef Soliman.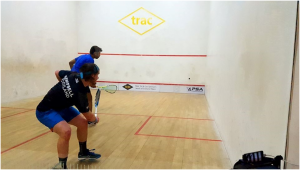 Scotland's Dougie Kempsell vs 3rd seed Mahesh Mangaonkar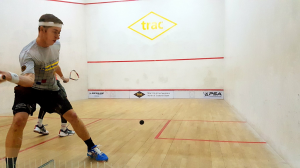 4th seed Chris Binnie in action
5th seed is relatively unknown New Zealander Evan Williams. A seasoned campaigner with 10 years of professional experience on tour, Evan will no doubt have fans curious to watch him.
The top 8 is rounded off by Belgian no1 Jan Van Den Herrewegen, current World Junior Champion Eain Yow Ng of Malaysia and Lance Beddoes of New Zealand.
Scottish interest in the Main Draw is represented by Edinburgh Sports Club's Scottish no3 Dougie Kempsell and Aberdeen's top player Chris Leiper. Occupying the wildcard space, Chris Leiper faces Evan Williams first round in what is bound to be the most anticipated match of the day.
Qualifying is equally international, with 3 English players, 2 Malaysian, 2 Irish, 2 French as well as Pakistan, South Africa and the Czech Republic all represented.
Qualifying Preview
TRAC Oil & Gas North of Scotland Open Qualification Preview
Tuesday 28th March
12pm – (1) Asim Khan v Mike 'Scrapper' Black
Kicking off the tournament is Pakistan's Asim Khan, ranked 121 in the world vs ASRC's home hero Mike 'Scrapper' Black. Mike will enjoy full home support and will be hoping to upset the seedings.
1pm – Muhammad Farhan v (6) Mike Harris
Called up only the day before the tournament begins, WR 236 Muhammad Farhan will face Newland's Scottish National League regular Mike Harris. Known for his hard hitting length and width, WR169 Mike will see this as an opportunity to grab a points boost to his average.
2pm – (5) Brian Byrne v Alasdair Prott
Irish WR 166 Brian Byrne plays the up and coming Scottish U17 no1 Alasdair Prott. No doubt the crowd will be excited to cheer on Al against an experienced professional.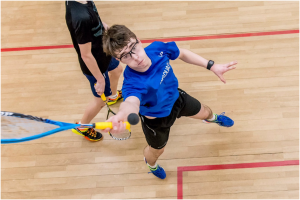 Al Prott in action in Aberdeen
3pm – Robbie Downer v (3) Tristan Eyesele
Blade Squash's hard hitting WR178 plays the brutal South African WR 148 Tristan Eyesele in one of the closest matches on paper. Definitely one to keep an eye out for!
5pm – (4) Sean Conroy v Sebastien Bonmalais
The second Irishman in the draw, WR168 Sean Conroy vs the young French talent Sebastien Bonmalais. WR194 Sebastien actually won their last meeting, so this could be a very exciting match to watch.
6pm – Stuart George v (7) Ondrej Uherka
Giffnock's resident squash pro Stuart George plays Czech WR163 Ondrej Uherka. Ondrej is a new face to the Aberdeen SRC crowd and will no doubt draw interest as he faces a strong challenge from the in-form Stuart.
7pm – (8) Victor Crouin v Kevin Moran
Scottish no4 Kevin Moran faces off against the pint-sized French bullet Victor Crouin, WR171 in another hugely exciting match on paper.
8pm – Nick Mulvey v (2) Addeen Idrakie
Young Englishman Nick Mulvey WR201 will play Malaysian WR125 Addeen Idrakie. Nick is playing in form beyond his ranking and will be hoping to claim a scalp over the experienced Malaysian
Blade Squash and TonySquash are sponsoring this year's graded tournament which will see club players from around Scotland competing for top honours and goodies from the new Blade Squash range, while watching how it should done by the pros.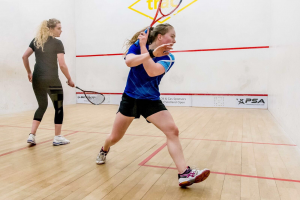 Scotland's Elspeth Young, left, and Katriona Allen face off on the TRAC Oil & Gas show court
In 2017, for the first time in Aberdeen, we are launching a Ladies PSA Closed Satellite tournament thanks to TRAC Oil & Gas! This will showcase top talent both locally from around Scotland and further afield and give valuable PSA points, some prize money and match practice ahead of the European Team Championships in April.
Live streaming will be provided for all rounds. Look for Aberdeen Squash and Racketball Club on Youtube. The stream will run from tomorrow at 12pm.
https://www.youtube.com/watch?v=91Tq4YpesMM
Both the Graded and the Ladies Tournaments will run from Friday 31st March to Sunday 2nd April.
Thanks to the sponsorship of TRAC Oil & Gas, viewing for all rounds of all competitions is free to everyone. Please see www.asrc.co.uk for entry forms, hotel info and more.
https://www.scottishsquash.org/wp-content/uploads/2017/03/Trac-1.png
714
944
Scottish Squash
https://www.scottishsquash.org/wp-content/uploads/2017/10/Scottish_Squash_Logo_LANDSCAPE-300x90.jpg
Scottish Squash
2017-03-28 11:09:20
2017-03-28 11:35:27
TRAC Oil & Gas North Of Scotland Open Preview + Streaming